Lavery Lager Haus
Sampling the wares at the newly-opened Titusville site
August 14, 2019 at 9:15 AM
Nestled in the heart of "the Birthplace of the Oil Industry" at 113 S. Franklin St., Titusville, Pennsylvania, Lavery Lager Haus opened its doors to the public July 31, just 30 days after co-owners Jason and Nikki Lavery got the keys. Just a week and a few days into the operation, with the beer cold and flowing steadily, it seems like a place that might've been there for years already. 
"I love the idea of putting breweries in the middle of downtowns," Jason Lavery explains. "It's our modus operandi as a company." 
The fact that the turnkey location formerly housed a brewery (Blue Canoe Brewery) made the decision to launch another brick-and-mortar 45 miles from the Laverys' home base in Erie easier. The Laverys were already  familiar with the area, having participated in the Titusville Beer Festival (hosted by Orr's Brewing Company, just a few doors down from Lavery's new location at 109 S. Franklin) for the past several years.
"Folks here, they don't give me a last name. They just shake my hand and say 'welcome to town!'" says Nikki Lavery, pointing to a table and chairs outside of their kitchen. Ross Rout of the just-around-the-corner Stonehouse Jack (a purveyor of "home furniture and décor, art, textiles, oddities, and so much more"), had dropped them off to use as needed. 
Rout isn't riding solo on the welcome wagon. Nikki mentions Naomi Wescoat of Pots and Posies country store and florist, while other locals gleefully make their way in and out of the Lager Haus on a breezy Friday evening.
It's Wine Walk night when Erie Reader Editor-in-Chief Adam Welsh and I are there, with various locations throughout the downtown area serving as spots along a walking tour featuring wine samples along the way and the opportunity to purchase bottles. With Franklin Street and others shut down to vehicular traffic, it's also the beginning of the area's Oil Festival weekend, complete with the also aforementioned Titusville Beer Festival. 
Inside the spacious Lager Haus, the seats at the bar are quickly becoming filled. The interior thankfully lacks TVs, thusly encouraging conversations amongst friends, strangers, and the knowledgeable bar staff. Across the bar, and to the right of the entrance, is the dining area, where families and groups of friends happen in off the streets for food and beer — and yes, Dulachan, the brewery's flagship beer, a flavorfully plucky West Coast-style IPA and one of the best made products coming out of Erie, period (at least according to this Erie Reader contributor), is on tap. 
So are 11 other brews. Four of the taps, according to the Laverys, will be dedicated specifically to the namesake of the location: Lagers. The other eight will rotate, with some beers being imported from their brewing facilities in Erie, others — chiefly German-style beers — will be crafted on-site in Titusville. And some will only be available on Franklin Street, such as the T-Vegas Hefeweizen, a nice, soft, light counterbalance to the equally nice and light-yet-crisp Ya Basic Lager.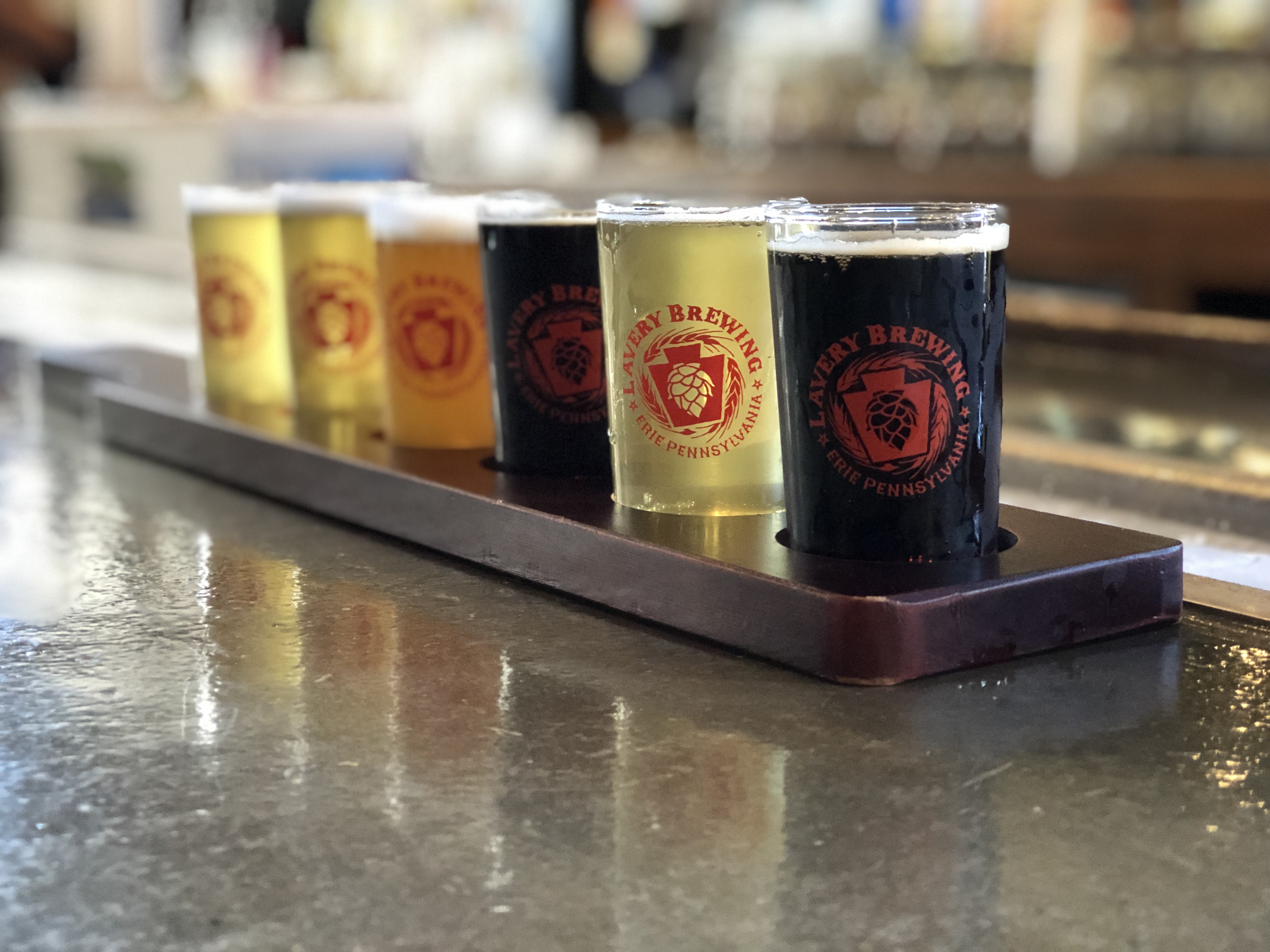 For those stronger in spirit, the Greatest Hits of the '80s Double IPA packs a hoppy punch, as does the heftier That's Gold Darling Horchata Stout. And there's plenty of range in between with a farmhouse Saison, a wit beer, a black lager, and a Berliner — essentially something for everyone, including craft cocktails made from Pennsylvania spirits. 
But enough about the beer. If there's one thing folks already know about Lavery's, it's that the beer is [fill in your preferred adjective for 'great']. Aside from general word-on-the-street, it's award-winning, including medals from the Great American Beer Fest and others.  
Just as Dulachan now has two homes, so do food favorites formerly confined to only the Lavery Pub location at 128 W 12th St. in Erie. Nachos Borrachos, tortilla chips topped with beer queso, borracho beans, pickled onions and jalapeños, crema, and salsa verde; a selection of pizzas; and a shrimp roll (with Duke's mayo here) are great familiars or recognizable variations. 
With a kitchen near the size of the entire Erie pub location, newcomers are plentiful. Lager Haus Chef Nathan King is no stranger to the tastes of Titusville, as he served as the chef at Blue Canoe. 
The two-sided menu starts with an array of appetizers and shareables, ranging from house-pickled vegetables to barbecue peanuts to heavier fare by way of the Salmon Benedictine, complete with cream cheese, cucumber, dressed salmon crudo, and herbs, and crostini for scooping up the delectable Kentucky-inspired dip.  
A standout by far is the Fried Lake Smelt. Think adult fish sticks. Seasoned lightly with Old Bay, fried with parsley, and served with a rich green tomato tartar, these tasty treats are damn-near-perfect snacking bar food.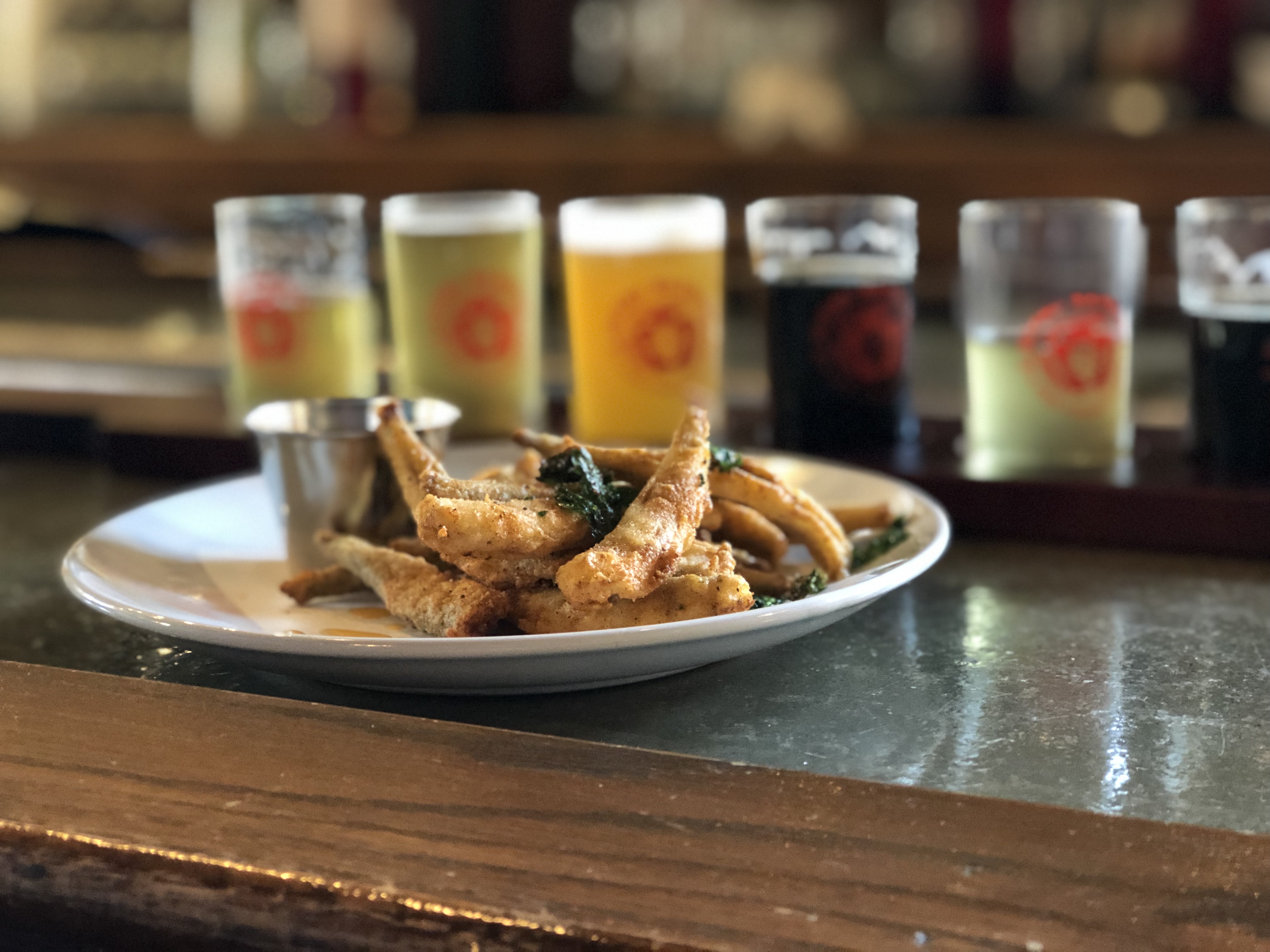 Under the "Vegetables/Smalls," which offer plenty of options, a must-have (tip: order a glass of water) is the Fried Eggplant and Tofu. 
I know, I know … But both of those things are bland and tasteless! And why would I possibly need water? 
Thanks to the spicy (with emphasis on this is a kick-your-taste-buds-into-telling-your-brain-you'll-need-more-beer-or-water-post-haste kind of spicy) chili crisp mixing nicely with a somewhat calming mint garnish with the lightly fried one-two punch of eggplant and tofu, this is a 'small' dish you could easily turn into a meal and not want to share.
The list of "Supper" items is impressive, including Pork & Succotash, Steak Frites, and Seared Salmon, amongst others — a quick, loud wake-up call that this is a full-fledged restaurant that also happens to be a brewery. 
The Spaetzle "cacio e pepe" is a funky-good German-meets-Italian cultural-cuisine mashup, with the German-style dumplings taking the place of the traditional pasta. The addition of sweet corn offers a sugary-yet-clean note to the savory "mac-and-cheese got a job and grew up" dish.
Ordering the Pork Schnitzel Sando is worth the gut-laugh-inducing visual-reaction spectacle alone. A beer-marinated crispy-fried pork cutlet comes spilling over the hulking spice-topped brioche bun. If ever there was a sandwich that'll fill you up for supper, this contender is ready to go toe-to-toe with anything else out there.
The show-stealers, though, are the LagerHaus Burger and French fries. Yes, you can get a burger-and-fries just about anywhere. But you can't get this burger-and-fries just anywhere (including Lavery's Erie location). And earlier, before entering the Lager Haus, the first person Adam and I encountered on the street, whom we told where we were headed, empathetically instructed us: "You have to have the burger," as if not doing so was simply not an option.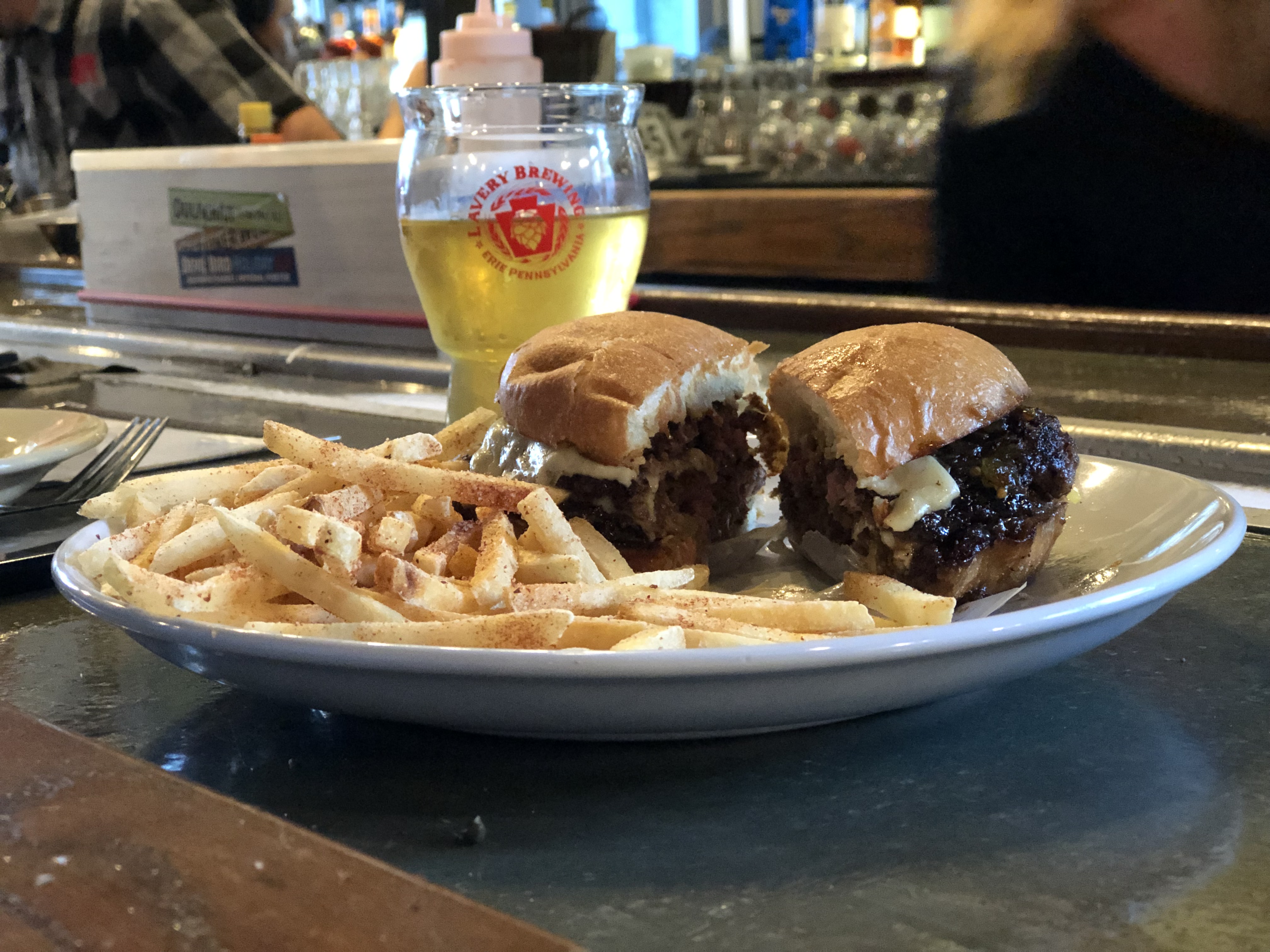 So we did as we were told.
The juicy, double-smashed stack of beef patties — which comes topped with green tomato relish, mustard onions, and white American cheese — is what a burger should be: Humble enough without being modest so that you can taste the good quality of the "so melty in your mouth you might not need your teeth" meat. Not overly topped, not overly dressed up, not overly charred, not overly anything. Just outstandingly simple in all the right ways a burger's burger should be.
The fries can be ordered one of three ways: Plain, herb-dusted, or tomato-chile. While I'll assume the plain are just fine, we opted for the latter two, neither overly seasoned, both delicious, reminiscent of McDonald's French fries — in a good way. 
They're thin-cut, shoestring style, crispy without being solely crunchy – and addictive. It's like a kid's-meal side grew up, got responsible with a mortgage, and diversified not only its stock portfolio but its palate without sacrificing the original, universal truth: It's a fried potato stick that serves best as a side to be dipped in ketchup or aioli and swirled around the plate to mop up the left over burger-juice goodness. 
If anything, the menu is fun and diverse — just like the catalog of Lavery beers. There's plenty of German-style fare, keeping in line with the Lager Haus' theme, pub-grub that isn't solely straight from the deep-freezer to deep-fryer, and fan favorites that folks are already familiar with.
Just as a portion of the beers on tap will continually change, Chef King will rotate the menu to highlight what's in season — all the more reason Titusville locals will want to stop by again and again and folks throughout Erie and Crawford counties and beyond will want to take a trip to Titusville two or three or 30 times.
Lavery Lager Haus kitchen hours of operations: Wednesdays and Thursdays: 3 to 9 p.m.; Fridays and Saturdays: noon to 9 p.m.;  Sundays: noon to 6 p.m.
Ben Speggen can be contacted at bSpeggen@ErieReader. You can follow him on Twitter @BenSpeggen.