LEAF Presents Tenth Annual Winterfest
LEAF hosts its tenth annual Winterfest, a celebration of all things snowy and outdoors. 
February 4, 2015 at 5:50 AM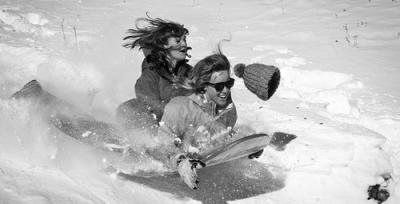 Sometimes, the winter months here in Erie can seem like a drag. It's easy to confine yourself to the indoors, venturing outside only when absolutely necessary in an effort to avoid the cold, harsh weather. However, the Lake Erie Arboretum at Frontier Park (LEAF) would like to offer an alternative.
Sunday, Feb. 8, LEAF will be hosting its tenth annual Winterfest, a celebration of all things snowy and outdoors. Hosted at Frontier Park, events will begin at noon and last until 4 p.m., giving you plenty of time to enjoy any or all of the activities—such as horse-drawn sleigh rides, ice carvings, an ice fishing demonstration, and a scavenger hunt. Also scheduled is a rubber duck race at 3:15 ($1 per duck) and a recycled sled contest at 2:30.
Participants in the sled contest will be split into three age groups (5 to 8, 9 to 12, and 13 to 18) and are encouraged to build sleds out of as many recycled materials as possible. Suggestions include cardboard, plastic containers, and wood, so consider it an opportunity for creativity that also clears up a bit of accumulated clutter. Prizes will be awarded for the sleds that go the furthest and those that use the widest variety of materials.
If you're worried about spending four hours outside, there will also be several fun indoor activities available. Kid's yoga goes from 12:30 to 1:30, singing and dancing activities run 1:30 to 2:30, and indoor games start at 2:30. Additionally, there will be hot food and beverages available for purchase to warm your insides if you get too cold.
Let's face it: winters in Erie can sometimes get the best of us. But the fact remains that winter is here and it will continue to be here for a few more months, so we might as well try to have some fun with it. Head down to Winterfest to clear all your winter blues away with fun for the whole family. – Chris Sexauer
Noon to 4 p.m. Sunday, Feb. 8 // 1501 W. Sixth St. // leaferie.org