Leap Up for Erie Zoo Reopening
Hop over to the Grand Reopening of the Erie Zoo
February 26, 2020 at 10:15 AM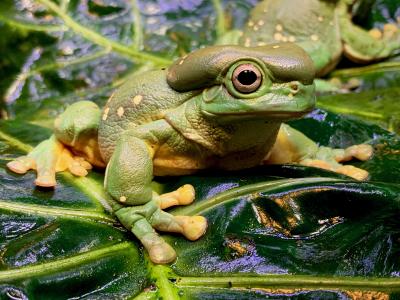 Saturday, Feb. 29
Have you been stagnating in your pond all winter? Perhaps it's time you got off your lily pad and met some other species. If you're feeling froggy, consider hopping over to the Erie Zoo for its 2020 Grand Reopening Celebration, which promises to be quite the (webbed) fete.
Appropriately frog-focused for Leap Day, the event will feature amphibian-themed zookeeper presentations and crafts in the Adventure Area and several perks you'll want to get a jump on. They include treats from Tim Horton's and Mill Creek Coffee Co., coupons from Chick Fil-A, discounted concessions and summer camp sign-ups (one day only — use code "SummerDiscount" online), free carousel rides, and free admission. Even if you've toad the line with your personal finances as of late, your wallet should be minimally endangered.
Unfortunately, other specimens are not so fortunate. That's why from opening day through the end of March, the zoo gift shop will be selling koala plushies to benefit the Australian Bushfire Emergency Wildlife Fund, with all proceeds donated to support animals who have been orphaned or injured in the environmental catastrophe down under.
Enjoying the company of the animal kingdom for free and helping wild critters in need? Phyla this one under "no-brainer." — Matt Swanseger
10 a.m. to 2 p.m. // 423 W. 38th St. // Free; annual zoo memberships available for $75-$85 // eriezoo.org