Cheap Cheap: Learning on a Budget
Making the community college fly in bargain-conscious Erie
August 14, 2019 at 8:00 AM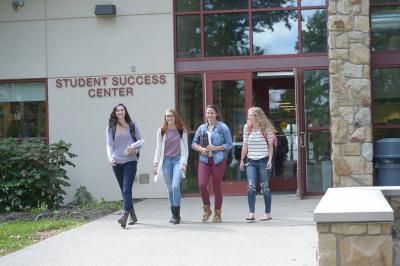 For Haley Kovach, enrolling in a community college was a no-brainer.
"I'm not about to go into debt for the rest of my life," said Kovach, who is studying for an associate's degree in marketing management at the Armstrong County campus of Butler County Community College, also known as BC3.
Kovach, 21, is the first in her family to go to college; her sister, Hannah, 20, followed her to BC3 to study early childhood education.
When Kovach decided to work for two years after high school, skeptics doubted that she would ever go to college. "I'll prove you wrong," she vowed.
Kovach is attending BC3 with help from the College Sponsoring Program offered by Pittsburgh Job Corps. This program, through the U.S. Department of Labor, helps to cover tuition, books, supplies, transportation, clothing, and health and wellness services for eligible students who attend either BC3 or the Community College of Allegheny County. Students also receive a monthly stipend.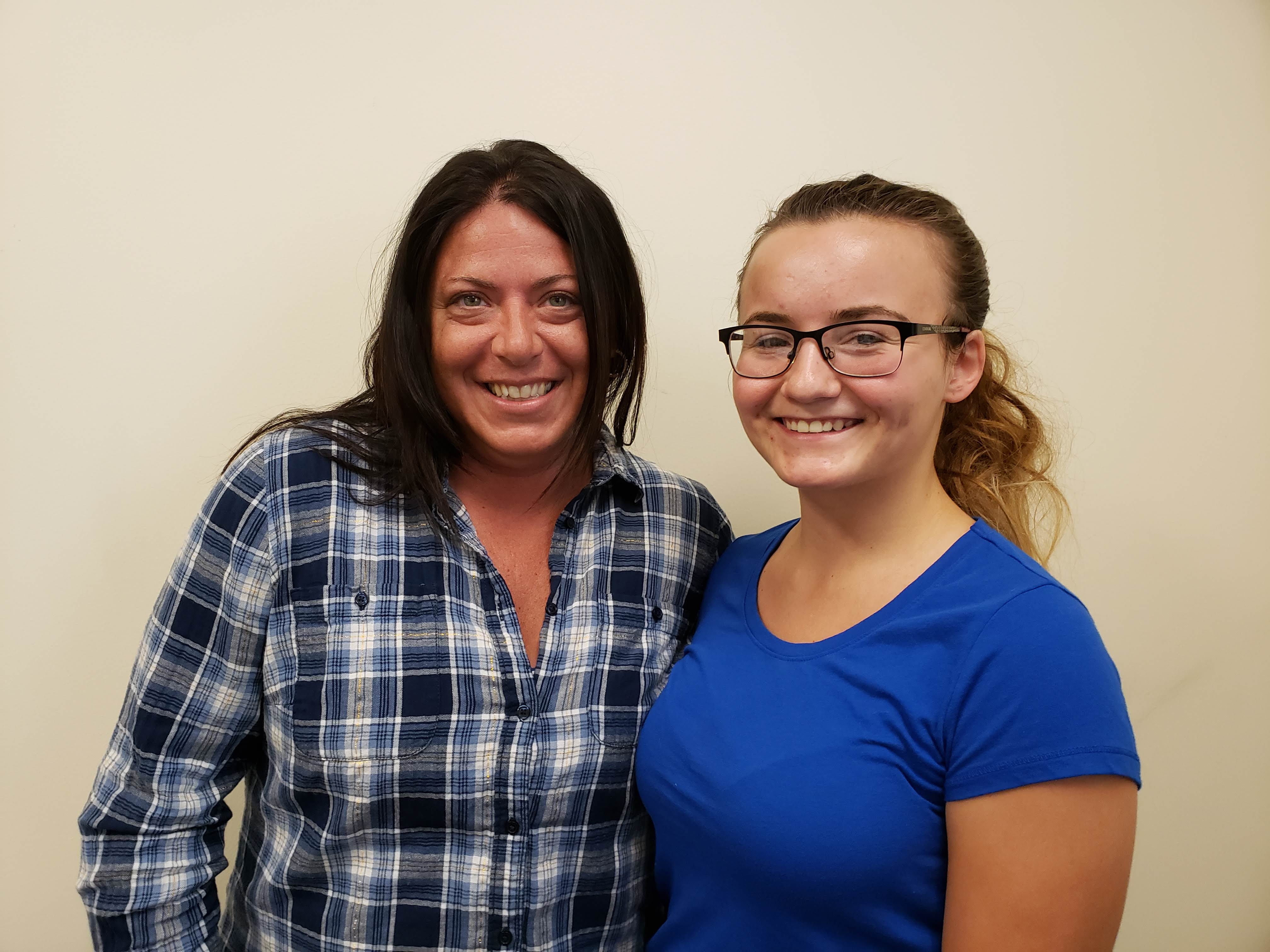 Haley Kovach, right, stops by to talk to Renea Knauss college counselor at BC#. Kovach is enrolled in the Pittsburgh Job Corps program and is the first one in her family to attend college.
The main campus for Butler County Community College is on 330 acres at a former golf course.
"I like to consider it an employability program," said Renea Knauss, a BC3 college counselor, referring to Job Corps. To help graduates with resumes, interviews and job placement, a caseworker is assigned to each participant for six months to a year after they earn a certificate or an associate's degree
This semester, Kovach will take 18 credits at BC3's main campus while also working full-time as a caregiver for adults with intellectual disabilities. It's a heavy load but she intends to keep up her 4.0 grade-point average.
Kovach picked BC3 because it was the "cheapest" option to further her education, she said.
The word "cheapest" should resonate in Erie, where we are known for being bargain-conscious. With that one simple description, Kovach sums up the appeal of community colleges: They are affordable and accessible no matter what your stage in life. A certificate program can help you to land a job or qualify for a promotion. An associate's degree can be your ticket into the workforce or it can be used to transfer to a four-year institution. You can follow any of those routes without saddling yourself with huge student loans.
At BC3, 75 percent of students graduate without debt, according to William Foley, the college's coordinator of news and media content.
Kovach proved to be the perfect speaker to tout the value of a community college education, but she's not a pitch person. I only met her by chance during my Aug. 7 walking tour of the main BC3 campus, which is between summer and fall sessions.
Maybe more real-life stories like Kovach's could persuade people in Erie that a community-college education has multiple benefits.
"We can pump millions of dollars into downtown Erie, but if we don't heal the city [and] fix the economic disparities, nobody will want to come and invest in a broken city," said Ron DiNicola, who co-founded Empower Erie with Erie County Councilman Andre Horton and served as Empower Erie's chair.
In October 2016, Empower Erie received funding from the Erie Community Foundation and other sources for a community-college feasibility study. "We found a community on the cusp of change, anxious to dislodge the status quo and inspired by a bold set of leaders from business, philanthropy and government willing to play big and win big," DiNicola wrote in a letter accompanying the feasibility study in May 2017. "The community understands, and our research shows, that we need to shift from playing defense to playing offense on economic development and education. A community college would help us create a winning strategy, embracing our future and restoring Erie's reputation as a maker city and builder of America," DiNicola concluded.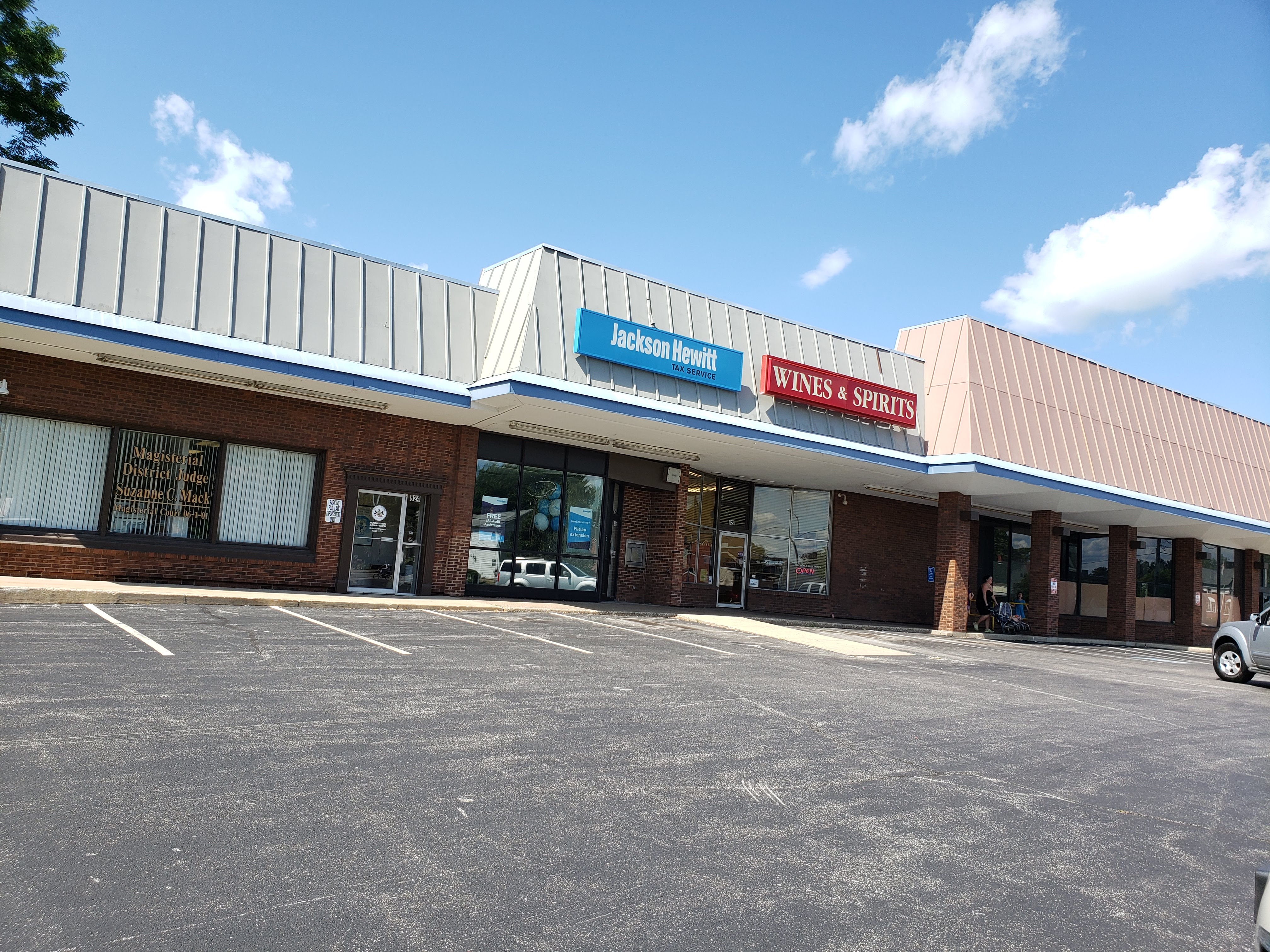 Space at the East Erie Plaza (above), in the 800 block of East Sixth Street, has been pitched as one possible location for an Erie County community college, as well as the RCWE Building (below), 155 W. Eighth St., which is currently for sale.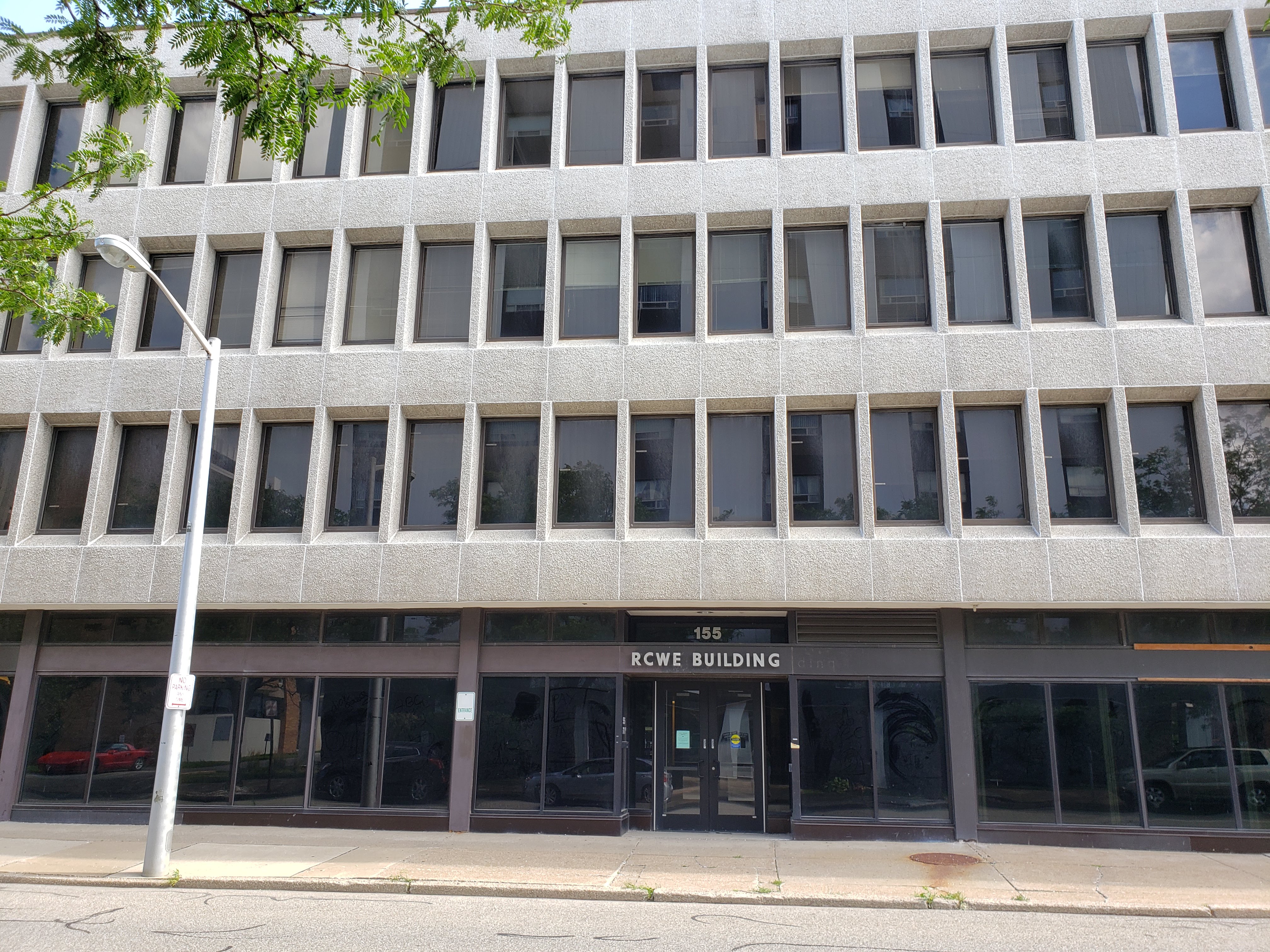 But Empower Erie couldn't keep the rally going, as a divide emerged about whether Erie should get its own community college or cede to political pressure to become part of the nine-county Northern Pennsylvania Regional College. Based in Warren, the NPRC was founded as the Rural Regional College in 2014; it changed its name in 2018.
But the game doesn't have to be over if enough regular folks and business leaders can raise a ruckus about why Erie has been excluded from state funding ever since the Pennsylvania Community College Act was passed in 1963. "The policy of the Board is to encourage and facilitate the development of community colleges within reasonable commuting distances of every citizen of this Commonwealth. These colleges may be developed in various forms and by various organizations provided they are consistent with the act and this chapter," the act states. Nearly six decades after the act was passed, Erie does not have community college within "reasonable commuting distance." [variable according to the U.S. Dept. of Labor — ed. note] 
As the public editor for the Erie Times-News, I wrote and edited opinion pieces touting the urgent need for an Erie community college, although "urgent" is actually the wrong word. Otherwise, we would have responded in 2001, when consultant Brian Bosworth's study, "Toward an Economic Development Strategy for Erie," laid out dramatic actions to help Erie regain its competitive edge, to attract business, and to stem population loss.
In the section "Getting Smarter," the Bosworth Report recommended "a very focused effort to build an innovative community college that can respond directly and very quickly to skill needs and potential demand in the region." The report stated: "We do not wish to convey the sense that people in Erie are somehow not as 'smart' as people elsewhere. Of course, that is not true. However, on average, the population is not as well-educated or trained beyond high school as are people in other economic regions with which Erie competes."
Since the Bosworth Report, we've lurched forward every few years with a new plan for a community college. Then, again, we falter, as the current controversy shows. On one side is Empower Erie, which advocates for Erie County to host Pennsylvania's 15th community college.
On the other side are those pressuring Erie County to ditch its community-college application to the state Board of Education and to join the Northern Pennsylvania Regional College, which relies on a distance-learning model.
Empower Erie has sought ways to collaborate with NPRC, but there are philosophical differences. Empower Erie advocates for an actual college for Erie, and for a larger role for Erie in governing NPRC and designing curriculum. NPRC wants to stick to its distance-learning model and the status quo in its governance.
J. Noah Brown, president and chief executive officer of the Association of Community College Trustees in Washington, D.C., says that vigorous discussion about community colleges can be healthy. "If there was no real need, you wouldn't be having this debate," Brown said. The question is how to come up with "the most appropriate instructional model" that will work best to bolster the economy and "create wealth" in Erie, he said.
Unless the college is targeted closely to address the economic situation in Erie, "you've just created another institution in search of a mission," he said, and that's not good for students or taxpayers.
The conversation about whether NPRC and an Erie college might collaborate wasn't helped when Joseph Nairn, NPRC president, revealed his view of creating an actual community college campus in Erie. "We don't want to be in the business of owning the campus. That is where the costs get out of control. I tell people if you are looking for a climbing wall, a lazy river, and a vegan bar, we are not here to entertain them," Nairn told Erie Times-News reporter Jim Martin for a July 9 story.
After reading Nairn's quote, I decided to visit an actual community college. Butler is an easy drive from Erie and the community college there had become a factor in Erie County's lengthy battle to create a community college when then-Erie County Councilman Joseph Giles asked BC3 to expand its footprint into Erie. Thanks but no thanks, BC3 responded.
Butler County Community College "has been caught in the crossfire between those for and against Erie County's community college venture. It is the board's opinion that reaching agreement between these groups is essential before deciding a creative solution which may involve BC3," Ray Steffler, chairman of the BC3 board, wrote to then-County Executive Barry Grossman, according to a Nov. 18, 2010 Erie Times-News story. Grossman supported a standalone college for Erie, rather than an affiliation with another institution.
My trip to BC3 shored up my belief that without access to a true community college, Erie County residents are missing out on the chance to improve their lot. Employers who bemoan the skills gap are also getting the shaft.
One of the first stops on my tour was the Amy Wise Children's Creative Learning Center Preschool and Childcare facility, which serves BC3 students, staff and community members. "We get so many parents who, without the child care, would not be able to attend the classes," said Gina Rajchel, the center's interim director. Having low-cost childcare on campus is "highly important" to their success in college.
I also met Karen Jack, facilitator for KEYS (Keystone Education Yields Success). KEYS, offered at all 14 colleges that are part of the Pennsylvania Commission of Community Colleges, runs in conjunction with the state Department of Human Services. Open to students eligible for Temporary Assistance for Needy Families and/or the Supplemental Nutrition Assistance Program, it helps them pay for expenses such as childcare, bus transportation, car repairs, a driver's license, vehicle registration, test fees, and uniforms. Students can borrow laptops and receive extra tutoring and career counseling.
"Childcare is huge," says Jack. "When we can say, 'you're going to get help with that,' then education seems doable."
To fully understand the current quarrel between those who want Erie to have its own community college and those who want Erie to join the NPRC, you have to be schooled in the back-door dealing of state and county politics in both political parties. Someday, that story will be told.
For now, it should be enough to know that previous efforts to devise an alternative to a true community college for Erie have failed. In 2014, for example, Edinboro University of Pennsylvania unveiled the Porreco Promise and retooled its campus in Millcreek to serve as the "community's college" with open enrollment, low tuition, and scholarships.
Community leaders extolled the concept, but by September 2017, the "community's college" experiment was over. "We are going to extricate ourselves from the community-college market," H. Fred Walker, who was then serving as Edinboro's president, told the newspaper.
Edinboro's decision didn't sting as much as it might have, though, because Empower Erie had already completed its well-documented feasibility study.
"We met every Saturday from the fall of 2016 through the fall of 2017," said Judi Roth, a former teacher, guidance counselor, and business owner, who serves as president and treasurer of Empower Erie. "It was not an advisory board. It was a working board."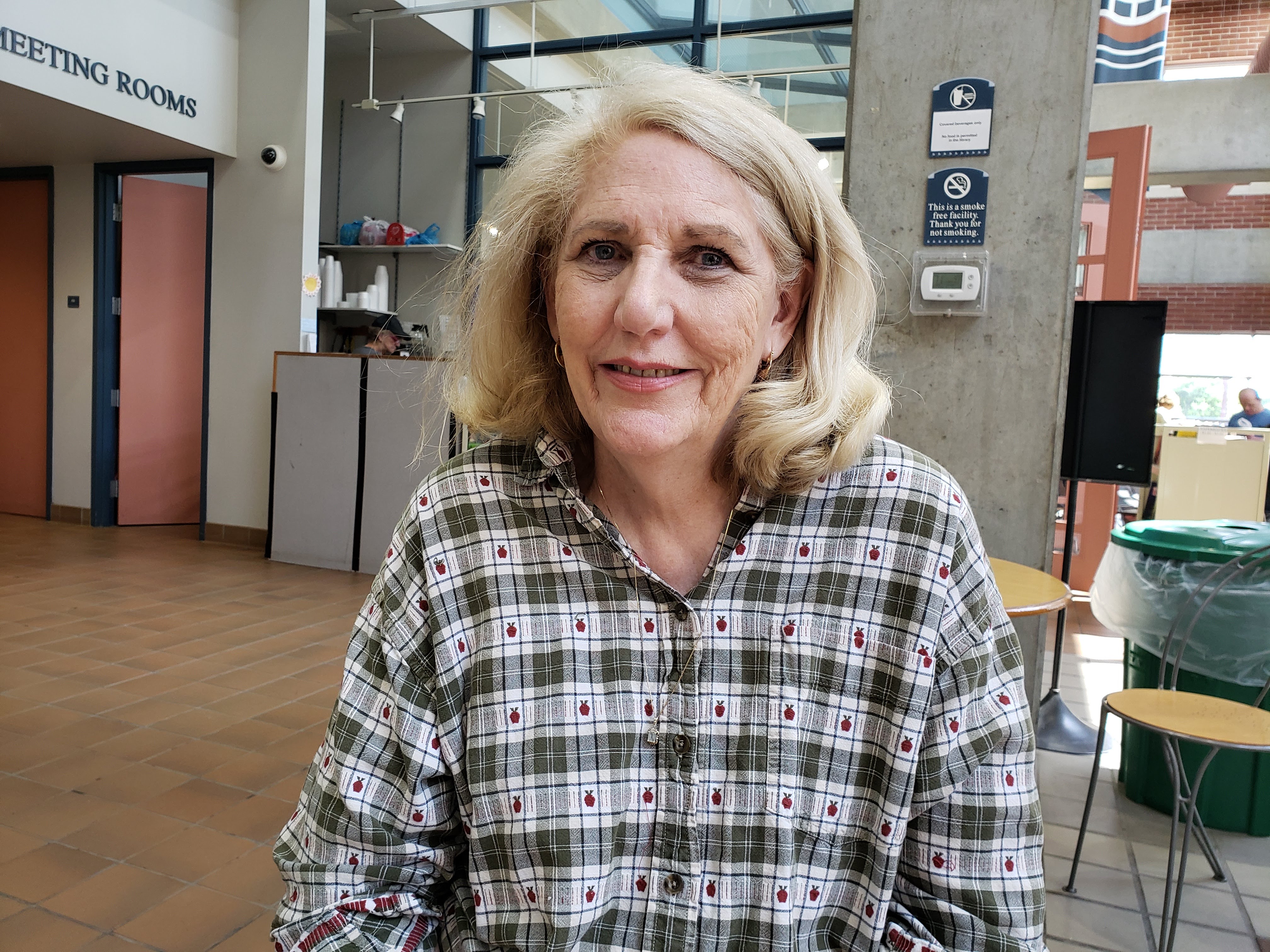 Judi Roth of Empower Erie
The feasibility study is so detailed it could be daunting to read. But this group did its homework, and Erie County's application to start a community college explains why a college is needed, outlines how it will be financed, and suggests possible sites.
When the state Board of Education asked County Council to revise its projected enrollment, the county complied.
In doing its research in 2016 and 2017, Empower Erie met with the NPRC in Warren. "A subsequent invitation was issued to meet here. They never took advantage of it," Roth said.
Empower Erie's goal is not to compete with NPRC. Rather, "it's a case of cooperating, collaborating, complementing," Roth said.
For both colleges to emerge as winners, Roth has been drawing on lessons learned during 10 years of teaching at a Quaker school in Wilmington, Del.
"People say that consensus is compromise, giving in, sacrificing," she said. In a majority-rule system, she explained, "you stand where you are until you convince others to join you or be voted down."
In the Quaker system, "you start with a continuum of 10 and you both move to five. You end up with a solution that can often be better than where either of you started. It's better because you looked at the needs of both groups," she said.
In the meantime, Empower Erie and the task force established by Erie County Council to negotiate with the NPRC will push to make its voice heard, not just in Erie but in Harrisburg.
"We continue to stay focused," said DiNicola, a task force member. "Sometimes, a little bit of adversity brings out the best."
Liz Allen did not find a climbing wall or a lazy river at Butler County Community College. She did, however, spot a peanut-butter-flavored vegan protein snack bar for $1.99 at the college bookstore.
Fast facts
Butler County Community College, established in 1965 at a former golf course, now has an enrollment of 20,000 students in eight western Pennsylvania counties. Nearly one quarter of its students are non-traditional, meaning they are older than 24.
BC3 has transfer agreements with a variety of public and private colleges in Pennsylvania, including Edinboro University of Pennsylvania and Penn State University campuses, for various associate degree programs. 
Qualified BC3 students can also apply for early acceptance to the Doctor of Pharmacy program at the Lake Erie College of Osteopathic Medicine in Erie.
According to a report submitted to the Legislative Budget and Finance Committee in Harrisburg, the Northern Pennsylvania Regional College enrolled 45 students in fall 2017 and 29 students in spring 2018, in partnership with Gannon University; 42 percent of those students were high schoolers earning college credits.
From Erie rags to educational riches
Allen Bonnell, who grew up in the 400 block of East 19th Street in Erie, in a poor area known as "Hogan's Alley," founded the Community College of Philadelphia.
An Academy High School graduate, Bonnell won a scholarship to Oberlin College. He earned his M.S. degree from the University of Bonn and his doctorate from the University of Indiana. He enjoyed a distinguished career as a public servant and as a college professor, including 18 years at Drexel Institute of Technology, later Drexel University. He left Drexel to become the founder and first president of the Community College of Philadelphia.
"It was my education that got me out of Hogan's Alley," Bonnell said. When his college created the Bonnell Award to honor people who open up educational opportunities for others, Bonnell said he was humbled. "I already had my satisfaction seeing young people and people of all ages have an opportunity for education," Bonnell said.
Bonnell died in 2013, at age 101. His cousin, Bob Wellington, and Wellington's wife, Patty, of Erie, have worked to tell Bonnell's story. In a 2010 letter to the editor, they wrote that Bonnell was "a firm advocate of community colleges as a means for the underprivileged to achieve success in life."
 Learn more
To read the feasibility study and other documents related to Erie County's request to start a community college in Erie, visit www.empowererie.org or like its Facebook page.