Lebron James, Miami Heat can silence critics by winning NBA title
The Miami Heat are up 2-0 against the Boston Celtics and show no signs of slowing down.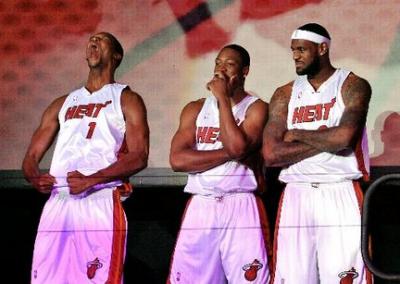 I'm not the biggest Lebron James fan.
Ask my fiancé. There isn't a Miami Heat game I've watched where I haven't barked at the television over something James has done.
He just sits there, laughs at my comments and shakes his head. My fiancé, that is. Not Lebron James.
Whether it was walking over to the Cleveland Cavaliers' bench to strike up a friendly conversation or pounding his chest ferociously, staring deeply at the opposing teams' crowd, he-- James-- frustrates me. I always find myself mumbling some comment under my breathe to belittle this athletic freak.
No, I'm not a disgruntled Cavaliers fan. I don't have a favorite team; I'm just a fan of the game.
 At one point, I was Team James. Kobe Bryant? Please.
Whenever the James-Bryant debate was brought up, I would spit fire and fight to the bitter end to defend James. I would go to great lengths to defend this star. Or, maybe there is just something about stopping a guy in his tracks with a valid sports argument – who knows.
Now? I don't hesitate – Bryant.
Last July, ESPN's one-hour special, "The Decision," has made me turn sour grapes on James. Yes, it was for a good cause – the Boys and Girls Club – but the production, the spectacle – give me a break.
It was an hour of my life I will never get back and quite frankly, regret watching. I suckered into ratings gold and suspense.
"The Decision" was kind of like the Love and Hip Hop marathon I encountered on Monday night on VH1 – crap. However, there was no shame in my game with this latest debacle of reality television; I watched all the way up to the finale. For some reason, I wanted to see if rapper Jim Jones was ready to fully commit to his girlfriend, Chrissy, of six years. Jones' mom was an instant hit, too.
Before I'm labeled a James obliterator, let me explain myself. I don't blame James for making the decision he did, opting for a change of scenery, substituting winter parkas for limited clothing. Most importantly, it was a better chance to win what all professional athletes seek at the highest level: A world championship.
However, it was the execution of how he used that evening in July to declare where free agency would take him.
Yesterday afternoon driving home from work, I was listening to the usual ESPN radio lineup when I began thinking – What if James and the Heat won the NBA title in its first year together?
I drove faster, instantly irritated at the thought. It can't happen. It won't happen. Not this year.
Besides rooting against the Green Bay Packers divisional rival, the Minnesota Vikings, who would I be able to loathe in the NBA? Not the Heat. The most despised owner in the league – Los Angeles Clippers' Donald Sterling? The Heat, in just one season, would silence its critics. Cheering against the team would no longer exist.
The Heats play is looking awfully good. Up 2-0 on the Boston Celtics in the second round of the playoffs, the Heat has become a team of basketball brilliance. This is the team that many predicted would be at the beginning of the season.
When I have gone off on my rants, I have said that this team would have to be clicking on all four cylinders for 82 straight games plus the playoffs. The Trio of James, Dwyane Wade, and Chris Bosh would have to be superb with no room for error.
I smirked when the team went on its losing streak, laughed my evil laugh when Bosh said he felt out of place in the offense, and said told-you-so about speculation that James and head coach Erik Spoelstra not seeing eye-to-eye.
Many so-called "Lebron haters" want to see this super star fail. They want to see the chemistry of this team fail, want to see a young coach screw up his Xs and Os, and want to see James take the last-second shot knowing that he has been atrocious at crunch time.
The NBA is not only a win now league, but a show-me business, too. Show me what your made of. The Heat is playing cohesive basketball and meshing at the right time – when it counts – in the playoffs.
Come June, we will see who will celebrate in confetti, become drenched in champagne, and hold the coveted Larry O'Brien trophy.