LECOM in a New York State of Mind
New Elmira campus to continue mission that began in Erie
August 14, 2019 at 8:30 AM
The Lake Erie College of Osteopathic Medicine continues to both extend its reach and flex its muscles, strengthening its core and uplifting the communities around it.
Following the establishment of branch campuses to both the immediate (Greensburg, Pa.) and far south (Bradenton, Fla.), LECOM is heading due east to Elmira, N.Y., within the state's underserved Southern Tier region. Dr. Richard Terry, D.O., M.B.A., and LECOM at Elmira associate dean of academic affairs was the chief catalyst in bringing LECOM to New York. A $20 million, 49,000 square foot facility on the Elmira College Campus will welcome 120 first-year medical students next July. 
Construction is underway on a $20 million, 49,000 square foot facility on the Elmira College campus that will serve as headquarters for LECOM at Elmira's osteopathic medicine program.
Pumping life into a new campus was not easy. "A tremendous amount of work is involved in bringing something like this to fruition," says Terry. Gaining accreditation through the New York Board of Education was a process Terry described as at times "onerous." Beyond that, there was the challenge of "building a robust clinical network" to train the students. This will include Elmira's Arnot Ogden Medical Center and 13 other sites across the Southern Tier, mostly in rural areas with a high demand for medical professionals. 
LECOM at Elmira's undergraduate and graduate programs will not only provide a welcome infusion of talent into the Southern Tier and Upstate New York healthcare systems, but also a significant economic boost in the form of more than 300 jobs and an estimated $60.4 million of direct and indirect benefits. By 2028, when those first-year students blossom into practicing physicians, the economic impact is expected to eclipse $78 million. 
Over 70 percent of graduates are likely to become internal, family, or primary care doctors — exactly the sort of physician rural and underserved communities need, according to Terry. "It's consistent with our mission to create opportunity."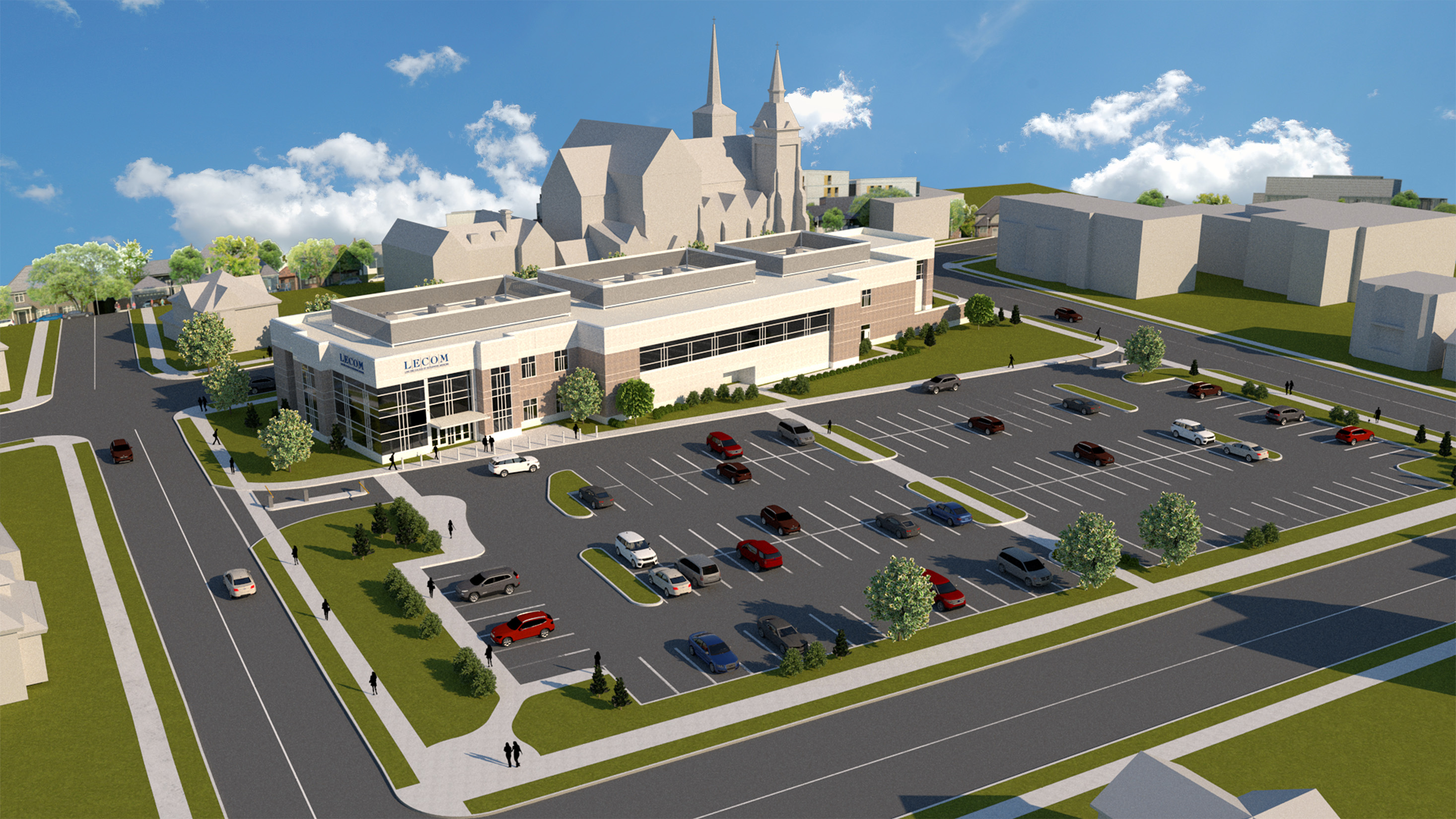 An artist's rendering of the completed project, which will open its doors to 120 new medical students in July 2020.
That they will be D.O.'s and not M.D.'s is a non-issue; the difference is negligible to the general public. "[D.O.'s] have been on equal footing since the inception of osteopathic medicine," assures Terry. "We have something unique to offer in our holistic approach and integration of the musculoskeletal system. The public accepts and embraces that. One in four medical students [today] will be D.O.'s."
LECOM, which was founded in 1992 by Millcreek Community Hospital physicians and administrators, has since become the largest medical college in the country. The LECOM name is already ubiquitous in the Erie community (and on NFL training camp highlights in the form of practice jersey patches), and Elmira is yet another stride in garnering more attention nationwide. Terry believes the new site will be a great fit for incoming students. "They'll be able to take advantage of everything [Elmira College] has recreationally and educationally, in addition to our simulation lab and state-of-the-art academic complex. It's truly the best of both worlds."
The template has worked for the 12,000-plus students LECOM has already graduated across its three existing campuses, and there's no reason to believe it won't work in Elmira as the college continues to integrate education and community. 
Matt Swanseger can be reached at mswanseger@eriereader.com