LECOM introduces Walk for Wellness
Millcreek Mall welcomes walkers for LECOM's Walk for Wellness program
February 12, 2018 at 2:15 PM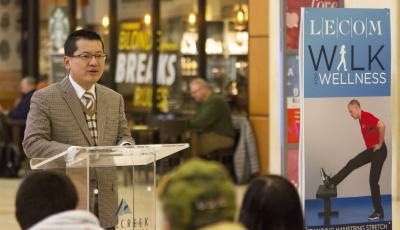 LECOM Health and LECOM Medical Fitness and Wellness Center have introduced a new Millcreek Mall walkers program, LECOM Walk for Wellness, which will include a 1.2 mile route through the mall with fitness stations where walkers can exercise.
According to James Lin, D.O., the Vice President of Senior Services and Adult Living at Millcreek Community Hospital and Director of the LECOM Institute for Successful Aging, "The LECOM Walk for Wellness encourages more exercise by offering community members access to walking, exercises  and health resources in a clean, safe, weatherproof environment."
The Walk for Wellness includes eight fitness stations with exercises designed by the fitness experts from the LECOM Medical Fitness and Wellness Center.  According to David Hopkins, LECOM Medical Fitness and Wellness Center fitness manager, "All of the exercises are easy to perform, however, individuals should check with their personal physicians before adding new exercise to their daily routine."
Participants may attend monthly health education programs presented by physicians from Medical Associates of Erie, an affiliate of LECOM Health. Programs will cover topics such as heart health, women's and men's health, colon cancer, cataracts and diabetes among other topics.
Cardiologist Carmine D'Amico, D.O., will present the first talk at 8 a.m. on Tuesday, Feb. 13.
Current mall walkers, and those interested in becoming mall walkers, may register for the program and take advantage of free screenings, health information, giveaways and refreshments. All walking levels are welcome. More information is available at (814) 868-9000.