Lee's Locks #26
With the conference champions to be determined this week, Lee's back and making his locks.
January 22, 2012 at 1:00 PM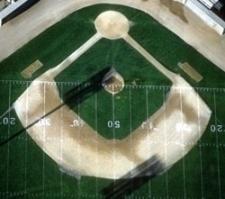 The Observation Deck
The Tim Tebow story for the Denver Bronco's 2011 season is now concluded.  By all counts, it was a success in that he led them to an 8-8 regular season record and the AFC West crown in a season which started a mediocre 1-4 and then led them to a Wild Card playoff win against the Pittsburgh Steelers.  Tebow and the Broncos unfortunately ran into a focused and driven New England team last Saturday night and didn't manage much of a contest, yet the season was by no means a failure.
When Tebow became the starter in week #5, he inherited a team that couldn't win and made it competitive.  His religious beliefs became a focal point of this turn-around and in fact became polarizing, but whether or not you agreed, you had to give credit to the fact that he helped make the team difficult to beat.  The question now is will he be the starting quarterback next season?  I would think that he could be.  With a complete offseason of preparation – the camps, workouts and then training camp – he would be in a position to be much more polished and therefore, much better prepared and with improved mechanics so that he could prosper in that position.  It sounds like Denver is willing to give him the opportunity to compete for it and if he doesn't win the starting nod at that point then it's the sidelines for him.
The Indianapolis Colts have fired head coach Jim Caldwell after they completed a horrible 2-14 season without starting quarterback Peyton Manning.  This was somewhat of a surprise in that it was Bill Polian (vice president) and son Chris (GM) who failed to have an adequate backup to Manning in place and not Caldwell, who didn't get to shop for the groceries, just prepared the meal.  That and the fact that Caldwell was talking with former Ram's coach Steve Spagnuolo about the defensive coordinator position in the morning of the very day he was let go.  Evidently this was decided over lunch?   
Let's make a deal: New St. Louis Rams coach Jeff Fisher has enticed former Titans coordinator Gregg Williams to leave the New Orleans Saints and join him as defensive coordinator with the Rams.  The Saints countered that by hiring former Ram's head coach and Giant's defensive coordinator Steve Spagnuolo as their own defensive coordinator, so there, take that.
In the NBA, the Miami Heat are now at 10-4 on the young season, having beaten down the L.A. Lakers on Thursday night, 98-87 with LeBron throwing for 31 points.  Oddly, without Dwayne Wade in the lineup for exactly five games, they are 5-0 in that span.  Wonder what that means?
Quote of the Week 1
"In all seriousness, Santonio, obviously, he is a great player, there are some things that obviously he needs to work on as far as being a leader.'' – New York Jets running back LaDanian Tomlinson when asked about teammate Santonio Holmes and his behavior during this past season (courtesy of Sports Illustrated).
Holmes was viewed during their final game in Miami arguing with teammates on offense and then basically shutting it down before the game was finished.  The Jets owe him $ 7 million guaranteed for 2012 and you have to wonder if the Steeler's Kevin Colbert knew something that they didn't when Pittsburgh chose to not resign him and subsequently the Jets offered him a contract.  Colbert is one smart guy. 
Quote of the Week 2
"Last year I thought we'd win it. This year, I know we'll win it," – New York Jets coach Rex Ryan when asked about their Super Bowl chances during halftime of the New York Knicks-Los Angeles Lakers game at Madison Square Garden in February, 2011.
The Jets subsequently ended the 2011 season a dismal 8-8 and out of the playoffs. 
Recap
What a great weekend for football and it included, of course, the requisite upsets where for the first time in these NFL playoffs, a road team actually won.  Let's go over what transpired and see where that gets us.
The first game on Saturday had the eagerly awaited matchup of visiting New Orleans at San Francisco and this turned out to actually be one great game and especially the last five minutes where the lead kept changing.  What was supposed to be an offensive show was actually a defensive struggle until the end, but what a finish it was, with the Forty-Niners pulling it out at the end, 36-32.  I went with the Saints in this one and lost when they ran out of clock.
The next game was the upstart Denver Broncos at the New England Patriots and knowing that the Pats had lost their last three playoff games dating back to the 2007 Super Bowl and how the Broncos manhandled the Steelers the week before, you almost didn't know what to expect.  QB Tom Brady took control by tossing six touchdowns – five by halftime, while TE Rob Gronkowski had three by himself and the New England defense shut down the Broncos and controlled the game throughout, 45-10.  This gave me my first win of the weekend.
On Sunday, we had the Houston Texans heading up to face the Baltimore Ravens and you had to know that this was a matchup of two fine defensive teams, but also two teams that have had their share of offensive woes as well.  The Ravens have the amazing RB Ray Rice, but an up-and-down quarterback in Joe Flacco, while the Texans had third-string quarterback T.J. Yates under center facing a dominating defense at their place.  The outcome was predictable and Baltimore took care of the pesky Texans, 20-13 and gave me a win as well.
The final game was the New York Giants at the world champion Green Bay Packers and I was definitely thinking that I could go 3-1 on the weekend since I went with the Pack to win this one over the Giants.  Well, as we now know, the Giants didn't get the memo saying they were supposed to lose and actually pasted the champs quite convincingly, 37-20.
That left me a completely mediocre 2-2 for the divisional round weekend and 32-15 overall on the NFL season.
The Picks
Now it's on to the two championship games – the AFC and the NFC – with the winners to face each other in Super Bowl XLVI in February.
The first game is the AFC Championship to be played in Foxboro between the New England (14-3) Patriots and the Baltimore Ravens (13-4).  The Patriots chewed up the Denver Broncos to get here while the Baltimore Ravens managed to beat the Houston Texans despite a sluggish offense that capitalized on some good fortune.  The Two teams are a contrast with the Patriots having a prolific offense and a questionable defense, with the Ravens having a middle-of-the road offense and a very good defense.  In their history, the Ravens beat the Patriots once in their last nine tries and that was the playoffs in 2009.  I'm not one for series records and always think that each season and each meeting is unique onto itself and the past doesn't mean Jack, although the cumulative score for the Ravens-Patriots is actually Ravens – 98, Patriots – 91 since 2007, so close games are the norm, here.  Having said that, the New England defense really came out smoking last weekend and I don't think the fire's out just yet and that previous playoff meeting didn't include tight ends Ron Gronkowski and Aaron Hernandez or the chemistry that seems to be present on this particular Patriot's squad, defensive questions or not.  They're trying to win one more for Myra Kraft and I can't pick against them.  
Pick: New England
The second game is the NFC Championship between the New York Giants (11-7) and the San Francisco Forty-Niners (14-3), playing at home in the bay area.  The Forty-Niners offense has really done everything they've needed to, when they've needed to, but it's their defense that has them in the position they are in today.  They are feeding off each other and are playing well as a team and have done so all season as their record shows.  The Giants, meanwhile have been an up-and-down club all year and didn't reach the playoffs until finally defeating the Dallas Cowboys in the season finale and honestly shouldn't have knocked off Green Bay last Sunday.  Well, there's shouldn't and then there's couldn't and there is no way that I can say that they can't beat San Francisco either.  I do know two things: 1) The Giants are putting it all together at just the right time and are one tough out and 2) San Francisco is one lucky team that managed to get by Drew Brees and the Saints last Saturday.  With all things being equal, it still comes down to quarterback play for me, but having said that, the Forty-Niners special teams are very, very good with an average starting position of the 33-yard line and they have excellent return people, kicker and punter, which is huge in the playoffs and not to be ignored, they finally get their #2 tight end, Delanie Walker (jaw) back for this game, which will create matchup problems for the G-Men with Walker and Vernon Davis both in the lineup.  QB Eli Manning is proving to be elite this season, while journeyman QB Alex Smith is just coming into his own after disappointing seasons, but the quarterback that could be the most influential is coach Jim Harbaugh.  Fate, however, would dictate that New England and New York should meet in a rematch of Super Bowl XLII that the Giants won, 17-14 with the amazing 'velcro catch' made by David Tyree on that final drive.
Pick: New York    
And another thing
In the NHL, no team is playing quite like the Detroit Red Wings with the best record in the league at this point, although the New York Rangers, Boston Bruins and Vancouver Canucks are in close pursuit.  Locally, the Buffalo Sabres have fallen on some tough times with so many injuries, but it's the Pittsburgh Penguins who miss just one player dramatically.  That player of course, is Sidney Crosby.  If you remember, he was injured originally in last year's Winter Classic between Pittsburgh and Washington and then right after that against Tampa Bay.  He didn't return to the ice until November 21, but was held out for two games and then sidelined indefinitely on December 7.  Crosby is one of the best professional hockey players in the world and is only 24 years old and could very likely be at the end of his career.  He may never again take the ice in an NHL game.
Likewise, you would have to wonder if Indianapolis quarterback Peyton Manning will be playing football in the NFL ever again.  According to sources, Manning is again throwing footballs and his recovery from September neck surgery has gone well, but it's one thing to toss around footballs and quite another to have defensive players trying to remove your head during a regular season contest.  He may just do the math and decide that he's done what he needs to do in that he has a Super Bowl ring and that's something many players have never had the opportunity to accomplish.
Far out
There was a Saturday softball game played recently in Tampa, Florida that was quite noteworthy.  The teams consisted of an all-star squad of former professionals and college players who pitted their skills against a war veteran team known as the Wounded Warriors and who went on to post a 23-8 victory.  The Warriors have an all-amputee team that has infield players without at least one leg, two outfielders without legs – who using the special carbon fiber prosthetics – and an outfielder with one hand and yet another player without an arm or shoulder and who challenges the other team's toughest player to a push-up contest where he uses one arm and his competition uses both and he's only lost once.  Evidently they are quite good as the score can attest and they currently have a 14-13 record with 75 games scheduled for this year.
I guess that you evidently can't tell them they aren't capable of doing something because they will likely not listen.  They are a testament to perseverance and determination.
One and done
Since this is the AFC and NFC Championship game week, I'll contribute another column to pick my eventual Super Bowl XLVI winner before I take leave for a while.  When the NFL season is finished, I will be also, although I'm contemplating a return, if you'll have me, that is.
Have a great week and steer clear of trouble.
Lee