Lee's Locks for 2014 NFL Season - NFC
He's back -- and he's picking the division winners and losers for the 2014-2015 season.
September 6, 2014 at 7:53 PM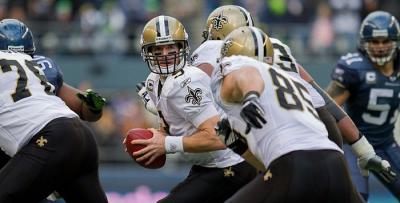 Once upon a time, I attempted to provide a column here by the very same name of Lee's Locks. Some gave it a read and then subsequently blew their noses with it, yet some of the sports faithful actually read it and got something out of it. Others didn't understand it, yet I knew even then that you just can't have everything.
Besides, we now know, at least, that blowing your nose is essential to good nasal health.
Well, you probably thought you would get off easy and no more opinion and insight from me, didn't you? Not so fast, slackers, because it's that time again. It's the time when hope springs eternal in the NFL football world. It's when half of the teams are locks for the Super Bowl, and the other half have their fan base completely baffled – yet they too, believe it's their year to shine, not realizing they are merely positioning themselves for next year's draft.
The first thing to mention is that we all know that there is no shortage of pundits, prognosticators, fools, or fired coaches who want to offer up their two cents as if any of them are really any better at it than the next guy (or girl). They don't know Jack, but that won't stop them, no sir.
With that, I'll throw my hat into the ring and come up with my own prognosis, and I've got just as much of a chance as anyone, proudly falling well into the pundit/prognosticator/fool category myself. We'll go conference-by-conference (the AFC breakdown will follow this post), division-by-division, and team-by-team, and I'll select my predicted order of finish for each.
It won't be like throwing darts at a dart board while blindfolded; oh no, I won't be using the dart board, you see. I'm not going to bore you with what you already know: Who left, who arrived, who got arrested, and the usual drivel that defines the other pundits' output. But I'll give you something a tad different and the reasons why I will predict where they will finish.
If you don't agree, that's perfectly fine. Everyone is entitled to an opinion, like – me, for instance.
Besides, it's been noted that a mere 5 percent of the NFL's professionals (you know, people employed to do such things) are solid talent evaluators; otherwise, how do you explain first round draft selections such as Ryan Leaf, Christian Ponder, Brady Quinn, Trent Richardson, Mike Williams, Tim Tebow, Mark Sanchez, Tim Couch, Andy Katzenmoyer, Brandon Weeden, Blaine Gabbert, and make me stop? I can't explain it.
It's because no one knows, and so, now you get me, and I can't technically be wrong until January and a lot can happen between now and then. Further, if I'm not wrong, then I must be right, so let's get it right starting now. Later I'll be wrong. Like everyone else.
Now, let's get on with the fun stuff.
Note: In this installment, I'll cover the NFC.
NFC Teams:
East – Dallas, New York Giants, Philadelphia, Washington
North – Chicago, Detroit, Green Bay, Minnesota
South – Atlanta, Carolina, New Orleans, Tampa Bay
West – Arizona, San Francisco, St. Louis, Seattle
NFC Conference
NFC East
1)    Philadelphia Eagles
What's Up? This team found their franchise quarterback in Nick Foles, who runs coach Chip Kelly's high powered offense like he was playing Madden '99 up in his old bedroom, in his skivvies. Herr Foles had 27 TDs with 2 INTs on the season and a disgusting QB rating of 119.2.
Can he do it again? Get serious. But if he can approach something remotely similar, he could be the NFL Offensive MVP and on the cover of Madden '15. There's no Michael Vick (Jets) and no DeSean Jackson (Redskins), but nobody will care because they have RB LeSean McCoy (1,607 yds. - ranked first in the league), WR Jeremy Maclin (69 rec. for 857 yards), TE Brent Celek (32 for 502) and other fun people.
Really, there's no shortage of talent on the roster on offense or defense
Noteworthy – In 2013, the Eagles averaged 27.6 points, second only to the Broncos, with 417.2 yards per game and a plus-12 turnover ratio. This tells us that they are extremely efficient at what they do and they won't give the football away, so you can likely expect more of the same. In fact, in year number-two of the Kelly reign, they could be even better. The loss of Jackson could potentially be offset with the addition of RB Darren Sproles (trade, New Orleans).
Basically – There is no one in this division that can keep pace with them, and it isn't even close. It's far tougher to figure out the 2-3-4 finish than to pick the first place team, so thanks, Chip!
One note of caution: Former Jet Mark Sanchez is a backup QB – unless he ends up in St. Louis, but I wouldn't count on that, even if offensive coordinator Brian Schottenheimer (with the Jets and Sanchez previously) is working for coach Jeff Fisher now.
2)     Washington Redskins
What's Up? I have them here because when it comes to overall talent, they have the better of it on both sides of the ball with the three remaining teams. Jay Gruden comes in as coach, replacing the departed Mike Shanahan, who thoughtfully put together a pretty good roster for JG, which he will appreciate and remember Mike for on his birthday.
But I still don't understand why they gave up so much in the 2012 draft to select Robert Griffin III (No. 2 overall), especially when Kirk Cousins (Rd. 4, 2012 draft) will end up at QB anyway, either because of injury or the poor, shaky performance of RGIII. Don't laugh.
Noteworthy – Griffin was so ineffective in 2013, he was benched for the final three games. Now, Gruden did a lot with Andy Dalton in Cincinnati as his offensive coordinator, but is RGIII suited to be primarily a pocket passer, which is what he should be? Stay tuned, because I think not.
Basically – Although the good Mr. Shanahan won two Super Bowls in Denver, I have never been a great fan of his coaching style, and his basic failure in DC speaks to that. Will Gruden fair any better? I'm here to say that he will and could even be a better coach than his brother, Jon.
3)    N. Y. Giants
What's Up? Personally, I don't know if the West Coast-style offense of new coordinator Ben McAdoo is a better one than Kevin Gilbride's, but Eli Manning could benefit from the shorter field, quicker reads and overall efficiency associated with this type of offense (See: Green Bay). It had better work because Eli's life depends on it since they essentially have a terrible offensive line, which couldn't even possibly protect the beer vendors. DE Jason Pierre-Paul and a good defense could keep them in games, so there shouldn't be an overall debacle like last season.
Noteworthy – Manning is coming off of an 18TD-27 INT season, in which he only broke the hearts of Giant's fans and nothing else (I mean records, silly). Eli did play all 16 games, but they may have been better off if he hadn't; although numerous injuries contributed to the collapse of an otherwise typically good team.
Manning doesn't normally put together back-to-back horrible seasons, so there's hope.
Basically – The offensive line is the Achilles' Heel of this team and how it performs will largely determine the final won-loss record, aside from the good health of key people. This unit didn't improve much over the offseason, so you realistically can't ask a lot.
4)    Dallas Cowboys
What's Up? I've always thought QB Tony Romo was just good enough to get another coach fired, but HC Jason Garrett has managed to hang on basically because owner/GM Jerry Jones knows he's bad at the personnel side and Jason has little to work with. Well, he should know. In actuality, Romo is one solid hit away from beginning a new (read: not football) career because of his back – which he just had surgery on. Tony is a glass ornament in a shop full of drunken chimpanzees.
Noteworthy – The defensive line is in shambles, with promising DeVonte Holloman facing a career-ending neck injury, 3rd-round selection Martez Wilson being cut, and DeMarcus Ware residing in Denver. Middle linebacker Sean Lee (Penn State alum) tore his ACL in spring OTAs, so they will plug in Rolando McClain and cross their fingers (and wear a blindfold).
Then there's WR Dez Bryant and his baggage. Great player, but questionable decisions in life lead to unknowns on the football field.
Basically – A once proud franchise that will thankfully not have to dread another mediocre 8-8 finish. This time around, they can only hope for one. Nothing will change until Jerry Jones steps down or the townsfolk storm the gates with torches and hurling obscenities (read: stop buying tickets).
 NFC North
1)    Green Bay Packers
What's Up? Chris Berman's Norris Division is a toughie to try and figure out. I did this one by not trying to figure out who is the best, but by who is the worst, looking at team's weaknesses and trying to determine if some real strengths can overcome them. And then I ranked them each.
Good idea, right? But I obviously came up with Jack.
This comes down to the best quarterback, and Aaron Rodgers (17 TD, 6 INT in 2013) is it, hands down. It is a solidly coached team, and losing offensive assistant Ben McAdoo will mean virtually nothing – besides, HC Mike McCarthy calls the plays anyway, so it minimizes any effect that may possible have.
Noteworthy – I'm not sure if adding Julius Peppers in an OLB role means much since he is no youngster (34) and tends to take plays (games?) off, with 45 tackles and just seven sacks in 2013 (lowest number in past six seasons). With other camp injuries on this side of the ball, it's not a good omen, but overall talent and coaching will take you far.
Basically – I have to pick them to finish first – the wife owns stock in the company. And you thought I was a dummy, you silly people.
2)    Chicago Bears
What's Up? Head coach Marc Trestman has come a long way since his days with the Cleveland Brown's offense (and constant damnation, mind you). He is the perfect match with QB Jay Cutler (19 TD, 12 INT. last season), but between Cutler's sometimes curious decisions, tendency to get hurt, and this being after him having landed his big contract, I just don't see him getting them over the hump – especially with Jimmy Clausen being the backup. Really? Second-string quarterbacks are the hottest commodities in the NFL. If you lose your starter and your backup is a dud, start working on your draft position for next spring and run a special on beer during home games to get people in the stands (and improve sales).
Noteworthy – You can't discount DE Jared Allen coming over in free agency from Minnesota, but the defense ranked 30th overall in the league last year. These are not the 'Monsters of the Midway' any more, dear fans. CB Kyle Fuller (Virginia Tech) is their first round selection this year, but he'll likely be a nickel back. I'm not sure they can impose their will on the other teams in this division.
Basically – This will essentially come right down to QB Jay Cutler – his health and his play. Is this what you really want? If I were them, I'd be hoping that they stay healthier than the other three in this division. Not that they wouldn't want that, but it's extremely important right here.
3)    Minnesota Vikings
What's Up? I came really close to picking these guys to finish second. I like Matt Cassell, and even though his stint in Kansas City wasn't very good, he did lead a Brady-less New England team to an 11-5 record in 2008. He's a polished quarterback that's as good as the talent around him, all while handing the ball off to the still-superb RB Adrian Peterson. Having first rounder Teddy Bridgewater (Louisville) waiting with a clipboard is not a bad situation to be in for the Vikings, either.
Noteworthy – Having finished 5-10-1 in 2013, the eventual winner (Green Bay) only came in at 8-7-1, so it's not hard to imagine that this division could be won with a 10-6 or a 9-7 record (please don't say 8-8). They selected OLB Anthony Barr (No. 9, UCLA) and Bridgewater in the first round, with Barr a day one starter. 3rd rounder DE Scott Crichton (Oregon State) will also see the field right away with Jared Allen gone.
Basically – If they had a good secondary, I could have picked them higher, but this bunch is scary. I think that new head coach Mike Zimmer (former Cincinnati defensive coordinator) will be a no nonsense guy and bring a tougher mentally they hadn't seen in the recent past and it should rub off on the roster. I think we'll see a competitive team week in and week out. Not sure how far that takes them, but it should be better than five Ws. For me, it was as close as a coin flip between the Vikings and 'da Bears for the second spot, and I could still talk myself into flip-flopping them, but need to stop.
4)    Detroit Lions
What's Up? It's not that I have anything against former head coach Jim Schwartz (now defensive coordinator in Buffalo), but this bunch never seemed all that disciplined or ever played smart during his tenure there. Maybe it's DT Ndamukong Suh and his on-field antics, but what's up with DL Nick Fairley? He came in this year too light, so they sent him home but then he came back too heavy. Isn't anybody happy anymore?
This will be Suh's last season in the Motor City because someone will pay him way too much money to go somewhere else and disappear. Like Albert Haynesworth in New England.
Noteworthy – New coach Jim Caldwell is likely the best thing that could ever happen to QB Matthew Stafford, and although they have plenty of talent on offense with 2014 first round selection TE Eric Ebron (North Carolina), they also have arguably the best wideout in the NFL in Calvin Johnson, yet they didn't address the glaring secondary issues until round four, with CB Nevin Lawson (Utah State) – unless you count the free agent acquisition of CB Drayton Florence. I'm not.
Basically – I think the Jim Caldwell hire is the right one; I just don't think that one year changes that much unless Caldwell turns Stafford into the league MVP. He could possibly do it or Stafford may crumble like a house of cards. Flip a coin. Go on.
NFC South
1)    New Orleans Saints
What's Up? Now that TE Jimmy Graham has a new contract, he can concentrate on just playing football – along with goal post dunking and collecting penalties, which he's really good at. QB Drew Brees (39 TD, 12 INT in 2013) has plenty of other weapons at his disposal, and Sean Payton has emerged as a legitimate top-flight coach.
When you look at this division, it's hard to not see this team right at the top. It's unfortunate that RB Darren Sproles landed in Philadelphia, but at least they got something for him (5th round pick – oh boy!) rather than just let him walk. They are not a better team without him, though.
You can't take anything away from Graham, talent-wise, but did you notice how New England and Seattle (playoffs) took him out of their respective games last year? He disappeared as quickly as a teenager when the lawn needs cut.
Noteworthy – The free agent signing of S Jairus Byrd (Buffalo) gives the secondary a ball-hawking playmaker that can't be overlooked, but they mainly off-loaded some older veterans to go with a younger look. How that plays out will be crucial to winning the division. Defensive coordinator Rob Ryan should have a faster, more aggressive squad to work with.
Basically – I believe that the Saints are a good football team and will be in the division title discussion, obviously since I'm picking them to do just that. What it really amounts to is, I think New Orleans can take the division, but will do it not so much because of what they accomplish, but because what their division foes do not.
2)    Carolina Panthers
What's Up? QB Cam Newton has proved to be a playmaker and shows no sign of slowing down. He's intelligent and freakishly athletic, and has elevated his game to a higher level with 24 TDs and 14 INTs in 2013. But the team's offense was still at the bottom half of the league statistically (26th in total offense), and that is a cause for concern when you think about losing WR Steve Smith (Baltimore) and WR Brandon LaFell (New England) for 2014.
Newton starts the season with a hairline rib fracture sustained in a preseason game, so that bears watching. Ron Rivera started 2013 on the hot seat until a 12-4 season (finishing with a 4-1 run) bailed him out with a defense that was ranked No. 2 in yards per game, led by LB Luke Kuechly (2012 draft, Round 1 - Boston College) with 159 combined tackles.
Noteworthy – The fact that they finished poorly on offense in 2013 and then they lost their best wide receivers (Smith was 64 for 745 yards, but that is admittedly an off-year for him) is enough to make you worried. Can you realistically believe that their defense will be as good in 2014? A lot of things would have to go right for that to happen, but I'm not ready to just jump ship.
Basically – The team is still living in salary cap hell, and this handcuffs them when it comes to attracting and signing free agents as well as retaining their own talent. I would not expect a repeat of 2013, but they could still make their presence felt, at least in their own division.
3)    Tampa Bay Buccaneers
What's Up? The Greg Schiano era came and went, and although he had success at Rutgers, it didn't translate all that well in the NFL likely because he ran the pirate ship like a boot camp. Enter former Bear's head coach Lovie Smith in his return to the Florida west coast – where he was a defensive assistant under Tony Dungy – and after a one-year hiatus from coaching. Smith inherits a team that has talent, but finished dead last in offense for 2013, although having WR Vincent Jackson, who had 78 receptions for 1,224 yards, and QB Mike Glennon, who had 19TDs with 9 INTs last season. Not satisfied, they obtained QB Josh McCown from Chicago during the offseason, so you can see where this is going.
Noteworthy – No one has ever questioned Lovie Smith's prowess on the defensive side of the ball, and he inherits a team that had a plus-10 turnover ratio in 2013. Not loaded with stars, the unit is what Lovey likes in a 'get it done' way.
They drafted seven offensive players last spring, led by WR Mike Evans (No. 7 overall, Texas A&M) who should provide the much-needed compliment to the wide-out Jackson. This looks like a perfect recipe for point production.
In a surprise move, they sent TE Tim Wright (and a 4th pick for next year) to New England for perennial All-Pro LG Logan Mankins. This immediately improves that line, and they are also looking at much-traveled G Richie Incognito. Mankins is athletic enough to also fill in at left tackle.
Basically – After drill sergeant Schiano, Smith will bring his solid resume and a much-needed culture change to a program that has a lot of upside. It would not be surprising at all to see them finish ahead of Carolina. Can you tell that I like them already?
4)    Atlanta Falcons
What's Up? This is not an easy club to read or predict. They followed up a superb 13-3 season in 2012 (No. 1 seed in the conference, mind you) with a mind numbing 4-12 record that leaves you scratching your head (and nearly everything else) until your hair falls out (or something falls off). QB Matt Ryan was not where he was the previous year (32 TDs, 14 INTs), but he wasn't completely horrible, either (with 26 and 17), and they still have WRs Roddy White and Julio Jones. Their formula for success fell apart dramatically, so it will be interesting to see where head coach Mike Smith takes them this season.
Noteworthy – All-world TE Tony Gonzalez never got the ring he hoped for and has rode off into the sunset (if not Canton). They addressed the leaky offensive line in the draft (the promising Matthews), but they didn't add much in free agency, either, unless you're counting on WR Devin Hester (Chicago) or DT Paul Soliai (Miami – career 4.5 sacks) to right your ship. Golly, I hope not.
This process will take some time, and although they added former Kansas City GM Scott Pioli as a consultant, he isn't calling the plays or the shots. I do like Mike Tice as the offensive line coach and the assistants are a decent group with Mike Nolan as the defensive coordinator and Bryan Cox as the line coach, but the players have to make the plays (read that somewhere).
Basically – Which team this is, I'm not sure. They likely sit somewhere between 13 wins and 4 wins, but where does that leave you? I think it gets you somewhere in the middle and that may not even equate to an 8-8 season. They performed a roster overhaul and got younger, but I don't think this automatically generates the complete turnaround the anxious (read: downright frustrated) fan base is hoping for. If they don't get somewhere in 2014, it's likely that Mike Smith is job hunting in 2015.
NFC West
1)    Seattle Seahawks
What's Up? The big question is how QB Russell Wilson and the Seahawks handle the fame that goes along with a Super Bowl win. Some people don't handle it well, others not so good, but some seem to thrive on it. They did parts ways with some veterans, but kept a stable core together and even placated (paid) disgruntled RB Marshawn Lynch, a.k.a. 'Beast Mode'.
This is also unchartered territory for head coach Pete Carroll, but he should understand how this works from his time at USC. They didn't have either a first or third round pick in this year's draft, but selected speedy WR Paul Richardson (2nd round, Colorado) and OT Justin Britt (2nd round, Missouri) to fill needs.
Noteworthy – They lost WR Golden Tate to free agency (Detroit), but I don't think Notre Dame missed him all that much, so I doubt that Seattle will. They didn't do much in free agency, although they brought in veteran OG Eric Winston, but let CB Brandon Browner go (New England), and he'll serve a four game suspension (nuts!).
They have that intimidating defense intact, and aside from CB Richard Sherman's big mouth (he can't help himself), they will be a fun bunch to watch. Personally, I think the new emphasis on rules concerning illegal contact after five yards from scrimmage and hands to the face will limit them this year as far as to what they did to the Bronco's in the championship game spanking last February.
Basically – I think the NFC West will again send a team to the NFL championship game (Seattle in 2013 and San Fran in 2012), and it may as well be Seattle again. It's not so much that the Seahawks are that great of a football team; it's more like there are not enough strong competitors in the NFC to stop them from going.
2)    Arizona Cardinals
What's Up? Go on and say it – I've lost my mind. Well, not so fast. Last year, this team became one of those teams that you just didn't want to play – and the other three teams in this division have to do it twice. Just ask Seattle, because they lost only one game at home last season and it was to this bunch, so even the '12th Man' didn't help them that day.
Former lifelong offensive coordinator Bruce Arians has this team on an upward trajectory and it's not stopping just yet. QB Carson Palmer (24 TDs, 22 INTs) returns for his second year and they still have WR Larry Fitzgerald (82 for 954 yards in 2013), and on defense, they also have all-pro CB Patrick Petersen and second year FS Tyrann Mathieu (65 tackles in 13 games).
Noteworthy – Losing their best defensive player in DE Darnell Dockett in the preseason is just a tough pill to swallow, but Karlos Dansby to free agency (Cleveland) isn't. Watch out for rookie DE Ed Stinson (5th round, Alabama) as he has enormous upside as a five-technique end.
Also in May, they selected SS Deone Bucannon (Washington State) in Round 1 to fill a specific need in the secondary. They brought back DL Isaac Sopoaga (not sure this is good or bad), but did sign free agent ILB Larry Foote (Pittsburgh) and CB Antonio Cromartie (NY Jets) in the offseason. It also wouldn't be surprising to see unemployed OLB James Harrison show up in Glendale.
Basically – They could still benefit from the player cuts during preseason when teams need to get down to 53 players. There are still quite a few players out there that could fill specific needs. Don't overlook that Tom Moore is the offensive coordinator who orchestrated the prolific Indianapolis offenses during Peyton Manning's career as a Colt.
3)    St. Louis Rams
What's Up? If you didn't think that I was out of my mind for my previous pick of Arizona at No. 2, then this should send you right over the edge, choosing the Rams over the Forty-Niners AFTER they lost their starting quarterback Sam Bradford for the entire season. Oh, I'm fine, really – trust me.
Remember about 14 years ago when then Ram's coach Dick Vermeil was in tears at a news conference, stating that QB Trent Green would be lost for the season, and they had to go with former Arena league nobody QB Kurt Warner? That 'bad luck' led to a Lombardi trophy that very same year.
Noteworthy – Second string QB Shaun Hill takes over as the team's starter (unless a trade is consummated), and it's a new era. I happen to like Hill. Not because he lights it up – he doesn't – but because he moves the chains and puts points on the board and is one of the best quarterbacks in the league in the fourth quarter and on third down, times when you need it most. He doesn't turn the ball over and is consistent game-to-game. Big deal, right? Oh, it is, because this is also likely the best defensive line in football and the rest of this squad are also above average. This is a good defense, folks.
Basically – An offense led by Hill won't always score a lot of points, but this defense won't give up many, and the last time I checked, the team that gives up the fewest points usually (well, always) wins. The cast surrounding Hill is WRs Tavon Austin and Kenny Britt and TE Jared Cook, so he has the playmakers. In the 2014 draft, they had twofirst round selections: OT Greg Robinson (Auburn) with the second overall pick and DT Aaron Donald (Pittsburgh) with the 13th, -- and both highly rated. How can you not be excited because this could potentially be the most talented team head coach Jeff Fisher has ever put on the football field.
4)    San Francisco Forty-Niners
What's Up? This team went to the NFC championship game last year and the Super Bowl the previous year and lost both. There is every reason to believe that this team will just not go away and will contend for a championship year in and year out. They are tough, competitive and have an electric quarterback in Colin Kaepernick.
They also have flaws. They've peaked, and now they need their wake-up call season. Residing in what I believe will be the NFC's toughest division, they are going to fall down in some all-important division games and stumble through their schedule as a result. It's elementary that you need to win your division, and I don't think they can do that.
 Noteworthy – Has anyone seen DE/OLB Aldon Smith outside of a police lineup? More importantly, how many games will he play if he isn't suspended or behaving badly? There's likely Las Vegas' odds on that. Seriously, the pass rush needs him and is not the same when he's not on the field.
The offense has playmakers in Kaepernick, WR Michael Crabtree, RB Frank Gore, and TE Vernon Davis. They are good, no doubt. In the fold now is rookie RB Carlos Hyde (2nd round, Ohio State) and Jimmie Ward (1st round, Northern Illinois) who is projected to play strong safety, although he's better suited to play the free safety spot. Hope they are right.
They have one of the league's best linebackers in Patrick Willis, but the team lost Willis' linebacking partner NaVorro Bowman in last year's NFC championship game and he is not ready yet. They did sign middling free agents: S Antoine Bethea (Indianapolis), WR Brandon Lloyd (New England, St. Louis, Denver, Chicago, Washington and San Fran, et al), and 1st round bust Blaine Gabbert (Jacksonville) is the backup quarterback (gulp!).
Basically – I think that GM Trent Balke is pretty good at his job, but I also think that head coach Jim Harbaugh is a loose cannon on deck. He's almost together when they are winning, but I'm thinking that he will unravel like the threads on your dad's high school sports coat when they get some 'Ls', and the ship takes on some water. That brand-new state-of-the-art stadium will not be the happiest place to be when the fans' cheers turn to boos.
I firmly believe this is the year of the drop off. No one thought it would happen to Atlanta, either, did they?
Have great season,
Lee
Disclaimer: This article is completed prior to the NFL's mandated cut down to 53 players.
/------------------------------------------------------------------------------------------------------------------------------/