Lee's Unlocks #25
Lee went 3-1 last week. Now it's the Divisional Round and Lee?s back with a whole new batch of pieces.
January 14, 2012 at 12:00 PM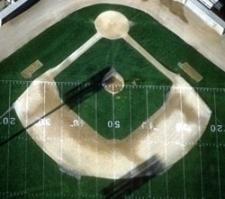 The Observation Deck:
In a very surprising move, Penn State has chosen New England Patriots' offensive coordinator Bill O'Brien as their next head football coach, succeeding interim coach Tom Bradley and, of course, former coach and legend, Joe Paterno.  This choice has led to a lot of controversy and even criticism in the Penn State community and is being met with much skepticism since O'Brien is not a Penn State alum.  I simply don't understand what the problem is.  Yes, the 'Penn State Way' is not something that an outsider would be aware of, but does everyone think that the man lived in a vacuum?  What I do know about O'Brien is he is bright, honest, creative, and a fiery leader who won't cave in to opinion and will go about instituting a football program that the university and the players will embrace and be proud of.  I just can't see admonishing him when he hasn't even packed up his car yet.  Here's the kicker: Bill O'Brien graduated from Brown University as did Joe Paterno.
There have been both positive and negative remarks associated with the hire and some of the negative comments are from former Penn State football players, such as LaVarr Arrington and Brandon Short, who are unhappy with the hiring of someone who is not a Penn State graduate and have made that quite clear.  What I don't understand is why these two (and others) were so quiet about the events that led to the arrest of former assistant Jerry Sandusky and the removal of icon Joe Paterno, as they said next to nothing about that terrible travesty, but now they make their unhappiness known over the hiring of a football coach?  Really, is that more important in their fragile, eggshell minds?  They may not agree with the hiring of O'Brien, but I can agree that I now have zero respect for either of them.
The latest out of the despised New York Jets' locker room is that quarterback Mark Sanchez has been a slacker in practice and doesn't work very hard in his preparation for each of the games.  I don't know if that really comes as a surprise, because, have you watched him, and if so, does he look like a guy that's got his act together to you?
Kind of like Tony Romo.
Sadly, the Green Bay Packers enter this weekend's contest with the New York Giants with heavy hearts as longtime offensive coordinator Joe Philbin has taken a bereavement leave from the team to deal with the mysterious and surprising death of his son, Michael.  Our thoughts are with the Philbin family during this very tragic time and wish them the best.      
Quote of the Week:
"Y'all can go back to being Broke & Miserable ... now back to regular scheduled programming.'' – Detroit cornerback Aaron Berry tweeted to Lions' fans after they lost to the New Orleans Saints on Saturday night.  Detroit gave up 626 yards to New Orleans and Berry also dropped a would-be interception in that game.  Berry was an undrafted free agent and evidently forgot where it was that he came from.
Recap:
The NFL Wild Card weekend was not necessarily all that wild.  Most of the games were not what we could call nail biters by any stretch, and only Detroit and New Orleans seemed undecided until the fourth quarter.  Excluding Pittsburgh at Denver, which went into overtime to finally be decided.
The first game had the Cincinnati Bengals traveling to face the Houston Texans, and I actually thought about picking the Bengals in this one until I remembered that of the times I picked them to win during the season, they never came through, so I went with the Texans, who took this one easily from the toothless Bengals, 31-10. 
The second game on Saturday night was Detroit at New Orleans, and although I considered going with the Lions because of the way they fought it out the week previous with Green Bay, only to lose a close one, I still couldn't pick against the Saints at home, and they came through admirably, by 45-28.
The third game was a tough call for me because the New York Giants were so up and down during the season, and Atlanta had a very talented team and were also 0-2 in the playoffs, so you had to think that streak would end.  Not so, and I did go with the Giants in this one and was rewarded when they absolutely spanked the Falcons, 24-2.
The final game for me was an easy pick--or so I thought.  With the 12-4 Pittsburgh Steelers at the 8-8 Denver Broncos, who were losers of their last three, I figured that picking Pittsburgh was a no-brainer.  Wrong, as the Steelers let the Broncos take this one from their grasp with a 29-23 overtime win, which amounted to just one play from scrimmage – an 80-yard pass play for a TD from Tim Tebow to Demaryius Thomas. 
Before that final game of the weekend, I was 3-0 in my picks and thinking about my first perfect slate and then the roof fell in.  That makes it 3-1 on the weekend and 30-13 overall on the NFL season.
The Picks:
In the NFL, it's on to the Divisional round in the playoffs where the Wild Card round winners take on the No. 1 and No. 2 seeds in each conference.
On Saturday, we will have the No. 3 seed New Orleans Saints (14-3) at the No. 2 seed San Francisco Forty-Niners (13-3).  San Francisco has had two weeks off and will be well-rested, while New Orleans played at home last week and will travel cross-country for this contest.  Logic says that with the year they've had, the Forty-Niners should not lose this game, but to me, it all comes down to playoff experience and the quarterbacks for each team.  I'm sorry, but I can't pick Alex Smith in a game against Drew Brees because he's as good as it gets.
Pick: New Orleans.
Later that same evening will be the No. 4 Denver Broncos (9-8) at the No. 1 New England Patriots (13-3).  Four weeks ago, New England went into Denver and won, 45-23.  What that score doesn't allude to is the fact that the Broncos ran all over Patriots and led 16-7 in the second quarter before they imploded and turned the ball over while New England took advantage and Tom Brady came through.  Denver has won eight of their last 11, and although that's significant, it was the three straight losses leading up to the Wild Card game with the Pittsburgh Steelers that I can't forget.  I can't help but believe that if they had played a healthy Steelers' team, they would not have been in any position to win.  Pittsburgh played them to stop the run, and they did, but they left the middle of the field open too many times and they lost because of it.  New England may have a porous defense, but this team has dedicated the season to Myra Kraft, who lost her battle with cancer in 2011, and if they lose again this season, it won't be in Foxboro.
Pick: New England
On Sunday, the first game is the No. 3 Houston Texans (11-6) at the No. 2 Baltimore Ravens (12-4).  There's a lot to like about the Texans, especially their stout defense because they out-muscled Cincinnati last weekend en route to a big win when they took over the game and didn't put it on rookie quarterback T.J. Yates shoulders to win it for them.  That is exactly what the Ravens will do because they can play defense with anyone even though quarterback Joe Flacco (57.6% passer accuracy in 2011) can be just as down as he can be up, but the Ravens usually don't lose at home (a perfect 8-0 in 2011).
Pick: Baltimore
The final game of the round will pit the No. 4 New York Giants (10-7) at the No. 1 Green Bay Packers (15-1).  The Giants are hitting their stride at exactly the right time and look a lot like the 2007 team that went on the road in the playoffs and then beat New England in the Super Bowl in their undefeated year.  That team went to Wisconsin and beat the Pack on a last possession via a Brett Favre interception.  Well, Favre won't be under center, and I think that Aaron Rodgers is playing at a level that even Favre couldn't quite comprehend.
Pick: Green Bay
And another thing:
In the NFL, the coaching carousel goes round and round.  The Miami Dolphins and St. Louis Rams are both potential landing spots for unemployed former coach Jeff Fisher, and we have the Jacksonville Jaguars now picking former Bills' coach and Atlanta offensive coordinator Mike Mularkey, while the Kansas City Chiefs kept interim coach Romeo Crennel, likely because of his longtime association with GM Scott Pioli when they were together in New England.
Former Miami head coach Tony Sparano has signed on with the hated New York Jets to be their offensive coordinator since they've fired former coordinator Brian Shottenheimer, while the Washington Redskins have come to terms with former Tampa Bay head coach Raheem Morris to coach their defensive backs, which is what he did with the Bucs before being promoted to the head coaching position.
The Oakland Raiders still have an opening as do the Tampa Bay Buccaneers, although it's rumored that former NFL coach Marty Shottenheimer is in the running for Tampa's top spot.
Since Patriots offensive coordinator Bill O'Brien is in at Penn State, New England has brought back former offensive coordinator Josh McDaniels, likely to take that same position once O'Brien has left the fold when their season officially ends.
The Indianapolis Colts will evidently hire former Philadelphia Eagles executive Ryan Grigson as their new general manager.  The 39-year old will be going from being the director of player personnel to the top spot in the Colts front office.  Grigson has Indiana roots, having played for the Purdue Boilermakers before his NFL career as an offensive lineman.  He will have some big decisions to make in whether to retain head coach Jim Caldwell and returning quarterback Peyton Manning and his $28 million roster bonus.  Good luck, Ryan.
Many other potential changes are still to come because any assistants that end up with promotions, either as head coaches or other positions, have not all necessarily been made yet.  That may be because the interviews are still ongoing and also because eight of the teams are still playing and the window for interviews has now closed with teams playing again this weekend.  
You just have to wonder how long it will be until the names Jon Gruden and Bill Cowher start to surface again.
Far out:
When the current NFL season ends -- this would be at the conclusion of the Super Bowl -- I intend to take a sabbatical until possibly spring, when the MLB season starts up and we are getting closer to the NBA and NHL playoffs, when the top teams and contenders start to make their respective moves.  I've really appreciated the support that I received, and it has been a lot of fun for me to provide this column, and I certainly hope that some of you really enjoyed it.
Have a great week and steer clear of trouble.
Lee