Lee?s Unlocks No. 4: Thoughts near and far, with some being closer to home.
He's back for more: LeeS gives the scoop on baseball trades, Tiger Woods, NFL Hall of Fame inductions, and of course... the locks, er, unlocks.
August 8, 2011 at 7:21 PM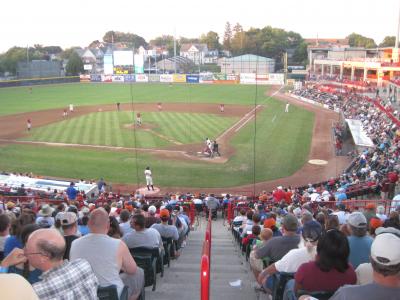 The Observation Deck:
The MLB trading deadline just came and went without much of a flurry. Usually, the Have's will raid the Have Not's, like hungry kids coming home and finding a just-filled cookie jar or homemade pie and snatch up every last crumb, er, their best/available talent, but really, did you notice anything of real significance? There were a few noteworthy moves, but no big splashes like last year (a la Cliff Lee to the Rangers).
Is everyone, but yours truly, excited about Carlos Beltran? I don't get it. According to baseball reference.com, Beltran only once hit over .300 (2009), but appeared in just 81 games, in fact, he's only played a full season (161 games out of 162) once, back in 2008. Fans rave about him, but the guy is an enigma. He's hitting .289 with 15 HR and 66 RBI (while with the Mets), all in a contract year. So are about 200 other guys. Hello?
The Texas Rangers got some fairly solid bullpen help with the acquisitions of Koji Uehara and Mike Adams. It's Adams who could potentially take over for closer Neftali Feliz, who is having his issues this season and could get the dreaded hook/bench/door/soda runner job/other as-yet undefined role.
Meanwhile, the Atlanta Braves picked up centerfielder Michael Bourn, who according to published reports, is not related to the character Jason in the vastly popular film trilogy.
Doug Fister and David Pauley to Detroit does not make up for losing Casper Wells and Francisco Martinez, who were big fan favorites while in Erie, I'm sorry. Wilson Betemit could, however, potentially help them on offense, but we'll keep our fingers crossed on all three.
The Cleveland Indians traded for Ubaldo Jimenez, but he has not had the kind of season that was expected in Colorado this year. Frankly, I don't think he gets them over the hump or otherwise over the fact that this may have not been in their best long term interest. In Colorado this season, he went 6-9 with a 4.42 ERA, and folks, those are pedestrian numbers. It's hard to knock the Indians for trying, and I'd actually like to be wrong on this, but just look at the facts and you'll end up scratching more than your head on this one. Ubaldo did display plenty of zip on his fastball in his Friday debut, but the Tribe still lost 8-7 in 11 innings to the dreaded Rangers.
The Hunter Pence signing by Philadelphia, as I stated last week, seems like a fairly solid move, however, other than maybe Erik Bedard from Seattle to Boston and that's hardly exciting since he's marginal at best. A suspect lefty at Fenway? Weird things happen when you're hurting for pitching, evidently.
The Pirates added Derrek Lee and Ryan Ludwick, which should pick up that offense and relegate overpaid and underachieving free-agent 1B Lyle Overbay (.227 avg.) to Nowheresville, and in fact, he was designated for assignment this past Monday.
There were some other trades, but none that seem to make any team a clear favorite to win their division after that particular move or moves, in my humble opinion.
The Yankees, oddly enough, decided to stand pat and can likely afford to, since they reside right there with the Red Sox in the AL East, floating in some sort of myopic state of suspended animation, and if it weren't for C.C. Sabathia (16 wins), they'd likely be strolling somewhere else and possibly along the bottom with the poor, dysfunctional Orioles. From the admittedly limited amount of time that I've spent watching them this season, the Yanks first appear to be a team in shambles, then they put together a long win streak and look pretty solid, so they almost have two personalities. What's with Derek Jeter? He's uncharacteristically slapping ground balls around like he's on a putting green, and since he got his 3,000 hit, he seems to have gone on vacation. If the 'solid' NY team arrives and doesn't go into another funk, they could surprisingly win the AL East. You just can't seem to figure them out.
This past weekend, the two AL East leaders met at Fenway. The Yanks, winners of eight straight, took the first one, 3-2, while the Red Sox took the second game, 10-4, behind Jacoby Ellsbury's home run and 6 RBI. C.C. Sabathia was looking for his 17th but has gone 0-4 versus the Sox this season. Uh, who's your daddy? The rubber match was on Sunday with Boston taking it in 10 innings, 3-2.
This just in: The Yankees and Red Sox don't care much for each other.
St. Louis traveled to Miami to take on the Marlins and swept them. Ug-ly and I caught some of the Sunday game that went 8-4 and it looked like there were maybe 200 fans at the scene of the crime. Must not have been 'Bat Day'.
Red-hot Philadelphia, being penciled in as the World Series champs early, went out to San Francisco and took 3 of 4 from the current champs, with Tim Lincecum not allowing a sweep. The Phillies are walking away with the NL East like they just picked up a box of day-old doughnuts, but the Giants can't shake the Diamondbacks as they are clinging like a polyester leisure suit at a July wedding reception with temps in the 90s.
Tiger Woods is back, appearing this past weekend at the Bridgestone Invitational at nearby Akron, Ohio. Well, he may be back, but the golf game he had been known for prior to his personal life meltdown, is not.
Congratulations to the 2011 NFL Hall of Fame enshrinees: Richard Dent, Marshall Faulk, Chris Hanburger, Les Richter, 'Prime Time' Deon Sanders, Shannon Sharpe, and NFL Films founder Ed Sabol, who was introduced by his son, Steve, who also did an amazing job after taking over for his dad and who is also now battling cancer.
Best wishes for a full recovery for Rockies pitcher Juan Nicasio, who was struck in the head by a line drive and had surgery Saturday to stabilize a fractured vertebrae.
Recap:
For the picks last week, I chose a game for Tuesday, Wednesday, Thursday and a bonus for Friday.
On Tuesday, we had the Texas Rangers at the Detroit Tigers and the home team won that one, 6-5, where I picked Detroit. A seriously close encounter, and it was former SeaWolves player Brennan Boesch with the game-clinching home run that did it for the Tigers.
For Wednesday's game, I picked Cleveland over Boston at Fenway in game number three of the series with the Red Sox and Indians each taking a game so far. As it turned out, Boston took this one on another walk off hit by Jacoby Ellsbury (two games in a row, which he had never done before, even once) for a 4-3 Sox victory in the ninth.
Thursday night, we had the Chicago Cubs visiting the Pittsburgh Pirates, and these are the ones that make you nervous, especially since the Bucs appear to be in trouble just trying to stay in the NL Central conversation. Well, not only did Pittsburgh drop this one, 7-6, they gave away the series to Chicago as well.
Finally on Friday, we came back home to Erie for the Harrisburg Senators at the Erie SeaWolves to see if the home team could indeed have some bite left in them. If you want to make up ground, it's no secret that you need to beat the team currently in 1st place. The 'Wolves did indeed beat the Senators soundly, 5-1. Having personally missed the game (out of town), my wife, Mary and mother, Lil sat in for me and had an enjoyable evening on the last Wolfpack weekend. Drew Smyly picked up his second win in two tries in AA. That win put Erie just 6 ½ games back in the Western League standings.
This salvaged an otherwise scary week and left me at a dismal 2-2.
I still don't get any mail, so why mention it.
The Picks:
Tuesday, Aug. 9 – It's the Boston Red Sox at Minnesota Twins. The Twinnies are hanging around and more or less pretending to still be in the playoff conversation. That makes them potentially dangerous because they may not have read the press releases where they've been counted out already. Not knowing whether you're in or out, human nature dictates that you automatically believe that you're right where you need to be. Going with the Twins to snatch victory away from the Red Sox who didn't realize what team they were even playing because the signs were cleverly changed at the airport arrival terminal to confuse them.
Getting sort of frisky, I'll take a shot on Wednesday with an important game for both teams: the Detroit Tigers at Cleveland Indians. If the Indians are going to make a move on recapturing first place, then this is when it needs to happen, against the team you are currently trying to catch in the standings and at your place. This game and this series will be vital to Cleveland's playoff aspirations. Having said that, I'm going with Detroit.
Going National League now, with the Milwaukee Brewer's at St. Louis Cardinals. This should be a good one because this series will say a lot toward who wins the NL Central. Picking the Brew Crew to take this one from the Cards, who we know won't go down very easy.
Have to go home again and take a chance on the SeaWolves who will be traveling to Portland. This is a game between two teams currently residing in fifth place in their respective divisions. Picking Erie, on the road to take one from the Sea Dogs. SeaWolves, Sea Dogs, get it? We need to see something from Erie, here, anyway.
And another thing:
Turn out the lights because the party appears to be over. As of Sunday, the Bucs dropped 10 in a row. The Pittsburgh Pirates have indeed energized their fan base this season with their surprising run in the NL Central, and it took until August for any dejection to begin to set in, where it usually starts oh, sometime in early April.
It's been a great ride and certainly noteworthy for the city and the region, but alas, it is now coming to an end.
The big setback was the series sweep, at home, by the toothless Cubs. That dropped the Bucs to two games under .500 and Cincinnati seemed destined to overtake them in the standings. It appears that Milwaukee, not St. Louis, will win the NL Central at this point. Seemingly ending on a down note, the season for Pittsburgh can't be considered a disappointment, no matter how it works out in the end.
Far out:
An extra-large tip of the baseball cap is certainly due for two staunch SeaWolves' supporters in Tom Miller and Karen Shim. They were also attending the Harrisburg-Erie game on Friday night at the Uht and not seeing yours truly, they managed to get an autographed baseball from #8 Deik Scram because he's a fan favorite and we enjoy following him. Owe you folks a big 'thank you'.
Karen is also the winner of the 'Paint the Park Pink' weekend jersey auction where she won the Audy Ciriaco #24 - black and pink game jersey presented personally by the player.
On that same evening, Mary won the raffle drawing for the team-autographed jersey of the same theme.
That's about it from here.
Have a great week,
Lee