Legendary Saxophonist and Trumpeter Join Big Leg Emma for one Night of Musical Euphoria
Local Americana Rockers Kick off the New Year with change and special guests Willie Waldman and Herman Green.
January 22, 2014 at 8:00 AM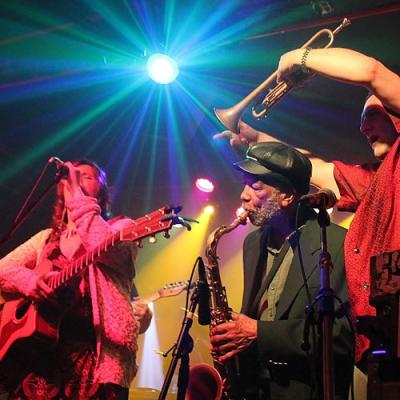 "My legend ... my mentor. I've known this guy since I was 18," Willie Waldman said, a wry smile turning his mouth up as he slow-waved his trumpet over toward the man at his side, Herman Green. "That's why I'm so bad."
Well damn, I thought at that, if Green's taught Waldman bad – musically or otherwise – in all those decades since they first took up their conversations (musical and otherwise), then he's sure as hell been teaching him wrong right.
And I was happy to be part of the crowd that got to be in on their lesson – a long-held and continuing schooling in free-form communication, driven by brass – at the crooked i last Saturday night, when Waldman and Green opened for and joined New York-based jam mainstays Big Leg Emma in their first local show of 2014.
Waldman's and Green's playing is something really otherworldly, a beautiful, haunting, odd mix of joyful flair and haunted wear. That playful spirit of jazz dances wild in there, along with mischievous funk, but there's something more at play there, too, like a touch from the ghost whose world-wise whispers inform the sounds horns make in bands like Beirut, or Neutral Milk Hotel.
Or something sorta like that. It's hard to put down into words, like music that really carries into the air, that really touches you, that's really free in its form always is.
Whenever it touches me, I feel real music all over – literally. I get big goosebumps and hairs stand straight up. It's entirely involuntary, unthinking, a no-matter-where-or-when kind of thing, and I couldn't affect that with my moods or thoughts or opinions if I tried.
And that happened to me – big time, and more than a few times – on Saturday night, well before the full compliment of the evening's host band took to the stage.
The feeling didn't let up once that happened, either. Like they always do, Big Leg Emma drove their jams, old vehicles and new, good and deep. Looking around at the crowd, I saw smiles: A small one crossing the face of a girl dancing alone, like she was on her own cloud; the giddy, wide grins of a group of friends getting down together; the knowing, satisfied looks of a middle-aged couple, moving slowly and whispering in each others' ears.
Charity Nuse, one of Big Leg Emma's vocalists and multi-instrumentalists, told me during a short chat a day before the show that what the band does, if it had to be categorized, would likely be labeled as something like Americana-jam.
True enough – there's plenty of folk and old-time influence rooted in those sets of strings, as well as clear nods and leans toward the jam traditions that followed. But, like all collections of musicians who are doing something beyond the standard within that, Big Leg is walking somewhere else, somewhere new, with it.
With Waldman and Green onstage with them, Saturday's journey included color-filled meanderings into jam standards like "Deep Elem Blues" and "Knockin' on Heaven's Door," each laid out and interpreted in ways I'd never heard them before.
Being staples of the region's live music scene, Big Leg performances always bring out longtime fans. One told me, just in passing on her way back to dancing, that she's been catching them on the regular for years now.
"They used to be more folky, more bluegrassy," she said. "Now," and she stalled here, looking for words to describe what they've got going on, "well ... they've changed."
That's the going deep, the jumping down the rabbit hole and into all that's there, that she's hearing.
And I thank them all for that.
After all, "that's what free-form is all about. It's a conversation," Waldman had said earlier in the night.
It's the kind of conversation that, to me, is the most worthwhile – the kind that isn't had with rehearsed lines, but in open notes and pitches, bent into something new, something more, something to smile true at, and feel a little haunted by.
Ryan Smith can be contacted at rSmith@ErieReader.com, and you can follow him on Twitter @RyanSmithPlens.