Lessons Beyond the Classroom
The forgotten study of human interaction 
September 27, 2017 at 12:30 PM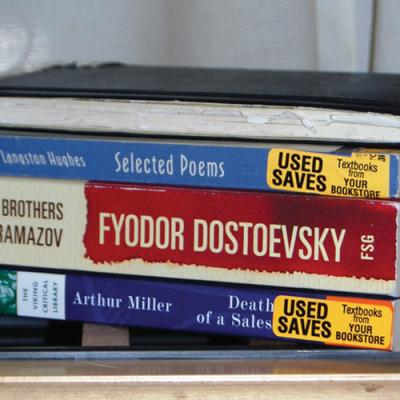 The college bookstore where I've worked just got through its busiest time of year. Fall Rush started early August, with textbooks arriving in our loading dock and being sold almost faster than we could keep up. For a few weeks, I was there 10-, 12-, 14-hour days — customers' faces blurred together in such a way that if someone left, then returned five minutes later and said "I'm back for another book," I had no recollection of them ever having come in before.
One customer in particular, though, stood out — no matter how busy my day had been.
Skip isn't your average college student. He's half a lifetime older than 99 percent of the kids who fill the classrooms — he's lived through many of the events they likely discuss in their contemporary history courses. He started taking classes after his wife passed away, and in doing so, has taught me countless little lessons himself, every time he stops by the store.
The first time Skip came in, I wasn't sure what to expect. We see customers of all ages and walks of life in my store, and we typically take extra care with adult and other non-traditional students because college, and textbooks in particular, are a very different beast than they were even 10 years ago. In the 15 or so minutes we spent browsing the shelves, though, I knew I had met someone special.
Skip doesn't pick classes based on any set degree path, though he leans toward anthropology and sociology. When I was helping him find his book for this semester (he settled on a sociology class focusing on how genders interact), he explained that he wants to learn more about the people around him. I had to pause and take in the moment. My store was teeming with customers — it was the second day of classes and I had probably interacted with at least 200 people so far that morning. Instead of taking a second to acknowledge the human beings who all had needs, fears, histories of their own, I had spent the day breezing through transactions. I had taken the time to get to know Skip, and made a sincere friend in the process; why hadn't I been letting anyone else in?
Shaking that default setting is something I think we all need to do every now and then. It's too easy to get caught up in doing the bare minimum, in keeping up only with the people in my inner circle. Especially at work, it's so simple to just sell a customer their books and college swag, and move on with my day. But going even the slightest bit beyond leaves me with nothing to lose — at worst, I'm an overly-friendly cashier, and at best, I meet someone who impacts my life beyond this bookstore.
Unfortunately, this was my last semester selling Skip his books. Don't worry — this isn't a shocking and sad twist; Skip is fine and will likely keep taking classes here until he's run out of topics to learn about (which I don't see happening anytime soon!). I'm moving on from the bookstore, and as I start my job hunt, I find myself thinking a lot about the things I have learned from him.
First, Skip has an insatiable hunger for learning — he wouldn't be spending his free time on a college campus otherwise. But the learning he craves is about the people and world around him, instead of simply what's being taught in class. That curiosity is something we could all do with more of — as division seems to be the new normal, it's so refreshing to be reminded that we are all still people here, and that we all still want essentially the same things out of life.
Second, there is something to be said about not judging a book by its cover. There's a joke somewhere in there because this column wouldn't exist without the college textbooks I've sold, but joking aside, it would have been too easy for me to write off Skip as another adult student when he first came in. Take a chance on the people you interact with.
Finally, and maybe most importantly, Skip has a sense of humor that has clearly served him well through his seven or so decades here. The laugh lines that frame his face are always ready for the next good-natured remark he'll make. He's got the sort of humor and personality that commands a room but never overwhelms it — when he leaves the bookstore, I feel lighter and better for it. Isn't that the response I want people to be left with when I interact with them?
Meredith Wilcox is a freelance writer and photographer who happily lives in the city of Erie with her husband. Find her at meredithann109@gmail.com and at meredithwilcox.com