Lessons Learned or Ignored from Japanese Internment
Terrorist attacks in Belgium drew fresh blood over what constitutes American values.
March 30, 2016 at 1:45 PM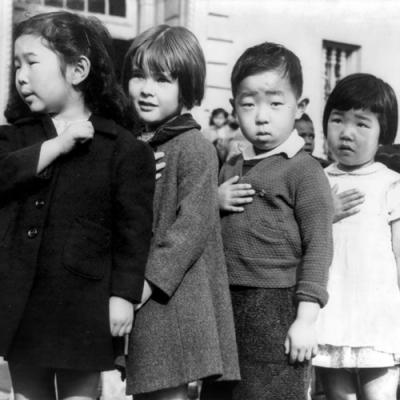 The recent terrorist attacks in Belgium stoked an already paranoid public and played right into the hands of Republican presidential frontrunner Donald Trump, whose controversial proposal to close down mosques, track American Muslims in a database, and ban all Muslims from entering the country is a dark reminder of one of the most shameful moments in American history.
In 1942, two months after the Japanese bombed Pearl Harbor, President Franklin Delano Roosevelt signed an executive order authorizing the military to imprison more than 120,000 people of Japanese descent – two thirds of them American citizens – in the name of national security. They were rounded up, evicted from their homes, and transported to internment centers (the politically correct term for what amounted to concentration camps surrounded by barbed wire) where they would be confined for three years in 10 locations throughout the American West. They lost businesses, personal belongings, pets, and even family members, taking only what they could carry. In 1944, the U.S. Supreme Court upheld the order in Korematsu v. United States, a decision that today is universally condemned as a grave injustice.
"What I'm doing is no different than FDR," Trump brazenly told ABC News last December in response to the terrorist attacks in Paris and the government's plan to join other nations in accepting Syrian refugees. "If you look at what he was doing, it was far worse … and he's one of the most highly respected presidents — they name highways after him," Trump said. "Security rules."
Trump is not the only one to prey upon fear to gain the upper hand. After the Paris attacks, governors and legislators in at least five states suggested closing their borders or setting up refugee camps for Muslims.
Moments after the Islamic State claimed responsibility for the Brussels attacks, GOP presidential candidate Ted Cruz called for security patrols in Muslim neighborhoods "before they become radicalized." He said, "The days of the United States voluntarily surrendering to the enemy to show how progressive and enlightened we are are at an end."
In my book, anyone aspiring to be President of the United States could use a little enlightenment, if not a history lesson.
They could begin by watching the latest documentary my husband Rich Gensheimer and I produced, Liberty Under Law: The Robert H. Jackson Story, fast-forwarding to the segment on Japanese internment.
Jackson spent his hardscrabble youth along the banks of Brokenstraw Creek on a farm not far from Corry, Pennsylvania. His fascination with books and the study of law ultimately led him to Washington where he would influence some of the most pivotal events in American history before, during, and after World War II. Jackson is the only American to have served as U.S. Solicitor General, U.S. Attorney General, and Associate Justice of the U.S. Supreme Court. Best known for his work as Chief U.S. Prosecutor of the top Nazi leaders at Nuremberg, he was also one of the most brilliant writers ever to serve on the Supreme Court.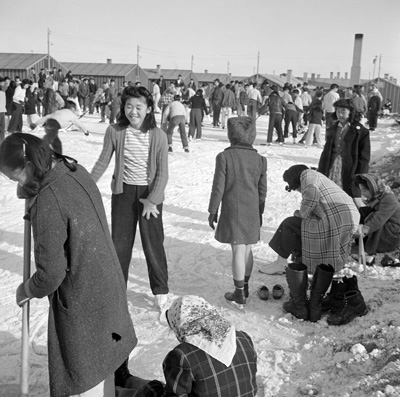 The military's use of the Supreme Court to uphold the incarceration of 120,000 Japanese-Americans weighed heavily on Jackson's now famous dissent in the Korematsu v. United States case.
"He thought the legal issue was extremely clear. The accident of ancestry – Japanese American or Scotch-English as Jackson's own – is no basis for criminal sanctions under our Constitution and our system of equal protection," said Jackson biographer John Q. Barrett in an on-camera interview for Liberty Under Law.
"What Jackson also objected to was the military making the civilian court system its puppet," Barrett continued, "Because a military will in the end do what the military is going to do. It has the power to accomplish that. But it will do these things in wartime. And hopefully we'll return to peacetime, we'll have cooler heads, and we'll restore the liberties we took away – unless we make it our constitutional law that the military always has the power to behave this way. Then, as Jackson warned, it lies around like a loaded weapon waiting for the hand of authority to pick up that power and use it in the next and the next and the next context."
If Jackson's legal argument escapes our would-be leaders, perhaps the personal stories of everyday people will reach them. Among the film's more than 400 images are photographs by Ansel Adams and Dorothea Lange, who documented the daily life of Japanese-Americans interned at the Manzanar War Relocation Center. Surely our interview with Precious Yamaguchi, whose grandparents were first detained in horse stalls at the Santa Anita Racetrack in California, will touch them. We recorded Yamaguchi's story at the Erie Art Museum against the backdrop of Roger Shimomura's powerful paintings of barbed wire barracks in an exhibit entitled "Shadows of Minidoka."
We bring to life the stories of people who are not so different from you and me, and who are certainly not to be feared — old men playing cards, children in cowboy hats, young women making camouflage nets for the War Department, boys and girls playing baseball – America's game – in a dusty desert far from home.
By sharing these photos and paintings, we bring to life the stories of people who are not so different from you and me, and who are certainly not to be feared — old men playing cards, children in cowboy hats, young women making camouflage nets for the War Department, boys and girls playing baseball – America's game – in a dusty desert far from home.
We can only hope the winds of today's war on terror will not erode our values and will instead bring us to our senses.
"Our job is to work closely with our allies around the world to fight terrorism wherever it occurs," said Sen. Elizabeth Warren after the Brussels attack. "Terrorists must have no place to run and no place to hide. We must also remember that terrorists commit these senseless acts of violence to paralyze and divide us, and we should never cower to fear by turning against our neighbors or by rejecting our values," Warren added.
Maybe, this time, it is possible to turn our wary outpouring of compassion and humanity into something more.
Lisa Gensheimer is a documentary producer and writer who lives in North East. She can be reached at lisa@onmainstreet.com
Liberty under Law: The Robert H. Jackson Story, premieres locally at the Jefferson Education Society, Tuesday, April 5, 6-8:30 p.m., followed by a panel discussion with Sean McLaughlin, a former chief U.S. district judge who now serves as Executive Vice President, Secretary & General Counsel at Erie Insurance; and Gregory L. Peterson, co-founder of the Robert H. Jackson Center, Jamestown, New York. Producers Lisa and Rich Gensheimer gifted all rights to the Robert H. Jackson Center, which is arranging for national distribution on public television and educational programming about Jackson's life and legacy in schools across the nation.