Let The Rhythm Ride: Blues & Jazz Festival
A closer look at the 26th annual Erie Blues and Jazz Festival
August 1, 2018 at 10:30 AM
By: Hannah McDonald, Matt Swanseger, and Nick Warren
Now in its 26th year, Erie's Blues & Jazz Festival is seeing itself evolve and adapt. This summertime favorite is returning to Frontier Park once again for two days and three nights of dynamic and danceable music and art. For a quarter of a century, the weekend of music at Frontier Park was known as the Erie Art Museum Blues & Jazz Festival, and this is the first year that the museum is not directly overseeing the production.
Last year, it was announced that Erie Arts and Culture would be taking over the production and responsibilities of the festival. Longtime event organizer and founder John Vanco explained that "what most people are going to notice is that we've expanded to include visual arts and dance and a range of other disciplines and activities. We've also added the Sustainability Village [in the northwest edge of the park along Cherokee Drive], which emphasizes the festival's green aspect. It's been a green festival for a long time but we're going to knock that up a bit and make it front and center."
Vanco, 73, retired as the director and head curator of the Erie Art Museum — which now resides at the renamed street, John Vanco Way — in 2017 after 49 years of service. Thanks to his lifelong affinity for jazz, blues, and world music, Vanco's vision has forged the lineups for every Blues & Jazz Festival for decades. Despite stepping down at the museum, Vanco will continue to serve a major role on the board of an organization whose sole purpose is producing the festival.
As the board and organization prepares to host more than 20,000 people at the 2018 event, the lineup features both regional stars and international icons. Each day will bring immense talent to the stage and each set is sure to be enjoyable, but there are some notable acts you want to be sure to see. "It's a constant looking, keeping my eyes open" Vanco said about choosing the right lineup. He added that "there are so many really, really good artists out there who don't get to perform as much as they should."
Not unlike the new addition to last year's festival (whose debut was unfortunately canceled due to rain), Friday's programming will feature family-friendly events, forgoing the regular musical performances that attendees are used to. Saturday will feature three 15-minute performances by acclaimed dancers Bridgman|Packer in the Dance Truck near Eighth Street. Vanco warmly conceded, "I think to the average visitor, all they'll notice is that we've added a whole bunch of things and it'll all pretty much look the same. If they just come for the Saturday and Sunday events and park their tents like they always did, they can pretend like nothing has changed [laughs]."
FRIDAY, AUG. 3
3-8 p.m. // Squonk Opera
Home base: Pittsburgh, Pa.
With an instrumental veracity seen through with a theatrical gusto fit for the playas of Burning Man, or Mad Max, Squonk Opera brings seemingly unattainable stage performances to the everyday person. From Pittsburgh, Pennsylvania, they have toured across the country and world — to three continents and 35 states — playing to hundreds of thousands of audience members. The New York Times has referred to Squonk Opera as "a multimedia troupe of infinite jest with an imagination to match."
The group has been performing together for over 20 years, led by artist Steve O'Hearn and composer Jackie Dempsey. In this time, they have released seven full length albums. The most recent, Pneumatic, was released in 2012 and features instrumental-heavy tracks. Jazz percussion styles pair with groovy bass lines, especially on the album's second track, "Floating." This music serves as the backdrop to an intricate performance featuring growing figures, turbines, and vortex fans.
Together, Squonk members create imaginative, whimsical and post-industrial performances, reminiscent of their first show which took place in a Pittsburgh junkyard, with choreographed cranes, roaring earth-movers, and screaming machine shears.
Their performances are a compilation of rock, jazz and classical opera vocal techniques which mix for an all-but-overwhelming experience. Complemented by their trademark show-stopping visuals, Squonk Opera is unique art, sure to capture the interest of all watchers and listeners, just as it has the world for two decades. They have been described by The Roanoke Times as, "an eccentric show that its audience won't soon forget," and as "a mix of sights and sounds that both entertains and inspires curiosity," by Providence Monthly.
On Friday, Squonk Opera has a five-hour window which will be filled with workshops. Kicking off Saturday, Squonk will host a marathon set of four hours, from 10 a.m. to 2 p.m. on the festival's secondary stage.
Recommended if you Like: Blue Man Group, Cirque du Soilel, Frank Zappa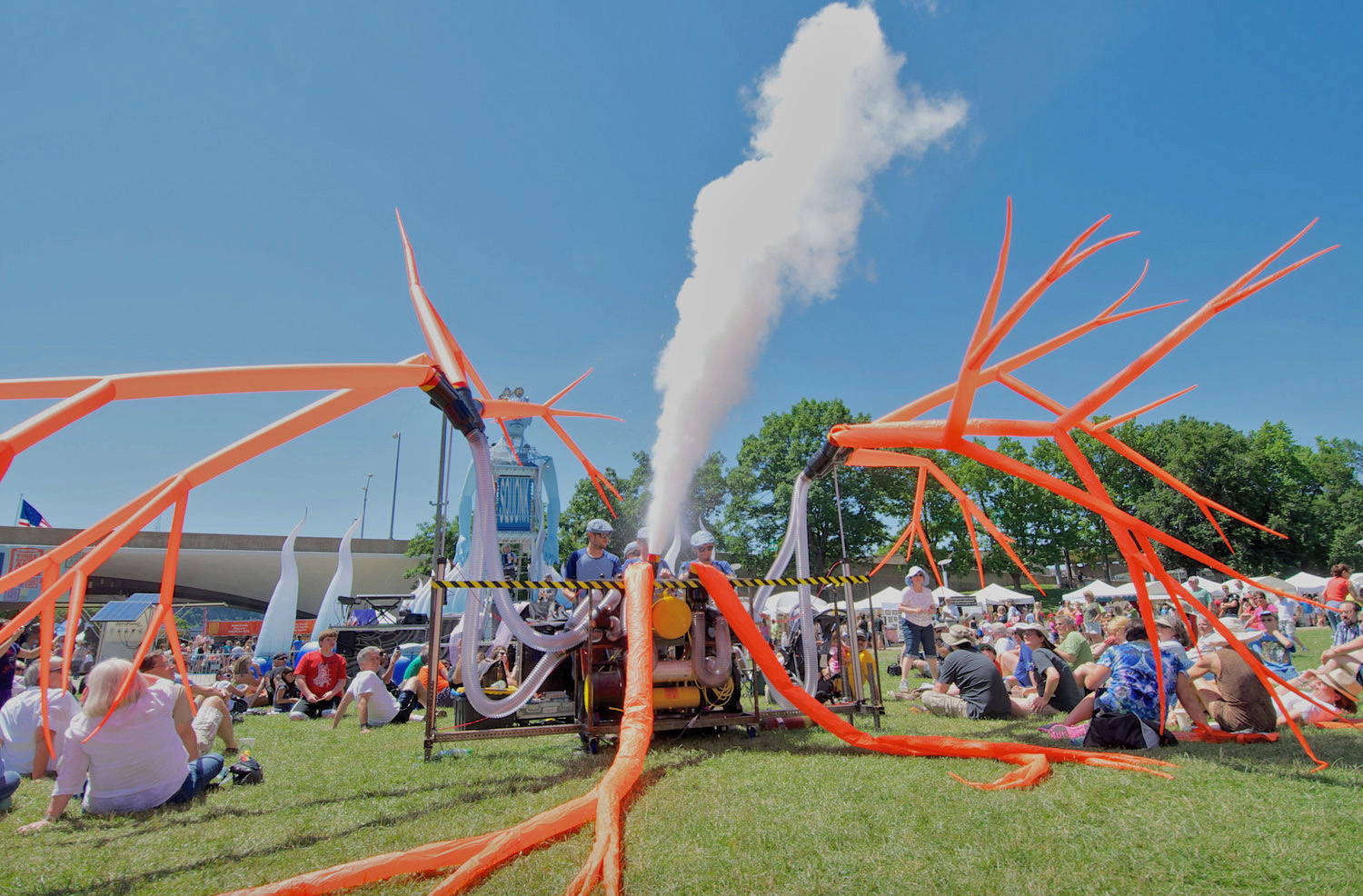 Squonk Opera (above) is known for their imaginative and bizarre sets.
8:30 p.m. // The Lion King
Home base: Everything the light touches
With a special screening in Frontier Park, Erie's Blues & Jazz Festival will showcase Disney's The Lion King. The acclaimed film tells the story of the young lion Simba, who after refusing the call of his homeland's crown, returns to where he grew up years later to find his evil uncle Scar has taken over. The 1994 animated feature has wonderfully catchy pop hits by Elton John and Tim Rice, with a score by Hans Zimmer that blends indigenous African sounds with classical tradition. Perfect for children of all ages, the lively energy of this movie sets the stage quite nicely for the weekend ahead, which should mean no worries for the rest of the days.
RIYL: The Jungle Book, Moana, The Little Mermaid
SATURDAY, AUG. 4
10 a.m. // Squonk Opera
2 p.m. // Bootlegger's Bible Club
Home base: Erie, Pa.
The hills are alive with the sound of music — in this case, that of the American roots movements that recent "40 Under 40" honoree Matt Texter and his group have strung together for their singularly signature sound. Bootlegger's Bible Club is a blend of bourbon-country bluegrass, blues, gospel, and country folk that is ideal for sipping on a muggy summer afternoon. In addition to Texter on acoustic guitar and vocals, the core of the band also consists of Matt Boland (another "40" honoree) on upright bass and Louis Nicolia on fiddle and slide guitar. The collective has proven to be one of the area's most sessionable bands over the years, particularly in al fresco settings. This set should go down easy with the locals.
RIYL: Old Crow Medicine Show, Johnny Cash, Hank Williams Sr.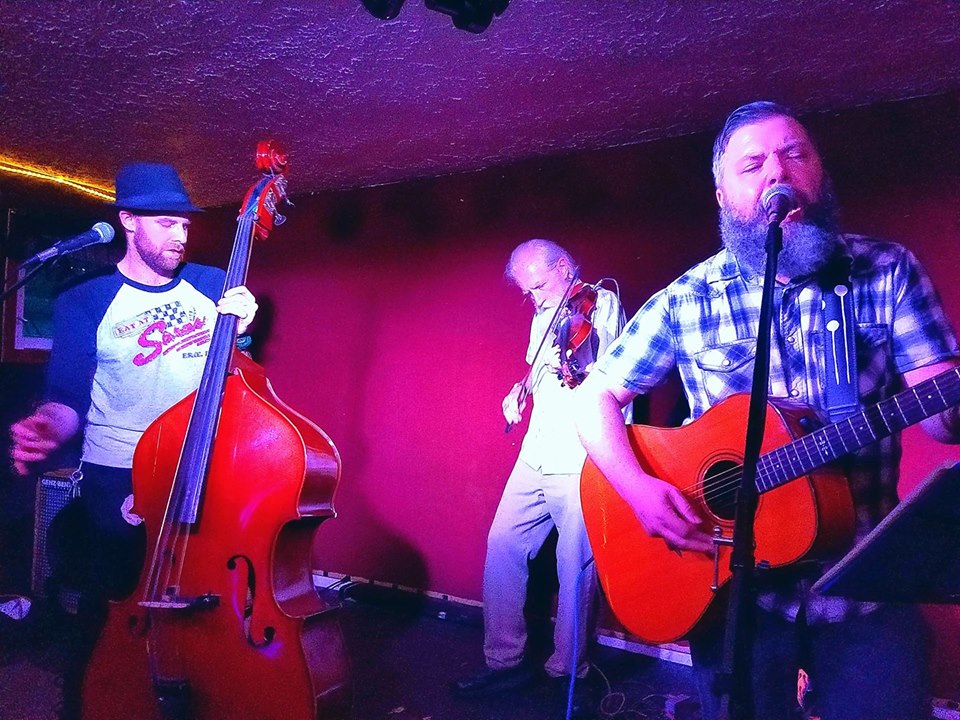 Erie band, Bootlegger's Bible Club (above) to play on the mainstage of Blues & Jazz festival.
4 p.m. // Mac Arnold & Plate Full O' Blues
Home base: Pelzer, S.C.
Mac Arnold, an elder statesman of the blues, R&B, and soul scenes, had been essentially retired for decades before dropping his debut with Plate Full O' Blues, the aptly-titled Nothin' to Prove, in 2006. It's true that the 2017 Blues Hall of Fame inductee's resumé speaks for itself — his first band featured none other than the Godfather of Soul, James Brown, on piano. Professionally, he got his start as a bassist with the Charles Miller group before working with saxophonist A.C. Reed and eventually landing a long stint with the Muddy Waters Band in 1966 as a 24-year-old. In the '60s and '70s, Arnold also recorded with legendary names such as B.B. King, John Lee Hooker, Quincy Jones (the Sanford & Sons theme song) and Bill Withers (because we all need somebody to lean on — especially in the rhythm section).
Nonetheless, the joy of making music has pulled him back, and it's evident in his youthful energy and knack for storytelling on stage. Splitting his talents between bass, vocals, and picked and slide gas can guitars (inspired by the scrapped-together DIY guitar he borrowed from his brother Leroy to learn on), Arnold tours with Austin Brashier (guitar and vocals), Max Hightower (keyboards, harmonica, guitar, bass, and vocals), and drummers Scotty Hawkins and Dizzy Dizzy.
RIYL: Muddy Waters, Bo Diddley, Lightnin' Hopkins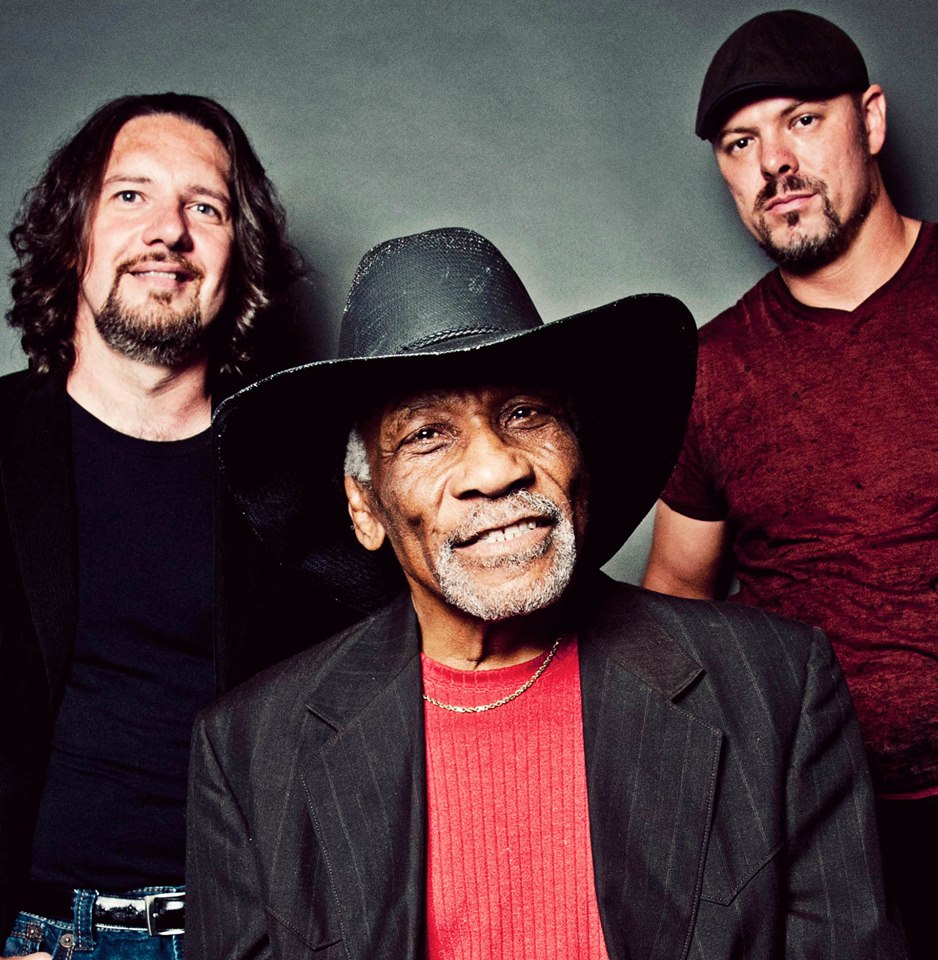 2017 Blues Hall of Fame Inductee, Mac Arnold (above) comes to Erie as part of impressive festival lineup.
5:30 p.m. // Bridgman | Packer
Home Base: New York City, NY
Taking the ordinary out of the box, Art Bridgeman and Packer Dance prepare an extraordinary set all performed inside of 17-foot truck. The brainchild of Art Bridgman and Myrna Packer, who collaborated on the production's choreography, the performance is set to captivate audiences, not once but three times on the second day of Erie's Jazz and Blues Festival.
Bridgman | Packer Dance Truck is a combination of dance performance and visual art. Using these elements, Bridgman | Packer Dance Truck transforms an ordinary space into much more.
Of the production, Star Tribune, Minneapolis said: "The boundary between reality and imagination is brilliantly blurred...Welcome to the future of dance." Bridgman and Packer's Dance Truck earned a 2017 New York and Performance Award for Outstanding Production.
RIYL: Blue Journey, Sila Sveta, Pixel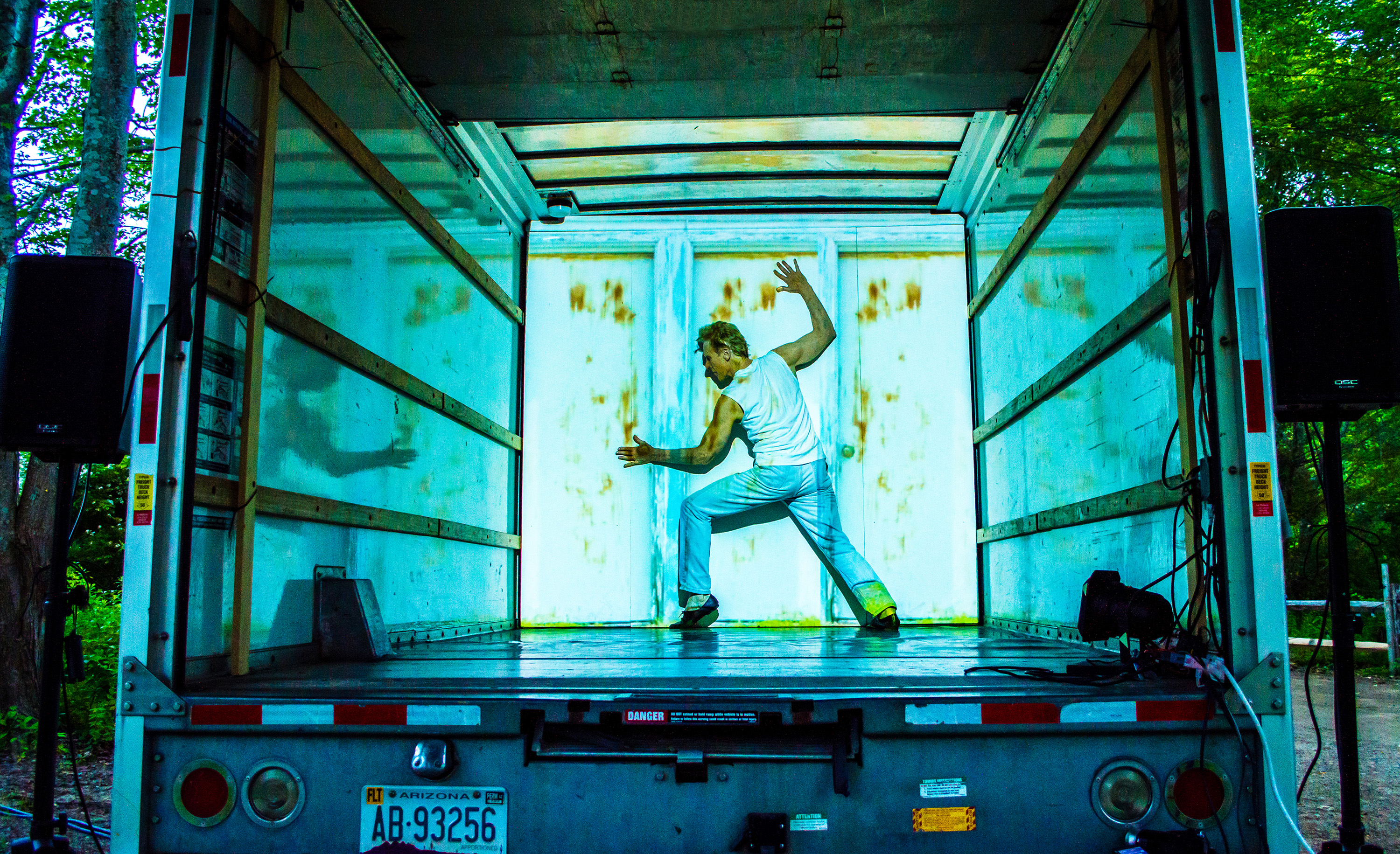 Bridgman-Packer (above) transforms a box truck into a piece of performance art.
6 p.m. // Sidi Toure
Home base: Bamako, Mali
Sidi Toure is a rebel with a definite cause — to fuse the musical traditions of the North American and African continents and get you moving. As a descendant of the Songhai Empire's royal family (which at one time ruled most of the West African interior), his relatives thought his blood too rich for the bohemian lifestyle of a musician, but thankfully for us, he followed his calling. Songhai music is noted for its use of a percussive fingerpicking style, call-and response vocals (often led in part by an mbaggu, or "talking drum"), and the minor pentatonic scale, which just so happens to be a close cousin to the blues scale (which adds the chromatic "blue note" between the third and fourth scale degrees). The parallels are obvious and as such, the results should sound surprisingly natural to the uninitiated. A student of the guitar (and its West and Central African analogue, the tehardent or ngoni), Toure also incorporates takamba (another distinctive West African style) influences into his playing and recently released his fourth and most eclectic album on Thrill Jockey Records, Toubalbero, which adds contemporary electronics as well. Whether you like to stay on the cutting edge or find yourself pining for the good ol' days (the Songhai Empire reigned from 1430-1591), Toure and company should cook up a musical melange fit for a king or queen.
RIYL: Songhoy Blues, Red Baraat, Mokoomba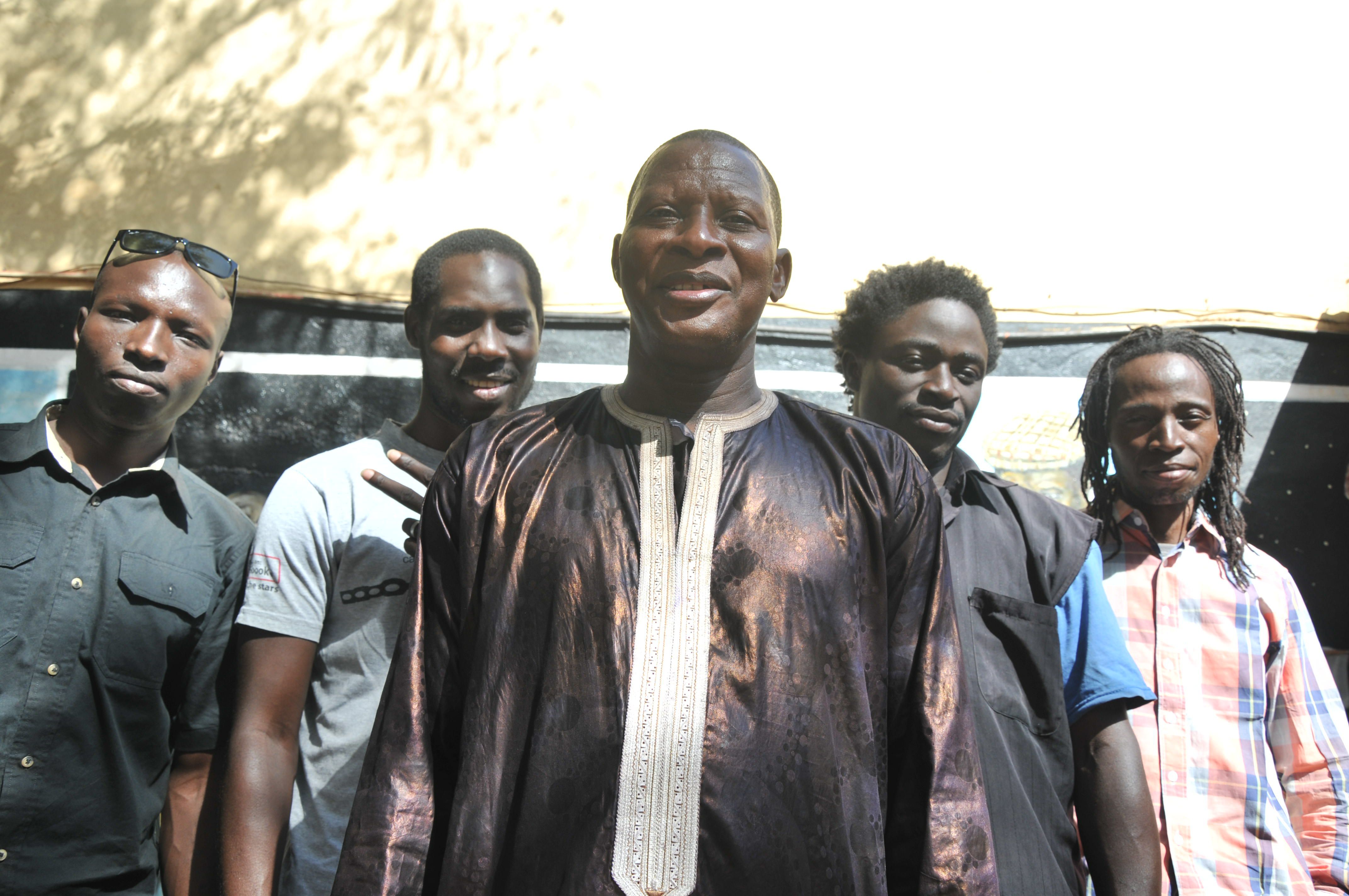 Known internationally, Sidi Toure (above) is known for their blending of genres which create their unique sound.
7:30 p.m. // Bridgman | Packer
8 p.m. // Billy Branch & The Sons of the Blues
Home Base: Chicago, Ill.
Swept up by the boisterous Chicago Blues scene in his early twenties, singer and harmonicist Billy Branch chose a more winding path and went on to tour with Willie Dixon after completing his undergraduate degree instead of continuing on to law school.
Since then, Branch's career has led him to record with blues icons like Eddy Clearwater, Taj Mahal, Johnny Winter, Koko Taylor and more. While also completing a dozen recordings under his own name, Billy Branch has become a three-time Grammy Award nominee as well as retired two-term Grammy governor during which time he founded the Grammy Blues Committee.
His band, The Sons of Blues, is comprised of Marvin Little, the bassist and newest addition to the musical group, Sumito Ariyoshi (Ariyo), who is internationally recognized as an inventive and invigorating pianist, and Dan Carellie, who "plays a riveting slide guitar while his soulful vocals are warmly received by audiences worldwide." In 2018 alone, the group has performed in China, Spain, Mexico, United Kingdom and Scotland as well as multiple shows in various venues in Chicago and southern California.
Attendees of the 2018 Blues & Jazz Festival are sure to catch gruff lyrics, woven thickly with conviction and emotion, head-bobbing, shoulder swaying bass riffs which dance beside Carellie's guitar work, and the piano jams which not only decorate tracks but entrance all by themselves.
RIYL: Buddy Guy, Willie Dixon, Little Walter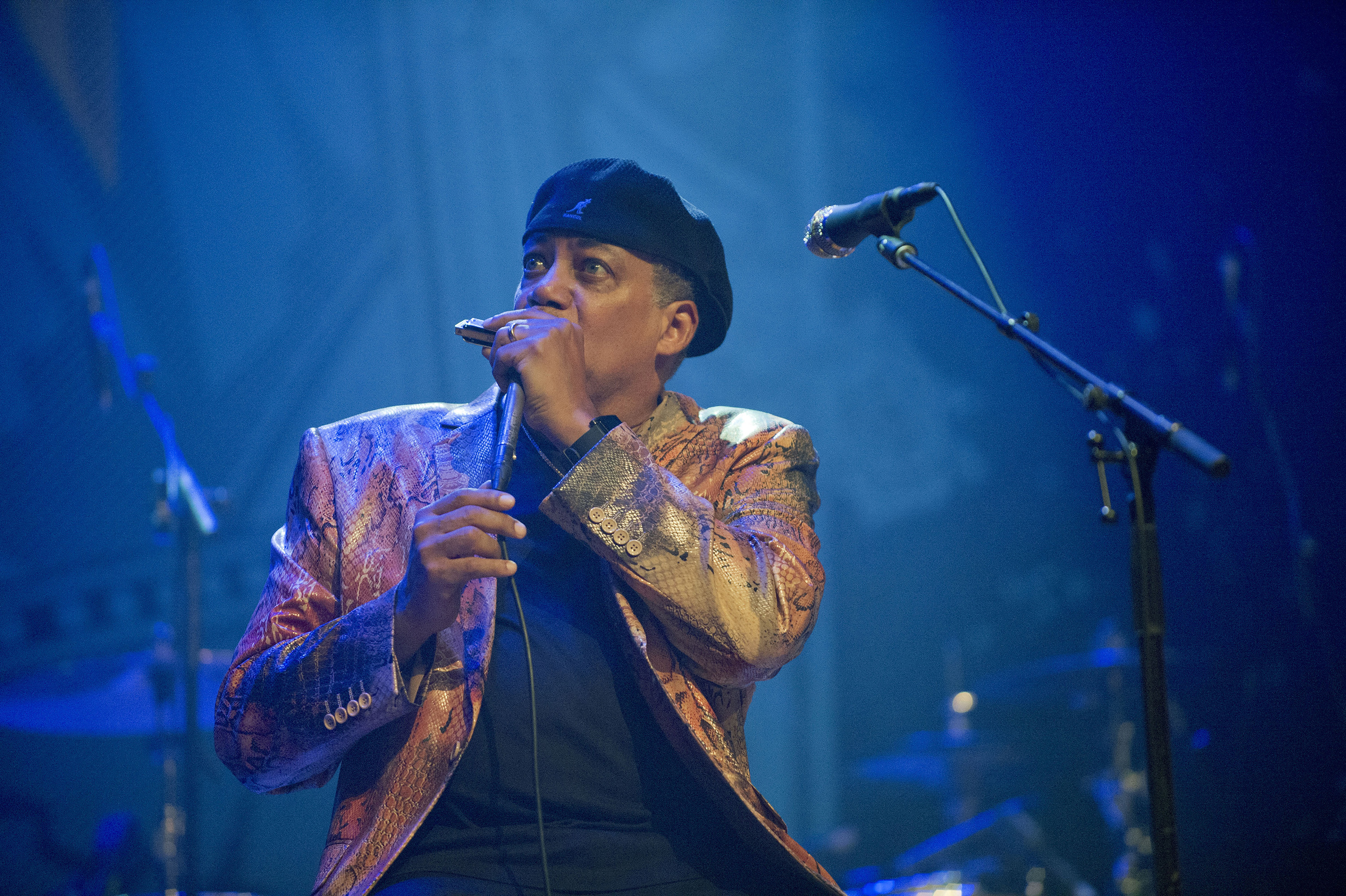 Renowned blues muscisian Bill Branch (above) comes to Erie as part of Billy Branch &The Sons of Blues
9:30 p.m. // Bridgman | Packer
SUNDAY, AUG. 5
Noon // David VanAmburg & Friends
Home Base: Erie, Pa.
For decades, David VanAmburg has been a positive force in Erie's music scene. With a kind, knowing presence, guitarist VanAmburg leads his group of talented friends (like guitarist/saxophonist Phil Papotnik) throughout the American songbook. With a genuine love of music paralleled only by his skill, VanAmburg creates a welcoming atmosphere onstage, encouraging other musicians to have fun. Playing a mix of traditional jazz standards along with the occasional newer blues or pop hit, VanAmburg and his band use their subtly virtuoso playing to effectively entrance each listener with smooth, gorgeous sounds.
RIYL: Duke Ellington, John Pizzarelli, Bill Evans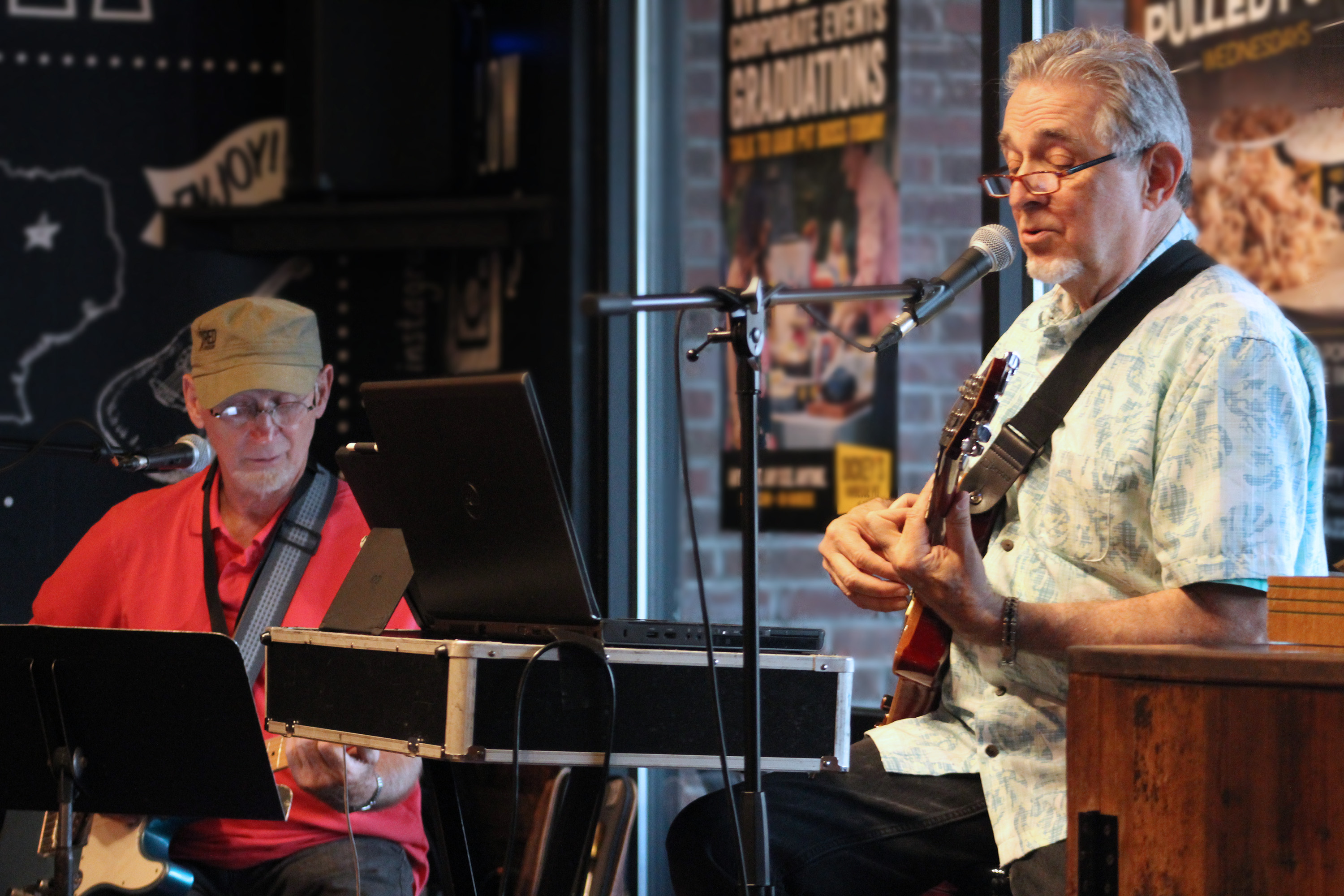 David VanAmburg (above) will play on the mainstage of the Erie Blues & Jazz Festival.
2 p.m. // One World Tribe
Home Base: Erie, Pa.
For years, One World Tribe has been the Erie band to catch live. The band boasts a lineup often in the double digits, with every member projecting a focused vibe of peace and freedom. Blending the sounds of reggae, ska, hip hop, and world music, the band creates an infectious, danceable groove that they've been honing for years. No strangers to the Blues & Jazz Festival, One World Tribe is at home on the open-air stage, urging listeners to dance and hear their social message of unity, diversity, and love. In 2016 the band won the Renaissance Artist and Writers Association's Songs for Social Change Competition for their song "We Are One." Their energetic sound, built on racial and ethnic diversity, delivers positive vibes that are not to be missed.
RIYL: Bob Marley, The Pilfers, Buju Banton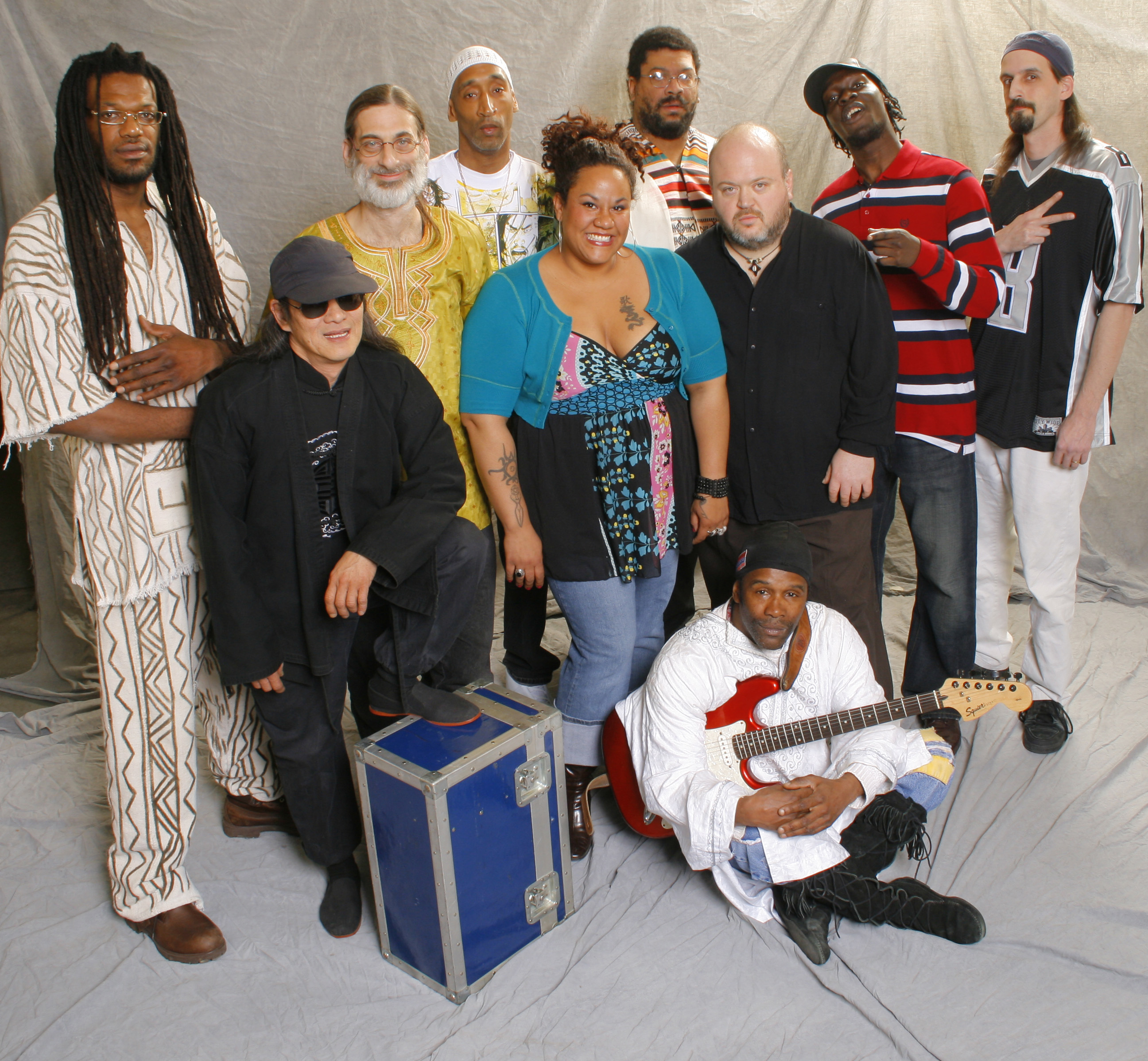 One World Tribe is one Erie band you won't want to miss at the Erie Blues & Jazz Festival.
4 p.m. // Ernie Krivda Quartet
Home Base: Cleveland, Ohio
Tenor saxophonist Ernie Krivda is one of the foremost figures coming from Cleveland's jazz scene. With a tone that's delicate but still dangerous (his debut album was named Satanic, after all), Krivda melds together some of jazz's varying tones with skill and grace. Now 73, he got his start playing with The Jimmy Dorsey Orchestra in 1963. In the years following he wound up playing with the likes of Herbie Hancock and Elvin Jones, going on to tour and record with Quincy Jones. His career as a bandleader has been a fruitful one, with at least 26 albums to his name. A proponent of music education, he also serves as the artistic Director of The Cuyahoga Community College Jazz Studies Program. Cleveland's own comic legend (and the subject of Krivda's 2011 album Blues for Pekar) and noted jazz aficionado, the hard-to-please Harvey Pekar, declared him "one of the best jazz tenor men in the world."
RIYL: Wayne Shorter, Chick Corea, Cannonball Adderly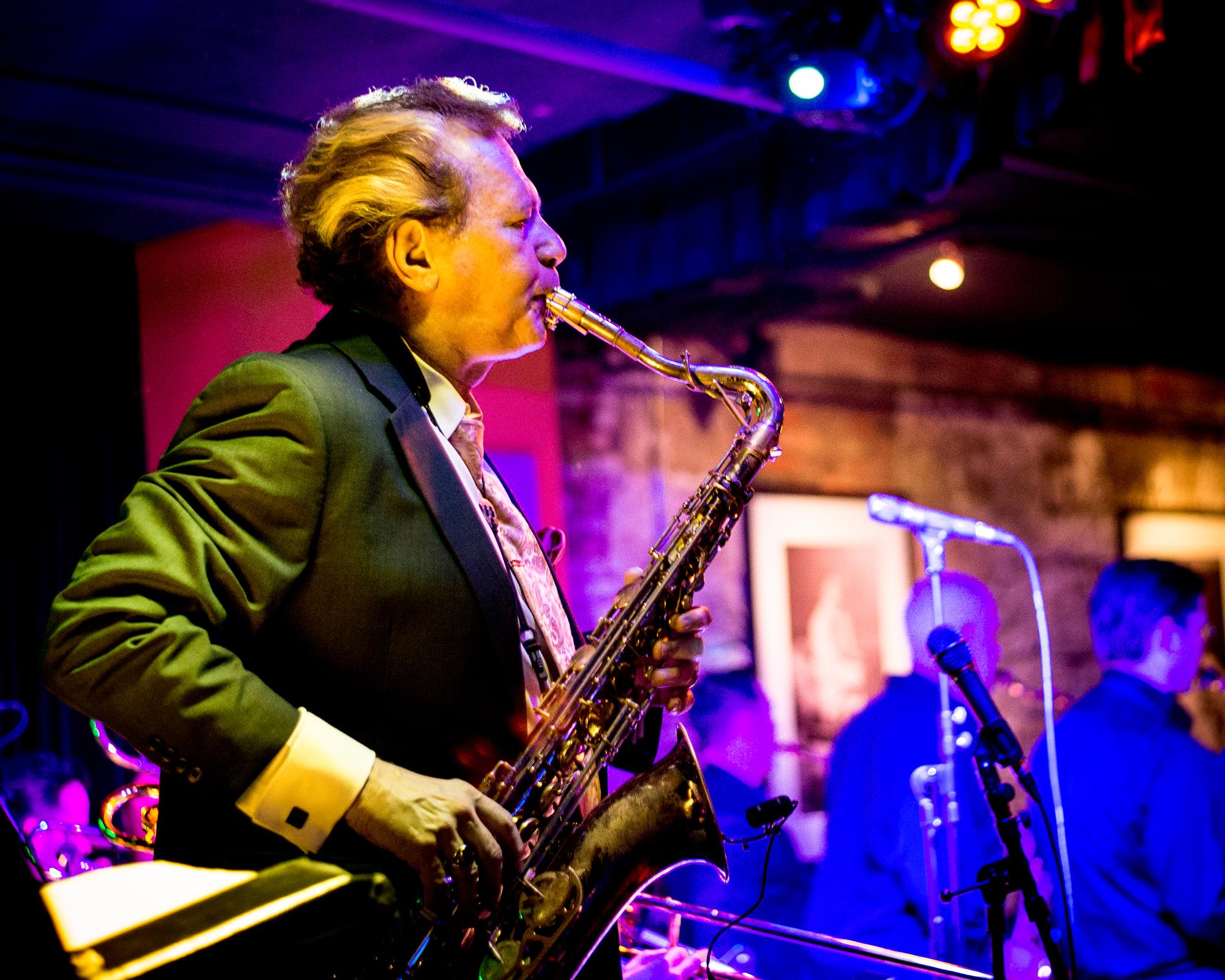 Saxophonist Ernie Krivda will perform during the final day of the Erie Blues & Jazz Fest.
6 p.m. // The Steve Turre Quartet
Home Base: New York City, N.Y.
Easily one of the world's foremost trombone players, Steve Turre has gained critical acclaim from The JazzTimes, JAZZIZ, and DownBeat magazines for Best Trombone (topping the DownBeat Readers' Poll five times) and for Best Miscellaneous Instrumentalist awards. Turre has had an active jazz career since 1972 when he was hired to tour with the renowned American singer-songwriter Ray Charles. He subsequently went on to record with giants like Rahsaan Roland Kirk, Woody Shaw, and Carlos Santana. In addition to playing as a member of the Saturday Night Live Jazz Band for 34 years (since 1984), Turre has recorded no less than 20 full-length albums as a bandleader, including his most recent, Colors for the Masters, produced in 2016. Turre has broadened his range by working with different instruments such as sea shells and collaborating with iconic artists across the genres of Latin, jazz and pop, including J.J. Johnson, Lester Bowie, Mongo Santamaria and Dizzy Gillespie. More notable artists he's recorded multiple albums with include: The McCoy Tyner Big Band, The Skatalites, Lou Rawls, Chico Hamilton, and John Scofield
RIYL: Curtis Fuller, Art Blakey and the Jazz Messengers, G.E. Smith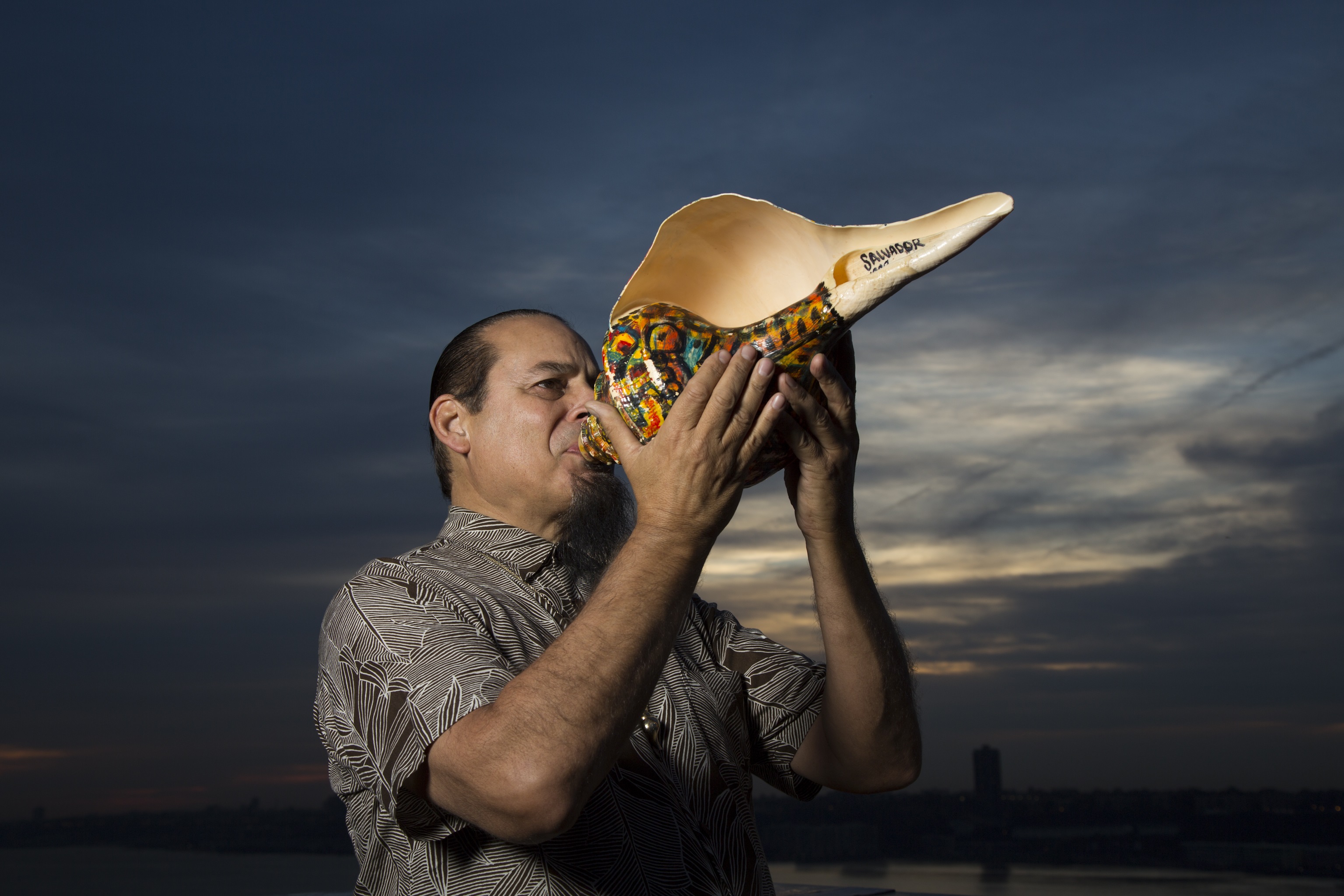 Jazz artist Steve Turre often makes intstruments out of uncommon objects such as seashells, as seen above.
8 p.m. // The Jazz Passengers
Home Base: New York City, N.Y.
You're in for a wild ride of improvisational instrumentals, jazz roots and comedy with Jazz Passengers, a fusion of free and post-bop sounds. Deriving their name from Art Blakey's Jazz Messengers, the title is a play on words to describe the listening experience much of their music creates; songs that start at one place, glide through a variety of ever-shifting — sometimes chaotic — movements before ending up in an entirely different an unexpected place. Need an example of this? Check out "20792 Peace Talk & Reception" from The Jazz Passengers' 2017 record Plain Old Joe. The group was co-founded by saxophonist, band-leader, actor, and principal composer Roy Nathanson alongside Curtis Fowlkes (who has collaborated with the likes of Sheryl Crow, Don Byron, Harry Shearer and more). Vibraphonist Bill Ware, violinist and composer Sam Bardfeld, bassist and composer Bradley Jones, percussionist E.J. Rodriguez, and Ben Perowsky — who often moves between jazz, rock and experimental music in his work — round out the ensemble. Since the 1990s, The Jazz Passengers have traveled across North America, Europe and Asia performing in all types of venues, from clubs to festivals, each performance full of the unexpected. "It's the musical equivalent of a Cubist painting, taking elements and rearranging them in unusual and sometimes grating juxtapositions," said Jade Blackmore of BlogCritics. As a mix of jazz and jokes John Murph from NPR's Song of the Day said, "Jazz has always had satirists, but the members of New York's Jazz Passengers are particularly adept at instilling whimsy into their performances, underscoring it with the sort of musicality that prevents the group from becoming a mere novelty." Once again describing them, Blackmore said, "If their goal is to make jazz music interesting and unpredictable, they've achieved it."
RIYL: Art Ensemble of Chicago, Ornette Coleman, The Sun Ra Arkestra
The Jazz Passengers (above) merge comedy and music for an entirely new form of art.