Life, Death, and Forgiveness
Social justice advocate tells Erie to get out of its comfort zone.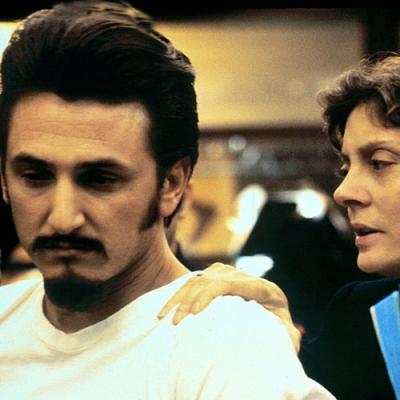 What does a nun wear to the Academy Awards?
No, it's not a riddle answered by black-and-white-and-red-all-over. It's a question faced by Sister Helen Prejean, whose soul-wrenching relationship with a death row inmate inspired her Pulitzer Prize-nominated book and the movie Dead Man Walking, nominated for four Oscars.
The iconic 1995 film, produced and directed by Tim Robbins, stars Susan Sarandon as Prejean and Sean Penn as Patrick Sonnier, sentenced to die in the electric chair of Louisiana's Angola State Prison for the gruesome murder of two teenagers.
More than two decades after its release, the film begs viewers to explore the power of forgiveness and the moral dilemma imposed on all of us by the death penalty, still practiced in 31 states including Pennsylvania, which for now has a moratorium imposed by Gov. Tom Wolf.
After hearing Prejean's talk at Mount St. Benedict on May 25, and the anguish over recent murders in our own community, maybe it's time to watch that movie again.
Prejean spoke to a packed house at the invitation of Benedictines for Peace. She cracked jokes in a southern drawl about her experiences as a Catholic nun, but her call to action was dead serious.
The criminal justice system is "broken, broken, broken," said Prejean. And to fix an unjust system, we must do more than pray. We must leave our comfort zone and our cushioned lives of privilege and dig deep at the roots of racism and poverty.
"I used to pray, 'Look God, these big problems are your problems, so help all these poor people. Good night.'"
Or, Prejean continued, "You might say you're gonna go into a cave and fast for 40 days and 40 nights. You're gonna have a little press conference 'afore you go in, and say 'I will come out enlightened!' Yeah. You might come out skinnier. But one thing you can't promise is that you're gonna be enlightened. Or that your soul is gonna catch fire and change your life."
Not going to happen on its own.
"It takes what Pope Francis calls the Gospel of Encounter," said Prejean. And that means going to sit at the feet of the poor.
Prejean's journey began when she left her job as a middle school religion teacher in suburban Baton Rouge for the St. Thomas Housing Project in New Orleans, moving into Hope House.
"It was as if I had gone to another country," Prejean said. "I witnessed the suffering, the violence, the drive-by shootings. I wasn't scared of the police – but I'm a white woman in Louisiana, and these were all black kids, and they all had terrible experiences with the police. In the public school, if you dropped out maybe you got your GED but you still couldn't read a third grade reader. What's going to happen to an African American kid who gets out of school and can't read? When you need money, you sell drugs on a street corner. The mainstream economy is working against you. It's like a river, and these kids are getting caught in the eddies."
While at Hope House, Prejean was invited to write and later visit Sonnier at Angola's maximum-security prison. She got to know him as a human being. And it changed the trajectory of her life.
Prejean began to understand that "everybody's worth more than the worst thing they ever did in their life."
Her next revelation came from an unlikely source: the father of one of Sonnier's victims, Lloyd LeBlanc. LeBlanc said he pictured himself pulling the switch on the electric chair. He was angry. He lashed out at his wife and daughter in fits of rage. Everybody told him 'You have to be for the death penalty or it looks like you didn't love your boy.'
"All my life I've been kind, and I wasn't kind anymore. They killed my boy, but I'm not going to let 'em kill me," LeBlanc confided to Prejean.
"He taught me forgiveness is not about lifting the burden of guilt from the other, though it may do that – it's to save your own life," said Prejean. "LeBlanc was not going to allow his love to be breached by hatred. He was not going to lose himself in it."
Prejean witnessed Sonnier's execution on April 5, 1984, and from that moment has campaigned for fair trials, prison reforms, and the abolition of the death penalty. Today she fights not only on behalf of those who wait on death row – whether they are innocent or guilty – but also on behalf of the victims, their families, and others who are deeply affected by what amounts to state-sanctioned murder.
"The guards and the people who are paid to do the killing for us – who've had to take a live human being from a cell, strap him down and kill him, and be told it's part of your job – it's beginning to have an effect on them, too. More and more of them are speaking out," Prejean said.
The woman who began her journey at Hope House still has hope after all these years.
In 2015, states and the federal government imposed 52 death sentences according to the Death Penalty Information Center, down from more than 300 death sentences handed down each year between 1994 and 1996. According to Amnesty International, last year only 28 executions were actually carried out, the lowest number since 1991.
More than 150 people have been released from death row since 1973 following evidence of their innocence.
U.S. Supreme Court Justice Stephen Breyer, in dissenting opinions, has on three separate occasions questioned the constitutionality of the death penalty, suggesting it violates the Eighth Amendment's prohibition against cruel and unusual punishment.
In a direct appeal to Congress last September, Pope Francis urged abolition of the death penalty.
National polls in 2015 showed historic declines in support for the death penalty. Pew and CBS polls found support for capital punishment was 56 percent; Gallup reported 63 percent, just above the poll's 40-year low.
Numbers might be trending in the right direction, but it is people who give Prejean hope.
"It's not that the American people are wedded to the death penalty. It's not that they're evil or racist. It's just that people never reflected deeply because it's so out of their world. They don't know anybody on death row. So we must bring them close, share human stories. As the saying goes, 'What the eye doesn't see the heart can't feel.'"
Activists Robbins and Sarandon aren't ones to hang their hats on Academy Awards, but when Tom Hanks announced Sarandon had won the Oscar for best actress, she ascended the stage in a copper-colored dress designed for her by Dolce and Gabbana.
What did Prejean wear on the red carpet? She borrowed a simple black dress from a friend.
Lisa Gensheimer is a documentary producer and writer. She can be reached at lisa@onmainstreet.com
Resources:
Sister Helen Prejean
sisterhelen.org
Pennsylvanians for Alternatives to the Death Penalty
padp.org
National Coalition to Abolish the Death Penalty
ncadp.org
Benedictine Sisters of Erie
eriebenedictines.org