Little Shop of Donuts
It's well worth the weight. 
November 23, 2016 at 1:45 PM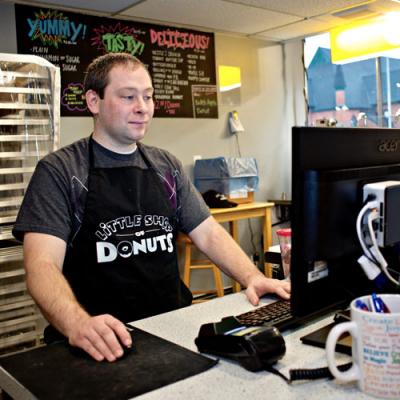 Desirability is directly proportional to the lengths gone to obtain what is desired. For example, the distance between Erie and North East's Little Shop of Donuts is approximately 15 miles – hardly unmanageable, but not exactly convenient, either. Despite this, owners Pat and Jeana Skelly welcome out-of-towners most every day – proof they have formulated a product eminently desirable and, indeed, worth going out of one's way. 
The Little Shop fry cake is a motivational speech for the taste buds: "Don't give up yet – at least not until you try all the flavors."
Just rolled out of bed? Looking for a reason not to immediately return there, to keep that listless heart of yours pumping another day? The Little Shop fry cake is a motivational speech for the taste buds: "Don't give up yet – at least not until you try all the flavors." 
While you may balk at the idea of getting dressed at all, the fry cake dresses up with particular relish. Most anything fits its curves, and customers are encouraged to accessorize each donut gracing the runway. You can opt for a conservative look (the "Yummy" tier, $0.80 each/$8.80 dozen – e.g., a powdered sugar "foundation"), something with a little more pizzazz (the "Tasty" tier, $0.95 each/$10.45 dozen – this adds a fruit icing made with real fruit puree), or clean out the closet with the "Delicious" tier ($1.10 each/$12.10 dozen – lets you reach into a jewelry box of crushed cookies and candies). 
The fry cakes' wardrobe department is collaborative, with Pat, Jeana, their children (Donovan and Miah), and their employees all pitching in ideas. Popular year-round outfits include Rolling In The Dough (a robe of chocolate icing, a crown of eggless cookie dough), the Maple 5-0 (a maple icing shawl with bacon sequins), and the Donut of the Caribbean (an exotic banana icing sash with a feathery coconut boa). Seasonal and limited edition varieties are cycled in at least once a month – sometimes more for special events, such as the Wine Fest (a Concord grape-iced donut) and Cherry Fest (a cherry cheesecake donut). The Skellys plan to debut an apple pie donut in November, followed by a candy cane donut in December.
"We brainstorm regularly," says Pat. "The inspiration comes from everywhere."
Initially, that inspiration originated with the designer donut revolution, a deep-fried renaissance that began in major coastal cities like New York (Dough) and Seattle (Top Pot) before sweeping inland over the last decade or so. The Skellys' operation most closely mirrors that of East Coast establishments Duck Donuts (Fayetteville, North Carolina) and Fractured Prune (Ocean City, Maryland), where batches of plain fry cakes are prepared throughout the day and customized by patrons. This format is friendlier to first-time business owners like the Skellys, as it has allowed them to concentrate on perfecting a single prototype. Overreaching one's abilities has proven the death knell to many fledgling businesses, a misstep the Skellys have skillfully avoided by specializing. 
"Why do a bunch of things okay when you can do one thing really great?" Pat asks. 
That one thing is neither too light nor too heavy, kissed gently with vanilla. The Skellys plan on upping that to two things with the introduction of a chocolate fry cake next year – another model, another realm of possibilities for fry cake fashion. The models may be well-composed by the time they reach the runway, but they are notoriously feisty when they're being made up. 
"The batter is very finicky," Pat says. The dough and ambient temperature have to be measured constantly. If they are not in sync, the consistency is thrown off and the little prima donuts don't cooperate so well. "That was by far the hardest thing to learn."
Startups involve their fair share of trial-and-error, but after four years of research and six months of operations, the would-be laboratory technician and his veterinary technician wife have things under control. The small building Little Shop shares with a Laundromat at 36 West Main Street has become North East's magnetic pole during breakfast hours, with residents, Mercyhurst North East students, festival-goers, and outdoorsmen making a V-line for the counter before migrating outward.
As for Pat, he enjoys the fact that he doesn't have to go too far. "It's a two-minute walk." The greater distance has already been traveled. Now it's all about letting his stuff do the strutting. 
Little Shop of Donuts, 36 W. Main St. (Rte. 20), North East, is open 6 a.m. to 2 p.m. weekdays (closed Wednesday) and 7 a.m. to 1 p.m. on weekends. Call ahead for large orders at 347.5586.
Matt Swanseger can be reached at mswanseger@eriereader.com. You can follow him on Twitter @SwazzySwagga or read his blog at squanderoza.com.