Livetweeting the First Presidential Debate
Hillary Clinton and Donald Trump squared off for the first time. Here are a few key takeaways.
September 27, 2016 at 10:23 AM
The first presidential debate of 2016 is now in the books. "Surreal" was a word that kept being repeated during the post-debate coverage, and for good reason. Moderator and NBC anchor Lester Holt tried his best to hold it together, but it wasn't long before things went slightly off the rails. Republican presidential candidate Donald Trump was his usual blustery self, often interupting Democratic nominee Hillary Clinton. Clinton got in a few good jabs of her own as well. Despite pleas from Holt, the crowd at Hofstra University errupted in fits of applause several times for each candidate.

In the aftermath, little ground was won for either side. No clear winner was crowned, with both sides spinning it in their favor.
Throughout the night, we were there to give our commentary. Contributing Editor, Jim Wertz took to twitter to highlight a few notable takeways, as well as provide his own insights and biting reactions.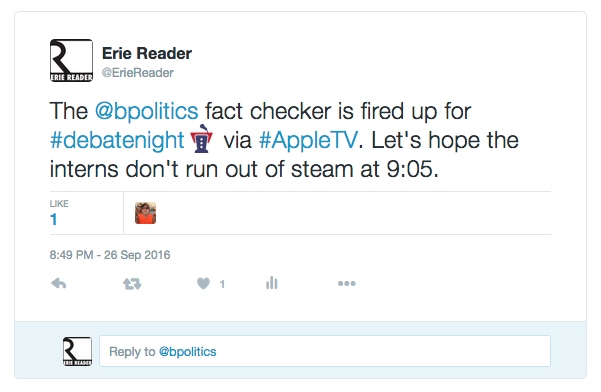 The @bpolitics fact checker is fired up for #debatenight via #AppleTV. Let's hope the interns don't run out of steam at 9:05.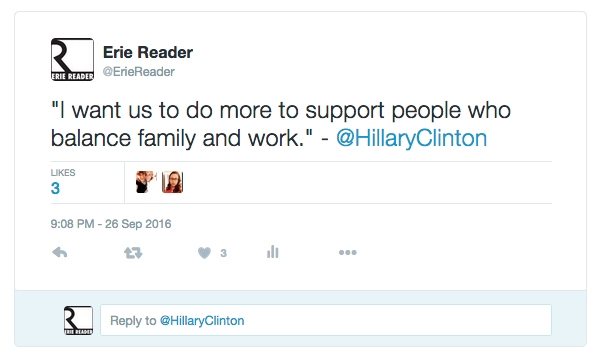 "I want us to do more to support people who balance family and work." - @HillaryClinton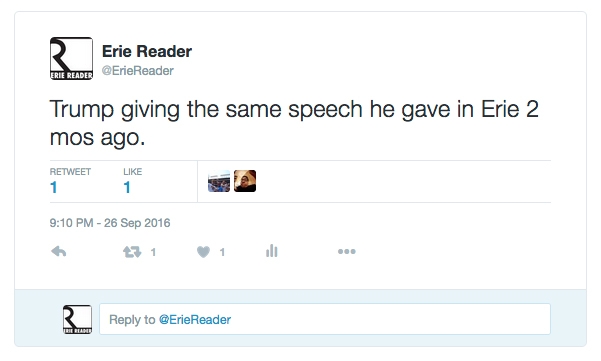 Trump giving the same speech he gave in Erie 2 mos ago.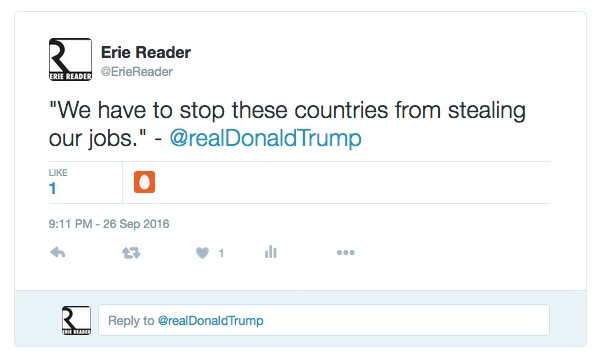 "We have to stop these countries from stealing our jobs." - @realDonaldTrump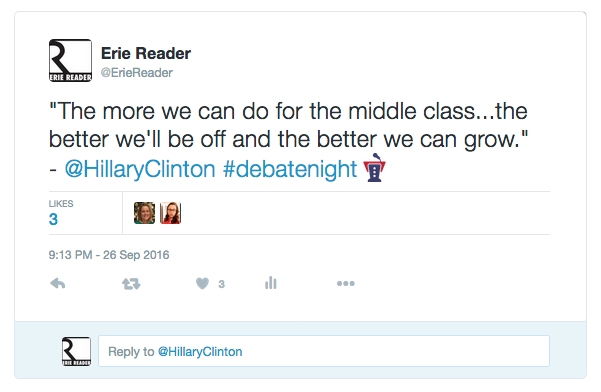 "The more we can do for the middle class...the better we'll be off and the better we can grow." - @HillaryClinton #debatenight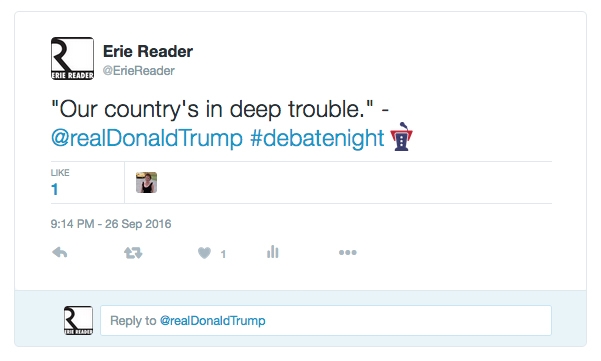 "Our country's in deep trouble." - @realDonaldTrump #debatenight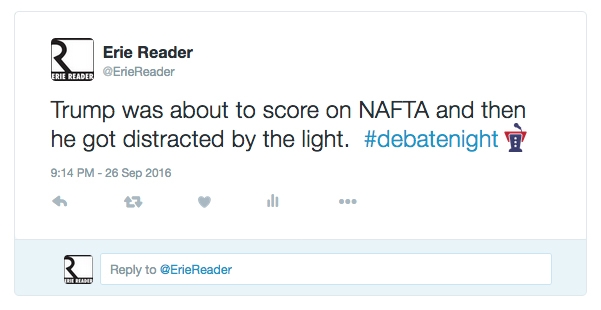 Trump was about to score on NAFTA and then he got distracted by the light. #debatenight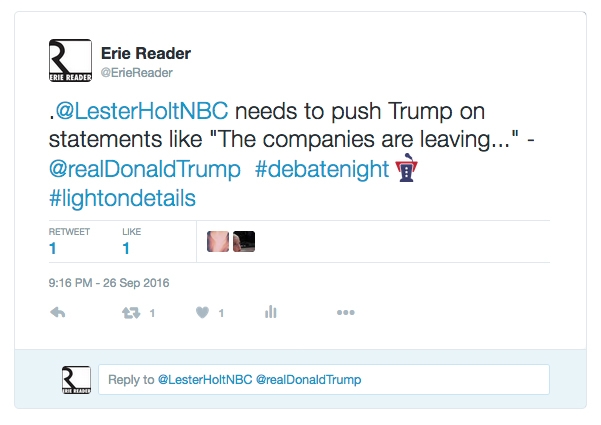 @LesterHoltNBC needs to push Trump on statements like "The companies are leaving..." - @realDonaldTrump #debatenight #lightondetails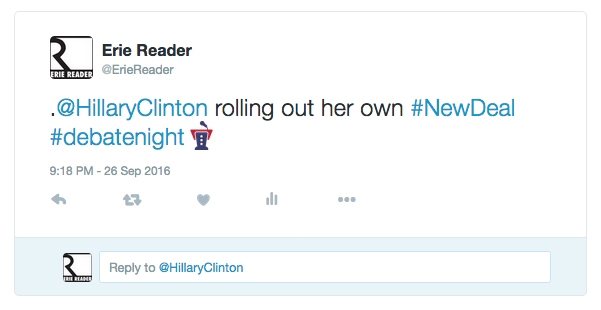 .@HillaryClinton rolling out her own #NewDeal #debatenight
https://twitter.com/ErieReader/status/780577398853074945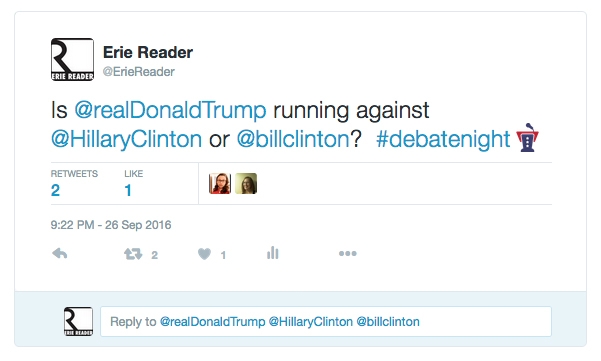 Is @realDonaldTrump running against @HillaryClinton or @billclinton? #debatenight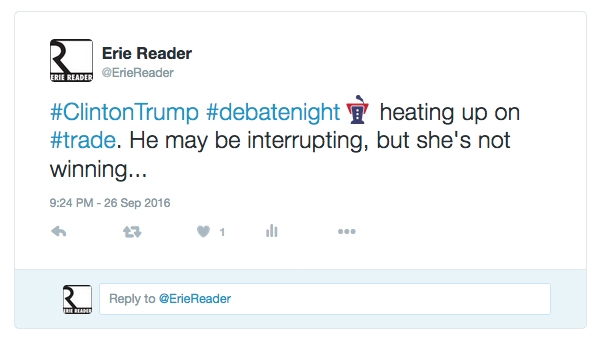 #ClintonTrump #debatenight heating up on #trade. He may be interrupting, but she's not winning...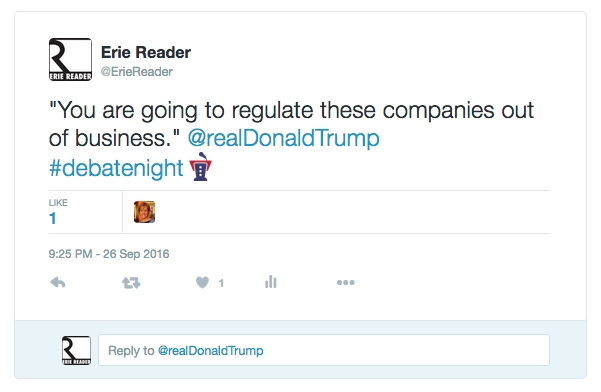 "You are going to regulate these companies out of business." @realDonaldTrump #debatenight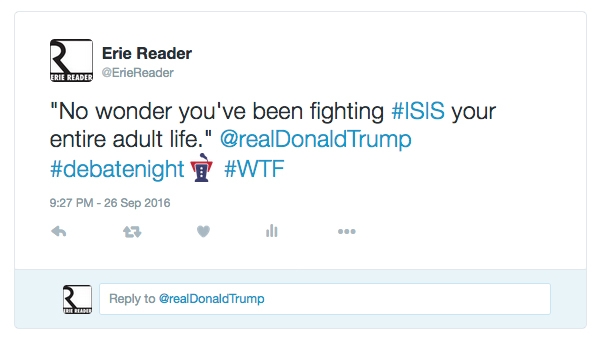 "No wonder you've been fighting #ISIS your entire adult life." @realDonaldTrump #debatenight #WTF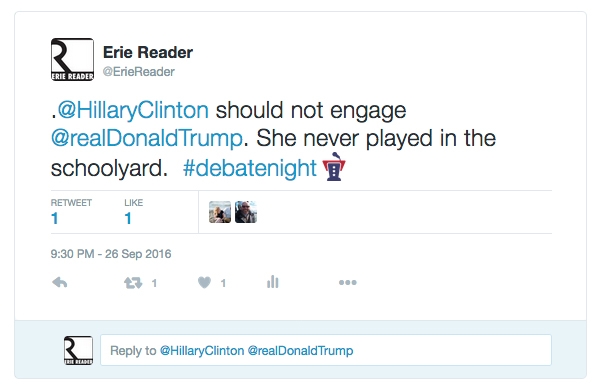 .@HillaryClinton should not engage @realDonaldTrump. She never played in the schoolyard. #debatenight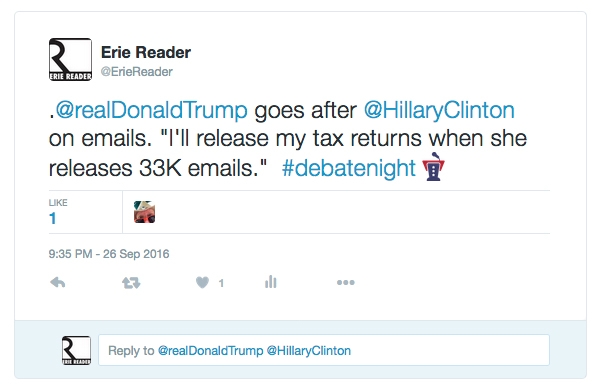 @realDonaldTrump goes after @HillaryClinton on emails. "I'll release my tax returns when she releases 33K emails." #debatenight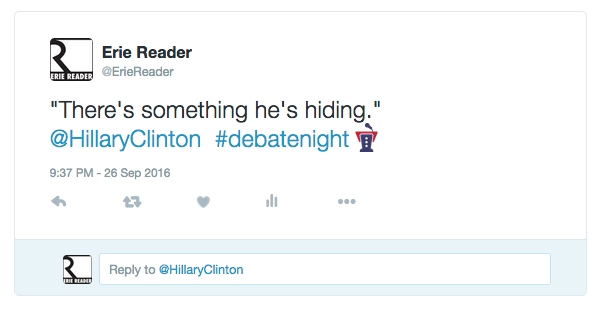 "There's something he's hiding." @HillaryClinton #debatenight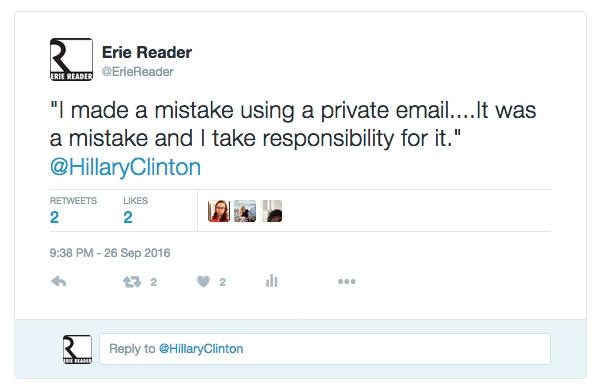 "I made a mistake using a private email....It was a mistake and I take responsibility for it." @HillaryClinton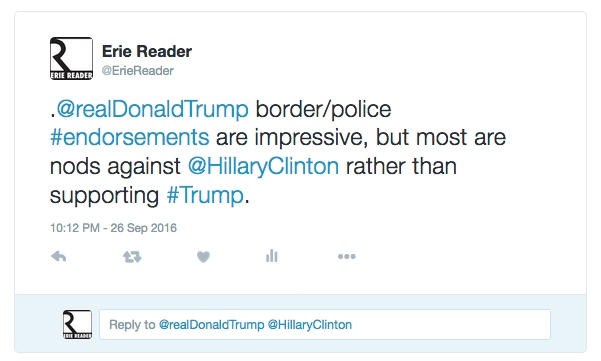 .@realDonaldTrump border/police #endorsements are impressive, but most are nods against @HillaryClinton rather than supporting #Trump.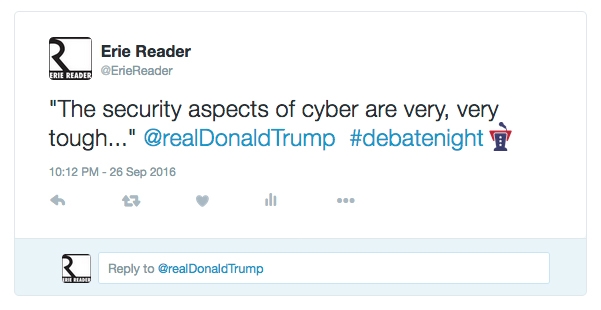 "The security aspects of cyber are very, very tough..." @realDonaldTrump #debatenight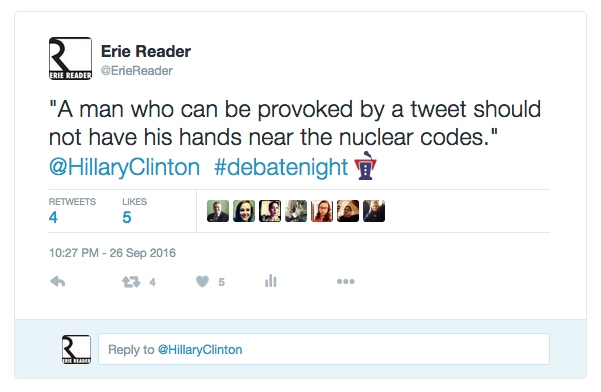 "A man who can be provoked by a tweet should not have his hands near the nuclear codes." @HillaryClinton #debatenight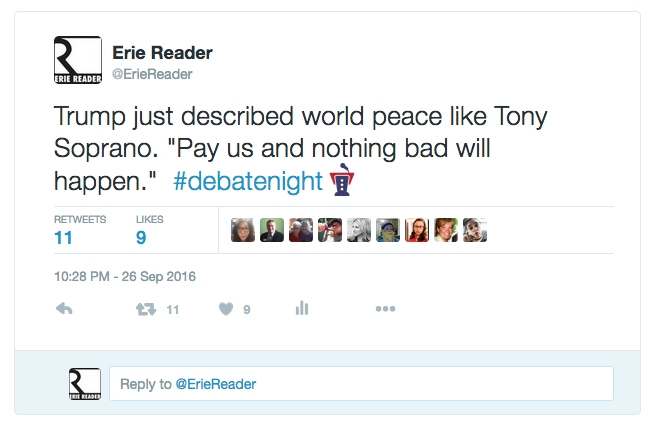 Trump just described world peace like Tony Soprano. "Pay us and nothing bad will happen." #debatenight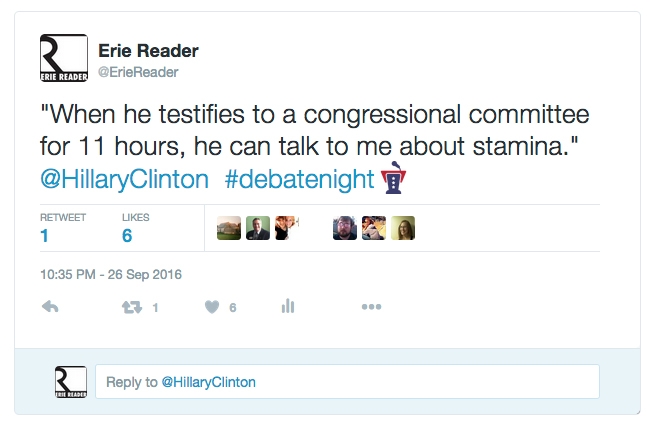 "When he testifies to a congressional committee for 11 hours, he can talk to me about stamina." @HillaryClinton #debatenight