Living and Making a Living Through the Pandemic
How COVID-19 is impacting our lives, the way we live, and our livelihoods
September 23, 2020 at 11:30 AM
By the time this story makes its way to my editor's desk, the numbers will be higher. Even more so by the time it is published.
Not just in the years to come but in the coming days, readers, upon seeing these numbers here, will likely pause to then reference their date of publication. "Oh, that's where we were then."
As of 12:30 p.m. on Wednesday, Sept. 16, six months to the day since Pennsylvania Governor Tom Wolf first put social distancing restrictive measures in place in the name of public safety and health to curb the spread of the novel coronavirus, the Center for Disease Control and Prevention reported 194,092 COVID-19-related deaths in America. Total confirmed cases, to date, stand at 6.5 million.
To put it into global perspective: there are 330 million Americans living from sea to shining sea, making up just 4 percent of the world's total population. And yet the U.S. to date accounts for more than one-fifth of the worldwide total deaths from the novel coronavirus, which claimed its first reported American life on Feb. 29, 2020. The first case in Erie County surfaced on March 18, 2020, and the first death was recorded on April 23, 2020.
The confirmed total case count numbers follow a similar pattern, with the U.S. accounting for 6.5 million out of the world's 29.6 million, or 22 percent.
Reported deaths per day peaked on May 6, with 2,701 — 276 shy of the number of people who died during the terrorist attacks of Sept. 11, 2001. The daily death rate then began to decline through the end of June. But as summer wore on, the numbers again rose, with the highest reported deaths in the U.S. since May occurring on Aug. 12 at 1,486.
But in April, before May's spike, the total confirmed death count in the United States surpassed what the nation experienced during the Vietnam War, a grim milestone that gave context to the mounting toll the virus was taking in months, not years.
Since then, the U.S. has lost more than two additional Vietnam Wars-worth of American lives and averages 9/11-sized death counts in single-digit spans of days.
Pennsylvania, with its 151,081 confirmed positive cases, ranks 12th highest amongst the states and territories. Nearly 8,000 have proven fatal, where the state ranks ninth overall.
Erie County, with 1,439 positive cases and 37 deaths confirmed, ranks 22nd out of 67 Pennsylvania counties in positive case count. It is the 15th most populous county.
These are the numbers of our nation, our commonwealth of Pennsylvania, and county, where we are now more than six months into the pandemic. We don't know when and how it will stop, but we do know they will increase. We also know that the toll of the COVID-19 pandemic isn't solely measured in lives, but also how we live as well as our livelihoods.
The Cost of Action
Initially, businesses deemed life-sustaining and/or essential remained operational in their spaces. Of the rest of the lot, those whose jobs afforded them the opportunity to do so began working from home. Those who couldn't, couldn't work and could only wait for further updates.
The Congressional Budget Office reported that from February to April, unemployment rates rose from 3.5 percent to 14.7, with 25 million more people filing for unemployment. Sectors supported by in-person interactions felt the impact more deeply. The hospitality and leisure sector lost a reported 8 million of its 17 million jobs.
"Nationally, we went into recession as of February," says Dr. Kenneth Louie, director of the Economic Research Institute of Erie and associate professor of economics at Penn State Behrend. "According to the government statistics, our total output nationally, what we call the real gross domestic product, fell by almost 32 percent in the second quarter."
That drop followed a 5 percent drop in the first quarter of the year, Louie adds.
"But things are improving slightly," Louie says, pointing to the decline of national unemployment, which has fallen to 8.4 percent with the addition of 1.4 million jobs in August. But GDP is just one way to measure the economy.
"Purchasing power in the form of disposable income is important as a driving force to power the economy," he says.  "It comes through what we call aggregate demand when people have income to spend. The U.S. economy is driven to a very, very large extent by consumption purchases."
Adding jobs is one thing. Having consumers able — and confident enough — to make purchases is another.
Louie notes consumer spending fuels upwards of two-thirds of the American GDP. That consumer demand, Louie adds, "is made possible by what economists call real disposable income," the capital consumers have available to spend after taxes. 
"When the disposable income that makes that spending possible isn't growing very much, or indeed is stagnating, or even falling in real terms, then it means that the economy isn't as empowered to such a big extent as before," he explains.
Erie, like much of the rest of the country, has not been immune to the economic trauma of COVID-19.
"In the first four months, we lost almost 18 percent of our jobs, over 22,000 jobs," Louie reports. "But the good news is since April jobs have increased, and we've gradually added back."
Between April and July (local data is only available up to July), the Erie economy has added more than 8 percent of its jobs back.
He points to other good signs for Erie's economy and its recovery. Industrial production, he notes, is showing signs of improvement, meaning that the economy is "gearing up in terms of its output."
Additionally, the manufacturing sector, which, as Louie notes, in previous recessions "has faced lots of challenges," hasn't suffered as much as retail or leisure and hospitality, the "hardest-hit sector."
"During the first four months of the year, the worst part of the pandemic, they lost almost 10,000 jobs — that was about 70 percent of their employment," he adds.
Since April, however, the sector has added back about 5,000 jobs, offsetting about 50 percent of the losses in Erie. Jobs being added back into the economy are aligning mostly with where the economy experienced losses, according to Louie, but the hospitality and leisure sector is adding jobs more quickly.
When envisioning a road to recovery while still on the pandemic's pathway without an end in sight, it may be tempting to look to recent history for guidance. That recent history would be the Great Recession.
Not entirely recession-proof — the Erie economy lost 8,900 jobs, or 6.6 percent — Erie weathered that storm better because of one of its advantages, Louie cites: its stable housing market. With relatively low housing prices without a boom experienced during growth, there simply wasn't as much to bust.
"The difference now with the pandemic is that, from a medical standpoint, the virus doesn't discriminate, really, irrespective of metro area, size, or economic structure or populations," Louie explains. "It has hit just about everywhere there is possibility of transmission."
Yet, lessons are still there to learn.
"We don't pay enough attention to debt levels and what economists might call over-leveraging," he says.
According to Louie, "We have to look at debt levels specifically to avoid over-leveraging — that is, over-extending ourselves at the individual level in terms of households who borrow more than they can sustain, and at the national level, the government level."
But this doesn't mean one – either individually or nationally – should never borrow and incur deficits, Louie adds.
"The current crisis is a case in point: It's perfectly okay when it is necessary to borrow and to spend in order to provide necessary assistance to the economy. So stimulus payments, unemployment benefits, and extension of the unemployment benefits would create more government debt as the government borrows money to try to prop up that disposable income by consumers. And that's okay in the short run."
But short-term measures shouldn't remain long-term solutions, Louie cautions, and once the economy is stabilized, debt should be reined in.
Call it echoing or repeating; either way, history is now present: Like the Great Recession, the COVID-19 economic recession is schooling us in our inequities, Louie points out.
"Whether you look at it along ethnic lines or socio-economic lines, income bracket lines, the more vulnerable people sometimes unfortunately bear the brunt," Louie says. "We need to pay more attention to the disproportionate consequences by certain groups for inequity."
The last key lesson Louie believes we can learn from the Great Recession is "the importance of swift government action."
"Whether it's providing fact-based, objective information so that people can make better decisions, or whether it's directing policies that will coordinate our responses, or whether it's providing assistance in the form of stimulus or unemployment benefits, whatever the policies are, swift government action, when it's a crisis of the national level, is crucial to help us get through the crisis collectively."
Because without an us, there is no economy.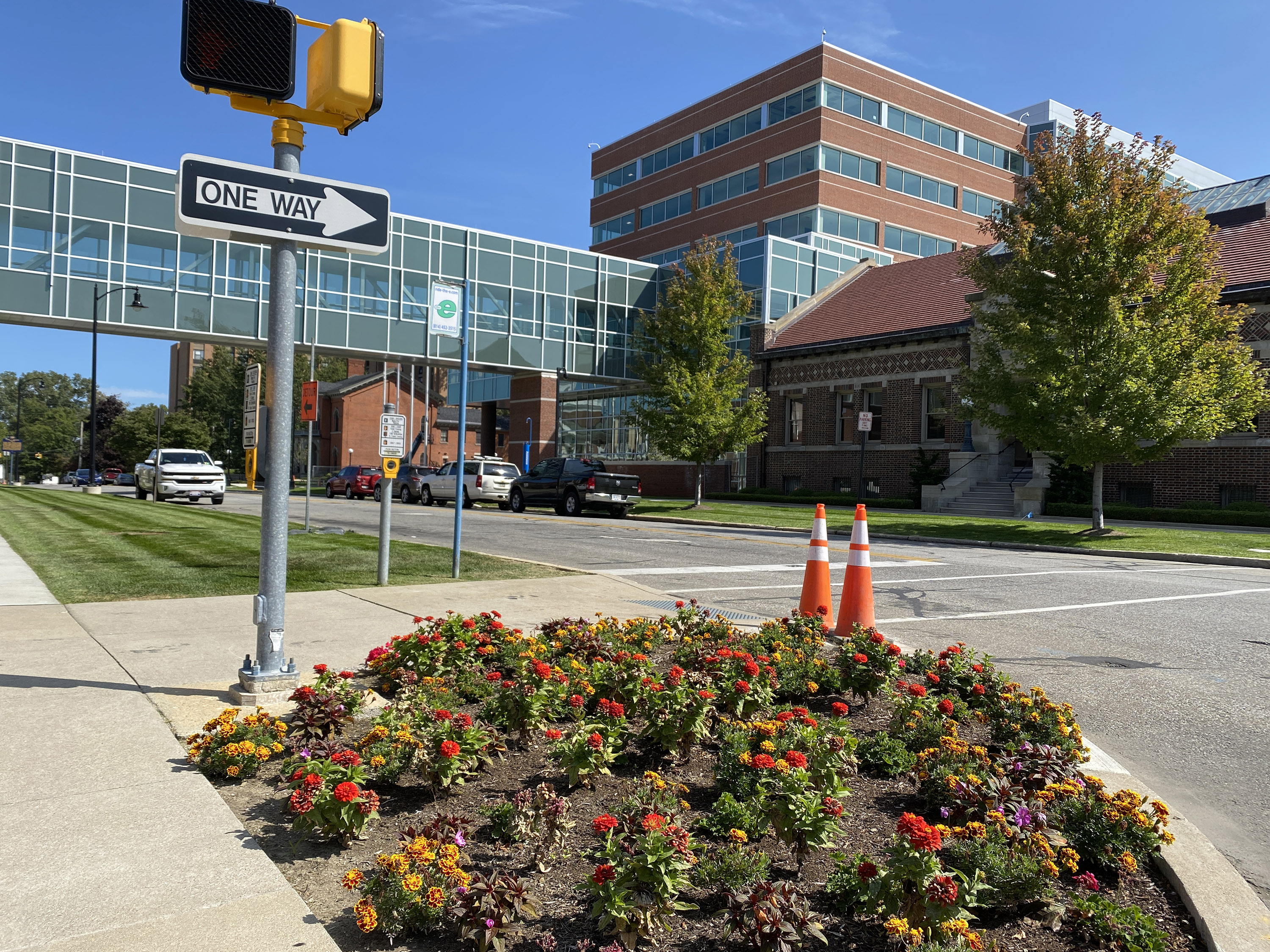 Prior to COVID-19, Erie Insurance President and CEO Tom NeCastro had anticipated this $135 million office building, located just east of Perry Square, to be buzzing with employees by now. Instead, 3,100 locally-based Erie Insurance employees continue to work from home, as they have since March. 
Insurance in the Time of COVID
In a Feb. 17, 2019 feature for the Erie Times-News, Jim Martin reported that while no single restaurant ranked in Erie County's top 50 employers by volume, the group, as a whole, represented the No. 1 employment sector when accounting for both part- and full-time employees.
"In other words, more of us work in the restaurant industry than in any other part of the economy," Martin wrote.
In the same feature, it was reported that again Erie County's largest employer was Erie Insurance.
In March, Martin also reported that those more than 3,100 locally-based Erie Insurance employees would begin working from home throughout the pandemic. A date when they — and the nearly 6,000 Erie Insurance employees working across 12 states and the District of Columbia — would return to their physical offices was not then and has still yet to be determined.
"Our priority is to keep our employees safe and to keep our company fiscally healthy," says Tim NeCastro, Erie Insurance's president and CEO, who guided the adaptation to the work-from-home setting over the course of four days. "When we first decided we were going to send our workforce to a remote situation, I should note that followed many years of planning and tabletop exercises and even live-attempts to do it."
An early observation found that the pandemic affected certain areas of the company more than others. Rather than furlough employees, the company created a program to shift employees with less or little to do to areas of the company where the volume of work had increased.
"We're trying to do our best to make sure that employees are productive but not overwhelmed."
The company has maintained its existing employee base, but internal moves and promotions created vacancies that led to 100 new hires. Erie Insurance had projected to hire closer to 600 new employees throughout 2020.
Due to COVID, the ribbon-cutting for the new building on its campus, a $135-million investment, has been postponed and the schedule delayed two months. Originally, Erie Insurance expected to open the doors in August; NeCastro says the building will be ready for occupancy by the end of the year.
In addition to the campus growth, Erie Insurance had been projecting bottom-line growth, this year at 5 percent, but expects to finish less than 1 percent overall given the pandemic's impact, according to NeCastro.
"Our industry is projected to shrink somewhere around 3 percent," NeCastro explains. A solid year during bad times compared to the industry. He credits the company's 95-year history in creating a strong surplus to "endure tough situations."
Industry challenges vary. On the commercial side, businesses are shuttering their doors, meaning they're canceling policies. Too, individual policyholders may be using their policies less and purchasing fewer policies.
To continue building relationships with their consumers, Erie Insurance announced a 5 percent rate reduction to policyholders. Other insurance companies issued checks to their policyholders, and after fielding phone calls from policyholders wondering where their checks were — in addition to the rate reduction not offered by all other companies — Erie Insurance decided to double-down on their customers and cut checks, too.
"We essentially returned $400 million in premium to policyholders — $200 million in cash, and $200 million in reductions that we're taking over the next 12 months," NeCastro explains.
NeCastro remains optimistic about both Erie Insurance and Erie's future — both that the end of the pandemic will come, and that Erie's progress will continue.
"The hope I get is coming from other people, whether it's my family members, my friends, and certainly our employees, our board of directors — the people that I'm around mostly do fully believe we're going to come out of it stronger than ever — and think that coming out of it is eminent, like it's not something that it's a decade away, that it's around the corner."
He points to redevelopment efforts downtown that have endured, from the continued acquisition of property in the Erie Downtown Development Corporation footprint, to the recently awarded $21-million grant for Bayfront development.
"If we could get some leaders together and shine a light back on the redevelopments, it would help give the community renewed hope that, yeah, this isn't over," he says. "The flame is still burning here, the pilot lights are on in, the gas is ready to go."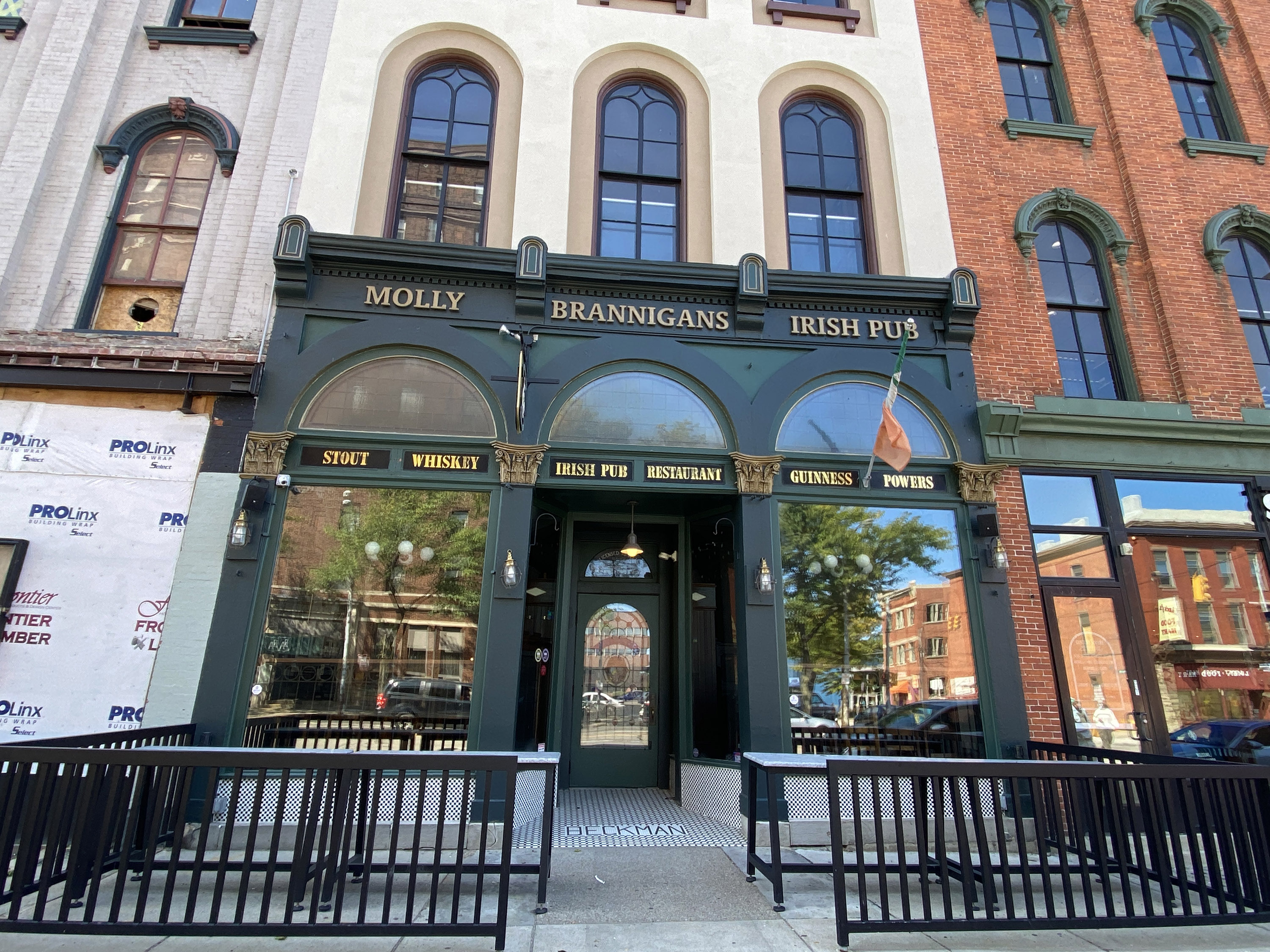 Comfort Food in Crisis
"March 16 was the day that was probably the scariest day for Red Letter," says Annē Lewis, director of marketing of Red Letter Hospitality, which owns and operates The Cork 1794, The Skunk and Goat, and Molly Brannigan's in Erie County, and three CoreLife Eatery establishments in Northeastern Ohio.
"We felt for the safety of our guests and our employees that we were going to shut down — so we were the first ones to do that," adds Billy Lewis, co-owner and president of RLH.
"So that's when we decided to become a takeout-only business," Annē says. Prior, the company had not processed online orders, but within 48 hours, RLH had adapted.
In addition to not knowing what other restaurants were about to do in wake of the pandemic, RLH also did not know that Gov. Wolf would later that afternoon announce restrictions his administration would be putting in place statewide, including the shuttering of restaurants.
The Lewises notified their 200-plus employees of their plan and then issued the media release. Next followed a conference call with employees to discuss details, from what was happening to the restaurants to employees — what benefits packages covered and would look like and how they'd support their entire team at the onset of the crisis.
"We made the decision that from now until we reopen, we'll have employee meals every Saturday, free meals for the families of employees," Annē notes. Managers began checking in with their employees on a routine basis to see how they were doing, how they were holding up during the crisis.
RLH, which has been able to keep most of its management team intact throughout the crisis, then focused on the immediate: Keep the proverbial lights on.
"That's what we have been doing for the last six months — just looking for those opportunities," Billy says. "You know, run into the fire versus running away from it — that's what we did."
He admits he wasn't sure their first pivot would be a path they could continue. But the community responded positively, so RLH kept going.
In the spirit of why-run-three-kitchens-when-you-can-use-two, after the first week, RLH shut down Molly's entirely. Rather than lay any employees off, they divided Molly's team between The Cork and Skunk and Goat.
Through the duration of the quarantine phase, takeout orders remained steady, Annē says, but have since doubled at the Skunk and Goat.
In addition to providing free meals to employees, RLH has served more than 7,000 meals to various nonprofits throughout the area, including frontline workers at the local hospitals, with the help of area sponsors.
"That was the one thing that we could do," Annē explains. "Food brings everyone together, food brings happiness, and food brings comfort."
RLH offered the meals at a discounted rate, which sponsors covered, creating a win-win — those who needed food got it, and RLH kept their employees working and paid.
"Trying to get innovative and survive during those times," Billy adds.
In North East, RLH donated meals to area teachers in the school district when classes resumed, as a way to "show our appreciation and gratitude for them," as Annē puts it.
Prior to the pandemic in Downtown Erie, RLH had been working toward managing the new food hall in the EDDC footprint. Interviews for vendors were halted at the onset, but the Lewises have the timeline back on track with the anticipated announcement of the vendors coming Oct. 1.
While Molly's has been offline in-person, Billy notes that since being able to seat patrons, both indoors and outdoors at the other restaurants, RLH is not significantly down in terms of overall revenue. However, outdoor dining — something that won't be available for much longer as summer gives way to fall with winter knocking on the door in Erie — has played a critical role.
"We're already starting to feel it over the last week as the temperatures are cooling down," he says. "We would have never made it at The Cork without the outdoor seating. So as that becomes less utilized, it's going to be very difficult for us to maintain that pace," adding he anticipates a 30 percent drop in revenue as he loses his outdoor dining.
"We can sit and complain, but at the end of the day, we just have to move forward and do the best we can with the parameters and guidelines that are set for us," Billy says.
The Road to Recovery is … for Now, being Paved Slowly
Still, the questions of when and how the world will emerge from the COVID-19 looms. So does the question of how economies will recover.
"I think the best way to look at it is in this way: It's really going to be determined by developments in the medical arena, just quite bluntly, whether we have a safe and effective vaccine," Dr. Louie says. "But it is more nuanced than that. Even before that takes place, we are likely to see continued gradual improvement."
That gradual improvement comes thanks to something humans have been doing since, well, before we became humans: Adapting. Not in terms of evolution but rather the change of our behaviors given our circumstance of crisis.
"You will see jobs coming back at a slow pace, as we gradually adapt to living with the virus, and we're already doing that," Louie says. "We are already learning how to live with those constraints, whether it's social distancing, reducing capacity indoors. The critical turning point will come when that vaccine becomes widely available — then I am fairly confident that our economy will once again resume its stable and possibly even more robust trajectory."
As Louie puts it: "That's an optimistic note to end on."
"Because we have built up so much momentum, all the exciting developments that have been taking place in the central part of the city, on the Bayfront, all the research that's coming into our city, the Knowledge Park activities at Penn State Behrend — that's a considerable amount of momentum," which Louie says is "ultimately what is going to make Erie another success story" in the coming years.
"And what I hope is that people won't forget and won't be so discouraged because they went through such a traumatic pandemic interval."
To foresee a post-COVID economy, we must work to close the COVID-19 chapter of our story. The quicker we do that, the quicker we can get back to business.
The online edition of this article contains some additional content. Ben Speggen can be contacted at bSpeggen@ErieReader.com, and you can follow him on Twitter @BenSpeggen