Local Artist, Entrepreneur, and Fashion Designer Has Hope for Erie
Andre Jones is influencing the culture with fashion-forward designs and immersive events
November 15, 2023 at 7:00 AM
The days of being able to say "there is nothing to do in Erie," are long gone. If you're reading this publication then you probably already know about the wealth of art, music, theater, and events you can find in your own backyard. What you may not know is that Erie has also played host to two full fashion shows this year, with nationally recognized entrepreneur and fashion designer Andre Jones at the forefront — hosting interactive, immersive events that are creating a fashion-forward culture here in Erie that is on the cutting edge of design.
Jones, 36, of Rabbit3 (R3) was born and raised in Erie. He wanted to go into fashion design after high school but was talked out of it and instead attended Edinboro University for Graphic Design. The education served him well because he uses his graphic design skills to not only create his clothing designs, but also market and promote them, all while serving as an art director for a media company based in Los Angeles.
"I think Erie has a void with design and creativity," Jones said. He feels there is much more that can be done to fill that void and create a scene or subculture.
R3 is described as an experimental project that explores the middle ground between artistry and design. Initially debuting as a ready-to-wear brand, R3 has expanded into the realm of creative direction. Implementing a slight ode to whimsicality, the brand sets to create immersive experiences for the masses.
Although Erie has previously lacked in being a fashion-forward place, it has certainly provided creative inspiration. One of Jones' popular jackets is printed with trees from photography taken at Presque Isle State Park. Other inspiration includes his childhood, specifically video games and anime.
"Rabbit3 tries to focus on cross-functionality and versatility in fashion. The shirts can be worn three different ways, the pants can become shorts … the audience is people who are on the go and the designs have three tiers so that they can be worn to work, running errands on a Saturday, or to a social outing," said Jones. One of Jones recent designs, Moto Psycho 2, are pants featuring removable fringe. They are available on his website as are some of his other clothing designs.
Jones started by designing t-shirts and hoodies and progressed to creating his own clothing designs learning about measurements and the manufacturing process as he went along. "As time progressed, I learned the ins and outs," he explained.
He has utilized Mercyhurst University for market research and continually sought out ways to learn and grow, including doing ghost designs for other brands. Jones was the second place finalist in the 2023 Jack Daniels Classic Remix Grant Program, earning a $30,000 grant for his clothing. Jones has featured his designs at Philly Fashion Week and hosted local free design workshops, encouraging others to mingle and get creative.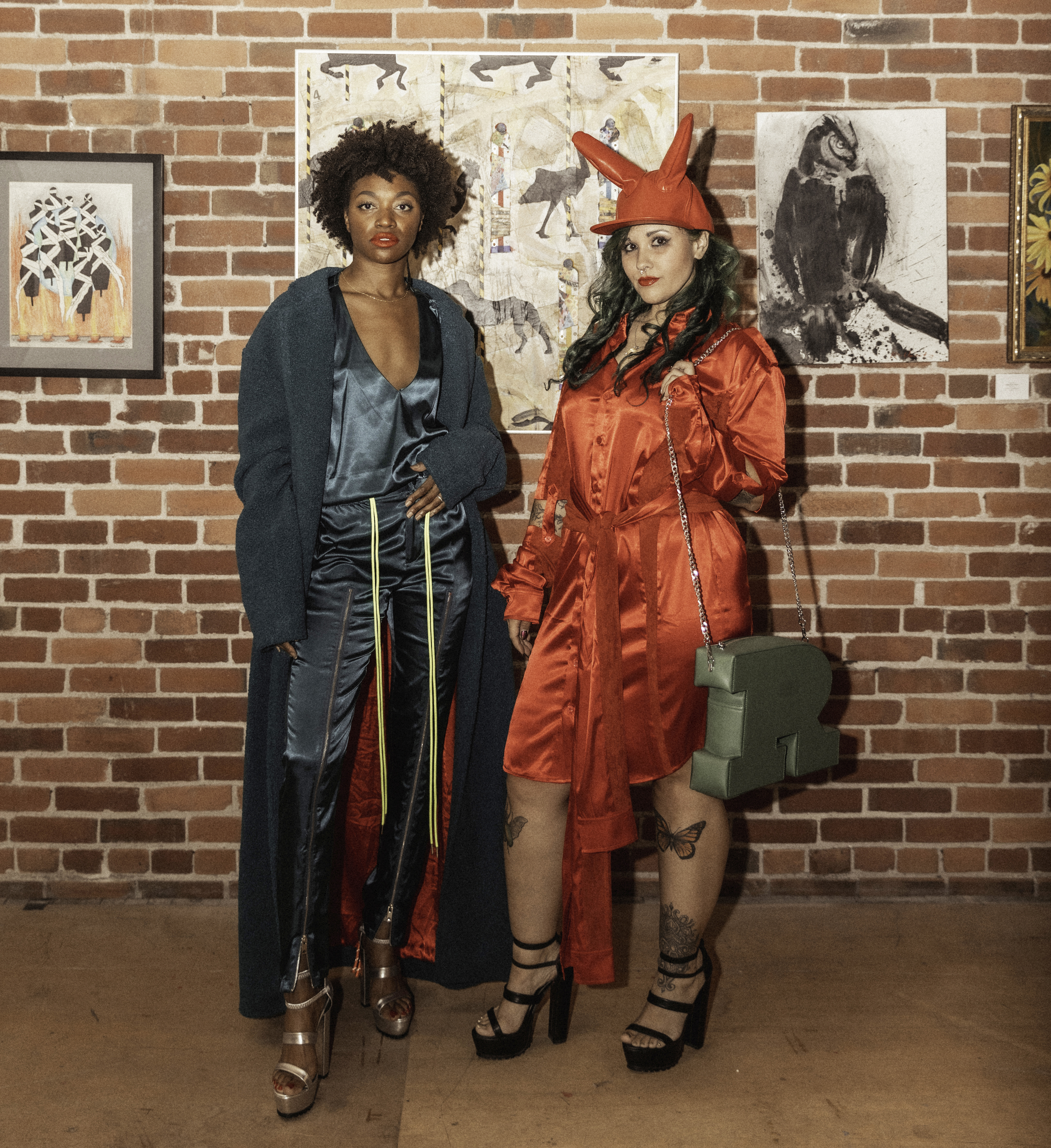 Rabbit3's recent show at Erie's 10/20 Collective entitled There's Still Hope showed a diverse range of fashion styles as well as models, and was presented to a packed house with high energy and engagement. (Photo: Erica Whiting)
There's Still Hope, The Runway Show, was the fourth, and greatest experience yet provided by R3. Held at 10/20 Collective, the venue was packed with spectators anxiously awaiting a glimpse of his latest creations. The event was high energy and positive, featuring visual assets for creating engaging digital content, a DJ, vendors, and of course, Jones' second full runway show featuring the most recent R3 collection using a diverse group of local models.
"These are pieces that can go to all places and people. People come in all ages, sizes and colors and that is reflected in my show," said Jones. The collection features bright, bold colors like teal, red, orange, and yellow. Models wore bold red lips and accentuated eyes and lashes. They carried large bags and showed off the versatility of each piece.
Jones has an eye for detail and it's no secret that he is quite purposeful in the presentation and marketing of each one. Everyone who attended was asked to come dressed in fall colors and received a gift bag with a postcard note and a custom fall-scented candle with a label of the number 4, signifying his fourth event. The theme of hope resonated throughout the space, right down to a large neon yellow butterfly wall hanging, which has remained at 10/20 for others to enjoy.
"I wanted to create something that can inspire people here and my heart is so full, the turnout was way more than expected," Jones said. Perhaps word is getting out.
The next fashion-forward event, The Royal Affair, is on Dec. 9 at 10/20 Collective. This event is in collaboration with 2023 40 under 40 inductee Davina Pacley of Divinely Crown'd and is for ages 25 and up. The event will feature music, dancing, food, and a suggested dress code of "cocktail chic" in purple and gold.
You can find more of Andre Jones designs at rabbit3.co and on social media at @whoisandrejones on Instagram and @rabbit3 on Instagram and Facebook.
Amy VanScoter is a certified yoga and meditation teacher at School House Yoga Studio in Erie. She can be reached at avanscoter@gmail.com