Local Brewers Unite for First-ever Erie Craft Beer Week
Join the community for a variety of events to be featured at Erie's Craft Beer Week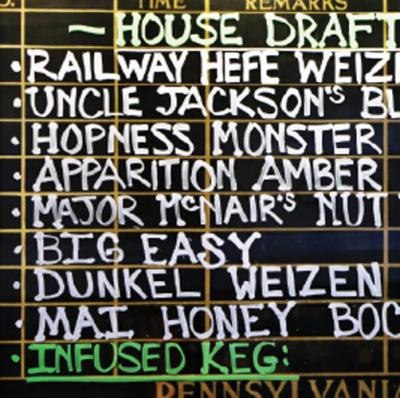 Erie Craft Beer Week begins May 11 and continues through to May 17. With Erie becoming a craft beer mecca, more beautiful words have rarely been uttered in this town. Pittsburgh has been celebrating Craft Beer Week for several years now, but now you don't have to travel to celebrate these elixirs and the brewers who make them.
To help commemorate ECBW, eight Northwestern PA brewers came together to brew an 814 Collaboration Beer – a pear IPA –which can only be found at local pubs this week.
Below is a sampling of some of the sudsy events planned for Erie Craft Beer Week at Erie Ale Works, Erie Brewing, Lavery Brewing Company, and The Brewerie at Union Station:
Wednesday, May 13: 814 Collaboration Brewery Release Night – Erie Brewing Company Parking Lot Party: Open sampling for $10 includes free pizza and cupcakes.
Thursday, May 14: 814 Collaboration Bar & Restaurant Release Night – U Pick 6 Tap House from 6 to 8 p.m. 814 Collaboration Tasting & Cheese Pairing.
Friday, May 15: Special Events Night – Cellar release parties and limited edition tastings at 1000 Beers on Peach Street and the breweries themselves.
Saturday May 16: Meet & Tweet – Join all eight collaborative brewers for eats, drinks, and mean tweets! Hosted at The Brewerie at Union Station from 5 to 7 p.m. Meet the brewers, learn about their beers, and watch them read mean tweets! Additionally, each brewery will have two styles of beers on hand for an open tasting with hors d'oeuvre. Tickets are $25/person.
We don't know about you, but we at the Reader plan on being late to work a lot this week. --Bryan Toy