Local Comedy You Can't Beat
Off Constantly Comedy and the burgeoning stand-up scene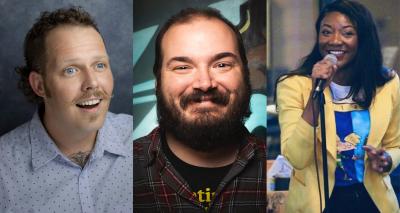 I'm on stage alone. It's me, the microphone, and a stool. I'm outwardly still, but my mind is racing. Do I stand or do I sit? Should I hold the microphone or emphasize with both hands? What if I stumble over my words? What if I stumble over my feet? What if I don't get laughs? What if I bomb? I take a deep breath, reach for the mic, and look out at the audience: my moderately amused 8-year-old son and the lone employee working the nearby concessions. The latter barely registers my presence. It's a tough audience.
I was on the interactive stage at the National Comedy Center, just a short drive from Erie in Jamestown, N.Y., and while at least half of my audience was guaranteed to laugh at even my worst dad jokes, an unexplainable prickling nervousness was still present as I awkwardly stood there. Maybe it was the flashbacks to that time when I forgot my lines on stage during a play in the fifth grade. Or maybe it was the indifferent employee, who almost certainly assumed that I, like most wannabe funnymen sporting New Balance tennis shoes on this stage in front of their kid, wouldn't be nearly as amusing as I thought myself to be. He wouldn't have been wrong. 
"Doing comedy alone onstage is the ego's last stand," wrote Steve Martin in his 2007 memoir Born Standing Up. As Jerry Seinfeld once joked, death is the second most common fear while public speaking is the first. "This means to the average person, if you have to be at a funeral, you'd rather be in the casket than doing the eulogy," he quipped.
While some comics might make it look easy — and it might surprise some just how many comedians self-identify as introverted — stand-up comedy is often regarded, for good reason, as one of the more challenging careers in showbiz. Martin explained in his memoir how during his 18 years of doing it, 10 of those he spent learning, four years were spent improving, and only during the last four did he experience, in his words, "wild success." 
The first step though? Trying.
"What most people deem the hardest part about stand-up comedy, just getting up on stage, is the easiest part about stand-up," local Erie comic Anthony Morelli says. For Morelli, it's the grind of continually writing that is the most challenging aspect, the replacement of and constant search for those perfect words, the tightening of the act, and the endless self-critical loop of rehearsing, listening to, and watching oneself on stage.
In recent years, Morelli has become one of the most familiar faces in Erie's stand-up comedy scene, which he describes as "bubbling" once again after being uprooted by the pandemic. Yet, his entrance into the stand-up world was never inevitable. A few years ago, he was working as a personal trainer. He regularly used humor to distract his clients from the pain, occasionally mentioning during these sessions that he wanted to try stand-up, but that his stage fright held him back.
"I had started writing down jokes in a notebook and, on a Sunday, one of my clients sent me a picture of the marquee at [Jr's Last Laugh Comedy Club]," Morelli explains. It advertised an open-mic night that Thursday. He called that Wednesday to inquire what he needed to do to get some time and they responded that he'd have five minutes and they'd see him tomorrow. "I thought it was going to be what you hear about: barely anyone there except the bartenders," Morelli recalls. Instead, when he turned up 30 minutes early in order to have time to calm his nerves, he witnessed a full house. Standing room only. "I was scared as shit," he admits.
Despite his nerves (and the emcee announcing to the audience that it was Morelli's first time on stage), it went pretty well. He was hooked. He quickly realized though that there weren't an abundance of opportunities to hone his craft in the Erie area, so he'd trek to Pittsburgh, Cleveland, and Buffalo to get stage time where he'd get three to five minute slots.
"[A] four-hour commute to do five minutes is hard to keep up," he says, adding that the local comedy club at the time did have open mic nights, but they were more used for scouting established talent (which he didn't understand at first being so new to the scene) than being a place to practice and work out new bits. 
As a result, he and another local comic, Dan Brady, began organizing open mic nights throughout Erie. Before long, this venture transformed into Off Constantly Comedy and he began producing more shows around the region.
While the pandemic derailed some of his plans, momentum has clearly picked back up in recent months. Brady has hosted numerous shows throughout the area at venues such as the Erie Movie House. With Off Constantly Comedy, Morelli oversees and hosts a monthly open mic night at State Street's Voodoo Brewery and there will also soon be a weekly one at the newly-opened RandyBillDuck at PACA, a few blocks south at 1505 State St. He has also started a headliner series at the Kings Rook Club, as well as rotating comedy showcases at Black Monk Brewery, Erie Distillery, and the Voodoo Brewery Production Facility in Meadville. 
One of the comics who has been earning plenty of laughs at these shows is Brittany Alexis, who recently moved to Erie from Pittsburgh. She first tried out stand-up comedy in 2017.
"I always knew I wanted to be a trial attorney, but I was very soft-spoken and relied too heavily on notes when presenting," Alexis describes. "After graduating law school, I decided to take the February bar exam instead of the July [exam] and had some downtime."
During this downtime, she and a neighbor went to snag a bite to eat at a Pittsburgh restaurant called Hambones. It also happened to be their open mic night. She immediately sensed that this could be the perfect tool to help her overcome her fear of speaking in front of small groups.
"It's low risk, high reward," she says. "The next week, I went in and tried it and fell in love with the craft. Getting laughs is addictive."
She took a break in 2018 while preparing for the bar exam, but the following year, she went back to it and was soon booking shows regularly. For New Years 2020, she performed at the landmark Byham Theater in Downtown Pittsburgh, opening for Gab Bonesso and Franqi French. She even booked her first comedy festival. Then, one week before she was set to perform there, the world shut down. So, like many, she did what she could: performing over Zoom.
"It wasn't the same as being on stage, but it was good for me to develop new material and make connections with comics in other areas," Alexis says. After some time, she was again performing in front of live audiences, first at outdoor venues and, then more slowly, back into smaller indoor venues. This included a gig in Erie with Morelli, who helped connect her with other comics and booked her for more shows. 
Since moving to Erie recently, she's still kept her Pittsburgh connections and performs there almost every weekend. She is also excited to be in Erie, both for the growing scene here, but also due to its central location to other nearby comedy scenes.
"My hopes as a comic are just to improve constantly," she says. "Push my boundaries and see what I can do with this amazing craft. I really hope to help grow the Erie scene with the other comics and bookers out here. … There are a lot of creative people here and I'm really excited to see what we can build together."
As for Morelli, his goal is to open a brick-and-mortar comedy club within the next five years. He's also working on developing an Erie Comedy Festival. In the meantime, Morelli hopes to grow the local talent pool. Currently, he is part of the development of a local improv group, which includes Alexis. He describes the venture as something fun and fresh.
"We have some very creative minds and are hoping to have something we can showcase to the community soon," he says, adding that when they've finished for the night, they all seem to be happier for having laughed so hard together. "We're all amateurs, but each brings a different viewpoint and strength into the group and we are becoming more organized."
For those who might be interested in trying out stand-up comedy?
"Just do it. Even if it is one joke, just get on stage and do it," Morelli stresses. "Once that happens, a weight gets lifted and allows you to focus on what you want to write and joke about rather than [asking yourself] what do I do on stage."
"Definitely hit up the open mics when you see them," agrees Alexis. "That's the best way to start, in my opinion."
"And expect to bomb sometimes," adds Morelli. "No one is going to make every room laugh every single time until you've put in your hours."
"If you don't feel ready yet, just go to the [open] mic [night], meet the people who do them, [and] go to shows," Alexis advises. "I think the more you're exposed, the more you give yourself an advantage once you start."
As for me, I think I'll keep my New Balances and dad jokes, but I'll stay off the stage and in the audience, enjoying the hard comedic work of Alexis, Morelli, Brady, and other local talent from my seat. Like many, I'm simply happy to watch Erie's comedy scene continue to grow and thrive.
Follow Anthony Morelli at facebook.com/offconstantlycomedy, Dan Brady at facebook.com/dbcomedy814, and Brittany Alexis at facebook.com/bfeldz 
​​Jonathan Burdick runs the historical blog Rust & Dirt. Find him on Twitter @JonathanBurdick