Local Filmmaker John C. Lyons Readies the Ground for Unearth
The already-funded film's Kickstarter campaign aims to "take it to the next level" through Nov. 5.
October 28, 2015 at 12:00 PM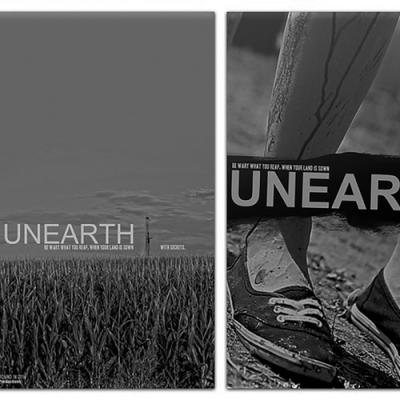 "Find your metaphor, and you have a classic."
That's the message John C. Lyons received from Chuck Palahniuk when the local filmmaker reached out to the Fight Club author about his idea for the film Unearth. Lyons came to know Palahniuk after the author became a fan of Schism, Lyons' directorial debut. Palahniuk's response motivated Lyons to up the ante on his third feature.
The metaphor Lyons found was fracking, a drilling practice which has undergone much scrutiny, including several critical pieces in the Reader. Early in 2013, Lyons started kicking around ideas for his third film, eventually taking note of fracking through documentaries such as Gasland and Triple Divide.
"I felt that there was definitely a void for a narrative fictional story to cover the angle of how we really don't know what we're doing when we're a mile under the ground," Lyons tells me over the phone. "It's not like we have cameras or people down there, and things can happen. Things can go wrong. What if we stir up something down there that we didn't expect and how can that affect people?"
Unearth focuses on two neighboring farm families and the aftermath when one family leases their land to natural gas drillers. Lyons describes his script as a docudrama that eventually shifts into a crazy, gothic horror survival film. Based on the success of the film's Kickstarter campaign, the premise intrigued plenty of potential viewers. 
"I felt that there was definitely a void for a narrative fictional story to cover the angle of how we really don't know what we're doing when we're a mile under the ground,"
After filming his first two features Schism and There Are No Goodbyes with volunteer help, Lyons turned to the crowdfunding site to help him make Unearth. He set a goal of $15,000 early in October and started a campaign with the help of Mercyhurst University's Quickstarter Program. 
A very positive public response meant the campaign reached its goal in only 10 days. It was named a "Staff Pick" by Kickstarter and "Project of the Day" by independent movie news site Indiewire. In fact, funding will still be accepted until the campaign ends Nov. 5, which can help Lyons ramp up efforts on Unearth.
"At this point, the higher we go on Kickstarter, the better the movie is going to be, to be honest with you," Lyons says. "Our past films have been all volunteer work, which is crazy. For this third film, we really want to step up and hire people for their efforts."
Now that the film has been funded, Lyons has a lot of work ahead of him. He already has locations picked out in northwestern Pennsylvania and a small group of talented crew members, including special effects design guru "Monster Mark Kosobucki," who just so happens to have created several cover art pieces for the Reader (including this issue's cover). Eventually, Lyons will hold auditions for actors to join a cast that includes Jennifer Hooper, who's performed in both of Lyons' past films, and Ruth Thoma Andrews, a stage veteran of over 50 plays.
Lyons found his metaphor back in 2013. Now, Unearth is set to become something more than just a script, as Lyons estimates a 2017 release. With the support of the Erie community and the frightening realities of fracking serving as inspiration, Lyons is ready to create a horrifyingly good feature.
Alex Bieler can be reached at abieler@eriereader.com