Looking Forward with the Wildeyes
The Wildeyes: Erie's Best Up-and-Coming Band
January 17, 2018 at 4:15 PM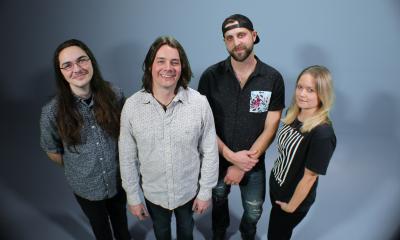 "We're a really popular band that nobody knows," singer Brad Walker joked. That seemingly contradictory statement, in the case of Erie rock quartet The Wildeyes, might ring laughably true.
Between some recent accolades, resulting in a buzz about the band, they probably fall into the zone where most people would say, "I've heard of them but I haven't heard them." Other local bands fit this category, with their actual fans few but their potential fans many. What separates The Wildeyes from the pack is something ultimately quite simple: their music sounds so damn good.
The band formed in July 2016, and since then have been on a path that could take them far. They won both the Erie Reader's Best of Erie Award for Best Up-and-Coming Band, as well as the Rock Erie Music Award for Best New Band in 2017. Releasing their 5 song EP, Tell Me What You Know on November 10 of last year (available on iTunes, Spotify, and various online sources as well as physical copies sold by the band). The EP was recorded at Raven Sound, and was later mixed and mastered at Mr. Small's with producer Larry Luther.
Within the first minute of the opening track, "Picture in a Frame" you know you're in for something special. Blending modern rock sounds with classic, gorgeous guitar tones and soaring vocal melodies, the band is perfect for fans of The Black Keys, Cage the Elephant, or any of Jack White's various projects.
One thing you're immediately struck by is the nearly perfect guitar tone that Nick Hayes, 31, is able to achieve, relying on his flamed maple top Gibson Les Paul. To get his sound just right, Hayes plays through a Fargen Olde 800, which sounds roughly like the highly sought-after Marshall "Plexi" sound that players like Jimi Hendrix, Angus Young, and Jimmy Page perfected in the 1970s. For the recording, he used a Gretsch 6150 amp — similar to a Supro combo amp (think Joe Perry, Joe Walsh, and again Jimmy Page) — to double some of the parts, thickening it up and making the sound bigger. "The beefier sound is the Plexi clone, and the rattier sound is the Gretsch," Hayes was quick to explain.
You'll also be quick to notice the fantastic vocals from singer Brad Walker. Using doubled and harmonized parts in the recording, he crafts hooks that will stay with you all week long.
In regard to lyrical content, Walker, 32, is free to explore his own life, sometimes verging into darker territory. "I'm writing about lying, cheating, stealing, shooting, snorting, drinking," but overall, the energy of the band's music keeps it grounded. "They bring me up," Walker said. "It doesn't have to be dark, it can be a party!"
"I'm a recovering drug addict and alcoholic," Walker admitted. Which makes things exceedingly difficult when a vast majority of the venues the band plays in serve alcohol. "It's hard around the scene," Walker paused, reflecting. "But with these guys, I feel safe around them. I feel like I don't have to worry about that at all."
"When I got sober, it was really hard to do music without that crutch." Walker continued. "I felt totally naked, I didn't feel I was the same, but with these guys, I feel like they opened me up again." The band has also helped his stage presence, feeling more comfortable in the spotlight. "Like I used to just stand on the stage and sing, I was filled with anxiety; these guys have reenergized and re-sparked that in me!" exclaimed Walker.
Getting the band together happened relatively smoothly, with the current lineup remaining unchanged since its inception. Guitarist Nick Hayes, had been in a cover band, the Sleeping Dogs, with Walker years before. Bassist Lyle Sallade, a 19 year-old music student at Mercyhurst University, was related to Walker through marriage and comes from a musical family. He's an avid collector of musical instruments, noting that "out of the instruments that are owned by strictly me, I think it's like 45." Sallade laughed. "It's a problem alright."
Drummer Ashley Laton, 30, was found by the band through the online musician's classified ad service, BandMix.com. "You can interact with musicians all over," Laton explained. "I made a profile in college way back in the day, and kept it active for some reason. One day I got an email from Nick actually. It was in my junk mail." Laton laughed. Feeling a hint of trepidation, she said to herself "okay, maybe. I was kind of hesitant because I had no idea." She met the band at Raven, they sent her along a few tracks, and she blew it out of the park, playing exactly what the band wanted.
Writing songs came almost too easy, the group laughingly admitted. After their ill-fated cover band disbanded, Hayes and Walker met up thinking "let's get together and write some stuff." It clicked immediately. "We got together and wrote three songs right off the bat. And then we got together again and wrote three more," explained Hayes. With every member contributing the perfect parts for the band's overall sound, something clearly is working out for The Wildeyes.
"I think we're all so open. I think everybody checks their egos at the door," Walker detailed.
This stands in stark contrast to past bands he's been in. "You get frustrated. Let me do what I do, you do what you do." That sort of musical one-upmanship simply does not exist within The Wildeyes. "We check everything at the door, and it starts gurgling and bubbling and organically makes a song."
"We're all in different areas of life," explained Laton. Walker added that "we're not like other bands. I don't know if in our personal lives, we relate to each other a lot," he joked. "But when we come together to play music, it just works."
The band is looking ahead to the future. Not content to rest on their latest EP, they are planning a full length debut sometime this year. Within time, maybe, just maybe, they'll be a band that you know.
Nick Warren is a friend to musicians everywhere and can be reached at nick@eriereader.com