Low Turnouts for High Offices
What to take away from the primary upsets and landslides leading to midterms
Tuesday, May 15, 2018 brought some firsts for Pennsylvania. First amongst those firsts was a look at new districts after redistricting took place earlier in the year when the State Supreme Court ruled the previous voting map unconstitutional.
Another first was the "Strong Wins for Democratic Women" for House Representatives, as the New York Times headline read the very evening votes were still being tallied. The results, however, were strong enough to call the races early.
"It was a night of victories for at least seven Democratic women running for the House in a state that has an all-male congressional delegation of 20 and a Statehouse dominated by male politicians," the New York Times' Trip Gabriel reported. "Female candidates showed strength in nearly every region of Pennsylvania, from the Philadelphia suburbs to the conservative southwest."
That "nearly" does exclude Erie, Pennsylvania; however, the races will be exciting to watch statewide, as the Keystone State's representation will reflect the new composition come January 2019.
Those newly redrawn ballot battle lines did affect Erie, shifting Rep. Glenn Thompson out of Erie County, giving the new PA-16 the whole county. Previously occupying PA-3, Incumbent Rep. Mike Kelly — or his challenger — will speak for all of Erie County now (along with Crawford, Mercer and Lawrence counties, as well as the western portion of Butler County).
While Kelly, a car salesman from Butler, is seeking his fifth term in congress (he unseated current Erie County Executive Kathy Dahlkemper in 2010), Erie attorney Ron DiNicola won his Democratic bid against two challengers in a race that wasn't all that close.
The Associated Press called the race at 10 p.m. for DiNicola with less than two-thirds of the precincts counted.
What did not come as a surprise were DiNicola's strong numbers on his home turf. With 87 percent of the vote, he led Butler County lawyer Chris Rieger, who notched just 10 percent followed by Farrell physician Robert Multari, who gained just shy of 2.5 percent of the Erie vote.
Although the numbers weren't as high overall, DiNicola's strong showing led to a commanding win, as he took 60 percent overall, with Rieger trailing at a distant 25 percent and Multari in the basement at 15 percent.
DiNicola isn't a stranger to this race — and that may have played a significant role in his decisive victory. More than twenty years ago, DiNicola came within just two percentage points of defeating then-incumbent Republican Phil English.
Since then, DiNicola stayed away from running. But couple the redistricting with what many predict will be a midterm blue wave washing over the country in response to the 2016 elections and the seat seems more attainable — especially for someone who's been there before and nearly won within the previous, even more Republican-favored lines.
Ultimately how much support DiNicola receives from his party at the national level will be telling of whether Democrats believe they can ride the blue wave and flip the seat. Kelly — who ran unopposed in the primary — reportedly has around $2 million ready for the race with more GOP money likely to pour in.
Closer to home, most attention from the May 15 primary was focused on the Pennsylvania House 2nd District seat. Of the three Democrats vying for the post held by Rep. Flo Fabrizio, who announced in February he wouldn't seek re-election for what would be a ninth term, Bob Merski emerged victorious over Jay Breneman and Rick Filippi.
Of the Republicans, Tim Kuzma, who last ran an unsuccessful write-in bid for Erie School Board, took nearly 61 percent of the vote, handily defeated Laban Marsh. Both are real estate agents, and this marked Marsh's first foray into politics.
Similar to Erie's mayoral post, the 2nd District Pennsylvania House seat has been held by a Democrat since the 1960s, which makes the path to victory on Nov. 6 a more challenging one for Kuzma.
On the Democratic side of the primary election, City Councilman Merski won with 47 percent of the vote, topping former County Councilman Breneman's 33 percent and former Erie Mayor Filippi's 19. Merski was an early favorite in the contested race, as he garnered the key endorsement of Fabrizio, who is continuing to battle pancreatic cancer.
In a feature prior to the primary vote, I wrote about how much a victory here would mean for each one of the three contenders. For Merski and Breneman, it was the second time they were pitted against each other — having just come off of the heels of the 2017 Mayoral Election, where Merski finished second and Breneman third.
"A loss on top of a loss could be a nail in the political coffin of either candidate, especially if one finishes last in the race," I noted. Merski's win was decisive, notching 855 more votes than Breneman. However, Breneman's second-place finish with 871 over Filippi was a respectable showing despite coming up significantly short.
For Filippi, it's a different story.
"In a sense, this is the culmination of the rebuilding and rebranding of Filippi in the political arena," I previously noted of the Erie attorney who, while serving as Erie's mayor, "battled state prosecutor allegations of using his position as mayor to broker real estate deals near the then-proposed $80 million lakefront gambling enterprise. Those allegations arose prior to 2005's primary election, and although Filippi was acquitted of all charges facing him, the publicity the case drew may have been a factor in the 2005 election."
Whether Erie voters have had the final word here on Filippi remains to be seen. Where Filippi goes from here isn't clear; however, the message as it stands is: political wounds of more than a decade ago haven't fully healed yet.
In a district that favors Democrats, with the support of Fabrizio, with a record favoring the wins column, and with a strong message, Merski will head into November as the odds-on favorite. The night of the election, Merski told Erie Times-News' Matthew Rink: "It's a testament to the hard work that we've done. It's a testament to Flo Fabrizio, his reputation in this district and his endorsement. I think it carried a lot of weight."
No doubt, the endorsement of the outgoing incumbent does mean a lot — and will continue to mean a lot. Merski also told Rink on the night of his victory that he credits running a different style of campaign. "We ran a much more grassroots, person-to-person campaign, meeting voters at their doors and I think that made the difference," he said. What will matter, too, is how Democrats rally around Merski following one of the more heated local elections in recent history.
The upset of the night, though, belongs to John Fetterman. The Mayor of Braddock — dubbed the Mayor of Rust, and the Mayor of Hell, amongst various other monikers — began receiving nationwide attention for his efforts in the (mildly put) economically distressed spot outside of Pittsburgh. Fetterman, who last ran unsuccessfully for the Democratic nomination in the Pennsylvania Senate, toppled Pennsylvania Lieutenant Governor Mike Stack.
Stack, who finished fourth overall, was more than 160,000 votes behind Fetterman, who took 37.5 percent of the overall vote. In Erie, Fetterman took nearly 61 percent, just shy of a 40 percent lead over his closest challenger Kathi Cozzone, who finished third statewide.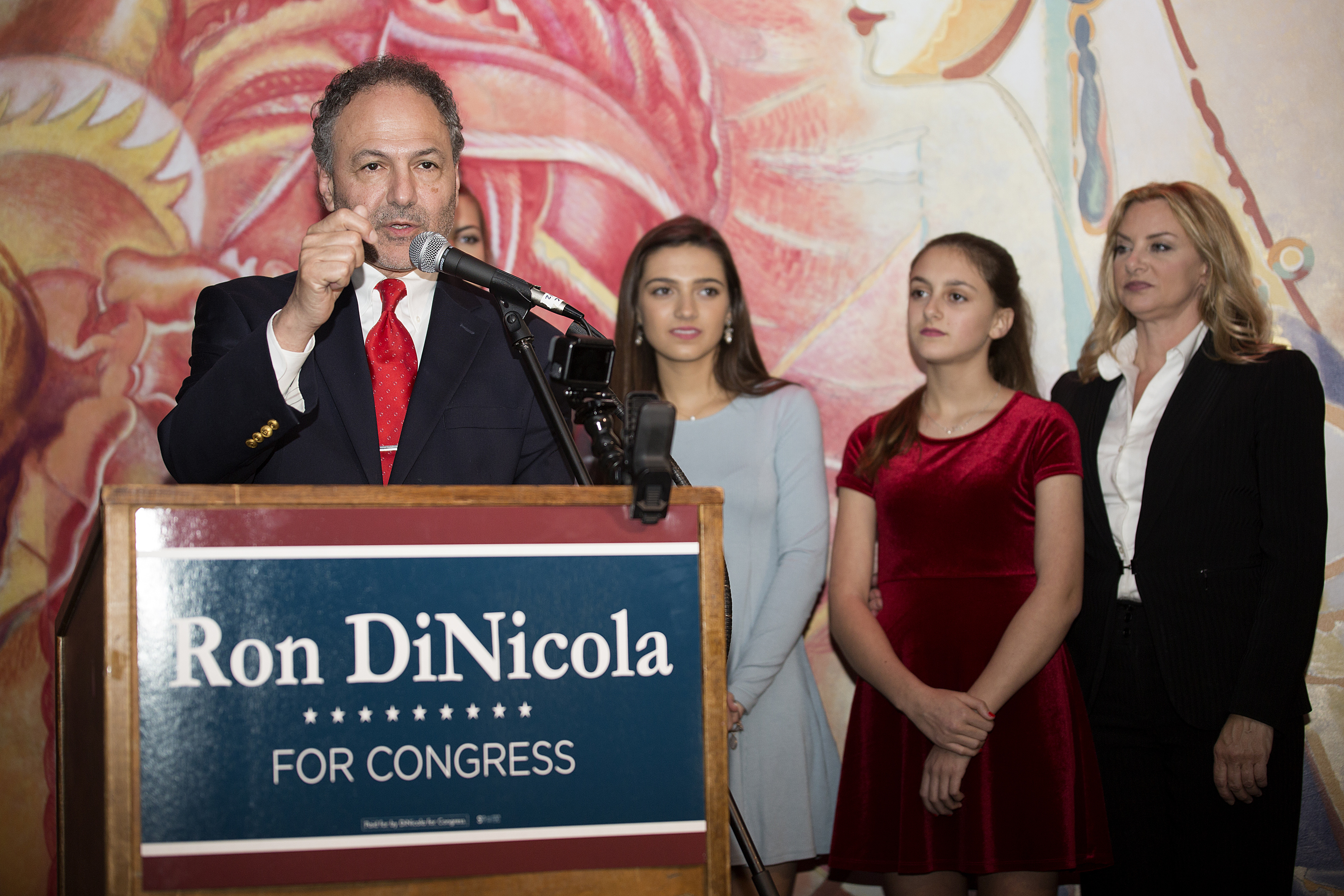 Maitham Basha-Agha
In the race to earn the Democratic bid for PA-16 and challenge incumbent Mike Kelly this November, Ron DiNicola was the overwhelming favorite in Erie County with 87 percent of the vote (60 percent overall).
Sure, a recent appearance on Anthony Bourdain's Parts Unknown Pittsburgh episode might've helped a bit, and likely so did Vermont Senator Bernie Sander's stumping. But neither likely swayed the election that much, as Fetterman's win was both significant and a surprise. It came in a race for a position that typically goes with little coverage and has little excitement bubbling up around it.
Fetterman's "big takeover," as the Washington Post called it, though, signals a leftward shift for Pennsylvania Democrats.
The welcoming of Fetterman's less-conventional take on politics could draw more Dems to the polls in November, as he speaks to a different brand of Democrat than sitting Governor Tom Wolf does. Wolf will — as many predicted — go head-to-head against Pennsylvania State Senator Scott Wagner, who echoes the national swamp-draining message.
In a race that's guaranteed to be exciting because of the headliners, the addition of Fetterman on November's ballot made it all the more interesting.
The big loser of the night was voter turnout. Live tweeting with fellow Reader editors Nick Warren and Jim Wertz, I joked:
Knock-knock.
Who's there?
Three-quarters of a chance it's not an Erie voter.
Bad, I know — both the joke and the turnout. Erie's 22 percent turnout wasn't special, as turnout statewide averaged between 20 and 25 percent.
Blame Pennsylvania's closed primaries, blame voter apathy, blame various impediments to getting to the polls, blame the discord of national politics, blame it all. Whatever the reason, voters didn't feel encouraged to get to the polls any more than in past elections.
Whether that change comes November — with any swell of any waves, blue or red — will tell us whether voters are more talk than action. Right now, it's talk.
To say the least, there are interesting races, intriguing candidates, and changing landscapes. With eyes on Pennsylvania in the fall, let's hope the discussion fixes on those elements and not the dearth of voters making critical decisions at the local, state, and national level.
Ben Speggen can be reached at bSpeggen@ErieReader.com and you can follow him on Twitter @BenSpeggen.