Lower East Side Fightin' Eagles
Matt DeForce keeps Erie boxing alive. 
March 18, 2015 at 8:45 AM
Liz McGonigal was a bombshell. She was blonde, beautiful, and she had a bruising left hand. She won the 112-pound USA Boxing National Women's Boxing Championship in 1997, taking out more experienced fighters from New York City and Boston, Ma. The 22-year-old had won her first fight just eight bouts before in 1996 by knockout, breaking her opponent's nose in the process. Between that fight in 1996 and her national championship in 1997, McGonigal collected two Pennsylvania Golden Gloves titles.
Golden Gloves boxers tend to be matched by experience as well as weight class, but the dearth of female boxers in the 1990s meant that the 112-pound McGonigal often had to fight women who outweighed and outreached her.
"I remember once when I fought a girl who was a head taller than me and she outweighed me by 20 pounds. It was a brawl," she recalls. "I won by technical knock out, but I had two black eyes and my nose was humungous. There weren't that many female boxers, so when someone called I wanted to box and sometimes that meant fighting women that were much bigger, but it helped me learn that I didn't like getting hit."
Liz McGonigal was a contender, but her hard-hitting style made it difficult for her trainer, Matt DeForce, to find her local bouts. She was the first female boxer to walk through the doors at the Lower East Side Boxing Club at a time when women's boxing was still largely viewed as a sideshow to the male-dominated main events. But she was different. She had grit, and she found a trainer whose house style of boxing – head strong and offensive – matched her powerful skill set.
"I had to train as if I was getting ready for a fight at all times," says McGonigal. "I had to always be ready. Matt was a very good teacher and very patient, and he knows when to get tough with you and he's always very proud. I know I wouldn't have gone as far in boxing if it weren't for him."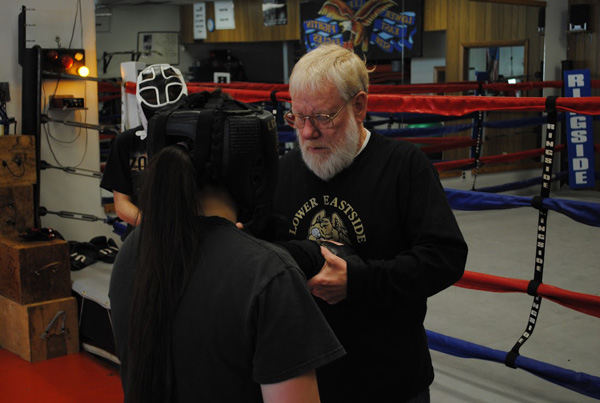 DeForce spent the past 35 years training fighters for the Lower East Side Boxing Club. The 69-year-old retired laborer sits behind a cluttered desk in a makeshift locker room at the club's permanent home at 318 E. Sixth St. The locker room is hidden behind a wood-paneled wall that frames the back side of the sparring ring and holds the gym's logoed sign that reads "Lower East Side Fightin' Eagles." When boxers are in the ring, the sign is nearly at eye level, as if there was any question of where they were and whom they were training to become. The ring and the sign are two of the last vestiges of the gym's original home on French Street in the old Firehouse No. 1, which is now The Pufferbelly Restaurant.
Erie Mayor Lou Tullio gave DeForce and his partners the firehouse after the department stopped using it in 1979. But the era of historical reclamation in the 1980s and 1990s led to a downtown revitalization that destined the firehouse for The Pufferbelly, not the pugilist. So DeForce and company bounced around Erie's east side wherever there was enough space for a ring, a couple of punching bags, and some exercise equipment. In 1996, the founders – a ragtag group of a dozen guys looking to create a free space for poor kids in the city – split up and DeForce decided to continue on his own. In December 1999, after leaving the third location in six years, he decided the Lower East Side Boxing Club needed a permanent home. So he scrapped and scraped, ultimately raising enough money through grants from the Erie Community Foundation and the Black Family Fund, as well as private donations, to purchase the concrete block building on East Sixth Street.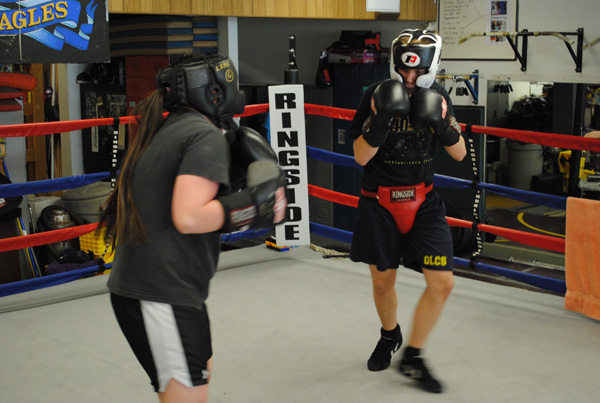 That type of fundraising is something DeForce does well. The gym is sustained by the goodwill of the community. The kids there don't pay to train or travel, and DeForce takes no salary from the gym. The money that comes in, stays in.
"We've had great support from the community," says DeForce. "When we started this, I thought we'd be here for six or eight years, but here we are. We do fundraisers, an event in the winter, a picnic in the summer, the golden gloves event, and the social clubs around town have been really good to me."
Two "stag n' drag" events – one in the winter and the summer picnic – are the gym's primary source of revenue. The winter event bounces around the city to social clubs and social halls. The summer event is at Shades Beach in Harborcreek. The events include raffles, beer, and food, all donated or prepared by DeForce and a corps of volunteers. Regardless of social status or affiliation, the people who attend these fundraisers – from laborers to lawyers – give generously to the cause.
In an election year, politicians work the room because they know that among the varied group of attendees there are east side powerbrokers and people whose opinions still matter when it comes to neighborhood politics. In 2005, then Democratic mayoral candidates, Joe Sinnott and Barry Grossman, worked opposite corners of the room, not unlike the way that boxers might consult their corner before tapping gloves in the center of the ring.
The presence of politicians is underscored by the many worlds of Erie and beyond that collide at these events. You're just as likely to talk to a member of law enforcement as you are to encounter a member of the Hell's Angels.
"Just look through my program book," DeForce grins. "Judge John Trucilla, the Cleveland Hell's Angels, the Mayor, and Juliet's [Gentlemen's Club]. That's quite a crowd. Everybody knows what's going on and it's for a good time and good cause."
The crowd is there because they know what the gym means to the community.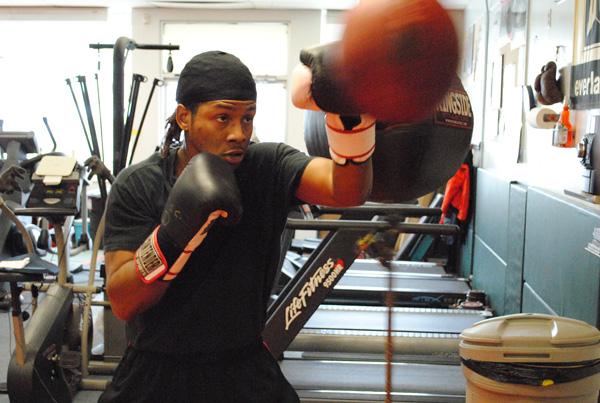 "The biggest percentage of kids we have in here are kids from single family homes," says DeForce. "Some of them really don't have anybody that cares about them. I give kids rides home when the weather's nasty. I might drop them off at Sixth and German one week, the next week I'm taking them to 18th and Cherry, the next time he goes to Fourth and Walnut. A lot of these kids don't have anything or anybody."
But boxing gives them more than a place to go. It gives them a sense of purpose. Whether it's a middle-class kid like McGonigal or someone like Montael Williams, a 27-year-old boxer from Pittsburgh who moved to Erie seven years ago, training to fight gives them structure, order, and a sense of purpose.
"It's a grind. It's a brotherhood. Boxing is not about age. It brings discipline and keeps me level headed," Williams says.
Williams works a heavy bag with a serious sense of purpose in preparation for the upcoming Golden Gloves tournament in Erie on March 29. He's got 15 fights under his belt. "It's a winning record," Williams insists. "But Matt doesn't let me think about wins and losses. That's not what it's about."
It's about confidence and life skills. McGonigal remembers kids at the gym being challenged or taunted by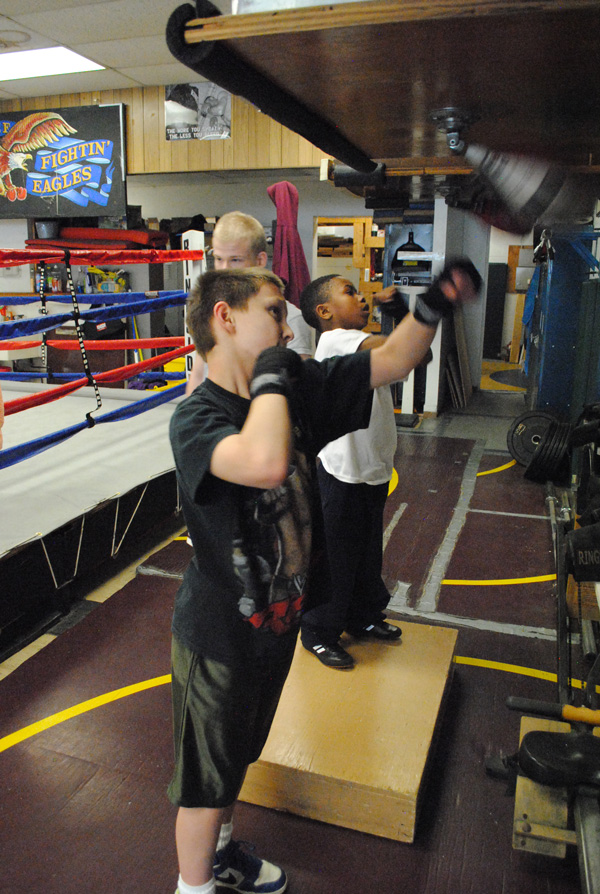 neighborhood peers only to have DeForce invite the instigators into the gym for a sparring round with their target. "The bullies always walked away," says McGonigal. "To see a kid with low self-esteem experience that, it just put them over the moon. Matt's a tough guy, but with a soft heart for anybody that wanted to improve themselves."
Adam Backo started coming to the gym nearly 20 years ago when he was twelve. He made it to the western finals of the Pa. Golden Gloves as a teen. Today he's training to become a foreign service officer.
"Boxing gave me a lot of confidence in other areas of my life. It's paid off dividends," proclaims Backo. "Matt treats you like an adult. If you're willing to put in the work, he'll help you out. As a kid, you like that. He's not treating you like a kid; he's treating you like an adult. I couldn't imagine what going into the gym that day after middle school would have led to."
Adam's dad, George, concurs. "It's giving the kids this foundation to set their goals, whether you win or lose doesn't matter. It's the mental aspect. The preparation. If you lose, so what? That's life. You still have to get back up and move on."
But for the Backo's, it was also about socialization. They lived in the suburbs and George wanted Adam to know and understand that human nature transcends racial, ethnic, and socioeconomic differences. Boxing served as a great teaching tool, a great equalizer. The Lower East Side Boxing Club was the forum.
The diversity of the gym on any given day is subject to any number of variables, from the weather to national attention on a major prizefight. DeForce says that after a fight like the upcoming bout between Floyd Mayweather and Manny Pacquiao there might be an uptick in attendance, but that too will level off leaving behind only the most committed kids.
It's also a microcosm of the community, a barometer, if you will, of ethnic changes over time. "I can tell you who's coming into the United States based on who I've got here," says DeForce. "Fifteen years ago, I had a bunch of Romanians and Russians. Ten years ago, a bunch of Africans started coming in. You can see how the community changes."
A kid from Somalia might meet and spar with a kid like Noah Beauleiu, a lanky, commonly awkward, 14-year old from Erie who came to the gym ten months ago to work on his coordination and his confidence.
"When I first came here," Bealeiu says, "I couldn't jump rope to save my life. Now I do it really well. And it's also made me more confident. When I want to talk to a girl, I think 'I can get punched in the face, why can't I talk to this girl?'"
Bealeiu is hoping to pick up his first competitive fight on March 29, and he's not alone. DeForce has a stable of young boxers eager to test the skills they've been developing – some for only a few months, others for a few years.
Scrappers as young as ten, most of whom have the tenacity of past champions like McGonigal, hope to leave their mark in the annals of Erie boxing. Every day they walk past pictures of Lower East Side sports royalty like McGonigal, Mike Maggio, and Tim Himes, knowing that they might one day share space on that wall.
As he approaches age 70, DeForce remains humble about the gym's accomplishments and proud of the crew that's passed through the gym. He's leveraged his contacts and resources to put together another Golden Gloves district tournament at the Holy Trinity Church Social Hall at 2220 Reed Street on March 29.
He'll bring the new kids – including a bruiser of a young lady – they'll bring their game, and every time one of them enters the ring former standout Fightin' Eagle Mike Maggio will be on the microphone to give them a hometown boost by following each introduction with his trademark call, "East Side, East Side."
 "After 35 years," DeForce says, "I'll keep doing it. We're doing all right."
Jim Wertz can be reached at jWertz@ErieReader.com, and you can follow him on Twitter @jim_wertz.