Luciani, Otters Force Game 6
Anthony Luciani capped a career night with the game-winning goal in overtime.
April 1, 2011 at 10:48 PM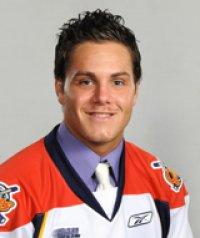 From Erie Reader Staff
WINDSOR, Ont. -- If the Erie Otters lost Friday at WFCU Centre, it would have ended the junior career of overage winger Anthony Luciani.
He made sure the Otters lived to see another game.
Luciani scored the game-winning goal 4 minutes, 3 seconds into overtime to cap a four-goal performance as the Otters dodged elimination with a 6-5 win in Game 5 of the Western Conference Quarterfinals.
Luciani stole the puck from Windsor captain and Nashville Predators prospect Ryan Ellis and slipped a shot by Windsor goalie Jack Campbell for his team-leading fifth goal of the series to force Game 6 at Tullio Arena Sunday afternoon for a 4:30 p.m. start.
The Otters were in full control heading into the final frame, as Phil Varone, Derek Holden, and Luciani, who scored the lone goal in the first, recorded power-play goals in the second period to give the squad a 4-1 lead after 40 minutes.
Heading into Friday's contest, Erie was just 3-for-27 in the series on the power play. They finished the second period 3-for-4.
More importantly, goalie Ramis Sadikov appeared to find his game after being yanked in his previous two outings, as he stopped 31-of-32 shots, with his only blemish coming from Adrian Robertson's goal to start the second period.
Campbell on the other hand looked shaky, as the net minder who has been unbeatable the previous three games, made just 16 saves on 20 shots.
After Alexander Khokhlachev got the Spits back within one with his third of the series, Luciani completed his hat trick to restore the three-goal lead as the Otters were ahead 5-2 at the 5:51 mark.
From there, the Spitfires took control as the Otters became spectators as they watched a once commanding lead turn into a 5-5 deadlock.
Kerby Rychel scored his first of the playoffs, while Jake Carrick and Ellis scored 41 seconds apart with just over three minutes remaining to send the game into an extra session.
Windsor, behind a crowd of 5,945, bullied the Otters in the third, firing 22 shots at Sadikov, while holding the Otters to just seven.
In a series that has been filled with heartbreaking losses for the Otters including a 4-3 double overtime loss on home ice in Game 2, it seemed they were heading back that way, as their momentum was riding shotgun with the Spitfires heading to OT.
The Spits nearly won it early on, as a loose puck trickled behind Sadikov but never crossed the goal line for the first good chance of either team in overtime.
Minutes later, Brett Thompson broke free and found himself on a breakaway but was foiled by Campbell, who ended his night with 31 saves.
That has been the key to the Spits in the series, Campbell makes a huge save and the offense usually scores shortly after.
But not on this night.
Moments after the save on Thompson, Luciani's hard work paid off as he beat Campbell for the game-winner, as he became the second Otter in franchise history to record four goals in one game. The other is Brad Boyes, who scored four April 13, 2002.
Varone also can be mentioned in the same breath as Boyes, as his five-point night (1 goal, 4 assists) is the first since Boyes did it April 3, 2002.
Lost in the offensive outburst was the play of Sadikov. He stopped 50-of-55 shots. The 50 saves is six shy of the franchise record held by Josh Disher, who blocked 56 shots March 25, 2005.
In all, six different Otters recorded a point, including the first-career playoff assist from rookie Luke Carins.
Thursday's results
Niagara 4, Brampton 1 (Niagara wins series 4-0)
Saginaw 4, Guelph 3 (Series tied 2-2)
London 5, Owen Sound 2 (Series tied 2-2)
Sudbury 5, Ottawa 3 (Sudbury wins series 4-0)
Friday's results
Kitchener 6, Plymouth 4 (Plymouth leads series 3-2)
Oshawa 6,  Kingston 2 (Oshawa wins series 4-1)
~For full coverage on the Otters playoff run, you can follow Alex Sibley on Twitter @ErieReaderSport.