Luicidal Heads Forward with Old School Tendencies
Luicidal banks in on it's groundbreaking sound
March 28, 2018 at 3:27 PM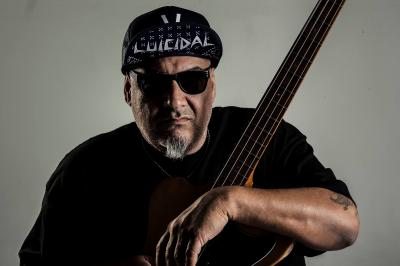 Friday, March 30
Suicidal Tendencies' influence on the hardcore punk and metal scenes is undeniable. They were among the first bands to "crossover" the two genres, and do it right. And now, two former members of the group are touring through the midwest, and stopping at Scotty's Martini Lounge along the way.
 Luicidal, a band comprising of former Suicidal Tendencies members, bassist Louiche Mayorga and drummer RJ Herrera, banks in on nostalgia by playing classic ST songs written during their cyco stint in the band (the anthemic "Institutionalized" was co-written by Mayorga himself), as well as original songs true to the old-school ST style.
 "Suicidal Tendencies spoke to me," says 'Morbid' Rob Burke, who booked the gig. "The attitude, the sheer ferocity, plus they looked cool as hell. Middle fingers up against the world and their influence is still felt today in the underground."
 A catalyzing band such as Suicidal Tendencies can, and has, influenced almost every style of hardcore that has appeared since they first hit the scene, and that's nothing to scoff at. Just about every imaginable subgenre in the punk and hardcore spectrum can be found somewhere in Erie's roughly thirty year history in the scene, and many Erie bands can attribute significant inspiration from Suicidal Tendencies, including the show's opening acts, Maniacal Device and Mala Sangre.
 "Maniacal Device is excited to play with Luicidal," Burke, who fronts the band, adds. "We love getting to play with people who influenced our taste in music and our sound as a band."
 On choosing the gig's lineup, Burke states "I wanted Maniacal Device and Mala Sangre to play this gig because I feel we are the two Erie bands that fit the bill the most, us with our thrashpunk crossover sound and Mala Sangre with their stripped down raw Hardcore attack are the perfect examples of the Suicidal influence." - Tommy Shannon
 9 p.m. // 301 German St. // 21+