Magic for Your Taste Buds
Alkeme, the new Mediterranean cafe on North Park Row, serves up pleasure.
January 4, 2017 at 1:30 PM
It's 10:15 a.m. and my mouth is watering. Marc Berarducci, co-owner of Alkeme with Barbara Ringle, is describing in loving detail how he prepares the pork for sandwiches and his house-made red sauce. Butterflied meat, herbs, spices, tied together so the flavors have time to get acquainted. Then three or four hours in the oven for a slow braise. Mmmmm …
Pair this imagery with kitchen aromas as staff ready for the day, and the simple act of drinking a cup of coffee in the front window of Alkeme is elevated to more than having a cup of joe. While sitting there, I also chat with Ringle and her brother, Joe Fontecchio, who shares chef duties with Berarducci.
All Erie natives, the three spent numerous years away from Erie on their own adventures in larger cities and abroad, bringing a variety of skills to this new venture.
"We felt like something was missing here, an urbane place for people to gather and enjoy," says Ringle. "Plus, we wanted to highlight our local setting and find ways to source what we could here," adds Fontecchio.
To those ends, they chose elegant yet relaxed decorating motifs to suggest a connection between Erie's waterfront and its Mediterranean cousins. For local sourcing, they are partnering with the Sisters of St. Joseph Neighborhood Network to grow produce to supply their kitchen and other restaurants. "The Neighborhood Network is experimenting with hoop houses to extend the growing season, as well," adds Fontecchio.
The space feels fresh and clean, simple, yet posh. The dining room is low-key with banquettes around the perimeter and a pleasant mix of table configurations.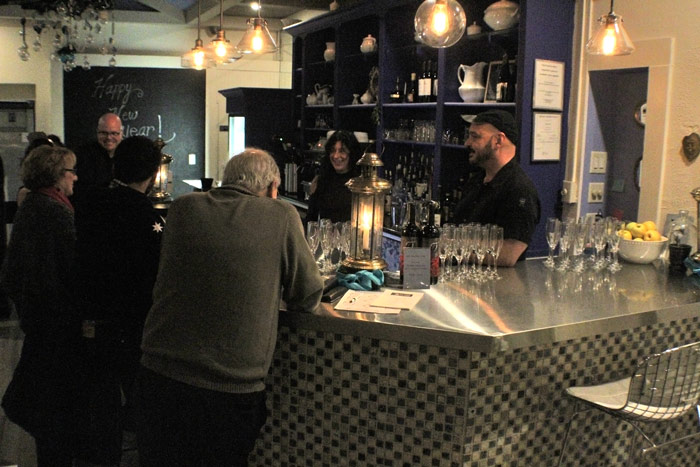 The front room is a blend of bar, deli, lounge, and marketplace, a combination similar to those found across southern Europe. For right now, they are offering imported pasta, olive oils, and deli meats and cheeses.
"We can't make enough of our own fresh pasta yet to sell," offers Berarducci. "And we're still working to bring the deli up to speed."
Alkeme offers lunch and dinner, though they urge people to just stop by for cappuccino or a cocktail. The ambiance for day and evening is singular.
"The rhythms of the two are quite different," says Berarducci. "Lunch has a quicker pace, the mood – and the lighting – is more buoyant." Everything shifts for dinner with subdued lighting, a slower pace and more substantial fare. (We did see two diners use their cellphone flashlights to read the menu, so be prepared if you struggle in low lighting.)
No matter the meal, dishes are made from authentic and healthy ingredients. Pastas, breads, and desserts are made in house. Sandwiches and salads are the main players on the lunch menu; dinner entrees offer beef, pork, fish, and chicken choices with pasta, risotto, and polenta. Daily specials, soups, and desserts are also available.
My husband Mike and I dined there on a recent weeknight. The dining room was full and lively with conversation but we were cozy at our table and never felt too close to neighboring diners. Our server was knowledgeable and expert with wine recommendations and timing.
We chose the Roasted Pepper Panzanella and the Roasted Beet and Arugula salads as starters. Both were expertly crafted and lightly dressed in vinaigrettes that brought the flavors together. They disappeared quickly.
Entrees were equally delightful and generous. I chose the fresh pasta with the aforementioned Braised Pork in red sauce and meatballs. Although I gauchely prefer my red sauce a little sweeter, this dish came together perfectly. The meatballs and pork were tender, the sauce complex and earthy, and the tagliatelle's firmness and texture were just right.
Mike's Scampi, served with the same pasta, was aromatic with garlic and lemon, and contained an abundance of plump shrimp. We both went home with ample leftovers.
It is worth saving a little room for Alkeme's desserts. We agonized over a dazzling array of choices but went with the Semolina Peach Cake, a layer cake filled with cream and flavorsome peaches. Along with a fresh cup of coffee, it was an impressive finale to the meal.
We can all be grateful that Ringle and Berarducci came together to create Alkeme. "When the stars align, you take the opportunity, because it will pass you by," says Ringle. "It just so happened that I was looking at real estate and writing a business plan and Bertrand [Artigues] reached out to Marc." She also says they shared a collective feeling that they could create something different and needed in Erie.
And they chose the perfect name, since their fusion of deliciousness, ambiance, and hospitality sparkles with the elusive magic of which an alchemist would be proud.
18 North Park Row // 11 a.m. to 10 p.m.; Lunch, Monday – Saturday; Dinner, Wednesday – Saturday // 616.8578