Make Big Plans to Shop Small
Local businesses make splash for holidays
November 18, 2020 at 3:30 PM
Orange-stuffed olives. Red Flyer wagons. A "green" alternative to white paper towels.
Make a plan to shop local after Black Friday and you will enjoy a fun, multi-hued experience. You should also be nimble enough to seek out new destinations for your shopping excursions and to broaden your notion of what constitutes a gift.
With the challenges brought on by the pandemic, it's critical for Small Business Saturday to succeed on Nov. 28 and for customers to embrace the "shop local" movement throughout the holiday season, according to Emily Fetcko, assistant director of the Erie Downtown Partnership and manager of its Main Street program.
"Shop Local" is more than a cute slogan, she said. "It's time to get it off the sweatshirt and get it into action," she said. "Make it a verb instead of just a nice idea."
In Downtown Erie, businesses have pledged "an abundance of caution" with their COVID-19 protocols so that customers can experience "an abundance of joy," Fetcko said.
This is also the time to put yourself in the shoes of business owners. She used Chido's Dry Cleaners, 1103 State St., as an example. With more people working remotely, there are fewer business suits to be cleaned, so she suggested thinking of some other items that might need to be cleaned, like your drapes. That way, you tidy up the house and support a local business.
Whether in Downtown Erie or elsewhere, local business owners are committed to customer safety this season.
"Along with many other small business owners, we are diligently sanitizing and doing our best to enforce mask policies. Everyone knows they should do that because they are concerned about their own and their neighbor's safety," said Tracey Bowes, owner of Pressed Books & Coffee at Greengarden Place, the plaza located at West Eighth Street and Greengarden Road across from Frontier Park.
Unlike big box stores, local businesses usually don't have long lines, so it's easy to social distance, she said. But all stores get busier as holidays loom, so Bowes suggests shopping early, especially as COVID-19 numbers spike. "I am very hopeful that things won't be shut down, but there is not an iron-clad guarantee," she said.
Puzzles are a great gift for kids and adults every winter, but especially this year, when we will be hunkering down to stay healthy.
Now is also a cool time to introduce youngsters to the kitchen. "We have a gingerbread cookie baking set, a Christmas tree baking set, as well as general start-baking sets and even kid-safe knives and cutting board sets and, of course, kids' cookbooks to go with them," Bowes said.
And who wouldn't have fun with a Harry Potter wand set, Lego-themed stationery and journals and "Mad Libs" Christmas cards? With Toys R Us gone, Bowes said her store and Inside the Jelly Jar in the Colony Plaza fill a needed niche with their toy selections.
Bowes and her husband Casey own Greengarden Place, home to a number of specialty businesses and retailers, including Buona Cucina Oils and More. Bowes is a big fan of the olives stuffed with orange peel sold at Buona Cucina. "They are delicious and they surprise you," Bowes said.
Surprising finds are a bonus of shopping local. Walking to Greengarden Place to check out the fused oils, extra virgin olive oils, balsamic vinegars, teas, hand-blown cruets and recipes at Buona Cucina, I discovered The Reskhued Piece at 1648 W. Eighth St., which sells custom-painted furniture, kitchen cabinets and specialty paints, including lush and lovely milk paint.
In similar fashion last year, I stumbled upon chocolate-covered red seedless grapes at Pulakos Chocolates, which has stores at East 26th and Parade streets and at the Millcreek Mall. I called to make sure the grapes are still available (they are) and learned that Pulakos also sells chocolate-dipped bacon, sprinkled with sea salt.
The eastside Pulakos is one of 29 local businesses participating in the Small Business Saturday/Shop Small promotion organized by the Sisters of St. Joseph Neighborhood Network. The promotion has three zones: Historic Little Italy, Parade and 26th Street, and The Hill District. Pick up a passport at a participating business or download one at the "latest news" section on ssjnn.org. Have your passport validated at four participating businesses and you are eligible for a gift giveaway on Nov. 30.
Two long-standing businesses, Miller Brothers Power Equipment, 2111 State St., and Mighty Fine Donuts, 2612 Parade St., have joined the passport promotion this year. Also new to the list are Copper Carriage Antiques, 1909 Chestnut St.; Flower Kitchen, accessible at the West 23rd Street entrance to St. John's Lutheran Church on Peach Street; and Herb & Honey Bakery, in Urbaniak Brothers Quality Meats (which also participates), at 310 E. 24th St.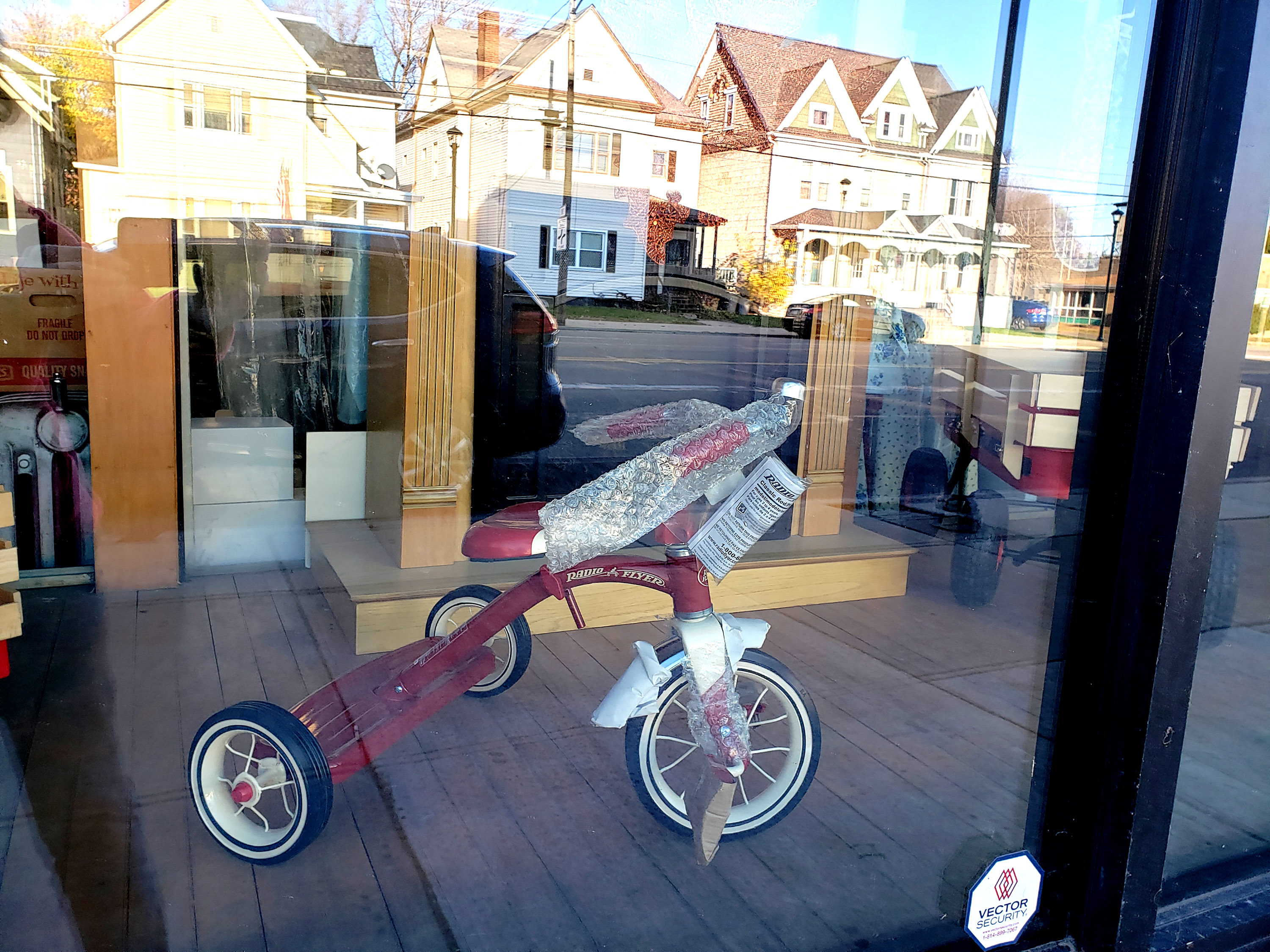 Press your nose against the window at 

Kraus

 Department Store, 810 Parade St., and you'll see this Radio Flyer Tricycle, which Santa might deliver for Christmas,
The number and variety of vibrant businesses in Erie's central city corridors always amaze me. As a loyal patron of Kraus Department Store, 810 Parade St., I had to include this family business, now in its 135th year, on the list of places to shop local.
Joe Nowosielski, who runs the business with two of his brothers, his son and his nephews, remembers when his father, grandfather, and uncle would play Santa Claus at Christmastime. You can step back in time before you even step inside the store by window-shopping for the Red Flyer wagon and the Red Flyer tricycle on display in front of a fireplace mantle. There's also a metal shopping cart, one of the items Kraus sells to elderly clientele who live nearby.
Because a lot of customers lack transportation, the store also sells bicycles and inner tubes, although bikes are hard to find this year due to supply chain issues, Nowosielski said.
I love to browse the aisles for U.S.-made cast-iron cookware, bird feeders, 99-cent greeting cards and handy gadgets, such as snow scrapers. Nowosielski said that stocking seasonal products "is what keeps us going, [what makes us] so diversified."
If you are searching for items made in Erie, many local businesses can accommodate you.
Pressed sells Erie-made cards, jewelry, and candy.
Edinboro Market, 109 Erie St. in Edinboro, features 42 different local food producers and food entrepreneurs, but in recent weeks, it has added locally produced food-related items, according to Marti Martz, president of the nonprofit market.
Each item comes with a "producer profile" about the entrepreneur and the product. For example, Simon Camp's company, Green Wood Works, makes rolling pins, kitchen utensils, and measuring spoons from his family's American chestnut trees in Meadville.
LizzieBeth's, Beth Ivanic's company in Saegertown, makes "untowels" and other green products to counter our throw-away culture. The "untowel" roll works this way: "There's terrycloth on one side and beautiful fabric on the other side. You tear one off every day, throw them in the laundry (after use), and at the end of the week, snap it back together again," Martz said.
Nestled inside Edinboro Market is the Boro Sweet Shop, a for-profit business operated by Martz's husband, Curt Hals, that sells coffee, tea, and many delectable sweets, including goodies for those on vegan, gluten-free and other types of diets.
In addition to indulging your sweet tooth, you can also expand your cultural horizons during the holidays.
Patrick Fisher, director of Erie Arts & Culture, says that buying memberships and subscriptions to local institutions is a wise way to help them weather the pandemic. In addition, patronizing local art and gift galleries and pottery shops benefits both the artisans and the local business owners, he said.
Don't assume that art is too rich for your blood.
A holiday exhibit at 1020 Collective, 1020 Holland St., will feature "affordable art to warm your heart," according to Alexa Potter, president of the Northwestern Pennsylvania Art Association, which is sponsoring the show in collaboration with Chroma Guild and students from Edinboro University of Pennsylvania's Master of Fine Arts program.
The "affordable art" tagline comes from celebrated graphic artist and Edinboro professor Shelle Barron, said Potter. To acknowledge the difficult financial circumstances so many are facing, artists will each include at least one piece under $100 in the show, Potter said. The show, which is cash and carry, will also include jewelry, ceramics and holiday ornaments, she said. The artwork will also more accurately reflect the diversity of Erie's artistic community.
The show opens Friday, Nov. 27, from 6 to 9 p.m., continues Nov. 28 and Nov. 29 from noon to 6 p.m. and then runs Thursdays through Sundays from noon to 6 p.m. through Dec. 21 or by appointment at 814-983-8566.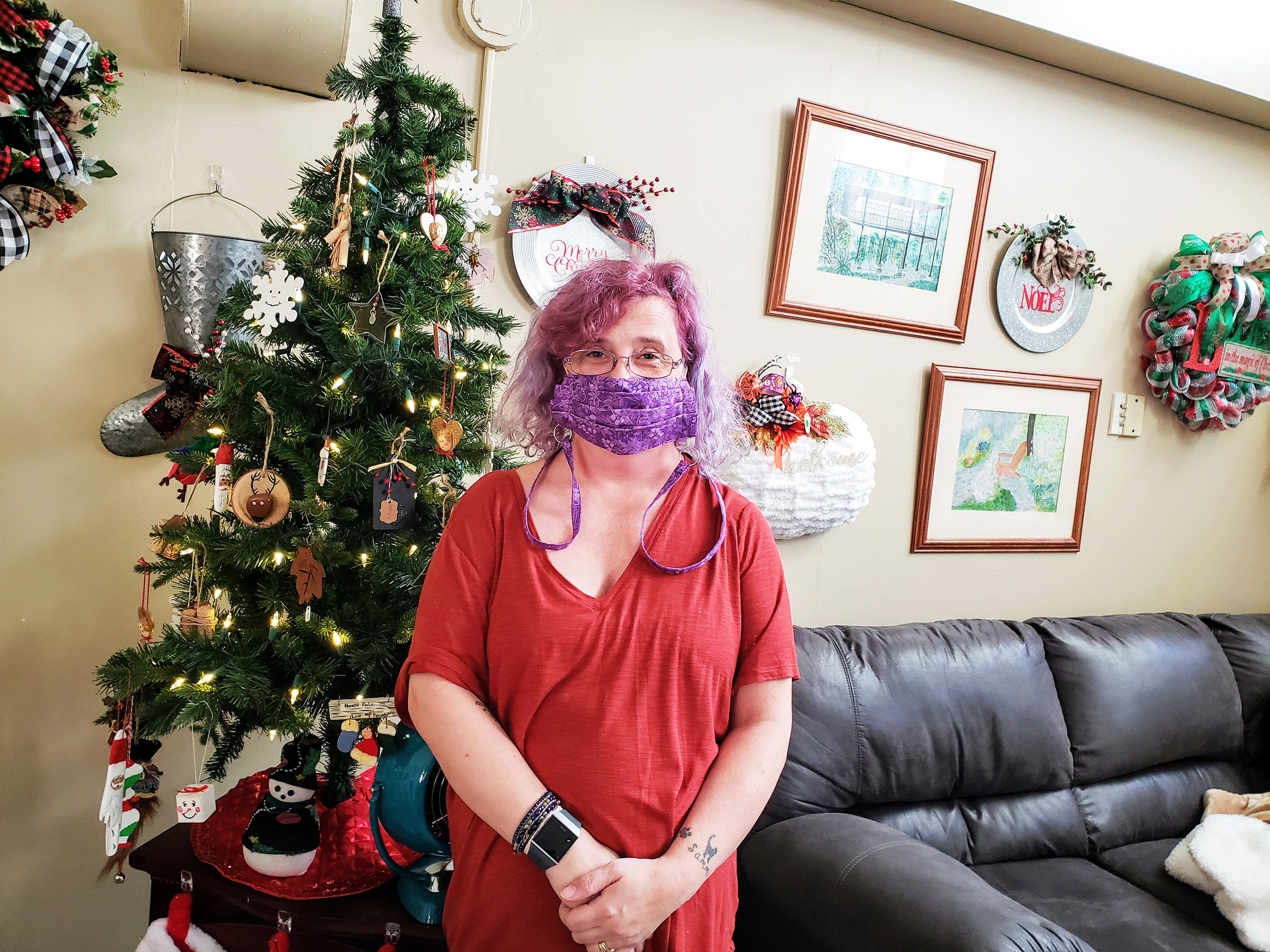 Shelly Schening, owner of Sammi's Heartfelt Treasures, has her gift store all decked out for the holidays. The shop, in the former Jarecki's Jewelers at 21 W. 9th St., just celebrated its one-year anniversary of Nov. 11.
A love of art is also at the center of Shelly Schening's store, Sammi's Heartfelt Treasures. On Nov. 11, the store marked its one-year anniversary in the old Jarecki Jewelers at 21 W. Ninth St.
I became enamored with Sammi's exterior and interior during the final Gallery Night of 2019 last December. I like the way Schening uses the old wooden jewelry cabinets to display some of the oodles of items she sells, including local crafts and antiques. "The built-ins are one of the things that attracted me to the store and just the vibe that it gives off," she said.
An artisan herself, Schening wants to provide art workspace for people struggling with mental illness, although those plans are on hold now due to COVID-19. Instead, she welcomes those who need to talk with a place to sit and chat.
She's also added the Peapod Shop, where kids can buy gifts for $5 and under for family, friends and teachers. It's a welcome addition when so many kids are going to school remotely and can't buy things at their school's Secret Santa shop.
Like many small businesses, Sammi's Heartfelt Treasures is a family enterprise. Schening's husband, John, laid the flooring and did the painting, but the shop is "100 percent my shop," she said. "For 15 or 16 years I've dreamed of this, but it was never the right time or I didn't have the money," she said. "Finally, one day, the stars aligned and here I am."
Here, too, in her gem of a store, you can meet the resident rabbit, Cinna Bun-Bun, a silky black Netherlands dwarf bunny. Color me happy.
LIZ ALLEN was delighted to find baseball socks for her sports-loving husband at Sammi's Heartfelt Treasures last Christmas. You can reach her at lizallenerie@gmail.com.
Learn more
To explore what's new this holiday season in downtown Erie, including a map of light displays, visit the Erie Downtown Partnership at www.eriedowntown.com or follow the organization on social media.
For a list of the 29 businesses participating in the Sisters of St. Joseph Neighborhood Network's annual Shop Small/Small Business Saturday event on Nov. 28, visit www.sssjn.org and click on "latest news."
To learn about holiday plans for North East, including Sugar Plum Sunday, visit the North East Area Chamber of Commerce at https://nechamber.org/. 
To learn about Girard's newest business, the Crick Coffee House & Eatery at 236 W. Main St., visit www.facebook.com/thecrickcoffeehouse/. Manager Jackson Loept said you can grab a local coffee from the Happy Mug or enjoy a full meal, then visit the many unique gift shops nearby.