Maloney and Lynch Lead Public Discussion of 2024 Erie County Budget Details
Insights into proposed tax increases ahead of county council's budget work session
November 15, 2023 at 10:30 AM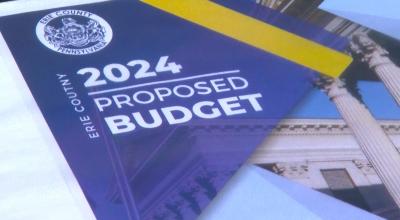 Joe Maloney, longtime financial advisor to Erie County Council, and Judy Lynch, who served five terms as Erie County Executive, will present an overview of the proposed 2024 Erie County budget this Friday at the Jefferson Educational Society, 3207 State St.
The community conversation with Maloney and Lynch entitled Making Sense of Erie County Residents' Dollars and Cents, will take place from noon to 1:30 p.m. Admission is free but a box lunch is available for $5 if you preregister at jeserie.org by Wednesday.
Maloney, a certified public accountant, retired from County Council in 2020, after serving 41 years in that role. Another Maloney, Reed, Scarpitti & Co. accountant succeeded Maloney but left at the end of 2022. Lynch, who has a doctorate in political science, is the Decadian Scholar at the JES, where she is on the board of trustees. Before being elected as county executive, she served on the first County Council created by Home Rule Charter.
County Council Chairman Brian Shank announced in early November that county council would hire Bonus Accounting LLC of Butler County to help with the 2024 budget proposed by Erie County Executive Brenton Davis. The $582 million budget includes a tax increase of .85 mills. In his cover letter with the budget, Davis described the spending plan as "sound, honest" and called the tax increase "modest." He attributed the need to raise taxes to inflation "across all areas of government from materials to labor negotiations."
In a phone interview, Maloney said the Davis budget proposes "the largest tax increase that I have on record, going back to the '80s." 
At the Jefferson Educational Society program on Friday, Maloney said he will explain that 60 to 70 percent of the county budget goes toward salaries, wages, and benefits. "I'm going to point out that they are adding a lot of positions," he said. In addition, the county "used a lot of one-time revenue" to plug a budget hole for 2023. "You shouldn't do that. You are just kicking the can down the road," he said. Maloney said his presentation will examine compensation for non-bargaining employees in 2023 versus 2024 and also explain "what .85 mills means in terms of additional revenue."
On Sept. 29, Erie County Council solicitor Tom Talarico, with county council's support, sued Davis over the 2023 budget. The lawsuit claims that council made cuts to balance the budget for this year but Davis vetoed those cuts, effectively increasing the budget by $400,000.
The Jefferson Educational Society presentation "gives citizens the opportunity to review the budget before council passes it," said Lynch.
The 2024 budget is available to view at the County Council office, room 114, Erie County Courthouse, or by visiting eriecountypa.gov
More dates to remember:
Saturday, Nov. 18 at 9 a.m. – Erie County Council budget work session. Members of the public can view the session on Zoom at this link. 
Tuesday, Nov. 28 – Erie County Council will meet to adopt the 2024 budget at a time to be announced. Members of the public who wish to speak at the meeting must appear in person. If special accommodations are needed, call (814) 451-6303 or email Councilrequests@eriecountypa.gov by Nov. 21 at 4:30 p.m.