Man Sues Sandusky, and a Correction on the State's Statute of Limitations for Child Abuse
The first civil suit against Jerry Sandusky, and the state's statute of limitations for child abuse clarified.
November 30, 2011 at 3:31 PM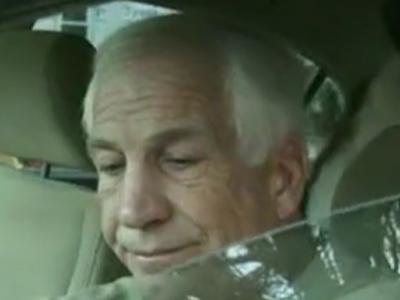 According to the AP, the first civil suit against Jerry Sandusky has been filed today.
The lawsuit is the first in the Penn State child sex-abuse scandal and identifies the plaintiff, now 29 years old, only as John Doe. It claims Sandusky abused the boy from 1992 to 1996 at the coach's State College home, in a Penn State locker room, on trips to Philadelphia and a bowl game.
According to the report, Sandusky threatened to harm him and his family if he told anyone about the abuse.
The plaintiff is pursing action against Sandusky in part because he had realized, thanks to the recent grand jury report, how many other boys the former PSU football coach had harmed after him. Still, the timing of the suit may not be optimal, at least according to Michael Boni, the lawyer hired to represent Victim One:
"We want the criminal procedures not to be adversely affected by any civil proceedings," Boni said. "It is our expectation – certainly our hope – that other victims don't jump the gun and file hastily any civil suit. We think the criminal proceedings should run their course and at the appropriate time we expect to bring a civil case."
I suspect Boni is hopeful that a criminal conviction against Sandusky will make his client's civil suit all the easier, while a civil suit occuring before Sandusky's criminal trial might muddle the latter. 
So why file a suit now? Probably because the new plaintiff is 29, and Pennsylvania's statute of limitations dictates that litigation against child abusers must occur before their 30th birthdays. That is, it's not the plaintiff jumping the gun or acting irrationally, it's the law that's pushing him to act.
Incidentally, in the cover story for this week's Erie Reader, I incorrectly described the statute of limitations on child abuse thusly:
But not all bad is coming out of the scandal. For one, it could lead to change in Pennsylvania's statute of limitations on child abuse accusations, which currently forbid victims from bringing civil suits after their 30th birthday – and for victims before 2007, thanks to a grandfather clause in the law's 2002 amendment, before their 20th birthday.
I misread a description of the law. Currently under Pennsylvania law, all victims may sue their abuser until their 30th birthday, and there is no grandfather clause. Additionally, criminal accusations can be brought by a victim until their 50th birthday.