Matt Texter and Seann Clark Join Tyler Smilo for the Release of his Highly Anticipated Follow-up Album Dust in a Grave CD Release Party
The earnest singer/songwriter releases his highly anticipated sophomore album.
January 21, 2015 at 8:30 AM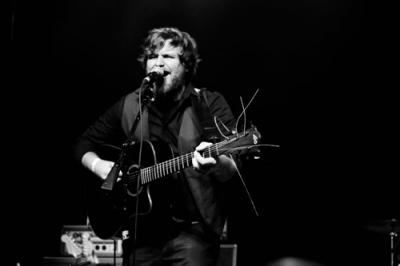 Tyler Smilo has lived in Erie for less than two years, but you wouldn't guess it based on how well he has integrated himself into the local scene. After hitting open mic nights hard following his move to Erie, Smilo has quickly become one of the most intriguing artists in the area through his work in Daybreak Radio and Potwhole, as well as his solo debut Blood into Sound, which was one of the Erie Reader's top-three releases of 2014.
The songwriter hasn't slowed down in 2015, as he's set to drop his new album Dust in a Grave (check out our review on page 23) at a CD Release party hosted by The King's Rook Club along with openers Matt Texter and Seann Clark. Like Blood into Sound, Dust in a Grave shows off Smilo's ability to connect with listeners through straightforward songs about addiction and healing.
"I stuck with just being as honest as possible and not being afraid to say certain things because they are too personal," Smilo says about his penchant for writing intimate, heartfelt tracks.
Dust in a Grave isn't an album that relies on flashy studio effects or fancy techniques. Instead, it shows off just what one man and his guitar can do to stir a person's soul, as Smilo's earnestly bleats out lines while the reverberations of each strum hum in your ears. Smilo's music isn't always a happy affair, but it certainly sounds real.
"There's nothing when I write that says 'I want people to like this' or 'I want this to be a pop song,'" Smilo says. "I just write what I write and I'm so glad that people enjoy it."
Judging by the songwriter's success since his arrival in Erie in the middle of 2013, local music fans certainly approve of him. Join Smilo at The Rook when he puts his new batch of genuine tracks on display for all to enjoy. 
9 p.m. Friday, Jan. 30 // 1921 Peach St. // facebook.com/kingsrookclub