Mayor, Chief of Police Announce Plan to Address Gun Violence
Police Chief Announces Changes to Address Gun Violence
August 20, 2015 at 12:53 PM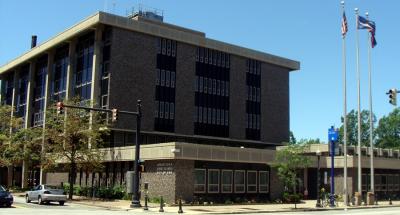 Erie Mayor Joe Sinnott and Erie City Police Chief Randy Bowers held a joint press conference Thursday at Erie City Hall in an attempt to address concerns over this year's ongoing gun violence and persistent crime through the City of Erie.
Mayor Sinnott, who has been criticized throughout the year for perceived disengagement on violence and crime that has plagued the city, announced in July, after the shooting death of 18 year old Jacob Pushinsky by 14 year old Derrys Sanders, Jr., that he had tasked Chief Bowers with evaluating and executing a plan to curb gun violence.  There have been more than a dozen gun related homicides in the city this year and hundreds of shots fired reported to EPD.
Bowers says that despite the preponderance of gun related crimes EPD has been effective in seizing 138 guns and arresting more than 120 adults and 19 juveniles on gun related crimes this year.
Bowers also identified changes to be made in department procedures including moving four detectives into the major crimes unit, which investigates violent crime, incorporating vice units into its gun policing measures, partnering with state and federal agencies, and increasing surveillance throughout the city by way of additional cameras purchased with gifts from local social clubs among other funding sources.
Including vice units is an important step because it also will unify efforts to simultaneously address guns and drugs, Bowers says. One of the major stories shadowed by gun violence this year is the fact that there have been more than 40 drug-related deaths in Erie County this year. Guns and drugs are symbiotic problems and Bowers hopes revising police protocols in this way will have an impact on both issues.
The increased surveillance, Bowers says, will not included body cameras for police officers. "Police conduct has not been an issue for us," Bowers said Thursday. "I wish I could come out everyday and tell you the positive comments we get from the community – and we investigate every negative report we receive – but the overwhelming response from our interactions with the community are positive."
Bowers also noted that cameras in the community have been an effective investigative measure that they would like to expand where possible.
Erie County Councilman Jay Breneman recently proposed a camera registry to identify homes and businesses throughout the community that police could tap in the event that crimes occur near those cameras.
Bowers also announced Thursday that EPD would begin to stagger the shifts of its "saturation unit," which patrols high crime areas of the city. "Criminals have an expectation of when our patrols will be in these areas," Bowers says. "We want to change those expectations."
Jim Wertz can be reached at jWertz@ErieReader.com, and you can follow him on Twitter @jim_wertz.