McQueary Testimony Sends Cases to Trial, Local Angle Still Troubling
Mike McQueary testified Friday, Dec. 16 regarding what he saw in a Penn State locker room in 2002. But back in 2004, he was in Erie. With Sandusky. Running a camp.
December 17, 2011 at 2:02 PM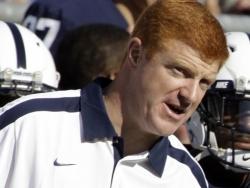 Assistant football coach Mike McQueary spent two hours on the stands in a Pennsylvania courtroom testifying Friday at a preliminary hearing. McQueary, who reportedly witnessed Nittany Lions defensive coordinator Jerry Sandusky abusing a 10-year old child in a Penn State locker room in 2002, spoke for the first time publicly since the 2002 encounter and testified that he fully conveyed what he had seen to football coach Joe Paterno and former athletic director Tim Curley and school vice president Gary Schultz—all of whom Penn State has since relieved of their duties. McQueary's testimony provides enough evidence, according to District Judge William C. Wenner, to send Curley and Schultz's cases to trial. 
But let's not forget something Jay Stevens' uncovered in his Erie Reader cover story "Sad Days at Happy Valley: The Penn State Scandal Hits Home." Sandusky ran camps right here in Erie at Penn State Erie, The Behrend College from 2000 to 2008. And local children attended those campus.
And McQueary was there.
Stevens wrote:
"As a quarterback, (Ben) Smith remembers having Mike McQueary as his coach at the camp. 'He ran the show for the quarterbacks and wide receivers,' said Smith. 'I watched him throw so hard he broke a kid's nose.' (McQueary's presence at the Behrend football camp in 2004 meant that the assistant coach worked with Sandusky two years after the 2002 incident, in which allegedly he witnessed his employer raping a boy.)"
Smith, a Second Mile camper in attendance in 2004 when he was in the 9th grade, reportedly remembered McQueary being there, working with Sandusky.
McQueary, according to his Friday testimony, reported the events to Paterno, who told him he had done the "right thing." But McQueary said he went to Curley and Schultz nine or 10 days later and reported the incident. McQueary thought that going to the vice president, who oversees campus police, was, in essence, going to the police.
But that still begs the question: if this was reported—passed up the chain of command at the very least—why was McQueary back on the sidelines with Sandusky in Erie let alone participating in flag football game days after the 2002 incident.