Meanwhile in the city... Another look at local agriculture
Meanwhile, in the city… a different kind of community support.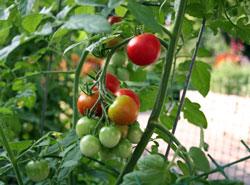 Most city kids with a set of wheels pedal around their neighborhoods with bike baskets full of candy bars or bubblegum.
Beth Benson's 3-year-old son stuffed his tricycle basket with dirt, planted mint, and lemon balm and shows off his mobile garden with trademark toddler swagger.
"He's really into it," she said. "He hangs out at farmers markets and says, 'Look at this tomato!' And he was 2 last year when he was doing that."
Benson, a chef by trade, has been transforming urban Erie spaces into heirloom vegetable gardens for the past four years. Her operation has since grown to encompass five gardens located at generous friends' and family members' downtown yards, who happily volunteered to let her use the space.
"Erie used to be farmland," she explained. "This all was farmland. The ground is good – it's ready to go; it's just been planted with grass."
Benson, 33, said she focuses on growing exotic heirloom vegetables – multicolored tomatoes, bulbous Paris Market carrots, orange cauliflower – that most folks wouldn't see in a run-of-the-mill produce aisle. She then sells the vegetables at the Whole Foods Co-Op, 1341 W. 26th St., as well as local farmers markets.
Benson is also the facilitator of a new farmers market at the co-op on Sundays from 9 a.m. to 2 p.m., which will start the second week of July. (It would begin on the first week of July, but she'll be busy rocking out at the Great Blue Heron Music Festival in Sherman, N.Y.)
But having a garden in her downtown front yard does have its challenges, she said.
"That's part of living in the city," she said. "People are going to steal your tomatoes. Dogs are going to poop on your lettuces. It happens."
Nevertheless, she keeps her operation moving forward and said would love to see it expand in the future. Benson's a big dreamer, a bold idealist, who envisions an Erie that embraces locally grown food and snubs its collective nose at buying giant, tasteless strawberries imported from who-knows-where in the middle of winter.
"I think our generation has noticed that," she said. "They want to step up to the plate and take things back."
It doesn't take hundreds of acres to make an impact, she said – just a willingness to get your hands dirty with whatever space you've got.
"If I can help it, I'm not going to buy it," she said. "I'll just grow it."