Mercyhurst product Altavilla adjusting to life in the minor leagues
Former Laker pitcher making his mark in Class A Northwest League as member of Seattle Mariners organization
August 28, 2014 at 3:00 PM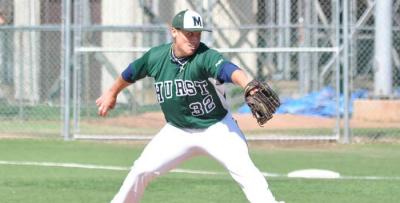 Baseball – like life – is all about adjustments.
No one knows that better than Dan Altavilla.
The former Mercyhurst University standout, who swept just about every NCAA Division II pitching award after a dominating junior season this year, has had his share of challenges since signing a professional contract to play for the Seattle Mariners organization.
Altavilla, a native of Greenock – about a 25-minute drive southeast of Pittsburgh – was selected in the fifth round of the Major League Baseball draft in June and signed shortly thereafter. The Mariners assigned him to the Everett AquaSox of the Class A short-season Northwest League, where he has made 13 starts.
Thus far, in 60 innings through his most recent start on Aug. 23, Altavilla has yielded 69 hits and 31 walks while striking out 59. After a rough patch early in the AquaSox season, the 5-foot-11, 200-pound right-hander has put together quality starts -- three earned runs or less in six innings or more -- in four of his last six starts and picked up wins in five of those outings. His most recent outing -- a loss to Euguene might have been his best, as he yielded just one earned run in six innings while giving up four hits. He did not walk a batter and struck out nine.
Altavilla said recently that he was a bit anxious during his first couple of outings, trying to prove to the Mariners' organization that he was worth the fifth-round pick – and the reported $250,000 bonus it took to sign him. "You don't want to disappoint anybody – you want to get out there and show them that you earned that spot," Altavilla said.
Altavilla said life in the Northwest League is a step up from the Pennsylvania State Athletic Conference, which Altavilla dominated in the spring. "It's like having a lineup of the top few players who stood out in the PSAC," he said. "There are not a lot of weaknesses – everyone is competing, trying to get to the next level."
Altavilla's numbers at Everett indicate the 21-year-old is more than holding his own during his first professional stop, but they don't come close to mirroring the results he manufactured while pitching at Mercyhurst in the spring.
There, the sports medicine/pre physical therapy major had his way virtually every time he took the mound. In 80 1/3 innings, Altavilla struck out 120 and fashioned a 1.23 earned-run average while winning nine of 10 decisions. He was named the winner of the inaugural Brett Tomko Award, given to the top pitcher in NCAA Division II, and also captured the ABCA/Rawlings Division II pitcher of the year honors.
That was just the beginning, as Altavilla also was named the Daktronics Ron Lenz national pitcher of the year, the ECAC Division II national pitcher of the year and was an ABCA/Rawlings first-team All-American selection. And that doesn't even cover half the awards he captured.
For his efforts, Altavilla became the highest draft selection in the history of Mercyhurst's baseball program and the highest pick among Pennsylvania State Athletic Conference players since 1995.
His dominating spring performance came on the heels of a solid sophomore season in 2013, and a standout summer in the Cape Cod League, where college players with professional aspirations showcase their talents before professional scouts. It was there that Tom McNamara, the Seattle Mariners' amateur scouting director, first saw Altavilla, and he came away impressed.
"When I watched him in the Cape, I thought he was a guy with some pitchability, and for someone who didn't come from a Division I (college) powerhouse, I thought he handled himself very well," McNamara said. "After that, we knew we wanted to make sure we saw him in the spring."
Mike Moriarty, an area scout with the Mariners, watched Altavilla throw in the fall and then made it a point to see him pitch three more times in the spring. "He looked good," Moriarty said. "He needs a little fine-tuning of his pitchability. But he's going to be a big-league pitcher."
Pitchability, Moriarty explained, is not exactly a scientific term. Rather, he said, it's a term scouts throw around a lot. "It's command of your pitches – the fastball and secondary pitches," he said. "It's knowing when to throw which pitch in which situations. It's more command and control of your pitches, when and where to throw certain pitches, changing speeds, locating in and out.
"Dan has a lot of that already. He's got a good feel for what he's doing out there. He's got the stuff to get outs."
That assessment came as no surprise to either Joe Spano, Altavilla's coach at Mercyhurst, or Frank Champ, who coached Altavilla at Elizabeth Forward High School. Spano watched Altavilla develop two professional-caliber pitches – his fastball and slider – and then noticed that the right-hander had fine-tuned his changeup during the summer. "That third pitch separated him and elevated his status," Spano said. On the basis of the fastball and slider, Spano said, he thought Altavilla had the potential to be a major-league relief pitcher. But the changeup, he said, makes him a candidate for the starting rotation at the highest professional level – and that's what made him so attractive to the Mariners just three years after Spano was hoping to bring him to Mercyhurst following his senior season at Elizabeth Forward.
"We wanted him very badly," Spano said, not only because Altavilla had the physical makeup but also the drive that meshed well with the Lakers' philosophy. "We don't always have the luxury at the Division II level to get a prototypical guy, but he fit just what we look for: he was undersized, but he had a fast arm," Spano said. "Lots of times, especially at the professional level and Division I level, people look at height and projectability."
In other words, many organizations prefer to take taller pitching prospects who throw on more of a downhill plane, and expect that they'll add size and strength – and velocity -- as they grow into their bodies. Altavilla, at a touch under 6-foot, didn't fit that "projectability" mold, and that might have caused some Division I programs to look elsewhere. But Spano was not deterred.
"There's speed in that arm," he said. "And in terms of athletic ability, he can compare with anybody. He gets his velocity from the speed generated in his arm, not necessarily from whip or leverage that a taller guy would pitch with. A lot of people might shy away from that, but it fits with the way we train."
It was Altavilla's training regimen that helped put him in a position to pursue his dream of playing professional baseball, and that drive was evident years ago to Champ, who first saw him play as an eighth-grader and ultimately coached him at Elizabeth Forward.
"By the time he got to us you could see he was already a sound player," he said. "It was just a matter of building more confidence. We saw early just how hard the kid would work. The way he'd work out and train was unbelievable. In 10th and 11th grades he'd be squatting and benching weights you'd see a college player doing."
It wasn't just weights; Altavilla also began increasing his distance running and sprinting, among other things, Champ said. "He had the talent and the work ethic, and he kept pushing himself to be in the best possible shape he could be," he said. "He's 5-11, 200 pounds, but he's as solid as a piece of rock. It's like he's chiseled out of granite. His training and work ethic are what got him where he is now."
Altavilla's training might have helped him sculpt a warrior-type body, but Champ said Altavilla's hat size hasn't grown in the process. In fact, the week before the Major League Baseball draft, Champ said, Altavilla and his dad stopped by his house for a visit – not so much to talk about the draft, but to find out how things were going in Champ's world. "He's just so humble," Champ said. "Never boastful."
Altavilla watched the draft from his family's home in Greenock, hooking up a computer to the TV and following the event live via the Internet. Altavilla said he had heard from several teams interested in him, including Kansas City, Oakland, Washington and the New York Yankees as well as the Mariners. The Pittsburgh Pirates, the team Altavilla grew up following, showed late interest but when the Mariners called him on draft day to tell them they planned to select him in the fifth round, that was all he needed to hear.
"It was definitely very exciting," he said. "I was just sitting there very nervous, hoping they would make the call. It was almost like breathtaking. Everything was coming true on that day. It was such a proud day for me and my family. Such a great moment."
A little more than two months later, Altavilla is now pitching for a living – and making the most of each opportunity. "Adjusting to pro ball is just a learning experience," he said. "I'm taking a little bit from each start and getting better every day."
One important point that Altavilla has learned is that, while opposing hitters certainly are formidable, they are indeed human – and Altavilla is more than capable of getting them out.
"The first few times, you try to be too fine with your pitches and nibble at the corners," he said. "But I've learned that you just have to be relaxed out there. That's the biggest thing. Stay within yourself and breathe – just be yourself and you'll get outs."
In his first few starts, Altavilla said, he essentially gave the hitters more credit than they deserve. "I was trying to be too fine – I thought all the hitters were going to kill the ball every time up," he said. "But they're still regular hitters with wooden bats. And if you pitch inside, you're going to get some ground balls and break some bats. They're human, too."