MIAC 2015-2016 Preview
Get your calendars out, Erie, because you have a lot of shows to see. 
September 2, 2015 at 11:45 AM
Within six days of each other, you can witness a ukulele chorus and a mandolin virtuoso. On one night, two guitar gods will share the same stage. You can catch a soon-to-be Broadway hit before it hits Broadway this fall. You can marvel at puppets bringing to life critically-acclaimed children's books. A taste of Bollywood comes with a side of Brazilian folk.
There's even a self-proclaimed certified lunatic and master of the impossible.
To sum up the upcoming Mercyhurst Institute for Arts & Culture's 2015-2016 season is damn near impossible. But eclectic would be a good start. Fun, energetic, and impressive fit the bill, too.
Booking her second season at the helm, Christine Olivier de Molina mixes recognizable names with bright up-and-comers in theater, vaudeville, music, and dance: a seemingly deliberately delightful delivery that offers something for everyone. This line up is audaciously refreshing in scope. And to help make sense of all that's to come, we're giving you the skinny on each act, noting why they're on radars of those in the know, and explaining why you ought to get your calendar out and start making plans.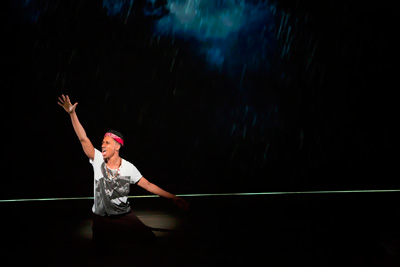 An Evening with the Creators of Invisible Thread
09.09 // Mary D'Angelo Performing Arts Center
The Skinny: Through spoken word, musical theater, and gospel, Griffin Matthews and Matt Gould tell the story of a young, gay man who trades his New York life for one in Uganda to avoid being chastised by his church for his sexual orientation. After meeting a group of Ugandan teens suffering their own crises, the New Yorker sets out on a quest that'll change both his life and the lives of those African teenagers forever.
On radars because: Under its previous title Witness Uganda, this biographically-based work (based on Matthews' own excommunication and subsequent travels to Uganda) garnered much buzz – from Boston Globe, New York Times, and Huffington Post, to name a few – during its run at the American Repertory Theater, lauding its bright future (hint: Broadway).
Worth seeing because: The work spurred The Uganda Project, a nonprofit supporting the children Matthews met in Africa; Matthews and Gould – with the help of a local gospel choir – will perform this live in Erie; and they're performing it live here before it hits Broadway.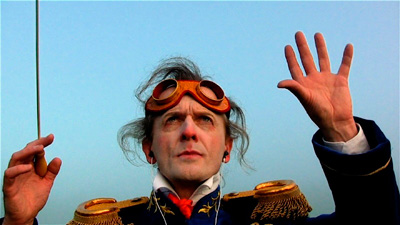 Tomas Kubinek – "Certified Lunatic & Master of the Impossible"
09.19 // Mary D'Angelo Performing Arts Center
The Skinny: Many people go to the theater to escape reality, if only for an hour or two. Czechoslovakian Vaudevillian Tomas Kubinek actually escaped his reality –Soviet oppression – by taking to the stage at age 9 to play the part of the fool, the clown, oozing with comic charisma.
On radars because: After an early start, Kubinek's been no slouch, receiving critical acclaim throughout the more than thirty countries he's performed in and notching a sold-out run on Broadway. Part poet, part actor, fueled by the energy of the audience, Kubinek thrives on making each show distinct (read: the cliché "expect the unexpected" actually carries weight here).
Worth seeing because: Aside from claiming to be a "certified lunatic" and while boasting the title of "master of the impossible" (really, who needs more than that?), Kubinek is no stranger to Erie, having performed here in 2000. Now he's back – even sticking around for a weeklong artist-in-residency program – to entertain a new generation and give those who were around before a revisited romp in the absurd and ridiculous.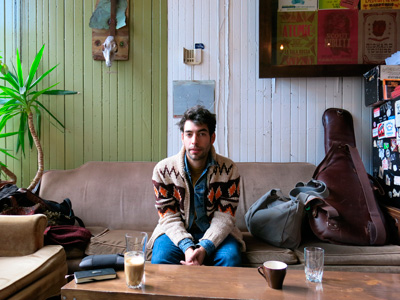 Leif Vollebekk
09.29 // Erie Art Museum
The Skinny: If the 27-year-old Montreal singer-songwriter has a spirit animal anthem, it might very well be Joni Mitchell's 1976 "Amelia," a tale that captures the push and pull of wanderlust and the amazement and loneliness that come with pondering the open road while focusing more on life's details than direction. For those unfamiliar with sound, think Ryan Adams or the soundtrack to Inside Llewyn Davis but with more grit and soul.
On radars because: With two strong studio showings (2010's Inland and 2014's North Americana), Vollebekk channels Kerouac without the pretension of lesser artists looking to capitalize on aloof mystique. He's worked with several of the Arcade Fire brood and with producers pushing today's bigger names. Also, if you run into a hipster looking to namedrop a rising artist you likely haven't heard of yet, it'll be Vollebekk.
Worth seeing because: If Bob Dylan and Jeff Buckley raised a kid in Canada, shipped him off to New York, and then to Paris, it'd be Leif Vollebekk. His lyrics are just as strong as his voice, making him a rare, raw combination of poetic and musical artistry that you'll brag about the rest of the year.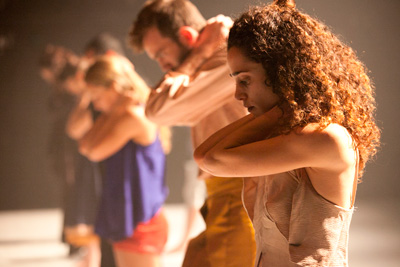 Reshimo by Vertigo Dance Company
10.13 // Mary D'Angelo Performing Arts Center
The Skinny: Although no perfect translation exists, the closest one can come to understanding the Kabalistic reshimo is memory. Through the lingering sensations and longing for the return of moments past, Vertigo Artistic Director Noa Wertheim captures both the persistence of vision and memory through gasp-inducing choreography that startles as much as it delights in front of Ran Bagno's fluid and diverse score.
On radars because: TED darlings, the Jerusalem-based company (co-founded by Adi Sha'al) gained a global following after their TEDxTelAviv and TEDGlobal performances. Both are equally compelling and equally available online for preview before seeing it live.
Worth seeing because: The Washington Post called Reshimo "one of the best new contemporary pieces," and you will leave the theater reflecting on your own nostalgia while creating an entirely new memory.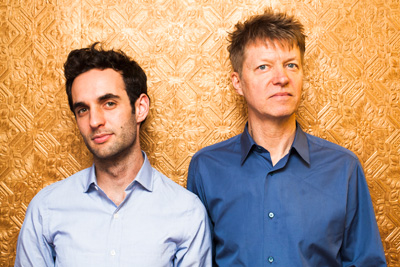 Nels Cline & Julian Lage
10.24 // Walker Recital Hall
The Skinny: Two contemporary guitar gods (it's not blasphemy; trust me) share the same stage and unleash bold, experimental sounds made of equal parts talent, fun, and energy.
On radars because: Known primarily for his contributions to indie darlings Wilco and Nels Cline Singers, Cline made Rolling Stone's list of top 100 guitarists of all time and was heralded as one of the of the twenty "new guitar gods." Lesser known by the masses, Lage – not yet 30 years old – is a seasoned jazz guitarist, a prodigy who performed at the Grammy Awards when he was just 13; he went on to become a faculty member at the Stanford Jazz Workshop at Stanford University just two years later.
Worth seeing because: Although jazz is the clearest common denominator, genres will be blended and bent in the exploration of innovative sound for sound's delightful sake. Alone, each guitarist boasts too many accomplishments and accolades to mention and would be worth seeing any night of the week; together, ridiculous isn't a far-fetched expectation (in the mind-blowing variety). The volume knobs might not necessarily be cranked to eleven, but the experience will be.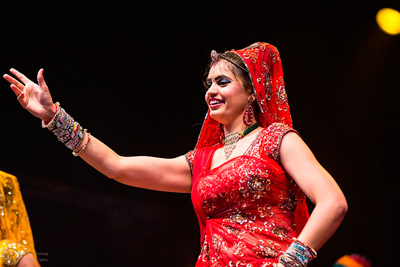 Bollywood Masala Orchestra & Dancers of India present Spirit of India 
10.27 // Mary D'Angelo Performing Arts Center
The Skinny: The combination of feverish brass, hypnotic tabla, heartthump-inducing dholak, and entrancing harmonium drive the show with singers, dancers, a fakir, and acrobats at the helm. Don't know what some of those words mean? That's okay – this performance's goal is to transport you from Erie to India, no passport required.
On radars because: Troupe founder Rahis Bharti is internationally regarded as one of India's greatest musical figures, marrying the traditional with the contemporary into a sound emblematic of India's present that honors its past and pushes the boundaries of its future.
Worth seeing because: With more than a dozen performers on the stage at any given time, Spirit of India sojourns in Rajasthan and then takes the party all of the way to Mumbai, providing a vibrant and rich visual and auditory experience that captures the excitement and frenetic energy of Indian music and entertainment.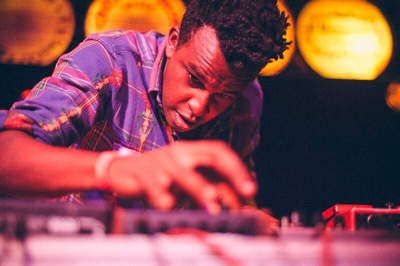 Sinkane
11.18 // Mary D'Angelo Performing Arts Center
The Skinny: On a hot, sticky summer night, Afropop walks into a dance club with grooving beats filling what little air remains between dancing bodies illuminated by an array of red, green, white lights and shakes hands with funk rock, who was throwing back drinks with R&B while psychedelic pop knifes through the crowd toward the bar to order another round. Welcome to Sinkane.
On radars because: As a session musician, before performing as Sinkane, Ahmed Gallab worked with Caribou, of Montreal, and Yeasayer. As a solo artist, Sinkane broke onto the scene with 2012's Mars, a refinement of his earlier sometimes-too-sprawling sonic landscapes. Two years later, he released Mean Love, a tight yet liberal evolution of his distinct sound influenced by his various musical collaborations and contributions as well as travels (he was born to college professors in London, spent his early years in Sudan, then ventured stateside to Kent then Columbus, Ohio).
Worth seeing because: The Pitchfork darling will welcome the audience onto the stage of the D'Angelo Performing Arts Center, where you can watch up close and personal the meeting of Afropop and funk rock and everything that happens in between.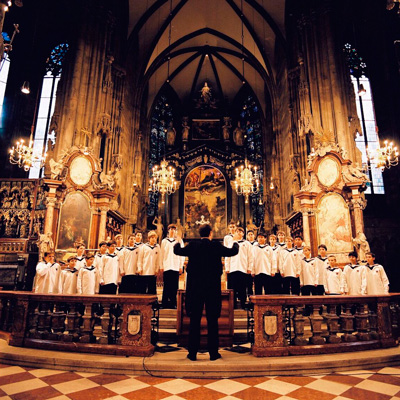 Vienna Boys Choir
11.30 // Mary D'Angelo Performing Arts Center
The Skinny: Odds are – whether or not you knew it at the time – you've heard the Vienna Boys Choir, particularly around the holiday season. Perhaps over your car radio, perhaps at a Christmas party, perhaps while you dashed through a department store, searching out that last last-minute gift. These (young) guys are good – legendarily good – with quite the cultural staying power.
On radars because: They've been on radars for six centuries, have worked with the likes of Amadeus Mozart, and can lay claim to alumni Franz Schubert, Jacobus Gallus, and Hans Richter.
Worth seeing because: You'll be hard-pressed to find a more historic, more artful, more bring-the-entire-family event to kick-start your yuletide glee.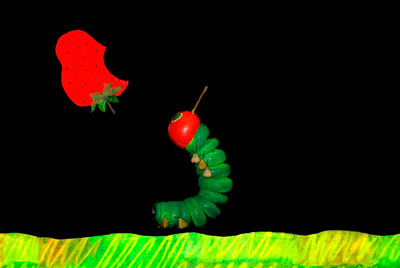 The Mermaid Theatre of Nova Scotia Presents: The Very Hungry Caterpillar & Other Eric Carle Favorites
02.13 // Walker Recital Hall
The Skinny: Make believe at its finest, The Mermaid Theatre of Nova Scotia takes three Eric Carle creations – The Very Hungry Caterpillar, Little Cloud, and The Mixed-up Chameleon – off of the pages and onto the stage with rainbow-rich puppets bounding about under a black light.
On radars because: If you have children or grandchildren, you're familiar with Eric Carle's work, a canon exceeding more than 70 books. If you don't have children, you likely have friends with children, because of whom you've been invited to a party that required a gift to celebrate an occasion – and a leading contender for that purchase (with more than 40 million copies sold, having been translated into more than 62 languages) has been the tale of a voracious little caterpillar.
Worth seeing because: Seeing the 86-year-old Syracuse native's work come to life is imagination made real for any child. And the brilliance of The Mermaid Theatre will reawaken the dreaming, imaginative kid in any adult – because if puppets performing as caterpillars, clouds, and chameleons can't, then nothing can.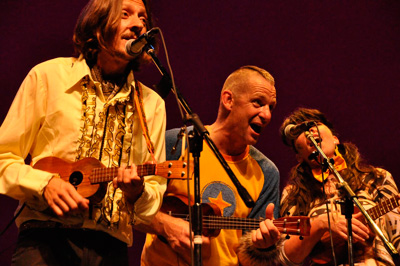 The Wellington International Ukulele Orchestra
03.04 // Mary D'Angelo Performing Arts Center
The Skinny: Whether you like to admit it or not, you love a good earworm. And while you might be quick to dismiss the ukulele for only being worthwhile around a campfire or as tinder to start a campfire, you've always wondered – maybe feared – what a chorus of ukes would sound like. Embrace your inner earworm enthusiast and cast aside any of your previously held notions of the ukulele, because The Wellington International Ukulele Orchestra marries pop hits with the four-stringed mini guitar to birth unparalleled comedy.
On radars because: The WIUC – co-founded by Grammy and Oscar winner Bret McKenzie of Flight of the Conchords fame – infuses Kiwi humor and a charmingly comic approach to pop music to tackle hits like Outkast's "Hey Ya!," Kings of Leon's "The Bucket," and Justin Timberlake's "Cry Me A River" – the former ticking nearly one million views on YouTube.
Worth seeing because: Seriously, the odds of you having seen something like this in person before are about as good as you having never heard "Hey Ya!" – and it's as much fun as that song was when it first hit airwaves in 2003. All together now: One, two, three!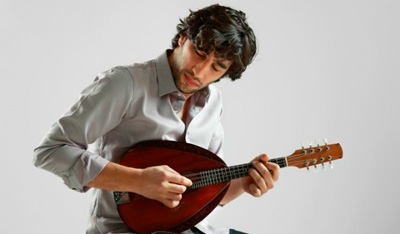 Avi Avital
03.10 // Walker Recital Hall
The Skinny: Avi Avital isn't your average mandolinist. By average, you might think a gal or guy in an Appalachian-Americana-folksie-bluegrass-kickdrumdriven-woolvestdonning outfit bent on out rootsing all of the other Appalachian-Americana… But imagine the twanging treble of the mandolin resonating throughout the Carnegie, Berlin Philharmonic, or London's Wigmore halls, an instrument approached and treated with the same reverence as the violin (which also shows up in those Appalachian outfits). That's Avital's treatment of the mandolin, and while it's classic in nature, it's refreshing in spirit.
On radars because: The Israel-born musician's premiered more than eighty pieces worldwide, effortlessly shifting from jazz to baroque, from classical to traditional Jewish music of Eastern Europe. He earned a Grammy nomination for Best Instrumental Soloist in 2010 – the first mandolinist to do so.
Worth seeing because: How many of your friends have seen a mandolin virtuoso? If you answered more than one, you likely already have front row seats to this show.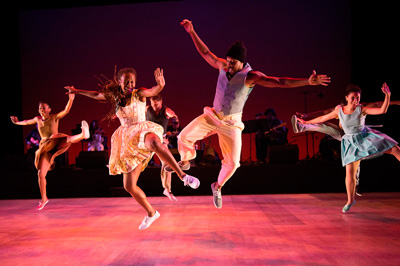 Dorrance Dance
03.30 // Mary D'Angelo Performing Arts Center
The Skinny: Of the two schools of tap dance, Broadway and rhythm – also referred to as jazz – expect a lot of the latter, as the Dorrance Dance Company blends tap with house music and blues while also showcasing the art form's ability to stand on its own acoustically.
On radars because: The New Yorker heralded Dorrance founder, artistic director, and namesake Michelle as "one of the most imaginative tap choreographers working today," and her trophy cabinet includes the 2012 Field Dance Fund award and 2011 Bessie Award.
Worth seeing because: If you think tap dancing is nothing more than stomping, that's okay: Dorrance performs with the sensational  STOMP! And unlike other forms of dance, tap is visceral with the vibrations reverberating through a crowd, combining the visual marvels of dance with the cacophony of rhythm resulting in a harmonious sensory experience.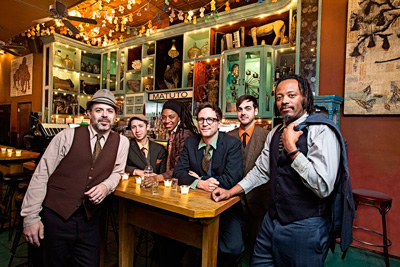 Matuto
04.07 // Walker Recital Hall
The Skinny: Quick-rising festival darlings, Matuto whisks together blues, jazz, and swamp-dirty bluegrass in a heavy Brazilian folk base to cook up something unlike what overplayed jam-folksters saturating outdoor music scenes dish out. Each talented in his own regard, together the musicians create something so delightful, the individual ingredients become indistinguishable in the churned out sonic fun.
On radars because: 2009's self-titled debut album received rave reviews, garnering a 4.5/5 from All About Jazz, and the band's just as comfortable playing the Vancouver Folk Festival as The Kennedy Center – illustrating their broad audience appeal.
Worth seeing because: Matuto – Brazilian slang for "country bumpkin" – finds a way (likely from their multi-genre approach and delivery) to make folk-roots music feel fresh and fun again.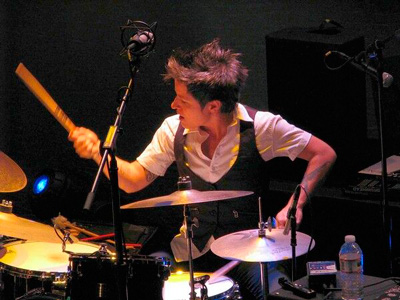 Allison Miller's Boom Tic Boom!
04.28 // Walker Recital Hall
The Skinny: Although she's backed singer-songwriters like Natalie Merchant, Ani DiFranco, and Brandi Carlile, Allison Miller never forgot what made her want to be a drummer in the first place: Jazz. After listening to Miles Smiles, she said in an interview with the Denver Post, she knew she wanted to do that – she just didn't know, at the time, what that was. Fortunately, she figured it out pretty quickly (by age 10) and has been unstoppable ever since.
On radars because: In 1991, Downbeat magazine featured her on its up-and-coming list. Well, she up-and-came and is still going, landing on LA Times' Top 10 Jazz Albums of 2010, and has since dazzled listeners on NPR's Tiny Desk Concert series and wowed crowds at New York's Winter Jazz Fest.
Worth seeing because: Together with pianist Myra Melford and bassist Todd Sickafoose, Boom Tic Boom! packs a real bang while dancing nimbly in nuance. A versatile trio, the Miller-led BTB! makes jazz fun and accessible.
For more information about these – and other – MIAC performances, call the box office at 824.3000 or visit MIAC.Mercyhurst.edu
Ben Speggen can be contacted at bSpeggen@ErieReader.com, and you can follow him on Twitter @BenSpeggen.