MIAC Live 2021-2022 Season
No 'Short'-age of talent in biggest name lineup yet
September 20, 2021 at 3:36 PM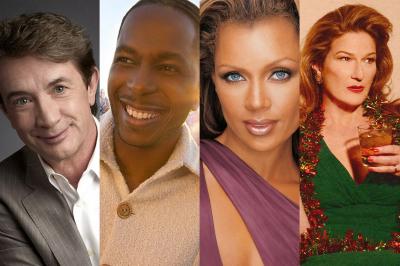 MIAC Live 2021-2022 Season
The pause on live performances in every sphere – from the bright lights of Broadway shows to smaller-scale local theaters – this last year and a half has been nothing short of paralyzing for everyone involved in the arts.
But as the Mary D'Angelo Performing Arts Center, a gem on Mercyhurst University's campus, celebrates 25 years since its dedication in 1996, and The Mercyhurst Institute for Arts & Culture (MIAC) proves with their 2021-2022 Live season: The show must go on.
Indeed, they proved it last season, when events switched to a free, online format, before resuming in person this past spring.
Brett Johnson, the director of Mercyhurst's theater program and artistic director of MIAC, commented, "Livestreamed performances and other virtual offerings have played an important role in helping us navigate the challenges of the past year. At the same time, many of us have missed the communal nature of live performance, in which our heartbeats synchronize and we laugh, cheer, and cry as one."
With that, MIAC's 2021-2022 Live season is going ahead with in-person events in the artistic home that has illuminated so much talent the last 25 years.
"We look forward to gathering once again in the beautiful Mary D'Angelo Performing Arts Center and experiencing the life-affirming artistry of these world-class performers," Johnson said.
Of course, the safety of their patrons during an ongoing health crisis is uppermost in MIAC's mind; you can find their COVID-19 guidelines on their website.
Without further ado, let's take a look at the nine exceptional performances in store for the MIAC Live 2021-2022 season.
Martin Short
Thursday, Sept. 23
7:30 p.m.
A comedic legend, Martin Short got his big break over 30 years ago with Canada's SCTV and soon thereafter Saturday Night Live, particularly with his character Ed Grimley, a nerdy, hyperactive Wheel of Fortune fan.
From there, Short's career began a rapid ascent, with memorable roles in feature films like Three Amigos, Mars Attacks, and Father of the Bride 1 and 2 (who could forget Franck Eggelhoffer, his nutty German wedding planner – and arguably the funniest character in the movie?).
The Emmy and Tony winner, who hails from Hamilton, Ontario, is still an incredibly active talent, appearing in guest spots on major TV programs like Modern Family, Big Mouth, and most recently, the Hulu series Only Murders in the Building (which finds him teaming up with Steve Martin again along with Selena Gomez), to name just a few.
Vanessa Williams
Friday, October 22
7:30 p.m.
If you are a millennial woman right now, then chances are good you danced around your living room and sang along to "Colors of the Wind" when Disney released their animated classic Pocahontas, and your parents broke down and bought you the soundtrack (on cassette tape, most likely).
You tried to match the vocal powerhouse that is Vanessa Williams, a Bronx-born singer and actress whose vocal gifts brought her much early fame, while notable TV roles, like Wilhelmina Slater on Ugly Betty and Renee Perry on Desperate Housewives, further solidified her household name-status in the 2000s and 2010s.
With eight major albums under her belt and dozens of TV and film appearances, the Grammy/Tony/Emmy-nominated Williams is at the pinnacle of her artistic powers.
Ana Gasteyer: Sugar & Booze
Tuesday, November 30
7:30 p.m.
After six seasons on Saturday Night Live, and numerous TV and film appearances (she managed to be hilarious even in small roles, like Cady's mom in Mean Girls) that span over 25 years, Ana Gasteyer could retire today and consider it a career well done.
But the comedy icon and trained vocalist released a holiday album called Sugar & Booze in 2019, with strong vintage '50s and '60s vibes that recall the wintery seasons of yore, backed up by the same band she's toured with since 2016.
And she is bringing her act to the MIAC stage for the perfect post-Thanksgiving event – just what we all need to get our spirits bright.
Leslie Odom, Jr.: "The Christmas Tour"
Monday, December 6
7:30 p.m.
Watching the Hamilton film on Disney+, one thing was clear: In a room crowded with superstar talent, Leslie Odom, Jr. somehow still managed to shine a little brighter than the rest.
His gift for bringing complexity and humanity to any role has been noticed – most recently by TV and film academies, who have heaped nominations on him for roles in One Night in Miami and Central Park.
The Tony winner and current Emmy award nom (for his performance as Aaron Burr in the Hamilton film) grew up in Philadelphia and graduated from Carnegie Mellon cum laude, has also published a book, Falling Up: How to Take Risks, Aim Higher, and Never Stop Learning.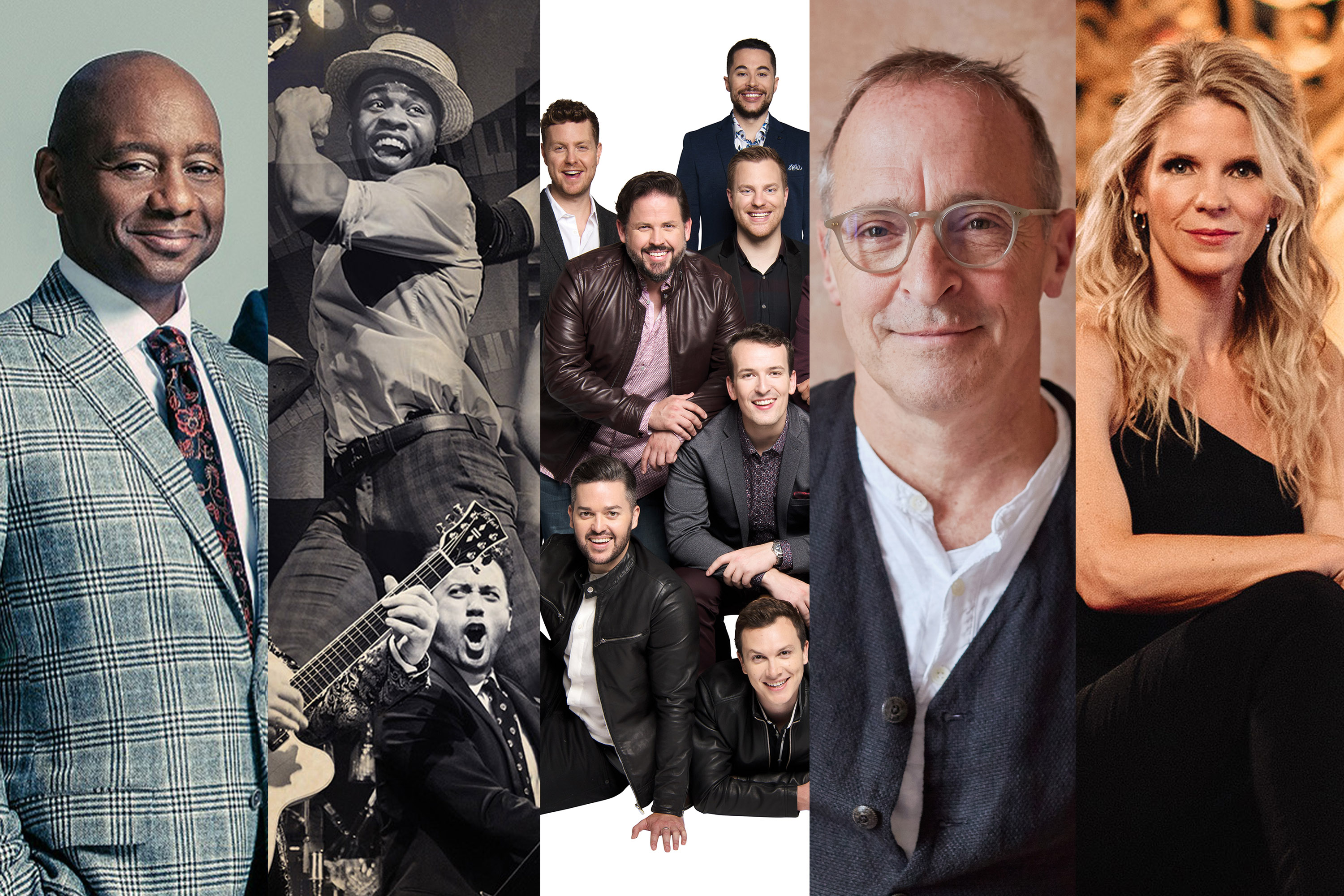 The 2021-2022 MIAC Live Season may boast the greatest lineup of names yet. Slated to perform next spring are (left to right) jazz musician Branford Marsalis, the retro pop interpreters of Scott Bradlee's Postmodern Jukebox, acapella group The Ten Tenors, author/satirist David Sedaris, and opera singer Kelli O'Hara.
An Evening with Branford Marsalis
Tuesday, February 1
7:30 p.m.
With two musical parents, and four musical brothers (you may have heard of Wynton Marsalis) composer and saxophonist Branford Marsalis is basically jazz royalty.
From his early days at the Berklee College of Music in Boston, to the '80s when he worked with Sting, through the 90s and beyond, with a variety of projects under his belt (including composing music for the 2010 Broadway revival of the play Fences by August Wilson) Marsalis has also had a hand in dozens of albums across multiple musical genres.
The Branford Marsalis Quintet has been his artistic mainstay, however, forming in the mid-1980s and enduring as few other groups can claim to have done.
Scott Bradlee's Postmodern Jukebox: The Grand Reopening Tour
Wednesday, March 16
7:30 p.m.
2022 is likely going to be the year for many grand reopenings, and none more exuberant, more stylish or more innovative than Scott Bradlee's Postmodern Jukebox.
Returning once again to the Mary D'Angelo stage, the collective of musical talent, including a rotating lineup of singers and musicians, will bring their repertoire of doo-wop, jazz and other vintage covers of popular pop songs.
With millions of fans around the world, it's not bad for bandleader Scott Bradlee, who started off in 2009 with a series of YouTube videos.
The Ten Tenors: Love is in the Air
Wednesday, March 30
7:30 p.m.
Pop/opera fans love a tenor, and when you combine the vocal talents of 10 accomplished male singers, with expansive, eye-popping 10-part harmonies, well – you've got yourself a memorable evening.
Hailing from Australia, the group formed in 1995 and has since performed over 2,000 times, selling more than 3.5 million concert tickets.
Their musical repertoire is as varied as the tone and timbre of their voices, and there is sure to be something for everybody – a little opera here, a little pop music there, and even some rock to change things up a bit.
While the date is a little late for a Valentine's Day date, tickets to the Ten Tenors would nonetheless make an excellent, and extremely romantic, gift for that special someone.
David Sedaris
Tuesday, April 19
7:30 p.m.
I'm going to break the fourth wall here for a second, because I want to say: one of the first times I ever laughed so hard I cried while reading a book was when I picked up Me Talk Pretty One Day by David Sedaris. 
(If you've never read him before, the short essay "Big Boy" is your perfect introduction – go, read it now!)
The memoirist, essayist, and comedian has made it his life's work to address matters of everyday life, and make them memorable, thought-provoking or utterly hilarious.
Sedaris has been on the Mary D'Angelo stage numerous times now, and on each occasion, his presence is a gift, a reminder to look at the world, to look at one's own existence, through a different lens on occasion.
Kelli O'Hara
Thursday, May 5
7:30 p.m.
Not every opera singer could perform equally well under the bright lights of Broadway, or vice versa, but Kelli O'Hara is that rare performer and vocalist who makes the transition look effortless.
For 20 years, O'Hara has captivated audiences with her performances in shows like Jekyll and Hyde, Sunday in the Park with George, My Fair Lady, operas like Così fan Tutte and Dido and Aeneas, and even appearances in film and TV, with roles in Sex and the City 2 and 13 Reasons Why.
All shows begin at 7:30 p.m. // 501 East 38th St // Free parking in all University lots // For more information and tickets visit: https://miac.mercyhurst.edu/events/miac-live