Mixing Art and Drinks at The crooked i
There's change at The crooked i, as Marty Schwab commissioned local artist Tom Ski to construct functional art for The crooked i's newest drink: absinthe.
November 7, 2011 at 12:30 PM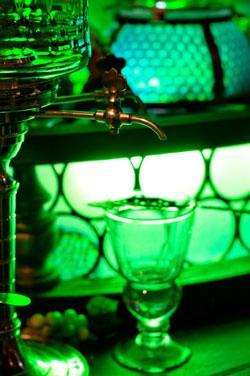 "The biggest reason is that it's traditionally a drink for artists," Marty Schwab tells me, as we stand outside The crooked i with the smoking crowd. You can see our breath as we shiver and as he tells me about his latest addition to his bar—functional art that combines visual beautiful with a drink new to this State Street bar.
At a glance, The Crooked i stands out. Sandwiched between another bar—and a longtime scene favorite that's going through its own changes—and vacant lot beside a professional building, Schwab's bar calls out to those passing by. Maybe even yells a bit. At the very least, it gets your attention.
The front window—with light bulbs illuminating it—displays posters for upcoming acts, the best Erie has to offer as well as the best that will roll through Erie. Hyperbole? Maybe—if you're skeptical, but any time Schwab's told me about some band I'd never heard of before and swore to their greatness, he's been right. Case in point: Larry and His Flask, a new favorite band of mine that rolled through his jukejoint not too long ago.
And tonight two of Erie's most talented troupes are on his stage: the Bill Burke Trio and Is What It Is, consistently successful mainstays in the Erie scene. 
So, the man's been blessed with a damn good ear. But he's also got vision, vision that seems to be set about a hundred yards ahead of most of Erie.
One of his latest additions: burlesque dancers in the side window. Beautiful women dancing, entertaining, laughing, smiling, waving—providing something more akin to a scene in Amsterdam than Erie, Pa. Schwab refuses to settle and seems to thrive on keeping people guessing.
So maybe that's exactly why the owner of a bar more known for serving up PRB pounders for $2 is now pouring out absinthe. Yes, absinthe at The crooked i.
"Don't ever try to figure me out," Schwab says, laughing.
But maybe it isn't that far of a stretch to see the anise-based drink with a story as rich as its liquorish taste at The crooked i now. After all, Schwab has always had a more than decent selection of microbrews—you'll find some of them at the main taps and even more in the Rustbelt Lounge—since he opened the place. And he had those taps before the State Street race to have as many crafts on tap started. 
To be clear, absinthe's more than your average spirit—it comes packed with its own mythology, and legends swirl around. While many countries banned the spirit for decades, countries have loosened their stance on the drink as regulations were clarified—particularly amount of thujone contained in the drink.
"Poe. Hemingway. Van Gogh. They all drank it," says Schwab, referring to absinthe, and we're back to artists as we shake the cold and huddle closer to the building front. And one look around his place and anyone can see Schwab's big on art. Paintings crowd each wall, and local artwork often acts as a conversation starter for the patrons. Did you seen the Lennon painting? How about that one of Cash? But did you also see the alien-deer-skull thing?
So it's no wonder that when Schwab decided to offer absinthe, he refused simply plunk a bottle on his shelf and call it a night.
Schwab's not the first downtown establishment to offer the drink—1201 Kitchen and Betrand's Bistro serve it too—but Schwab wanted to ensure his presentation stood out, so he commissioned a local artist to create a display.
"Tom Ski had this vision, and now we have function art," he says as he grabs me by the shoulder turning me to the door, "and it fits, and it's my new favorite piece of art," he says, as he leads me through the throng of people waiting in line to get in to see the Bill Burke Trio finish their set and Is What It Is headline tonight's Eerie Horror Fest After Party. "Now let me get you a glass," he smiles, with his hand on my shoulder.
Schwab offers absinthe in the traditional style—also know as the authentic or French style—instead of the Bohemian style. The difference involves fire, and partly for safety reasons, but more in an effort to embrace tradition, Schwab went with the traditional method: pour the absinthe, place a sugar cube on a slotted spoon, and then drip cold water over the sugar, dissolving it into the mixture.
So we pony up to the bar, and I eye the display. It's glowing, appropriately green. Not ostentatious, but certainly not low key. It stands out without overtaking the bar. Where once a mini-shrine to The King stood, now stands functional art, and now in front of me sits a glass of absinthe.
Schwab's serving two kinds, and already he's running low of the Vieux Carre and Grande Absente.
"Sip it," he encourages and warns, as he explains that he's charging $12 per glass—10 more than those PBR pounders that you, well, pound. "Take your time." And that's exactly what he wants people to do: to take their time, to enjoy the spirit—and to be responsible.
"Just sip it," he says again. "Take your time."
And that's exactly what to do—enjoy it slowly and responsibility; after all there's an art to this, Schwab's latest endeavor.