Moby Dick! The Musical Brings Laughs to Dramashop Stage
Presenting a whale of a musical comedy
October 11, 2021 at 11:30 AM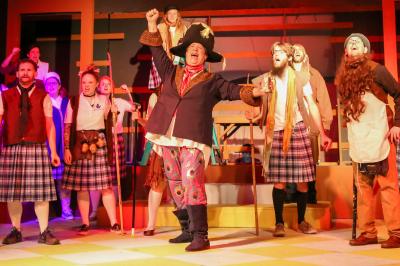 PREMIERING TUESDAY, OCT. 12
In what have truly been trying times for all, Moby Dick! The Musical is the hero (and comedic relief) we didn't know we needed, but are sure glad has come around.
Dramashop's latest production follows the girls of St. Godley's School and their headmistress as they put on a musical retelling of the famous Moby Dick novel in an attempted fundraiser to keep their school afloat. "It's just plain fun, and a chance to come together and goof off," said director Zach Flock. "This is pure entertainment at a time when we all just want to celebrate theatre and share some laughs."
The cast — a mix of Dramashop veterans and new faces alike — are the first to grace the company's stage in a full production with a live, in-person audience since pre-pandemic. "After 18 months of virtual theater, it's been such a joy to be back in the room with old friends and to welcome new friends into the fold," said Flock. "It's great to see what energy and enthusiasm all company members bring to the process."
The show's opening night, Oct. 12, also marks 10 years to the day of Dramashop's inaugural production, being celebrated that same night with the company's Thank You, Ten! Celebration prior to the show. 
With 10 years under Dramashop's belt, Flock reflects on its growth over the years: "We've really shifted from a handful of people moving the organization forward to a bigger, more sustainable group. It's a community organization in every sense of the word. We still function without a paid staff, which is what keeps our overhead expenses so low. I don't know that people realize everybody working at Dramashop, including me, is doing it as a labor of love, and I'm grateful to all of them."
While the production marks a milestone for the company, it is also a milestone in many other ways: "I give so much credit to everyone working on this production, rehearsing under very atypical circumstances," Flock said. "To rehearse a musical, learn choreography, and do vocals all while wearing a mask is not the most fun, but it's what we need to do to cross the finish line safely — and it's better than not being able to do theater at all. Against the backdrop of a pandemic, theatre might not seem important to some people, but for artists who love the work so much, we feel so lucky to be back at it."
— Ally Kutz 
Oct. 12, 14-15, and Oct. 21-23, 8 p.m. and Oct. 24, 2 p.m. // Dramashop, 1001 State St., Ste. 201 // $25 opening night (with reception), $7.50 opening weekend, $15 all other shows //dramashop.org