Molly Brannigan's New Outlook
The downtown pub and eatery reopens to big improvements
Working downtown for more than six years now, I've seen my fair share of lunches. Throughout countless afternoons meeting with friends and coworkers for a bite, certain favorites start to emerge, along with a list of desires, and of course, complaints. Venturing to other cities has long left me wishing for places like Chopt or Tender Greens, offering quick and healthy options. On the more indulgent side of things, however, one of the top spots in my eyes was Molly Brannigan's Irish Pub. It was a treat that always delivered (the "trinity chicken" was my favorite). More often than not though, it pushed the boundaries of my allotted lunchtime. Eventually, my lunch squad befriended one of the servers there, and we began calling our orders in to save on time. As the old infomercial adage goes, however, "there's got to be a better way!"
Fast forward to more than a year later and things are looking a whole lot better.
"Redevelopment might be the wrong word," wondered Billy Lewis, who —along with Greg Brown — runs Red Letter Hospitality (RLH), the bar and restaurant's new owners (and the organization also behind The Cork 1794 and North East's Skunk and Goat). "Renovation, or revitalization, or a refresh," he specified, circling a key idea behind what's in store for the new Molly's. His team began talks with the previous owners in November of 2017, finally closing on the property in July of 2018. Now with a reopening date of Thursday, June 13, the evolution will be complete.
Most notably, it will feature an updated menu with an "express" lunch option, new handcrafted cocktails, an upper-level speakeasy, and a much-welcomed overall facelift.
Upon first inspection, most changes seemed subtle to the casual patron. "When you walk in you will immediately see a cleaner, brighter, and tasteful Irish pub," explained Anne Lewis, Director of Marketing for RLH and Billy's daughter. She was quick to note though, that "we're keeping the Irish in the pub." There's still the classic wood fixtures, and the very same emerald isle-themed art that it had before adorns the walls. The black and white tile work at the building's front bar section echoes the entrance it's had for years. Large wood sections have been removed and repurposed throughout. Overseeing many of the construction, design, and aesthetic choices that make the new pub what it is were Beth Lewis and Ann Brown, who are co-owners of RLH with their husbands Billy and Greg. These subtle choices, like the new wallpaper upstairs, the re-envisioned bar wall, and freshly upholstered banquette seating add up to a larger whole and a cohesive interior that does what it set out to do. Even the exterior is updated, making for a bit of a Mandela Effect (i.e., a sense of remembering what never actually was). Close your eyes and picture the outside of Molly's. What do you see? It might surprise you to know that for years it was blue, yellow, and maroon. Currently, it's now what you possibly pictured it as: green and gold.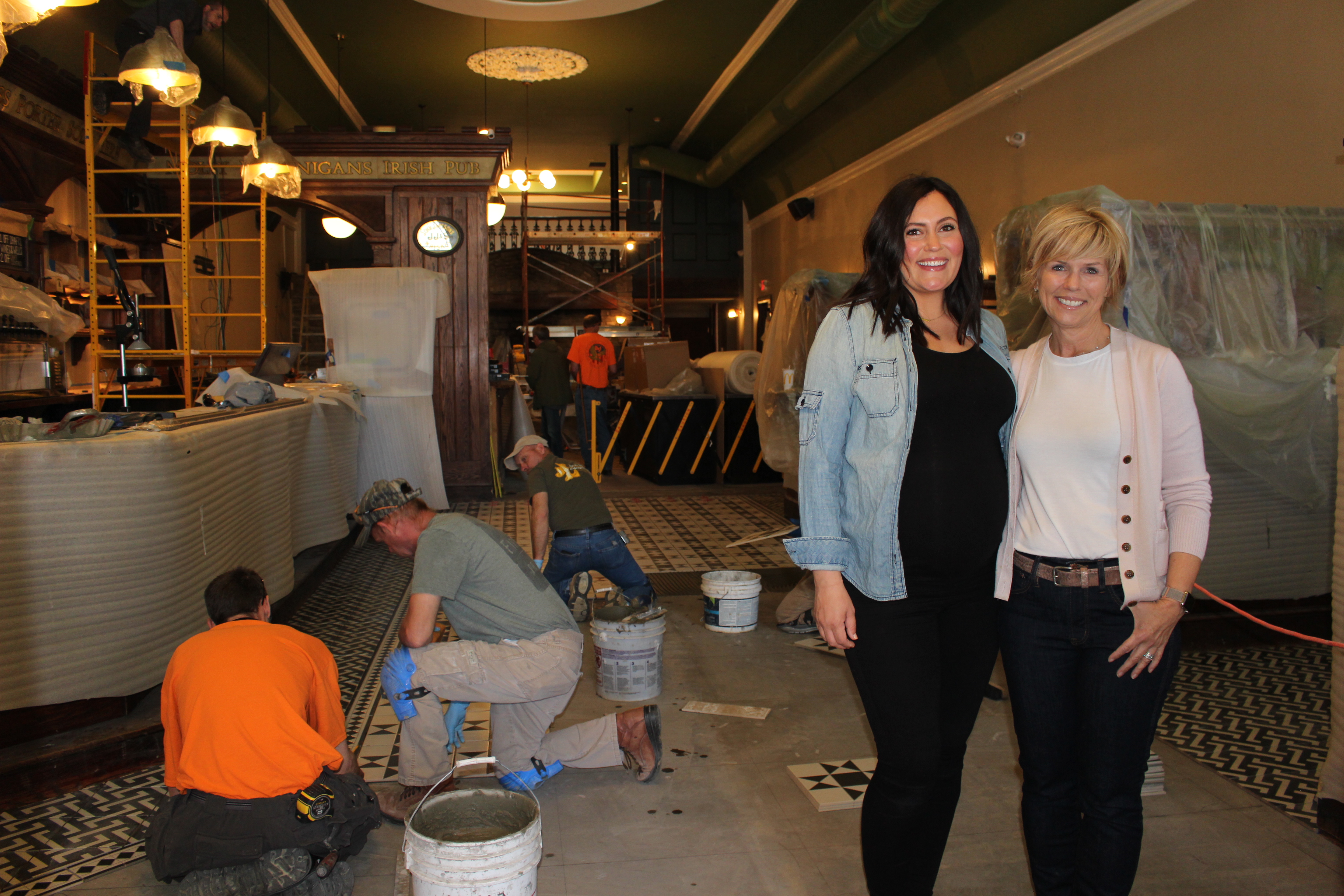 Ann Brown (left) and Beth Lewis, co-owners of Red Letter Hospitality, oversaw the update of Molly Brannigan's, shown here while under construction [contributed photo].
In addition to these cosmetic changes are two sections, the "Dungarvan Room" and the "Shebeen." The former seats 40-50 guests and is essentially a rebranding of the location's back room. The latter is an inviting room on the bar's second level, and seats about 30. Both rooms are available for private functions but will be open to guests when not reserved. The Gaelic word for "speakeasy," the Shebeen is a cozy location that overlooks the lower barroom, a warm environment that's perfect for meetings, parties, or good conversations. It features two local drafts on tap with its own special drink menu.
One of these special offerings will be smoked whiskey. While I've certainly smoked while drinking whiskey before, I had admittedly never experienced a cocktail via smoker. General Manager Ryan Blair, who developed the cocktail menu, served up a new take on an Old Fashioned, this time made with Tullamore Dew. It was capped with a Luxardo Maraschino Cherry — the bar abandoning the garish red garnish with the purple, nuttier, higher-end alternative — making for a multi-level drink, with the lighter campfire aroma on top leading to a sweeter taste beneath. As with Cork and the Skunk and Goat, each drink replaced plastic straws with reusable metal counterparts.
The newly opened Andora's Bubble Tea, Khao Thai, or Fat Lenny's aren't the only places around town with boba on the mind. Blair concocted "Spring Bubbles," a blueberry mint-infused vodka made in-house, with fresh-squeezed lime juice, hydrated coconut water with coconut pulp, a lime twist, and Asian blueberry boba bubbles. Altogether it's a smooth, refreshing cocktail, ideal for cooling off on hot summer days. "The Four Leaf" features Effen Cucumber Vodka, elderflower liqueur, and lime juice that's shaken, strained, and brought together with a sparking line for a champagne cocktail garnished with rosemary. Blair notes that he has 15 more drinks on the menu that are equally complex, with the smoker being upstairs in the Shebeen. "The Old Fashioned is smoked with American Oak, but I also have some other options like cinnamon and all kinds of different woods," he explained.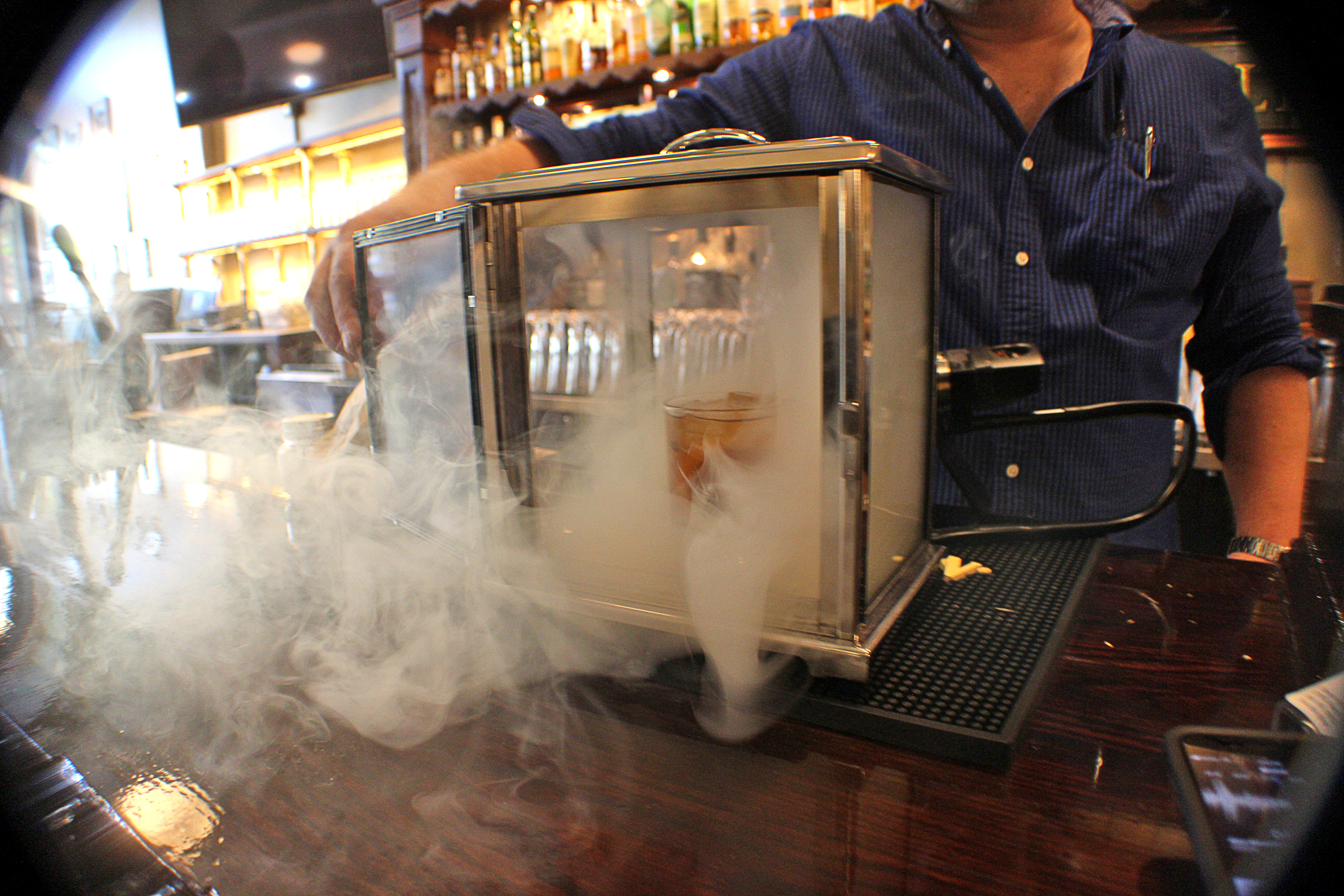 Ryan Blair, General Manager of Molly Brannigan's (formerly of 1201 Kitchen and Noosa), opens up the smoker to reveal an infused Old Fashioned  [Nick Warren].
After previewing some of the bar offerings, I got to try the new Thai Shrimp Bowl. Loaded up a tad more than usual, this extra-large portion included its mix of peanuts, daikon white radishes, kimchi, white rice noodles, bell peppers, cilantro topping, and a lime wedge. It was supremely refreshing, with just enough spicy kick (mostly helped by the flavored kimchi). It was a wonderful balance of temperatures and textures, filled with top quality ingredients that left me feeling invigorated even after a hearty serving. This bowl is one of the items offered on the express lunch menu, which as the name implies, seeks to cater to guests in a quicker-than-usual manner for a higher-tier eating experience. Detailing pick two, pick three, and half portion options, Anne summed it up as "quick, convenient, delicious."
The company no doubt found some inspiration in another one of their ventures, CoreLife Eatery. While Red Letter is currently looking for an Erie location, they manage franchises in the Cleveland area for the rapidly booming fast-casual chain, offering vegetarian-friendly bowls (similar to the aforementioned Chopt or Tender Greens).
They're also looking ahead to weekly specials, with Monday being their Service Industry Night (SIN), a burger and beer night on Tuesdays, and a Whiskey Wednesday, while Thursdays they'll offer dollar oysters all day (Shucker Thursday), all-you-can-eat fish on Fridays, while Sundays will work in an Irish supper component.
It's important to note that while it's on the same block, Molly's does not inhabit any of the buildings on North Park Row owned by the Erie Downtown Development Corporation, which has come under fire recently after deciding not to renew the leases of immigrant-owned businesses Khao Thai, Casablanca Hookah Lounge, and Tandoori Hut Indian Cuisine, with Coconut Joe's and Resolution Nightclub on the chopping block later. The EDDC later shared plans to construct a $39 million culinary arts district. With Molly's rejuvenation, and the ongoing work of places like The Erie Art Museum and Gannon University, the RLH team views this as an important time for downtown Erie.
"We're hoping that it encourages others to invest in downtown," Billy Lewis said. While the future of downtown Erie sees itself at yet another crossroads, Molly's may end up leading the charge for a new restaurant and bar experience. After seeing the site's improvements first-hand, it's hard to deny that this is a step in the right direction.
Nick Warren can be reached at nwarren@eriereader.com