Monday Morning... Maybes?
He's 0-0 with nothing to lose... Introducing: The Monday Morning Maybes
April 10, 2011 at 8:06 PM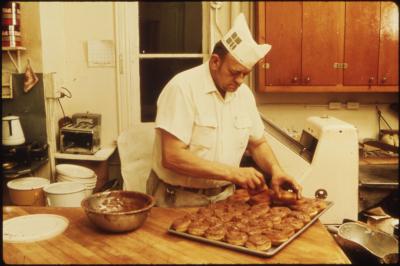 OK, despite what the rumor mill might be churning out, Lee didn't get Alex Sibley fired.
So here's the story: Lee, an avid reader and poster at eriereader.com, criticized Sibley's locks a few weeks back, so Sibley, our sports editor, did what any man trying to defend his honor and lock up some wins would do: he issued a challenge.
The challenge? Lee picks the games and they'd each lock the winners.
Lee accepted, and as it turns out, Lee, who went 4-1, got the best of Sibley, who went 1-4.
Not Sibley's best week. Not eriereader.com's best week.
But Sibley losing to Lee wasn't the biggest loss for the Erie Reader last week.
The biggest loss came with the departure of our sports editor and friend, Alex Sibley. Turns out Sibley got offered a sport writing gig down in Meadville that he couldn't turn down, and we couldn't be happier for him and his new endeavor.
And we're sure Lee had nothing to do with.
But still, what would Mondays at eriereader.com be without the locks?
And besides, we can't leave Lee with all this confidence, right? Someone has to protect and defend the honor of eriereader.com, someone has to step up and make some locks, someone has to go 3-2 week in and week out, right?
OK. So on his way out of town, Sibley turned over the key to the locks and said, 'make me proud.'
Tall order.
See, I love sports as much as the next guy, but lock games? Yeah right. My first lock should be: 'don't lock me.'
Yeah, you're just as likely to find me at the Rustbelt Lounge at The i as a SeaWolves game but at least I know a thing or two about music.
Aside from being a spectator, I've got nothing with sports.
Believe me, I was sweating bullets when Sibley was knees-deep in Otter's coverage and told me I had to cover the Lady Laker's Frozen Four announcement. And that wasn't even a game.
Maybe I'm not cut out for this. Maybe eriereader.com won't have the locks. Maybe Lee will ride off into the sunset laughing victoriously. Maybe. Maybe. Maybe.
Maybe. Yeah, I like the sound of that. Maybe is something I can get behind—at least right out of the gate.
How about Monday Morning Maybes? OK. That I can do.
But maybe Lee can point me in the direction of a bakery first so I can get some cupcakes for picks.
But until I get the map to the baked goods, here are some maybes that I think might kind of be good to at least consider.
Flip. Flop. Maybe.
For my first attempt, I'll take a crack at three local teams and two national ones. That 3 and 2 pattern, after all, is a bit comforting.
1.  SeaWolves
Monday night the Wolves take on the Binghamton Mets. The Wolves are coming off two loses to the Altoona Curve—the last one, 10-7, was a bit crushing.
Since I'm planning to head to the game, I'd like to see a win. It's pretty cool that it's buck night, but nothing makes the taste of a dollar hot dog better than a side of a big ol' W.
So selfishly, I'm saying maybe the Wolves will win to make my night a little bit better. Plus, the Mets are only coming off a one-loss streak and need the W less than the Erie boys.    
2.  Bayhawks
The Hawks just dropped the first game of the first series of the playoffs to the Reno Bighorns. The next two games are on the road for the Hawks, which will make things a bit more difficult.
But in the epic battle between a ram and a hawk, I'd take the hawk. Seriously. It's quicker, more agile, and it can fly. And man, hawks have talons that are sharper than razor blades, and…
Oh wait. Sports. Right.
Seriously though, I'd say the Hawks have a good shot of winning Tuesday's game against the Horns. Here's why: they need to even the series. Simple as that. Plus, it'll give incentive to win Thursday's game. Nothing better than stealing two on the road.
But still, I'm only giving Tuesday a maybe. Don't want to get ahead of myself here.
3.  Explosion
The Explosion are coming off a rough loss to the Trenton Steel. Erie held the lead for a good chunk of the game but couldn't seem to put it away.
What hurts even more is this was the team's first loss. And it was the team's first home game.
Ouch.
OK, so the Explosion is looking to rebound, and what better way to do so than to take home the first W at home this Friday against the Harrisburg Stampede.
The Stampede have yet to record a W, making them desperate, but my gut tells me the Explosion is more desperate to get the first W in front of the home crowd. And Erie already roughed them up once this season, so as long as they plan according, things should go their way.
4.  Red Sox
What the heck is wrong in Boston? OK, so it's a daily question: where's the panic meter?
Since everyone expected this team to run the tables and go 162-0 (wait, do they play that many games?), a lot of Bostonians are starting to worry—it likely doesn't help that Shaq's hurt again. I didn't look that up; I'm just assuming given his track record, age, and seemingly absent desire to play/win (if I'm wrong, Lee, give me a shout out? Thanks, man, I'm counting on you—especially for baking directions for those darn cupcakes).
But all of that aside, the Bean Towners are likely to get back on track soon. Plus it helps that they're facing the equally troubled Tampa Bay Rays.
I'm betting that Boston takes at least two of the three games.
Can I do that? Lock two out of three or better? Well, I'm going to since my gut tells me to do so. Plus, it this thing bellies up and the maybes don't pan out, I'll call Lee in as relief.
5.  Lakers (Kobe)
If I learned anything from Sibley, aside from the gloriousness of going 3-2, it's not to pick against Kobe. So, OK, I'm picking Kobe, I guess.
Look, it might not make sense since the Lakers are taking on the league-leading Spurs Tuesday, but I'm looking for Kobe—and maybe event the rest of the Lakers—to make a statement game. The list of reasons for Kobe to re-re-peat (is it that many?) this year goes on and on.
From LBJ and the Heatles taking all the media to Derrick Rose locking down the MVP race, Kobe's hungry and he's looking to fest. What better a buffet than destroying the best team in the league?
OK, so there's the Maybes: three of the local teams plus Boston and Los Angeles.
I can't promise the breakneck pace that Sibley Tweeted at, but I'll try. This week's for you, Sib.