Monday Morning Maybes: Week 5
He's 12-10 after a 2-3 week. He looks to turn that all around with a couple hometown picks and a reach out to Bean Town.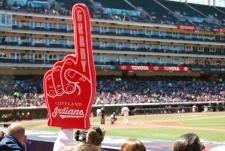 Another 2-3. Disappointment tastes bad. Real bad. Especially after eating my weight in Sour Patch Kids Jelly Beans and Reese's Easter Eggs. Why is it that the holiday cups taste so much better than the regular Reese's cups? I'll never know. But I do know is that I've got to stop messing around here.
Another 2-3 week brings me to 12-10. I'm still above .500 but not by much. Luckily I hear LeeS is still out of town on vacation so he isn't here to heckle me. I started 4-1 and was riding high, so what happened? Did I bite off more than I could chew. Probably not considering the Jelly Bean consumption rate.
Did I get in over my head? Maybe. After all, I am about the same height as Sibley.
But then again, maybe not. He has come back these last few weeks and been spot on. He called the Bolts, who destroyed the Caps.
I think I'm going to take his recommendation weeks ago and leave the ice to him—at least this week.
So how did I end up going 2-3 with such great Maybes?
Here's this week's breakdown:
I maybed up the diamond. The Yankees took care of Detroit on Monday Night Baseball and the Indians showed up again for me—and my in-laws—and beat the A's.
Then I moved to the ice. Apparently I should've brought skates because my hockey picks look an awful lot like me flailing around. The Caps packed it in earlier and decided vacation beats a trophy. Ovechkin looked dazed and confused—worse than Sean Penn's early film days. Ovechkin's starting to look like the star that can't get a championship. He's young, so that's scary if this is the rest of his career.
I maybed against talons. Stupid. Stupid. Stupid. D. Rose took home the MVP trophy and I was just as guilty as the next guy tossing up some Maybes for riding the gravy train. I got reckless and forgot that Atlanta's in the playoffs for a reason and Orlando's not. Rookie mistake.
Then there's the Celtics. Game two didn't pan out for me, but things might be looking up in Boston. They might even be worth another Maybe. We'll have to see in a few paragraphs. But suffice it to say, the Heatles were starting to look like they're working on the "White Album." And honestly, I didn't peg that until at least next year.
So another 2-3. I got to turn this around. Before I laughed at wanting to go 3-2, but another 2-3 brings me one game closer to .500.
All joking and tawdry writing aside, I'm focused this week. Here come five Maybes to get this train back on its tracks.
1.  SeaWolves
It's Monday, and it's Buck Night. So this is a no-brainer. It's worked twice for me before, so here's hoping the third time's a charm as well. I'm not betting this one on stats (Akron's 13-16 while the Howlers are 12-15) or the fact that Erie's ace and Detroit Tiger's prospect Jacob Turner is taking the bump. Nope. I'm betting on the fact that I'm going and I'm going to buy things for $1. Simple as that. Take the Wolves Monday night.
2.  Erie Explosion
I took a week away from them and they turned it around, beating Richmond 65 to 50. Now, I'm looking for the Explosion to start a winning streak when they take on Trenton at home this Friday.
Trenton's sitting at 5-3 while Erie's got the division lead at 6-2. A win means they pull farther away and show their dominance in the division; a loss would even things up.
But I think Erie'll take this one for a different reason: Trenton handed them their only true loss—sure they blew a gazillion point lead to the basement dwelling Stampede, but who's counting that, aside from my Maybe column…
Anyway, defeating Trenton, the team they lost to on home turf, would solidify Erie as the team in the division. Look for them to take care of business.
3.  Cleveland Indians
When you've got something good, stick with it, right? In this case, I'm going to stick with the Indians for a couple of reasons when the Tampa Bay Rays come to town Tuesday hot on a win streak.
Cleveland just lost a home game Sunday. I don't look for the tribe to start a losing streak since this season's been going better than expected. With a day of rest and a day to get it back together, I look for consistency to be the name of the game. And the Rays haven't shown that yet so I think they'll blow the streak they've built.
Besides, the Indians have been the "Indians" for a while now. No changing it up. Tampa Bay on the other hand? First they're the "Devil Rays," now they're just the "Rays?" So are you a fish or energy from the sun? Beats me. And I don't like it. Go, Tribe.
4.  Boston Celtics
Don't look now but Rondo lost an arm and still managed to beat the Heat. Seriously. The dude was writhing in pain after a look-away moment in game three. But he got up—with help—and came back—without help—and won the game. With one arm. An injury the best guys miss days if not weeks from.
It looked like his useless limb weighed 90 pounds but he played on, reenergizing the Celts. Exactly what they needed.
Whether Rondo plays Monday night, I look for the Celtics to win. Let's face it: the old guys needed reminding what they're after, and it took the kid on the team to teach them a lesson. He's playing with heart, and sometimes heart is strongest muscle on the court. Celtics—Rondo—take game four and even the series Monday night.
5.  Boston Red Sox
Monday Night Baseball, which still doesn't sound as glorified as Monday Night Football but it's getting there, features two teams expected to do better: Bo Sox vs. Twins.
Minnesota managed to hang on to Joe Mauer, which meant this was looking to be a good season. But here the Twins sit at 12-20 with 8-14 on the road.
Boston is turning its season around but still sits at a disappointing 16-18, but a 10-9 record at home.
Difference in this game? Josh Beckett. He's consistent and actually pitching up to his potential. And going up against a 2-4 Nick Blackburn with a 4.41 makes this an even bigger difference. Look for the home team to come away with a win and me to come away with a Maybe.
I don't want to say 'do or die' yet, but this week's a 'make or break' in terms of my confidence. Let's see how the Wolves, Celtics, and Sox handle business Monday and Indians and Explosion get things done on Tuesday and Friday. Maybe, baby.