Monday Morning Maybes: Week 6
After a 4-1 week, some songs came to mind. See what Ben Speggen was humming and then see what he's maybed up for Week 6.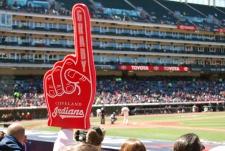 Alex Sibley once began the Monday Morning Locks with a song. "Cold as Ice" was his tune of choice.
Well, that song didn't exactly fit my week.
Instead, I was humming, "Back in the Saddle Again"—although I was doing it in the voice of Frampton's talk box, something I wholeheartedly blame Michael Bennett for.
Yes, dear readers, I returned to my sweet spot from week one: 4-1, thus bring my overall record to 16-11 and restoring a bit of my credibility.
I stuck to baseball avoided the ice—song and rink—and maybed up some good ones.
In case you missed it, here's last week's breakdown:
Is it me or is Buck Night thing working out? I headed down to Monday's game to find $1 items, loads of sunshine, and a 10-3 win—and trust me, it wasn't even that close, as those last runs came when the Howlers all but packed it in early after delivering an offensive onslaught behind pitching ace Jacob Turner. Maybe I ought to keep maybing the bucks—I mean Wolves.
After taking a week away from the Explosion, I came back and maybed them against the Trenton Steel, who—with a win—could have tied the Explosion for a lead in the division. With a convincing 90-79 win, the Explosion brought offense and defense together to prove they're the top dogs in the SIFL.
Don't look now, but the Tribe, yes, the Cleveland Indians continue to have the best record in MLB. How? Oh, I don't know, good team work, solid pitching, and an offense that's clicking.
My last win came on the bat of Boston. Yes, it took the Bo Sox 11 innings to do it, but as I maybed, they defeated the Twins on Monday Night Baseball.
My only loss? The Celtics. I really had hope. And I had heart. Maybe too much. But if there's anything I'm OK being guilty of, it's believing too much in a dream.
I honestly thought the Celts had it in them to at least give Miami a run, but one-armed Rondo, four-minute Shaq, and a tired cast of characters just couldn't catch their breath. Here's to next year, fellas.
So 4-1. I like that. I should do that more often. And now that I'm feeling the groove, let's keep it simple and get right to it: five new Maybes for a brand new week.
1.  Philadelphia Phillies
I've been on the money the last few Mondays with Monday Night Baseball, so what makes you think I'd give up now? I know how to ride a team to death (remember the Pens and the Celtics?) but I also recognize a good streak when I see it, and this Monday, I'm looking for Cliff Lee to keep that going for me.
Sure, Philly's playing in St. Louis and sure the Cardinals have Albert Pujols. But Cards have been bad without their skipper, who's out with shingles. La Russa was originally slated to be back Monday, but it's unclear whether that timeline will actually hold true. Taking that, plus the fact that Ryan Howard hits big in his hometown, take Philly.
2.  Dallas Mavericks
First game of the Western Conference finals happens Tuesday in Dallas. I love the Thunder, don't get me wrong. Kevin Durant is a class act and great player, and he and Westbrook finally got on the same page. They're young bucks feeling it out, and it just took awhile.
And that's exactly why I think they'll lose the first game.
Sure, they found "it" against the Grizzlies, but "it" took seven games.
The Mavs on the other hand have been sitting back studying, resting, waiting. Sure, they might be rusty, but if that's the case, I expect the rust to wear off after the first quarter.
Besides, the Mavs found "it" long before the Thunder, which leads me to believe Dirk has a big night and Dallas builds momentum against a Thunder team that's coming off the heels of an emotional seven-game series that had to be draining.
3.  SeaWolves
It's Wednesday. So why am I locking the Wolves?
It's a special Wednesday Buck Night. I'm three for three on Buck Nights, so why would I stop now?
The Howlers take on the Trenton Thunder and I honestly have no idea who's pitching or what the stats are, etc. after sports-related etc.
All I know is that things will cost only $1 and I'm planning to go to the game. That means take the Wolves Wednesday night.
4.  Chicago Bulls
I could take an easy game—and some might say I am—but I'm calling game two of the Bulls/Heat series.
No other team, Lakers included, is more polarizing in the NBA. What's different about the Heat, though, is that the same group of people love and then hate and then love the Heat again and again.
We can't make up our minds whether the Heatles are a good thing: we admire their unbridled athleticism but are quick to disregard their talents as soon as their show they're human and still feeling each other out on the court.
Bottom line: I'm a believe in D. Rose over D. Wade. This is the true matchup in the series: one franchise player against another, and Miami works well when Wade works when they feed him the ball in clutch situations.
What'll mess that up? Absolutely anything the Bulls do to get in LBJ's head now that they're in it already.
With only 15 points in Sunday's loss, he's frustrated. Which means he's going to try to put it all on his shoulders to prove he's not frustrated. So he'll try to put up 50. And he'll do this because that's what he's used to in playoff basketball when the series looks the least bit on the line since that's what he did in Cleveland. When LeBron needs his team the most, he'll take it all himself.
Doesn't help that Bosh actually showed up for the first time all year and nearly outscored James and Wade—combined.
All of this makes me think the Bulls, who thrive being the underdog, come out with a bark and bite that was as bad as the one Sunday to send the Heat whimpering back to Miami.
5.  Cleveland Indians
After four road games—two in Kansas City and two in Chicago—the tribe comes home Friday to take on the Reds. This has the potential to be one of the best games of the week since both Cincinnati (23-17) and Cleveland (24-13) lead their respective central divisions.
While the road trip might wear on them, I look for the Indians to come home and have a statement game by busting the Birds right in the beak. Take Cleveland because I can't stop taking them.   
So take the hometown guy in the visitors' dugout, the Horses over lightning's after effect, $1 concessions, Bulls with bite, and the don't-fail-me-now Indians at home. Some solid looking Maybes in hopes of another 4-1 week.