Monday Morning Maybes: Week 7
He went 2-2 last week. Curious how? We were too.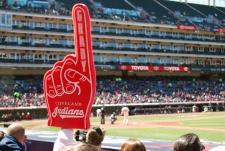 If last week's song was "Back in the Saddle Again," this week's tune was Stealers Wheel's "Stuck in the Middle." No, not because I lost an ear or had a run-in with anyone in an abandon warehouse. I posted a 2-2 record this week, which left me essentially stuck right where I ended last week.
How did I manage to go 2-2 when I maybed five games, you ask? Did I bail on a game? Forget to maybe one? Maybe the wrong game?
Nope.
It's May, and we're in Erie. That means games get delayed and then postponed, which is exactly what happened to the Wolves this Wednesday. Guess we have to wait until August to see how I do that game, so don't let me forget.
So in case you missed it, here's last week's breakdown:
Ryan Howard normally swings a big stick in St. Louis and La Russa was recovering from shingles. Made sense to me to go Philly. Made even more sense since ace Cliff Lee took the bump that night.
Pujols and the rest of the Cards apparently didn't like getting swept the series before, so they decided to show up. The turned in a 3-1 performance, dropping me to 0-1.
Alas. Moving on.
Please, dear reader, tell me you watched Tuesday's matchup between Dallas and OKC? If you didn't, you missed quite possibly the best outing of a shooting big man in years. Dirk went 24-24 at the line and nearly as good with the rest of his shots as his performance topped 40 points. OKC had no answer and Westbrook looked lost. The Dallas blowout brought me up to 1-1.
Howlers got rained out, keeping me at 1-1.
As quickly as the Bulls seemingly found the answer to the Heat, they lost it. Seriously lost it. Couldn't find it. Also didn't help that the Heatles rose to the occasion and finally got it done. This is why they've become one the most watchable teams: the Heat either clicks on all cylinders or chokes out of the gate. They're blistering performance dropped me to 1-2 and it looks like they're stocked up on fuel injector cleaner.
Then there's the Tribe. After dropping two on the road to the White Sox, I have to admit—I was worried. But then I reminded myself the Indians have only dropped three in a row once this season, and that time they followed it up with seven straight wins. Thankfully, Cleveland kept the losing streak to two. Better yet, they swept the Reds and asserted themselves as one of the hottest teams in the league right now.
So 2-2 with one on hold. That brings me to 18-13 so I'm still above .500 and still slugging along. Here are five more maybes and one big hope that none of them get postponed.  
1.  Cleveland Indians
I had built a nice little streak with Monday Night Baseball only to see Albert Pujols and the Cards crush it. Makes you think I'd shy away from MNB, right? Wrong. I want to right myself. Get things back on track. And what better a team to do that with than the faithful Indians?
The Tribe heads to Bean Town to start a three game series with the Red Sox. With eight wins in their last nine games, the Sox are white-hot. This will be a test of wills for both teams, but I look for the Indians to come out on top since they just took their brooms to the Reds and are riding a longer-sustained momentum.
Take Cleveland Monday night.
2.  Chicago Bulls
The Bulls are getting beaten up. After coming out big, they've dropped two straight. Call it crazy, but I think this is exactly what they needed.
This is a team that thrives on being the underdog, so they had to dig a hole to climb out of. This is why, regardless of what happens Tuesday, I'm taking the Bulls to win on their home court Thursday. Simple as that. They've got the MVP and still got something to prove. Even if they're destined to lose the series, they're not going out without a fight. This is why Thursday's game belongs to them.
3.  Dallas Mavericks
It's getting to be that time of the year. The conference finals are winding down so it makes sense to call a team rather than a game. Well, at least for this series since it'll be over before I sit down to write my next list of Maybes.
After proving that they can win even on a night Dirk isn't quite feeling it—it's not that bad when putting 18 is considered an off night—the Mavs will take the series. The young Thunder might have some gas left in the tank but it's not enough to rev it for the long haul. Plus, Dallas likes getting rest, so they'll be looking to put the Thunder away as quickly as possible. Take Dallas and take Dirk who's on a mission.
4.  Explosion
Thankfully this Erie team plays inside. And thankfully this team is a no-brainer. Coming off a 138-0 crushing of Fayetteville, Erie heads to rival Trenton Thursday night to take on the Steel. The Explosion own bragging rights to the series with a 2-1 record. They've already beat the Steel on their own turf so they have no problem travelling.
I look for the Explosion to extend their division lead further as they're eying a playoff berth.
Take the Explosion at Trenton Thursday night.
5.  Tampa Bay – Vancouver
I tried. I honestly did. But I can't stop. Maybe this will be my last one. OK. It will be my last one. I promise. Maybe.
I had to give hockey one last try. Half of me said, 'get back in the rink.' The other half said, 'you're 0 for 293048093284.' Or something similar to that.
So I did what any normal maybeing kind of guy would do: I called two series in one maybe. Makes perfect sense to me at least.
These are the two teams I see squaring off in the finals. Vancouver because they're rolling and have been rolling, and Tampa Bay because they rolled all over me before. As simple/confused as that.
With the expectation that zero games get postponed, I'm looking at five solid maybes.