Monday Morning Maybes: Week 8
He went 2-3 last week and vows to leave hockey alone this week. See what teams Ben Speggen takes in this week's edition of Monday Morning Maybes.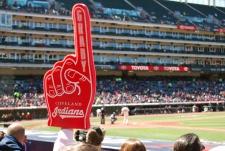 Note to self: keep quiet during the week as not to jinx yourself.
This humble writer should have appreciated the sounds of silence and early victory but unfortunately his quick tongue got the best of him. What happened, you ask? The same old story—just another chapter.
After a few weeks off, LeeS returned and pitched straight against all of my picks. After only a couple of days, it was looking like I was going to sweep him: The Indians beat the Red Sox and the Mavs rolled the Thunder, and this guy here was riding the wave.
Then it crashed. The rest of my week, I found myself pulled under by the current, going 0-3 as the Heatles crushed the Bulls, the Steel stifled the Explosion, and Bruins banged up the Bolts (how's that for alliteration on a Monday Morning Maybe?).
OK, so I went 2-3 this week. LeeS went 2-2—I'm holding off counting it as 3-2 since he called the Bruins to take the cup.
I do have to give props to Sibley to went 2-0 this week, as he correctly predicted a seven-game series between Bolts and Bruins where Bruins come out on top and a Vancouver win.
That's it. No more hockey. So please, please, dear reader, stop texting Alex Sibley that I'm flirting with hockey—I'm done. Period. Maybe. We'll see.
So after all that, I'm sitting 20-16. So I'm leaving hockey alone this week and looking for five strong maybes to boost that record.  
1.  SeaWolves
Can't argue with the phrase: if it ain't broke, don't fix it. The Howlers have a Memorial Day game scheduled, and guess what: it's a buck night, ummm, afternoon. And I'm planning to be there, so this means I'm taking the Wolves on Monday against Reading, even though Howlers' starter Putkonen is 0-6 on the bump. Despite him having an 8.26 ERA, the Wolves come out on top since concessions run me $1 today.
2.  Cleveland Indians
Cleveland visits Toronto Monday, and while the Jays are riding a three-game winning streak, I look for it to stop Monday night. Here's why: Toronto's dropped eight of 11 to Cleveland (31-19) and Reyes takes the bump. Who's Reyes, you ask? The guy who hasn't won in nearly three years. Yeah, that guy. The guy who's about to flirting with record books with a 29th-consecutive loss.
Normally, I'd be in the underdog's corner. Like a lot of fans, I love rooting for the little guy, the guy with more heart than anything else. Screw stats, toss out the record books, and give me emotion!
OK, I'm down with that until a guy says this: "I haven't looked at any video on the Indians, so I don't know about them. I'll just prepare the same way I've been preparing all season." Told ESPN he hasn't looked at them—at all—and he'll just prepare the same way? The same way hasn't gotten a single win in how long now? Sure, I'm one to say, 'screw stats, toss out the record books, and give me emotion,' but that doesn't mean I don't do homework. If I was 0-31 on the maybes do you think I'd just be pulling names out of a hat? Heck no. I'd be watching double my daily dose of SportSCenter. Such flippant talk from Reyes about preparation takes away any notion of compassion and hope I would have that a guy can turn it around.
Take the Indians Monday night. It's hard to argue against those odds and that lack of prep.
3.  Pittsburgh Pirates
The time has come, my hands are steady, my nerves are calm. I'm finally maybeing the Buckos and I'm doing it against the Mets Monday night for a couple reasons.
First, the Mets aren't much better. I can wipe the sweat from my brow. Oh, wait—the Pirates haven't won at Citi Field—ever. Sweating again. But the Pirates, despite a 24-27 overall record—just one more loss than the Mets—are 15-13 on the road. And while the Cubs took the final game of the Pirates' last series, the Buckos looked better. Plus, Charlie Morton with a 2.61 ERA and 5-2 record takes the bump against Dillon Gee who has a 3.83 ERA. If the Pirates can keep the Mets' bats at bay, they'll deliver Gee his first loss.
It's taken me awhile to work up the nerve to back my Buckos, but I'm finally doing it. It's now or never, maybe, baby!
4.  Dallas Mavericks
First game of the NBA finals happens Tuesday night. Both teams put in dominating efforts against their opponents in the conference finals, but I've been a believer in Dirk for too long now to give up on him. Sure, the Heatles are clicking and even Ringo occasionally puts up good numbers, but Dirk has that look in his eyes. Did you see how he left the floor after winning the last game against the Thunder? Did you hear the trophy talk? Did you see Jason Terry's tattoo?
All of this makes me thing Dallas wants to make another statement, and I think they'll do that in the first game, even though it's in Miami.
Dallas wins Tuesday.
5.  Explosion
They're back in the thick of it now with a loss to Trenton last week. But there's still some spark left in the team (I couldn't help myself), so I'm looking for them to close out the regular season on a high note against the Harrisburg Stampede Saturday, June 4.
The Explosion sit at 8-3 while the Harrisburg Stampede stumble along at 2-8. Records alone, I look to Explosion to come out on top. Plus, the Stampede managed—and I'm still not sure how—to post a win against the Explosion earlier in the season. Don't look for that to happen again.
With a vow of silence throughout the week, I'm looking at five solid maybes. Maybe.