Monday Morning Maybes: Week 9
He took a beating with a 1-4 week. See where he sits now...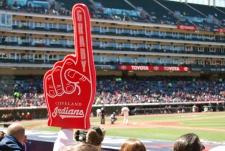 Thank goodness for the Erie Explosion. Without the Gem City's arena football team, I would have gone without a single win last week.
Yes, you heard right, I went 1-4.
The hardest part came with the fact that the four losses all happened within two days—Monday and Tuesday—so I was left sitting nervously, waiting for Saturday's game.
No time for jokes. Why did the chicken… No. No time. Get to it. Don't avoid it.
OK. How did I do so badly? Let's see a recap.
I called the Howlers against Reading. It was a buck game, so I was destined to win, right? I was going to be there, and I'm their lucky charm, so they'd definitely win, right?
Well, I missed the game. And the Wolves apparently missed me.
See, I was chasing a lead—as every good journalist/person with Google does. That turned into a three-hour interview that turned into nothing since someone else had the exclusive. Bummer No. 1.
As soon as I got out of the building, I checked my phone for scores. SeaWolves dropped the game. So not only did I lose the story, I lost the maybe. Bummer No. 2.
But I'll only count that as one loss to try to save face. So no No. 3.
Again, I couldn't help myself. I'm a creature of habit. I continued to ride the Indian's wave. I stuck my proverbial neck out there—after all, who'd stick a real neck out there, geez—and took them walking in and handing Toronto a loss in the first game of the series. Well, my proverbial neck took a slashing and the Tribe fell short for me for the first time.
But seriously, the odds were in my favor. Toronto's starting pitcher hadn't won in how many games? I've seen more concern in my slow-pitch softball league over pitchers, but Toronto hung with the guy, and turns out, he turned out. Guess it was bound to happen sometime.
Stupid. That's all I have to say about my taking the Pirates. Of the three franchise in that city, I knew to leave this one alone, but I got stupid—or maybe have always been that way and just lucky? Beats me. The Buckos also beat me.
The NBA finals series sits at 2-1 as I write this. Dirk's got a bummed finger but the Mavs are still hanging in there. They bounced back in game two from a 15-point deficit and continued to fight back and forward all throughout game three. I still think—and hope, because, yes, I'm a LeBron hater—that the Mavs will take it in six or seven, but unfortunately I just came seem to nail down the right games to maybe. Classic problem in the world of maybes.
Thank goodness for the Erie Explosion. They handled the Stampede and ended the season on a high note. And helped me save a little bit of face.
So after all that, I'm sitting 21-20. If my math is right—and I consulted the Erie Reader math specialists for this one—that's one game above .500. Yikes. That surprised me, so I had them do the math again. After 223,423 hours and six grants later—and a few holes in the time-space continuum—they came up with the same results. I offered them $20 to fudge the numbers, but they wouldn't budge. These guys and their ethics.
OK, 21-20 it is.
So what's a maybeing guy to do when faced with a one-game-above-.500 record? Does he bow out? Does he keep going? Does he change it up?
You'll have to tune in next week to find out since this cat's taking a week off to lick his wounds-- aka: vacation. And from the throngs of readers waiting to hear who I maybe to rush off and claim those games, I welcome both the bandages and the salt as I know they'll come in multitudes.