More from Photographer Heather Prather
See more photos of the Eerie Roller Girls' bout from photographer Heather Prather.
November 21, 2011 at 11:53 AM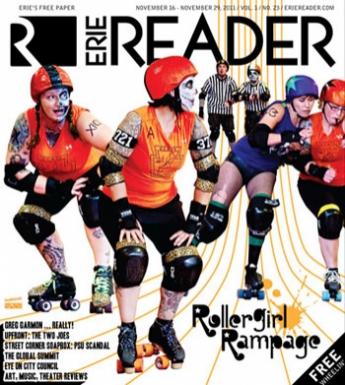 If you haven't had a chance to pick up a paper copy of the lastest issue of the Erie Reader, you're missing out on the color photos inside the paper's pages of the October 8 ERG bout taken by Heather Prather.
Luckily for you, Heather's put up a montage of photos taken at the even on her blog. You know what to do: check them out!
You can also check out some video from the bout, too. Super derby fan, Eric Romero, has a YouTube channel full of derby action in region, and has some clips taken from the ERG v Babes of Wrath bout that was featured in the derby article. Here's a clip of a Ginger Vixxen jam at the start of the bout:
http://www.youtube.com/watch?v=1UrRCAX0lEo
Photos
Enjoy.