MoreFrames Animation: World-Class Animation Studio Brings Erie to Life
Although they're not well-known in Erie - yet - they're receiving international acclaim for their cutting-edge work. Alex Bieler tells us why in this issue's cover story.
November 28, 2012 at 9:44 AM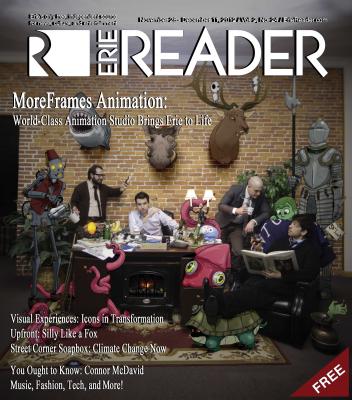 For a little while, I was an exclusive member of the Erie Pa. Rob & Nino club.
Not the actual club, mind you. I didn't sign up for an email newsletter or customized texts, but I did get to sit on a couch with the MoreFrames Animation crew and watch their latest project, the music video for Swedish dance-pop duo Rob & Nino's latest single "I Just Wanna," before anyone else.
It was like I was privy to a wonderful secret, at least as much of a secret as one can be part of when millions of people have experienced it, albeit unknowingly. Before having run into a couple of members of the MoreFrames crew at the Erie Art Museum a few months before, I had no idea who they were or what they did, yet people from across the world have seen the fruits of their labor.
Just who are these low-profile animation rock stars? You can call them artists, dreamers, or even fools, if you're inclined to think in such a pessimistic way, but they're just regular people like you and me. They just happen to have their own animation studio in Erie.
It's not often that you see disembodied 8-bit heads floating on a screen affixed above a stage, but that's what was in front of me. Below the pixilated heads there's a rating for strength, speed, and intelligence, with special abilities ranging from "Gangam Style" to "Donuts." Eventually, four people matching the blocky faces took their places in the chairs situated beneath. From left to right, Jordan Held, Gus Trauth, Adam Calfee, and Ron Levellie, the brains behind the animated brawn of MoreFrames, sat in front of a packed crowd.
We were at the Erie Art Museum, where I had first met some of the members a few months before. The crowd was there for the kick-off party for FILM, a weekly film series celebrating the social and cultural experience of cinema, with the draw-daddies being the special guests. The room was abuzz with the voices of trendily-dressed guests with drinks in hand, all packed into the theater area. My once-exclusive membership to the animated wonders of MoreFrames, including my special sneak peak at the Rob & Nino music video, had been extended to about a hundred new people when a half-hour featurette of their work was shown on the main screen right before the quartet took the stage.
The group hadn't made too many efforts to make their collective presence known. The kick-off party made for a good introduction, as the crowd was wowed by the various music videos, motion comics, bumpers, and other impressive snippets that the crew has pumped out of their humble studio on Peach Street across from the King's Rook.
In fact, for a rather anonymous company located in Erie, MoreFrames has been bringing in widely recognizable clients, such as the Halo video game franchise (yes, the massively popular one with Master Chief) and popular metal band Lamb of God. It's even more impressive when you take the fact that MoreFrames is only a few years old.
While the company was made official around the end of 2009, the beginning of MoreFrames starts with a school project near and dear to the hearts of the animators – "Moonboy."
Adam's senior project at Edinboro University of Pennsylvania brought the team together for the first time. While Adam was in his fourth year, Ron was a year ahead of him, Jordan and Gus the grade below. In addition to the future MoreFrames crew, several students from the animation department came together for the project, helping to fuel Adam's visions of a career after Edinboro.
"I always had the idea to start something after graduation rather than try to get a job," Adam said. "I was always trying to gather everybody that I thought would be good to do that and tried to push on 'Hey, after graduation we're going to start a studio, yeah, yeah?'"
While the idea of a new animation studio appealed to many, the plan was left by the wayside after Adam moved to Mississippi, where his parents had relocated while he was in college, to live with them after graduating from Edinboro. "Moonboy," however, started picking up steam.
"It got featured, like 'video of the day' and then 'staff pick of the day' [on Vimeo], so that got a crap-ton of views," Jordan said. "Then we got into the First Annual Vimeo Festival with Moonboy in the animated shorts category. We went to New York, and it was great."
Eventually, potential clients began to take notice of the young animators.
"Six months after being down [in Mississippi],  because of Moonboy's popularity and this little contest I did on a website, this Aniboom contest, we started just getting contacted, like 'Hey, you want to do a music video for us?' which is kind of our whole career so far, which is people just contacting us with 'Hey, you want to do a music video for us?'"
One of the people contacting the group was a Brooklyn, N.Y. hardcore rapper by the name of Ill Bill, who has been a big fan of the crew, contracting them to make eight music videos. With the influx of projects coming in, the group needed to move from working together over Skype while Adam was in Mississippi and the others remained in Pennsylvania to a central location.
With Gus and Jordan living together in Cambridge Springs and the affordable cost of living in Erie, Adam made the voyage back to The Flagship City, where MoreFrames started becoming a reality.
"MoreFrames was kind of in the air for a while, and it really came out with 'War is My Destiny,' the second music video we did for Ill Bill," Gus said. "We even came up, at the Empty Keg [in Edinboro], with the name MoreFrames."
Soon, the jobs started getting bigger and better. A representative from 343 Industries, a video game development company, contacted the group about having MoreFrames animate a motion comic for the Halo franchise, an offer that the crew eagerly accepted. They spent over a year developing that project, which can be found on the XBox network. Through their work with Ill Bill, the group was contacted by the metal band Lamb of God to create a music video for their song "Ghost Walking."
With all the projects coming out of MoreFrames, one would almost expect to see numerous designers and animators walking in and out of their confines, but the four main players – Adam, Gus, Jordan, and Ron – make up the majority of the company's output. Sure, a few interns and the occasional freelancer will swing through and help, but the quartet handles the large workload mostly by themselves.
However, even though MoreFrames is a small animation studio located outside a major city, the combination of talent, drive, and the World Wide Web make for a busy company.
"The Internet has just changed things so much," said Steve Carpenter, a computer animation professor at Edinboro, who taught all of the MoreFrames crew.  "You can put things up on YouTube or wherever, so they're just taking advantage of the situation, really. They are able to compete, price-wise, with anybody.
"They are still a young company, but I see huge potential. I know that Erie is constantly trying to get more businesses to come to town, and I think that having an entertainment component of the whole business makeup adds a different flavor to things."
While avid observers can get a sense of the artists through their work, the best way to delve into the minds of this animated crew is to actually see the people behind the drawing boards, maybe sit down and have a few drinks and share a Hot-N-Ready or two or four.
For a group of guys as talkative as the MoreFrames crew, you would think that they would be better at faking chit-chat.
I'm at the photo shoot for this story, which is happening at the MoreFrames studio on Peach Street. Adam, Gus, Jordan, and Ron are all posing for the camera, trying to honestly reenact civilized conversation, but instead of small talk, the group fills the air with bits and pieces of random possible stories.
"Buy, sell, buy sell," one says.
"He's got some abs!" exclaims another.
"There are no stunt drinks," proclaims one more.
"This is pure brandy," someone explains.
It's starting to make sense now. Decked out in formal attire with brandy in hand, the quartet pose for pictures behind a desk adorned with books, a sword, drawings, and a pair of octopi, one stone and one stuffed.
After the guys have had their "Mad Men season six" moments, as they called it, we congregate around a pink table adorned with wood trim. Empty beer bottles and half-eaten pizzas from the photo shoot crowd the tabletop, appearing inviting enough to help lead the miscellaneous members of our chat into the room.
Everyone takes their seats, fairly relaxed for a group sitting around a recording device. Just minutes in, we're already joking around, from designating Gus "An Inconvenient Trauth" to deciding that Ron's role in the group is "Ronimal."
This is a close-knit group, one that seems resistant to labels. I foolishly try to get everyone to assign themselves roles within the crew. They don't use titles. They're all members of MoreFrames, the main distinction being that Adam, Gus, and Jordan share ownership of the business. That doesn't mean that Ron isn't a steady member, or, as the other three put it, their "Constant Gardener."
"Whenever I'm not somewhere else, I'm here," says the full-bearded Ron, who gently nods as the room watches him intently. He's the quietest of the four, sitting to my left, although it doesn't take much to get him revved up when the conversation is right.
Still, even without official titles, each one of the four has certain roles the play in the whole MoreFrames scheme.
"I'm the 'Buck Stops Here' kind of guy," Adam says, legs up on the pink table.
"You're the Keymaster and you're the Gatekeeper," Gus chips in, looking in Adam's direction.
"There is no Calfee, there is only Zuul," Adam says, as Ron and Jordan laugh from the opposite end of the table.
While all of the members contribute throughout the process, Adam ties all the contributions together, a so-called assemblyman for the animation line. Even back with "Moonboy," Adam helped bring everything together.
"Everyone kind of gravitated to him," says Edinboro Assistant Professor Brad Patullo. "When he was a junior and senior, it was obvious that he was gifted and people would want to help him out with stuff."
Aiding Adam with all the artwork is Gus, the self-declared "slacker" of the group, who, like the rest of the crew, is no stranger to 100-hour weeks, so "slacker" might be a rough designation. As Adam and Gus work on projects, Ron pitches into the collective work pool, as well, including adding his skills as a 2-D effects animation wizard before Jordan uses his CGI skills to round everything out.
"They complement each other really well, and they get along, which is great" Carpenter says. "Sometimes production is very time consuming and you'll have really ridiculous schedules, so it's good to work with people that you like, because 100 hours can be really long if it's with someone you don't get along with."
It's quite easy to see that the four all get along. As our conversation progresses, topics swiftly change, with the crew laughing along with the unexpected shifts. It's not uncommon for one of the group to finish another's thoughts or drop the occasional inside joke – like the constant references to the Toynbee tiles. Sometimes the four would even break into an impromptu song as the rest of us watched.
It's this kind of camaraderie that keeps the spirits up during the constant work grind.
"A lot of people don't have any concept of how long it takes or how much work goes into it," Gus says. "Just adding another character into the mix or adding lip-sync makes it so much more complicated."
While MoreFrames remains fairly anonymous within the Erie community, it's not just because of the small size of the company, it's also because people outside of the profession  generally don't know as much about how everything comes together and just how much work goes into it all.
"We want, obviously, to turn out the coolest thing every time, but that's just not realistic. There's an animator joke: Ctrl-A for animation," Gus says, referring to the computer command to copy content. While people outside the industry might think that much of what MoreFrames does is computer automated, that's not really the case. The bigger the requests, the more hard work and planning go into the project. For example, if a client wanted to add three more characters to a video in addition to the one MoreFrames were to develop, it would take three times as much work on top of the original expected amount, despite the copy-paste expectations of the client. However, there are those that would think that an animator can just copy and paste everything they need, and even when a finished project is presented, it's not always met with a reaction befitting the total workload that went into it.
"It goes back to people not understanding the process," Ron says. "You could show them a sketch on a napkin and you'd get the same reaction."
The seeming lack of respect that animation gets is clearly a subject of annoyance for the group. As college-educated professionals that have been earning rave reviews across the globe, their craft isn't always held in the same light as others. Sometimes, that outlook on the craft can lead to questionable offers.
"Someone tried to get us to do a job for fudge," Adam says, as the rest of the group laughs. "I don't want to even know what $5,000-worth of fudge looks like. It just speaks to how much a local man thinks what we do is worth – it's worth a package of fudge."
"They probably paid whoever did their logo something decent," Jordan chips in, raising his right eyebrow in the process. "It's very important, of course, but then they come to us and tell us to make 'Tarzan' and they think that's worth less money, for some reason."
It's this lack of respect that aggravates the group. While Jordan and Ron steam over the thought, Gus and Adam shake their heads. They're used to their careers being placed on a level designated to appease children, despite the amount of adoration other types of creative outlets receive.
"Drawing is a respected art form, painting is a respected art form, music is a respected art form, acting is a respected art form, filmmaking is a respected, art form, literature, on and on," Adam says. "You take all of those and mush them together into one art form, which is animation, and somehow it's not respected anymore, somehow it's for babies, when it's all of those things."
Still, even with the lack of recognition, respect, and a fudge-based substandard paycheck, the group has no regrets about their field of choice. Animation is a lot of long hours, high stress, and the occasional bout with confused outsiders, but it's more than just a job, according to one of their former teachers.
"You have to be absolutely miserable doing anything else, really," Patullo says. "It's a calling, it's not really a job – it's just what you do. It's not like other things where you go home and turn it off at night – it's always with you. You think about it every day, every waking moment. That's really the only way to be successful at it is to love it enough so that you think about it all the time and just do it, it's what you're going to be doing the rest of your life and you're okay with that."
While the four MoreFramers laugh as they discuss the different horror stories they've already dealt with in their first handful of years as a company, they never seem like they regret any of it.
"If MoreFrames ended for whatever reason, it would be like getting out of prison – I would have no idea what to do with myself," Jordan says. "[Animation] is extremely stressful and taxing and time-consuming. It's kind of like playing a sport, where you love it and you hate it."
Ultimately, the four animators are artists that are feeding off of their ability to be creative. Sure, they don't make a ton of money, but they have something that others would pay anything to have: freedom.
Where others are constrained to the same old routine or can't put their own twist on something, the crew at MoreFrames are creating everything right down to the idea. That's the type of rewards that made creating their own animation studio a no-brainer to these guys.
"In the end, what I'm coming to terms with is it's not the fantasy job that's really easy and cool," Adam says. "I'm stretched to within a thread of my breaking point most of the time, and I'm doing what I love. But it's that idea of having satisfaction on the back end, and it's there, totally. When we have finished a project…everyone says it's like having a baby, it's so cliché, but you're so proud of that thing, and you can watch it a year later and be like, 'Yeah man, that's so awesome.'"
It's that type of outlook that makes you root for the MoreFrames crew. Despite all the different downsides of running a small animation studio, these guys are more than just surviving.
"Every day it's another thing. It's growing. It's snowballing," Adam says. "We're all here for whatever reasons, but we're all here and we're feeding off of each other and building this bigger thing."
While Erie hasn't really recognized exactly what goes on in the MoreFrames studio, there are likely those that have already seen the efforts these men have made and just haven't realized it yet. Just think – a local, four-person company has entertained millions of people across the world, and it was all happening just a few blocks away. What's more is that they can still get bigger.
"I think they're going to blow up," Patullo says. "They're going to be a lot more well known. They're getting out there in the Erie area."
For now, MoreFrames is a micro-sized studio with tons of potential, but we'll just have to wait and see what the future holds. While the company may be small, big things are coming it's way.
So are you ready to join the club?
Visit MoreFrames website at MoreFrames.com, and check out ErieReader.com for a web-exclusive MoreFrames video.
Alex Bieler can be contacted at aBieler@ErieReader.com.